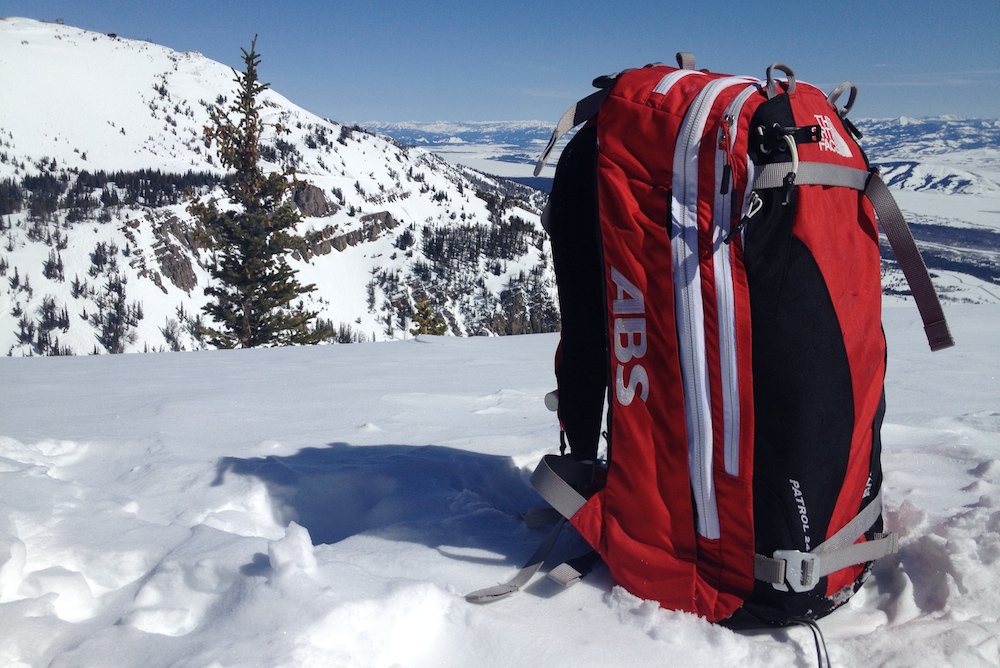 Check out The North Face ABS avalanche airbag at evo.com today.
The Patrol 24 ABS backpack is The North Face's go-to airbag pack offering, and hangs on the shelves with a whopping $1,179 price tag–towards the high, high end of the airbag market. Of course, the counterargument is–especially in this country's healthcare market–saving your own life for that price is pretty cheap. However, ready-to-roll airbags can be had on sale for as cheap as around $600 on evo.com, so the Patrol's performance has to justified against that price premium.
At 24 liters, the Patrols is tailored towards the heli/cat/slackcountry ski and snowboard market, with enough space for smaller tours but without the storage space for endless days touring around the backcountry, especially since the stored airbags take up a considerable amount of room in the main storage compartment. This is Sage Cattabriga-Alosa and Angel Collinson's go-to setup for any heli ski days they get in while filming with TGR (see the video farther down).
The Build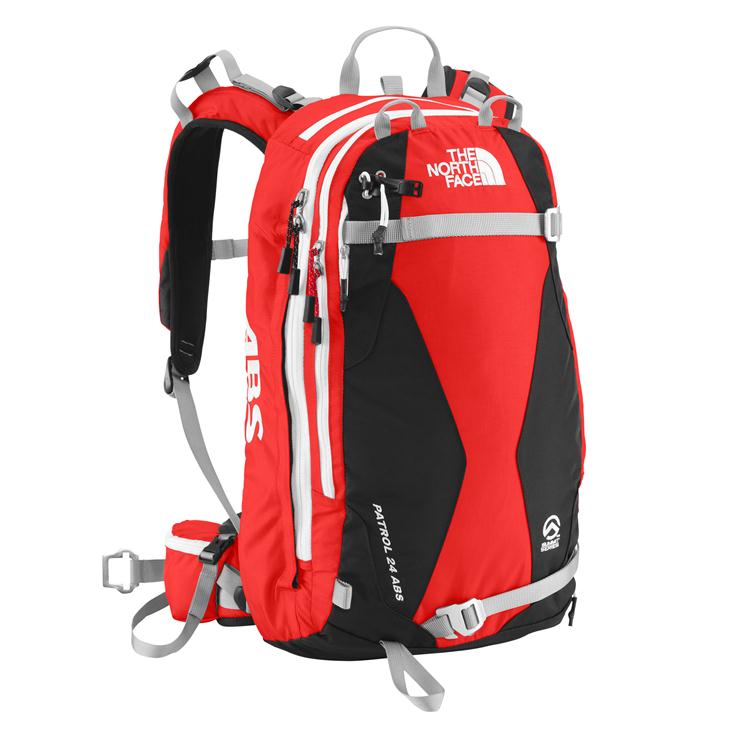 The first thing that strikes you when you pick up the fire truck-red Patrol (it also comes in black) is the weight. At nearly 3000 grams, you're already carrying six pounds before you're put any of your gear inside the Patrol. The second thing that hits you is how stout this thing is. A stiff backboard section keeps the pack straight and vertical regardless of how much or how little you're storing in it, which is a welcome change from other packs I've owned where you have to consider your packing order a bit more carefully to keep awkward lumps from building up and rubbing into your back. Thick pads keep the comfort level high as well.
---
Check out evo.com's entire range of avalanche airbags, from 8 different brands and prices starting at around $600, here.
---
As far as storage goes, the Patrol uses the remaining space thoughtfully. Two sizable hip pockets on the belt are great for storing gear you want quick access to, like a slope meter, sunglasses, a point-and-shoot or POV camera, or snacks. When you take the bag off, small zipper compartment at the top above the nitrogen canister is ready to hold other necessities like batteries for your avalanche beacon, a headlamp, or your goggles. A thinner zipper pocket within the main compartment was nice for storing a field book for notes on routes, snow conditions, and weather.
The large compartment has a tall vertical column between the deflated airbags that's great for storying layers, goggles, or your lunch and water, although fishing stuff out of the bottom is a bit of a chore as the layup of the bag is pretty tight and the burly zippers take some cajoling to pull all the way open.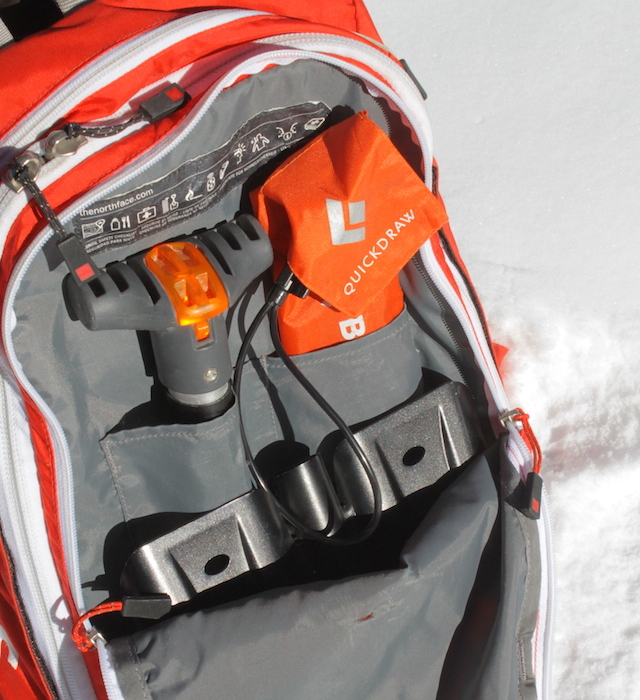 Up front, there's dedicated slots for a beacon, shovel, and shovel handle that doesn't have room for much else; it appears TNF maxed out the space in the main compartment to keep the stuff likely to get snow on it (becon/shovel) separate from the rest of your gear.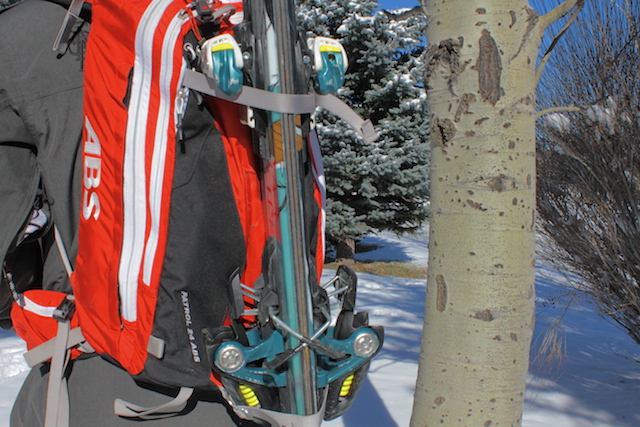 A tuck-away pair of ski/snowboard straps rounds out the exterior of the pack. While not engineered to hold skis in the exact cross-shoulder formation you might see on other packs, I never found myself hitting my shoulder, head, or heels on my skis, and with the burly straps and metal buckles pulling the skis against the back of your shovel, the tips were barely wandering around at all–a welcome feeling compared to more mushy packs, where the weight of your skis shifts as you hike and tugs awkwardly at your shoulders.
The Patrol 24's ABS System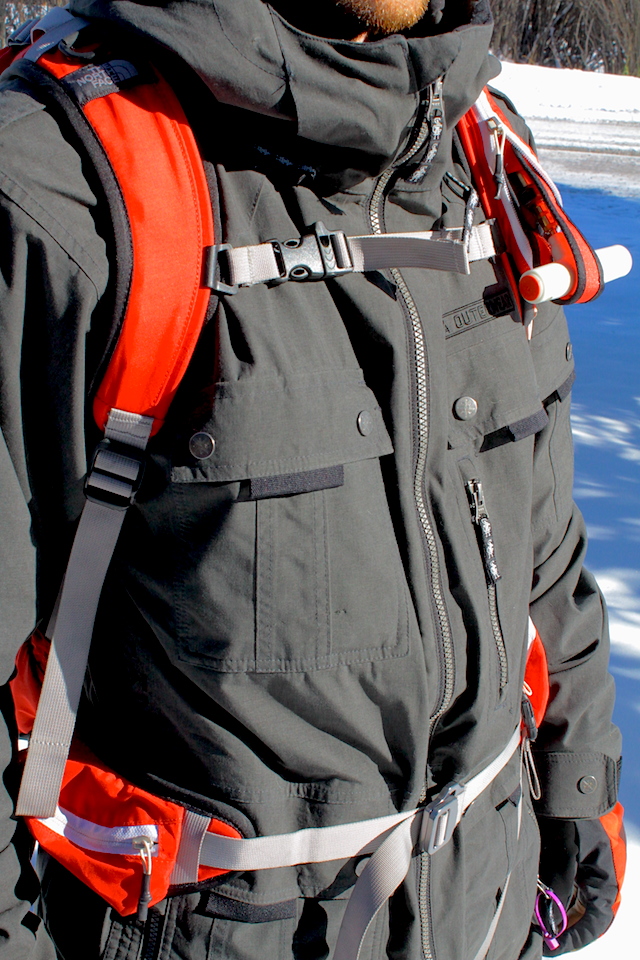 The Patrol's ABS system relies on a plastic handle pull tab on the left shoulder strap, which engages the nitrogren canister in the top of the main compartment and inflates two large airbags that inflate out of the velcroed sides of the bag very close to the body and add another 170 liters of mass to your body, greatly improving to your ability to stay on top in the event of a slider. A sturdy metal clasp buckle secures the waist belt, while a less inspiring set of plastic buckles secures the nylon strap that goes under your left leg and keeps the bag from rising over your head if you've engaged the ABS. It should be noted that many other manufacturers also use plastic buckles here, so it shouldn't be much of a concern.
Unfortunately for you, but good for me, I never had to employ the airbag last season (and I'm plenty happy to brag about not having been in any sort of slide), so I can't give you any first-hand experience of how the airbag worked or didn't work when it would have mattered most. However, the ABS system has been widely proven (with something like 97% of users being saved in avalanches), and I have no compunctions about The North Face's integration of the system into their pack. Sage Cattabriga-Alosa mentioned that ABS has some complications with taking their compressed air canisters on commercial airlines, but assured me that with a little prep you can find somewhere carrying an appropriate canister almost anywhere you go for around $40.
Riding With The Patrol
I used this pack for the majority of last season, doing everything from in-bounds and slackcountry days at Jackson Hole Mountain Resort to pre-work tours off Teton Pass to longer, full-day backcountry tours. Angel Collinson did way more badass and entertaining skiing with the Patrol in Alaska last season, so you should probably just watch her instead (see above).
But from my perspective, skinning around, you definitely notice the relative heft of the Patrol and the lack of a convenient helmet-carrying feature. But on the down, the sturdiness of the pack, and the fact that the majority of the weight is kept close to the body, made the weight much less noticeable, and it was much less of a chore than expected. Significantly, it never felt like the weight of the pack was never shifting around, no matter how hard you were riding. And, as I mentioned before, the sturdiness of the pack really came into play on bootpacks, where the skis stayed exactly in place the entire hike. And the super-durable ballistic fabric TNF installed on the outside of the pack has forbidden any damages or scuffing from bindings or sharp edges.


The Bottom Line
At nearly twelve hundred bones, The North Face's Patrol 24 ABS pack will be out of reach for many consumers based purely on price. But, unsurprisingly, The North Face has built a no-nonsense airbag pack with the Patrol. Although its weight can get annoying on long tours, the clean, simple organization of the pack and its unfailing sturdiness will win over those tired of messy packs and ones that shift and rub during bootpacking or riding.
Undoubtedly tailored towards the crowd whose backcountry riding consists of more down than up, skiers and riders who spend most of their time exiting resort gates to slay terrain, and the much smaller number for whom heli and cat trips are regular outings, would be hard pressed to find anything at fault with the Patrol 24 ABS pack, which TNF's engineers have thoughtfully designed.
---
The Patrol not fitting your fancy? Check out evo's full line of avalanche airbags here. Photos for this review were taken by Jason Agrelius and Ryan Dunfee.
From The Column: Teton Tested
READ THE STORY
What happens when a guidebook gains such notoriety that it becomes a life's mission to complete every descent within its covers? Ski mountaineer Caroline Gleich recently checked off descent #90 of Andrew McLean's the Chuting Gallery, marking her completion of a list of some of the gnarliest skiing in North America. For most, a list of potential climbs or descents opens up a world of possibilities, giving much-needed beta on faraway, unfamiliar areas. For others, guidebooks represent
READ THE STORY
During Sego Ski Co.'s relatively short history, Ron Murray has become sort of a local legend. His 20-plus years of ski repair experience, combined with his time working in manufacturing and his wholesome philosophy on skiing (and snowboarding) has made Ron an integral part of the Sego team and brand. Ron is pretty much everything you look for in a ski tech. His gentle demeanor breathes wisdom and humility, and it shows in his craft. After all, aren't our skis just an extension of our feet?
READ THE STORY
Greg Von Doersten (or GVD) has been photographing with TGR since the beginning. He met founders Todd and Steve Jones back in the early 90's when they were still skiing for Marmot and filming by themselves with local Jackson Hole crushers. "They were getting it done," Von Doersten told me. "They wanted to see more line skiing and airs in films so they started to develop their own signature thing. I was like 'dang these guys are legit and they are kind of my style.'" Von Doersten