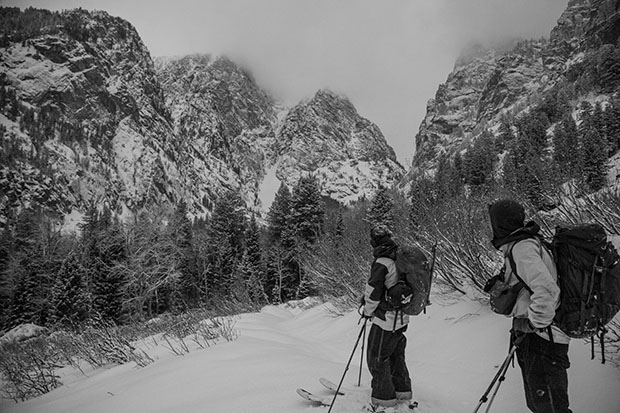 As my bare hand sunk in the snow for the fifth time to catch my fall, I felt the warm tears start to build in the wells of my eyes. I looked up and saw Jake and Ben 50 yards ahead of me and shouted that I'm ok. Again. I pulled my goggles over my eyes to hide the embarrassing tears, I stood up, and I kept walking.
It was the worst ski touring conditions I'd ever experienced in my life. Steep switchbacks with a ice crust layer under 3 inches of fresh snow. I was nearly impossible to stick my edges in. I squeezed every muscle in my body with every step I took just to keep myself from tumbling down the mountain.
I knew this day was going to be difficult. I'd had that feeling in stomach and chest for two days. You know that feeling? When you are about to do something that scares the shit out of you? Yeah. That feeling only disappeared for the moments when I was so focused on staying upright in the skin track that I couldn't think about anything else.
"Ok, one more switchback then rest," I thought to myself. Shit. It was an icy one.
I stepped my right ski far above my left and lifted my left ski and turned it to face the direction of the new switchback. I was in a backwards pizza. (If you've ever ski toured, you know what I'm saying!) With my hands gripping my poles hard and my upper half bent over my tips I threw my body weight from one unsecure ski to the other and swung my right ski to meet my left.
It wasn't pretty. But I was getting it done.
"It's going to get better here in a bit," Jake said. "Whether it's in 5 minutes or 30 I don't know but I promise it will get better."
"Yeah!" Ben said. "These conditions are so shitty, you're doing great Les."
I mustered a smile, cracked some joke about how bad I suck at this, and thanked them for waiting on me. They had no idea how much their encouraging words helped me keep going.
The goal? Apocalypse Couloir.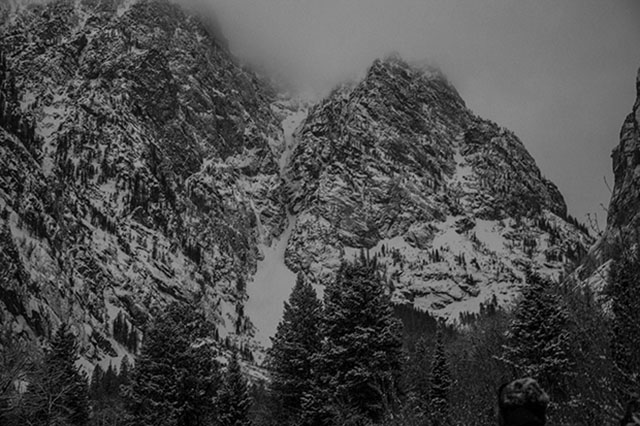 3,500 feet of steep couloir that you can't really see the conditions of until you're in it. There's 2 to 4 rappels (depending of your level of badassery/knowledge) just to get into it, and a crux three fourths of the way down that is often rappelled as well. This couloir is normally not skied early season, as they say, and early snow pack is a bad snow pack. But this year has been different. The snowpack was showing similar stability to what you'd see in the spring— that doesn't happen very often.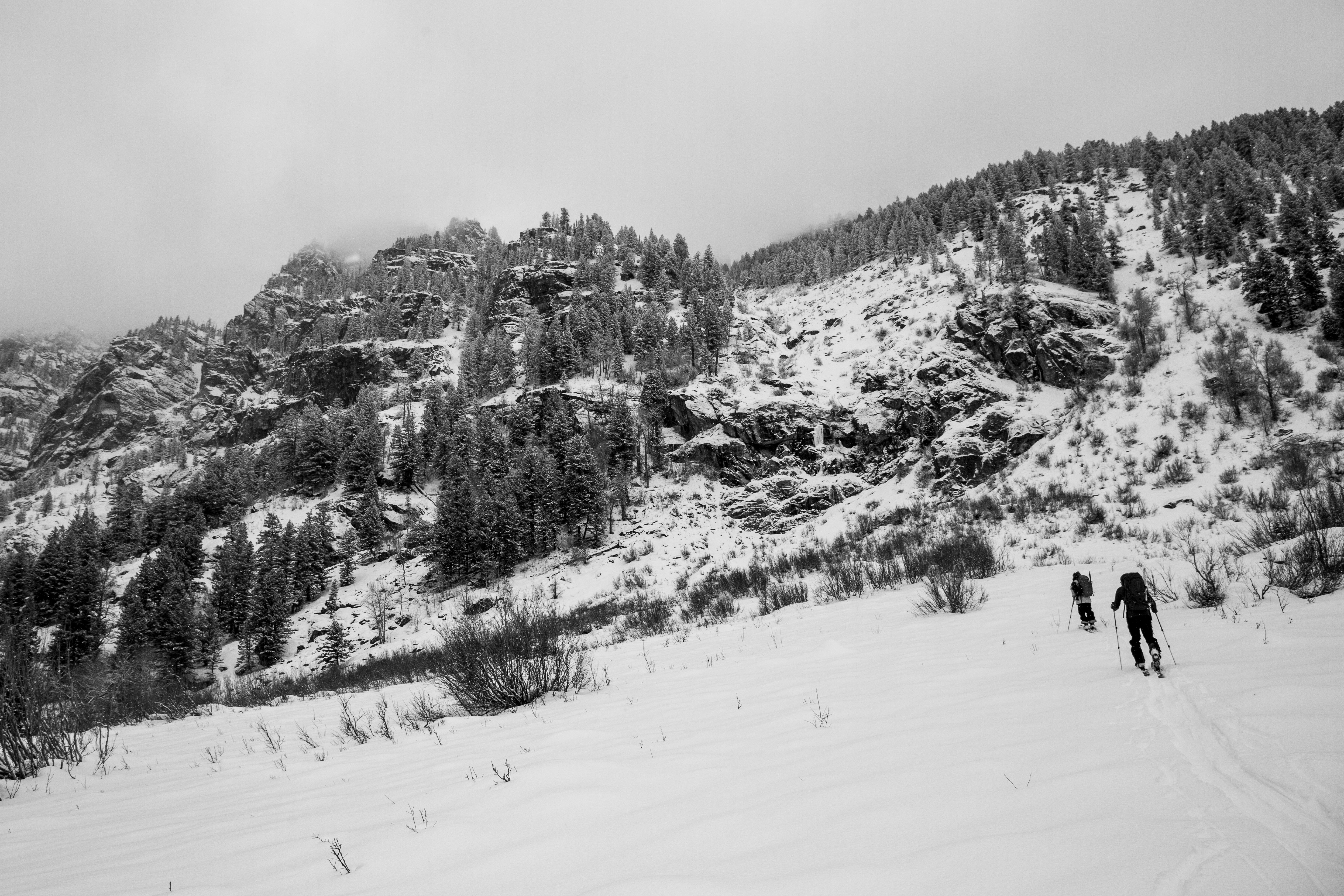 Apocalypse is everything that scares me. That's why it's my goal.
I tend to overthink things and let my fears get the best of me. I'm a good skier. And I want to be a ski mountaineer. In order to do that I need to get over my fears and gain the confidence I need to achieve my big mountain goals.
After 8 hours of ski touring from hell I approached the top of Prospectors Peak. Jake was sitting on his pack on the phone. We were at the entrance of The Son of Apocalypse, the couloir next to Apocalypse where we planned to assess the snow pack and dig a pit.
I peered over the edge into the couloir and saw that it was wind-loaded. I looked up and noticed that what was supposed to be a blue bird afternoon had turned into a low-vis day. I shoved my pole into the snow, there had to be at least 3 inches of fresh, probably more like 5 in Apocalypse. I looked over at Ben and saw the same realization in his face. We may have missed our window.
"Ok, I'll take that into consideration," Jake said. "Ok. Ok. See ya."
"Who was that?" I asked
"That was Laura," he said. "She said she just talked to a friend of ours and he said he doesn't think we should ski it. Five inches is a lot of snow to be moving around in such a tight couloir."
From that point on, our confidence plummeted. From what we saw the snowpack was solid, but there were to many maybes. What if there's too much snow? What if it's wind-loaded? And we couldn't see anything.
We continued to the entrance of Apocalypse. Just to see. Because we weren't ready to turn around yet.
Jake poked around to find the entrance and Ben and I took cover next to some rocks. I sat trying to decipher if I was just scared or if this was really dangerous. Was I just over thinking this? Was I trying to get out of something that scared me? Or was I making the smart call? Ben assured me that he felt the same way. And when Jake got back his uncertainty was pretty clear as well.
We were all uncertain. And maybe that's the main reason we turned back.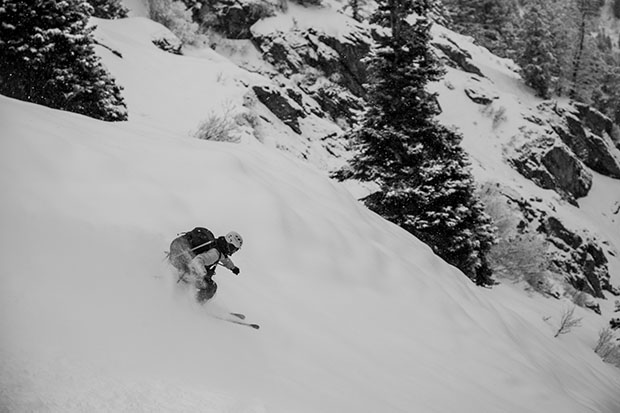 All in all I feel really good about our decision. There are always going to be uncertainties but that day there were too many. I did learn a few things. I learned that Jake and Ben are awesome partners and helped me through the hard parts without judgement. I learned that skiing something like Apocalypse might take me a couple tries, maybe even a couple of years. And I learned that despite how shitty a lot of that day was, I'm addicted to skiing in the Tetons. The snow is unreal.
P.S. at the end of the day, we did get a 4,000 powder run. Not bad way to bail.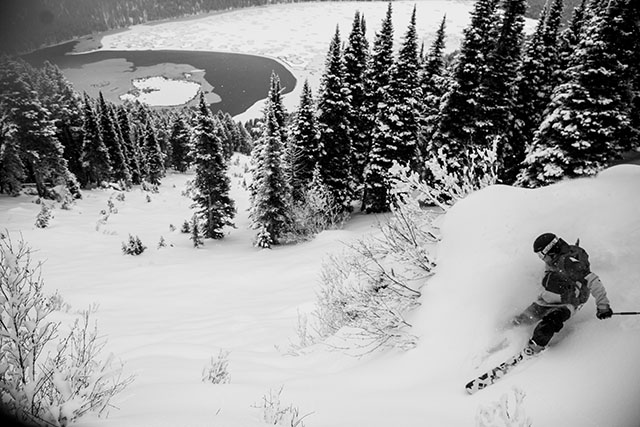 From The Column: Women in the Mountains
READ THE STORY
It's been a year and a half since Nick's near fatal accident skiing pillows on a TGR shoot in March 2020. The one where he was buried and his transceiver failed. He talks about the fallout from bringing attention to the faulty device and Black Diamond's luke warm response to take accountability. He describes his experience of the nearly 6 minutes spent under the snow, the training he and his crew used to save his life as well as and the physical and mental effects that were the result of
READ THE STORY
The new Atomic Hawx Ultra 130 sure is a looker - and it skis damn well too. | Atomic photo. I haven't been one to ski a dedicated resort boot in quite a few years. With the stellar performance that crossover boots have offered recently – including Atomic's own walk-mode boots – I just haven't really seen the point, but testing the new Atomic Hawx Ultra 130 made me realize what I've been missing out on. A few inbounds days Jackson Hole confirmed my suspicions - I was blown away by how
READ THE STORY
Grow up in the Tetons and you're probably going to get real good at skiing real fast. That's definitely the case with TGR Optics Grom Squad member Wyatt Gentry. Opening day at JHMR is just around the corner, and Wyatt just dropped his season edit from last winter featuring some fat lines both in and out of bounds at Jackson Hole and Targhee. With a runner-up edit from the 2020 TGR Grom Comp, and now this, we're stoked to see what's in store for the young ripper this