Nick Martini's pre-season training involves heavy doses of stretching, impact training, and legs. The North Face photo.
The North Face athlete, former TGR film skier, and Stept Productions co-founder Nick Martini knows a thing a two about proper training for ski season. Having suffered through multiple knee injuries (sound familiar?), Nick's had to dedicate copious time in the off-season to strengthening his muscles and ligaments to protect his knees, and dedicates time in the winter to stretching before heading out to the hill and spinning on the bike when he gets home to stay loose.
This year, Nick's goal of getting farther out into the backcountry to ski and film had had him taking advantage of Mountain Athletics from The North Face, a new six-week training program consisting of four workouts a week tailored specifically to the demands of backcountry skiing, developed in part by Rob Shaul of Mountain Athlete gym here in Jackson Hole. Available as a free app for iPhone, the Mountain Athletics app is great for anyone working to meet the demands of the mountain.
Nick spoke with us about the training he's learned to undertake after years of rehabbing from injuries and hard lessons learned on the hill.
On Dealing With Knee Injuries and Getting Outside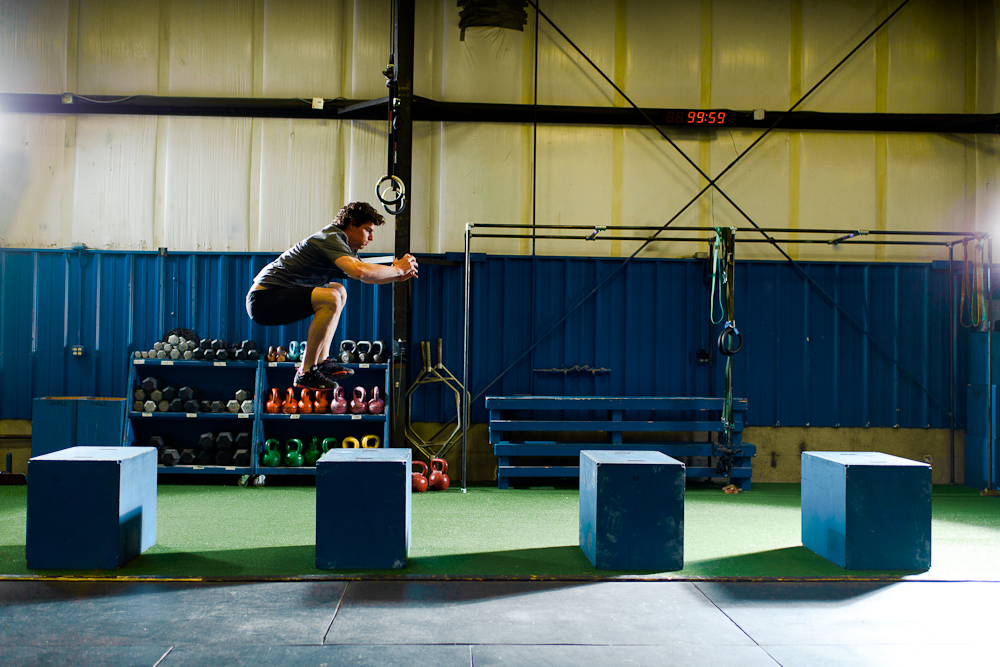 For those recovering from knee injuries, high-impact exercises, like box jumps and running, are critical to get the knee ready for the abuse it'll suffer come ski season. The North Face Photo.
With how many knee injuries I've had, I always go spin on a bike and do squats and leg presses, but it's huge to be doing off-the-bench type exercises. I like trail running up and down rocks, doing box jumps, carrying big rocks and boulders up hills–that kind of functional exercise. Skiing isn't like being on a leg press machine–it's completely out of control.
For people with knee injuries, getting out of the gym is so important. A lot of people ride road bikes, which is more of an eccentric motion, where the muscle lengthens as it's producing power and resisting another force. Skiing has a lot of eccentric motion, more than most other sports, but also plenty of concentric motion, where the muscle is contracting as it's applying force. Eccentric movements tend to produce more muscle breakdown and soreness.
Jumping, running, and getting some impact really is important for preparing your knee for the type of impact and compression that skiing brings (although it should be noted you should be cleared for high-impact activity by your doctor first). I remember Pep Fujas was road biking like a savage after he tore his knee, doing 100 mile rides all the time during the summer, but still had knee issues when he got back on snow.
But once ski season hits, spinning on a bike with low resistance is one of the best things you can do for a knee, just to keep it lubed and loose. If you have inflammation in your knee after a day on the hill, instead of just sitting there with ice on it, go spin on a bike for twenty minutes with very little resistance. It helps so much to work the inflammation out of the knee and keep it loose.
On Staying Loose
To pull off a segment like this, you can bet a pretty regular stretching routine was part of the mix.
My whole life I've put a big priority on stretching. I've seen so many people blow out shoulders and arms just skiing pow cold in the morning, not yet warmed-up, on a little spill, and tear a muscle. To avoid that, I'll just take a hot shower and stretch super light for twenty minutes or so before skiing in the morning. In the winter I don't work on as much cross-training as I do in the summer, but I'll do a lot of spinning with almost no resistance after a day of skiing to keep my joints loose and keep the fluid moving in my joints, especially after doing a lot of jumping.
On Training for Freestyle Skiing Specifically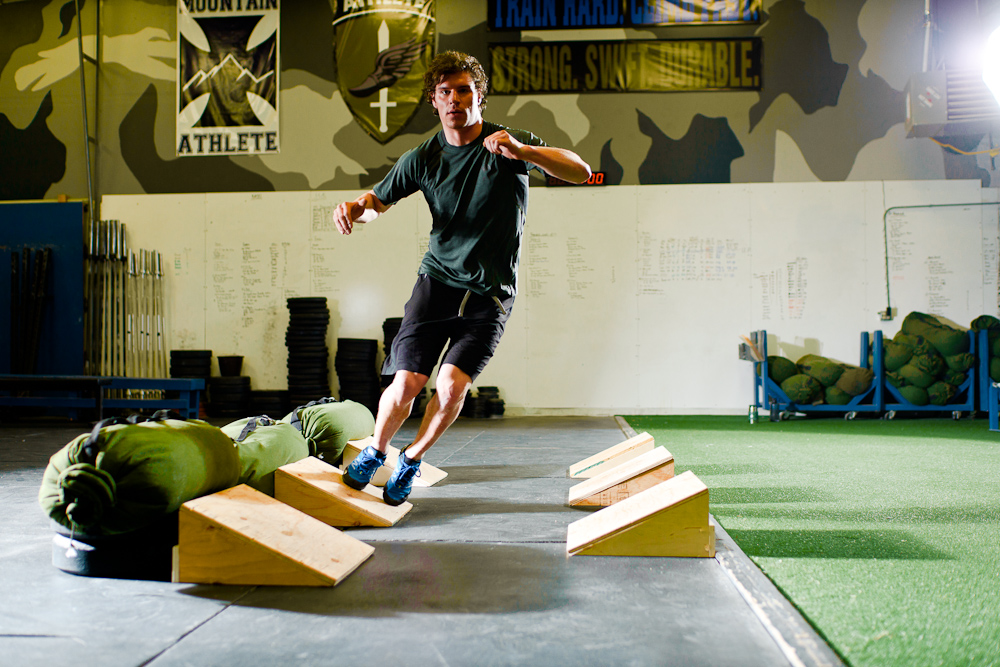 "Getting your muscles and ligaments used to force and compression in a safe way helps a lot." The North Face photo.
Jibbing requires rotational type exercises: spinning on and off a Bosu ball–those half-Swiss balls–while practicing your weight distribution is something I do quite a bit. Getting your muscles and ligaments used to force and compression in a safe way helps a lot. I'll jump on and off of a Bosu ball while holding a medicine ball, which is really good for your little support and stability muscles and getting your knees and joints used to being in an unstable environment.
Nick's Top 3 Favorite Mountain Athletics Workouts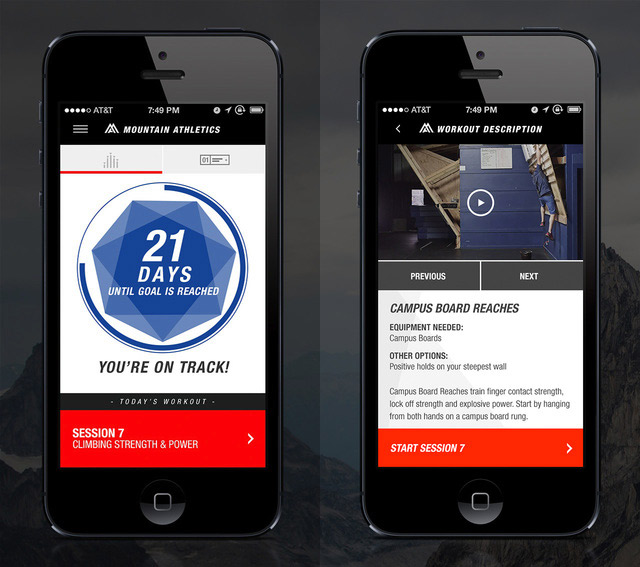 Nick's been doing the Backcountry Skiing training program on the Mountain Athletics app the past few weeks with the hope of being fit enough to charge farther into the backcountry. "My goals is to do a lot more backcountry exploration, and I want to make sure I'm fit enough to get to new places I haven't been before," Nick said. "I'm trying to get out there, so I'm trying to be prepared." Here's a few of his favorite Mountain Athletics routines:
Stretching: easy to skip but critical if you don't want to get injured (or suck). The North Face photo.
1) The Warm Up: It's so easy to ignore, but the warm up, whether you're in the gym or out skiing, is so critical to making the most of the workout and preventing injury. Like I said, I've had lots of friends who've injured themselves doing tiny little pow runs, so whether I'm skiing or in the gym, I try to follow the Mountain Athletics warm-up, with some light air squats, walking lunges, push ups, and sit ups just to get the blood moving. I always do a super-light twenty-minute stretch, a really light stretch, just to get the fluids moving through my joints, too.
2) The Quadzilla Complex: The Quadzilla Complex, a plyometric-based routine consisting of six rounds of loaded lunges, loaded jump lunges, unloaded jump lunges, and squat jumps, can be done with either a barbell or kettlebells and trains your legs for absorbing the impact of gravity as you slam down the hill. This comes in Session 2 of the Mountain Athletics program.
3) Scotty Bobs: Most people don't think of skiing as an upper-body sport, but backcountry skiing is certainly more so, whether you're skinning, hiking, or actually climbing to get to a summit, and being weak up top makes you way more susceptible to an injury when you fall. The scotty bob, which is basically a push-up followed by a single-arm row, is a pretty efficient way to take care of that worry.
Download the Mountain Athletics app for free today here and get yourself strong, solid, and ready for your winter objective!
READ THE STORY
Some adventures are a long time coming. Big mountain riders Jeremy Jones and Griffin Post have been adventuring deep into the mountains of Alaska for most of their careers, but in recent years have turned to embracing a foot-powered approach to exploring these peaks. While it might be much easier to reach these legendary ski and snowboard objectives with a helicopter, both riders have learned to appreciate slowing down the process and doing it the hard way. A few years ago, after an
READ THE STORY
spreading the SLAG. | Shannon Corsi photo. Ski Like a Girl founder Kimmie Geer arrived in Bozeman, MT with only a raincoat to survive the winter, not knowing the first thing about skiing. As a graphic design major at Montana State University, she secured a job at a store in downtown Bozeman called Heyday in 2011. After a few seasons of learning to ski, and discovering her passion for social media marketing she began printing private label items for the store. 'Ski Like a Girl' ended up
READ THE STORY
Michelle Parker taking it all in at Red Bull Formation. Izzy Lidsky photo. Michelle Parker has long been a household name when it comes to action sports. I can remember watching Superheroes of Stoke in high school and seeing Parker and Ingrid Backstrom be the first examples of women skiing big lines I'd ever seen. Parker ended up winning Best Female performance for that film. A Lake Tahoe native, her career dates back to her teens when she began competing in freeskiing before switching to