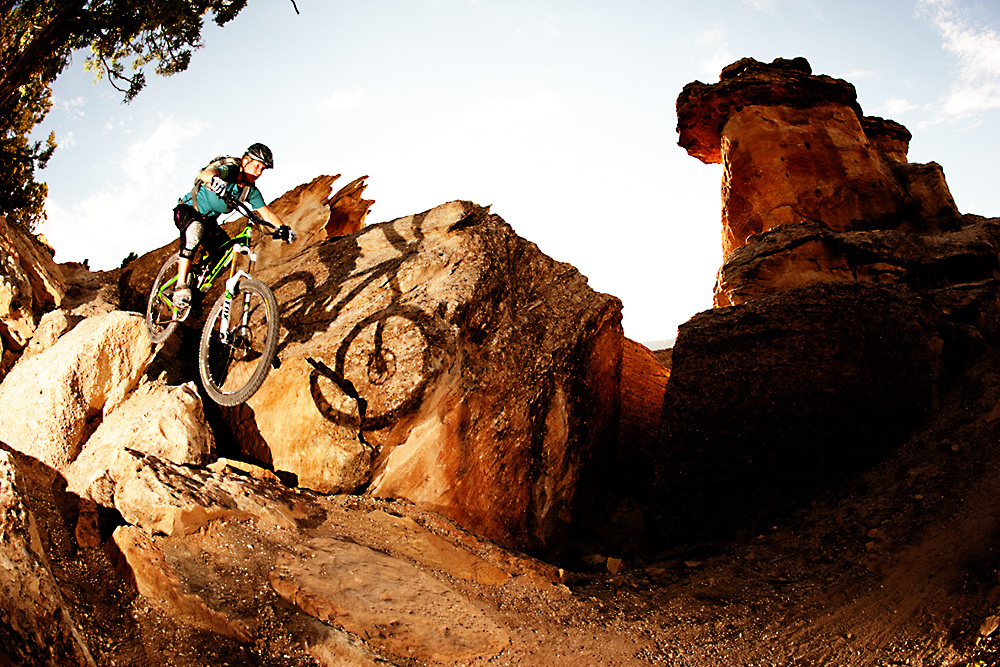 When the temps cool off and high-mountain trails start getting shut down, it's time to head to the desert, and to places like Fruita. Anne Keller photo.
It wasn't too long ago that Fruita, Colorado was a low-key alternative to the overflow of Moab mountain biking. Roughly an hour northeast of the famed Utah hub, Fruita identifies with the outdoorsy desert type–sans annoying Jeep crawlers–looking to sample all of the desert's topography, especially in the off seasons between summer and winter, when temps return to bearable ranges and mountain town singletrack muddies up before winter's arrival.
Think slick rock, junipers, ledges and cliffs. It's part of the Grand Valley region, flanked by eroding sandstone mesas on one side, thriving fruit orchards on another, and, after years of rebranding themselves as a mountain bike destination, hundreds of miles of singletrack packed in between that can be ridden 12 months a year.
THE SCENE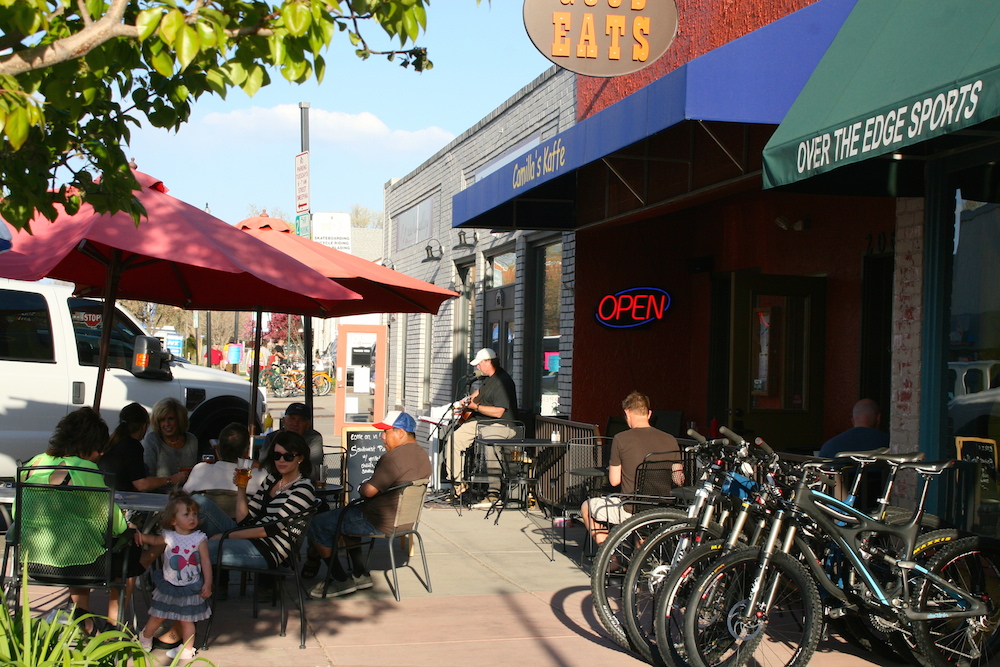 Downtown Fruita rarely moves at a faster pace than this, so don't come expecting wild nightlife to accompany your bike trip.
In Fruita, a cyclist's life is one of simplicity, sustained by limited desert resources and an indelible routine that can be summarized by a poetic tempo: ride, eat, rest, ride, eat, sleep, repeat. For starters, mid-day heat, which hits triple digits in the dead of summer, requires a strict agenda of morning and evening rides. Afternoon breaks – especially in June, July and August – are, at the least, mandatory in order to keep your skin from sizzling. Coincidentally, they're perfect scapegoats for throwing back a few icy-cold, mid-day beers. Once fall hits, though, things cool off–the average high in October is around 70, dropping again to 52 come November.
Another case for such a straightforward routine: there's not much else to do. Though the town sustains a year-round community of blue-collar oil riggers and farmhands, most mountain bike amenities are packed into downtown Fruita's finite span of four blocks. It's enough to keep you and your bike well entertained/fueled/hydrated/greased for a few days, but anything longer and you'll wonder why you didn't leave sooner.
To prevent such boneheaded regrets, drive a little ways to explore the wine region in Palisade, the ancient rock pillars at the Colorado National Monument, or the air-conditioned movie theatres in Grand Junction. Your patience will pay off when you finally make contact with the trails.
Fruita's Trails
Of the few hundred miles to choose from, the majority of trails stem from one of three trailheads: 18 Road, Kokopelli or Rabbit Valley. There's a decent trailmaps to be had here, but we'll break down the three principal networks below:
18 Road in the North Fruita Desert is the busiest trail system to explore. Great for beginners yet entertaining for experts, the notion of "flow" was practically born under the spell of the Book Cliffs. Heavy trail use on this BLM land has warranted constant trail changes over recent years, including new singletrack and directional routes. At some point, you'll likely end up on Prime Cut, now a designated uphill route, to access many trails. From here, hop on the downhill-only PBR (Pumps, Bumps, and Rollers) or Kessel Run for bermy, smooth ribbons of dirt. Tack on Chutes & Ladders, Joe's Ridge, or the Edge Loop to your ride and squeeze out a few extra miles of more technical pedaling.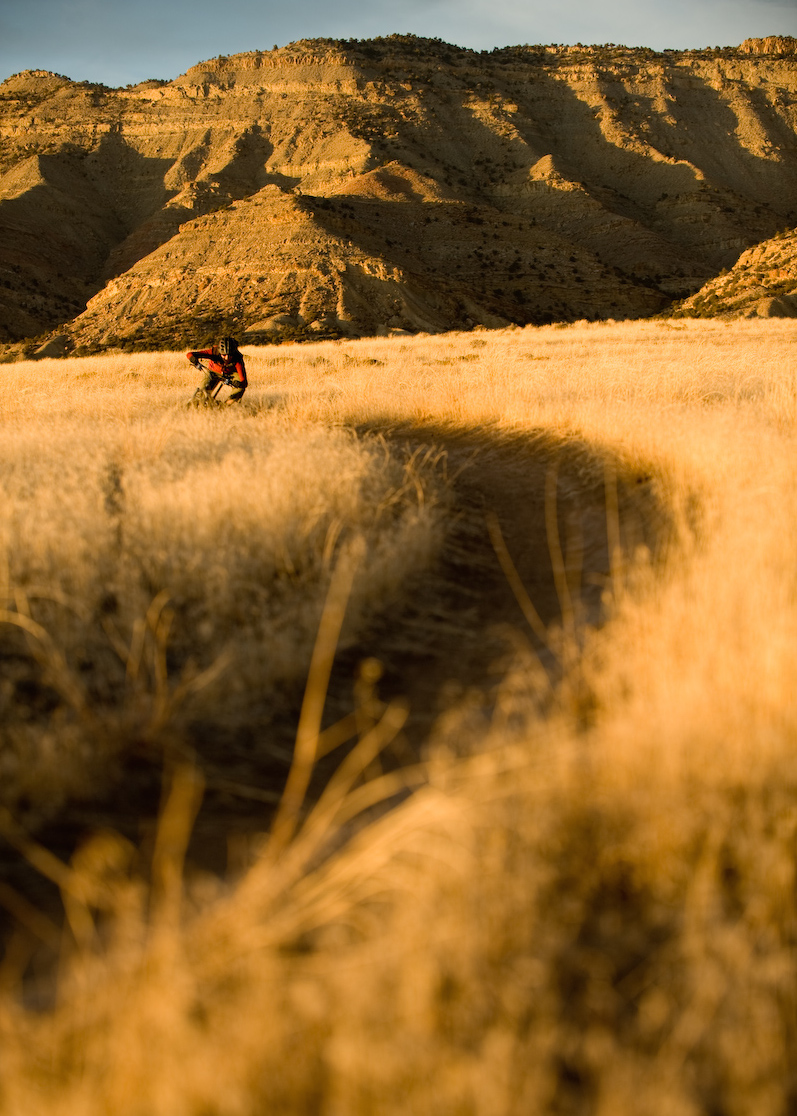 The 18 Road network offers some the high-speed ribbony buff that's made Fruita famous as an off-season cycling destination. Anne Keller photo.
New in Fruita for 2014, riders can etch out additional mileage on the Sarlacc Trail. The eight-mile roll (16-miles out-and-back) is carved into the crumbling layers of the Book Cliffs and features sections with rocky climbs and tight corners but overall classic and twisty Fruita singletrack. An intermediate trail, it makes for a big day on the bike if combined with other trails in 18 Road. Just be mindful of the multi-sport, multi-direction traffic: the Sarlacc is the first motorized trail collaboration in the Grand Valley area, meaning it's open to the dirt bikers who also buzz around the area.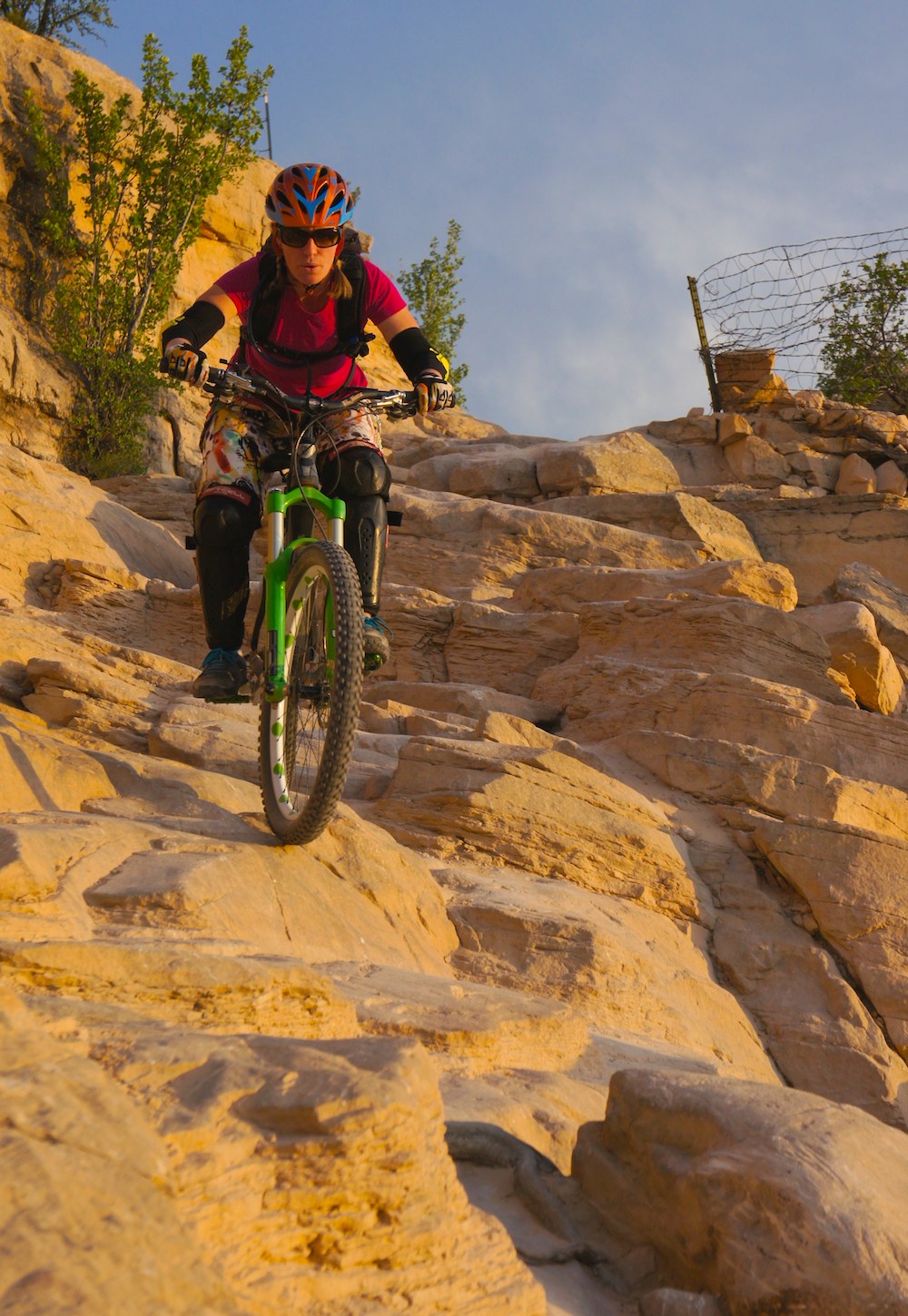 The drop into Horsethief Bench will keep those looking for tech on their toes... or their SPDs. Or whatever, it looks fun! Anne Keller photo.
Across town, the Kokopelli trail system is a technical grunt, but with a range of trails for varying skill levels, it serves up 40+ miles of challenging progression – not including a 142-mile connector trail to Moab. Rocky ledges, exposed canyon rims, and riparian views of the muddy Colorado River currents are trailside norms. So are hike-a-bike sections, which you'll likely encounter at the start of Horsethief Bench, where a 100-yard stretch of tire-eating boulders will have you torn between triumph and torture.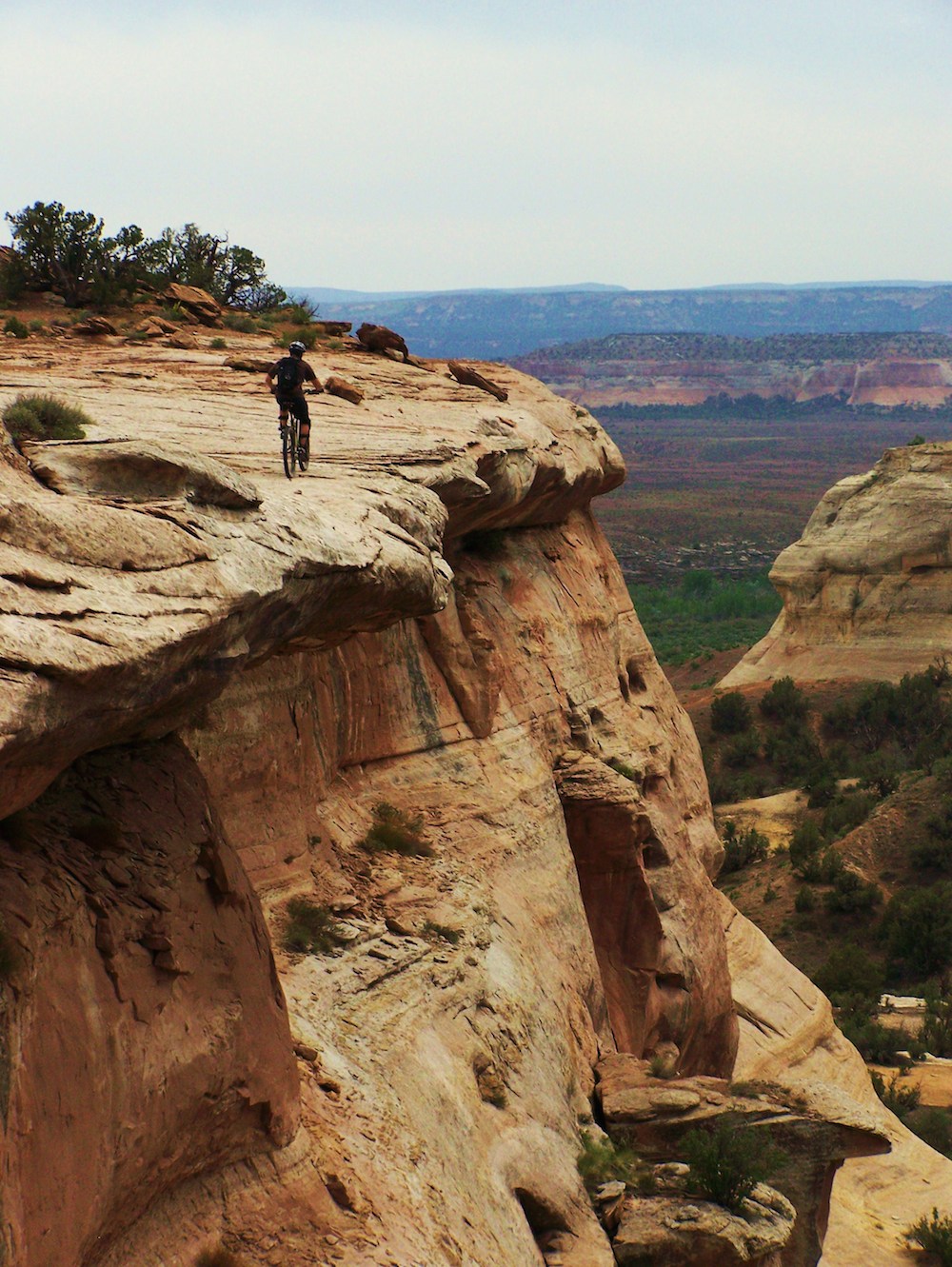 Classics in Rabbit Valley, like the Western Rim trail above, offer the most solitude for Fruita-bound bikers. Anne Keller photo.
Rabbit Valley, just west of Fruita, boasts the most singletrack solitude. This old dinosaur quarry has long been an OHV area, but the multi-use trails are gaining traction with mountain bikers for its terrain diversity. Western Rim, Zion's Curtain, and Westwater Mesa are the crown jewels of Rabbit Valley and can be looped together for 20-, 30-, or 50-mile rides through pinyon pines, gritty sand, and prehistoric geology.
LODGING & CAMPING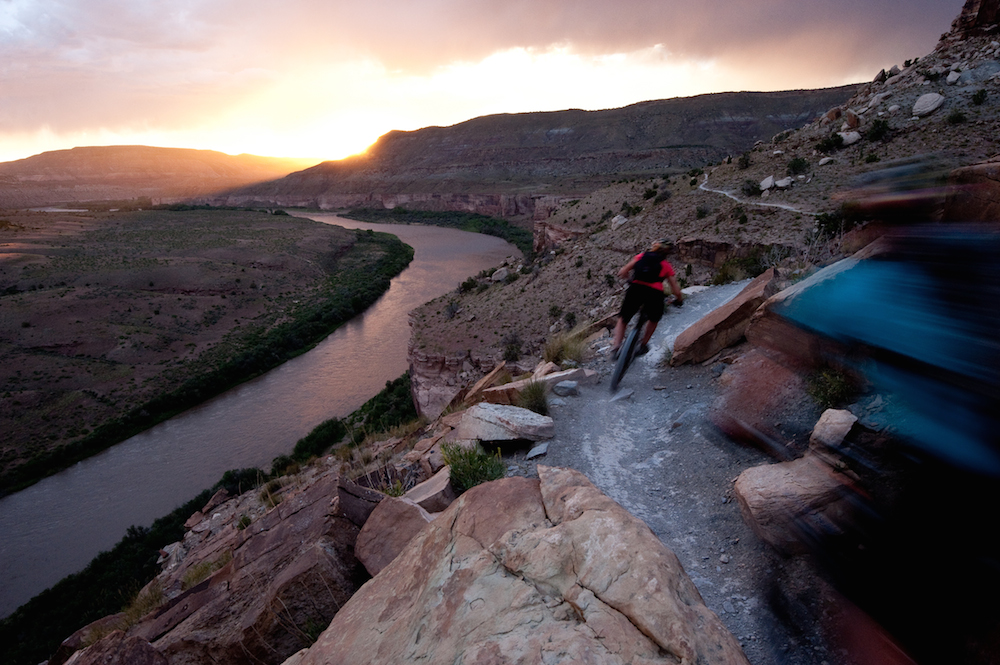 When the sun goes down, there's plenty of camping, and a few okay motels, to be had around Fruita. Anne Keller photo.
A handful of chain motels and local inns are scattered throughout Fruita, but most visitors are rigged for spending the night under the stars. A primitive campground at the apex of 18 Road runs $10 per night and comes with barebones amenities like a picnic table, pit toilet and the convenience of a kick-ass trail (Kessel Run) down the middle of the campground. However, don't expect a mellow basecamp over a weekend. The 30-some sites go quickly on Fridays, and camping etiquette isn't too far behind.
Free camping on BLM land is plentiful, though you'll have to be cunning about where you go. Some of the most obvious camping spots on 18 Road are prohibited from doing just that due to a sensitive environment, but you don't have to go far to get out of eyesight from your neighbors. Try Rabbit Valley for a mellower scene.
---
Want more Fruita? Get a first-hand trip report from riding in Fruita last spring from fellow TGR Contributor Matt Hayes here. Or, read a user-generated TR from Fruita from forum member and photographer Steve Mokan here.
---
To indulge in modern facilities, check out the Balanced Rock Motel, with its free bike storage and bike wash station, or explore more cozy digs on vrbo.com.
Camilla's Kaffe is a hole-in-the-wall breakfast and lunch joint on Aspen Avenue that will fuel up any ride with home cooked flair. Order the rancher burrito or rellenos for breakfast and you'll be tied over 'til dinner.
Save your coffee fix for Aspen Street Coffee Company next door, where locals and visitors hang out in the still of the morning.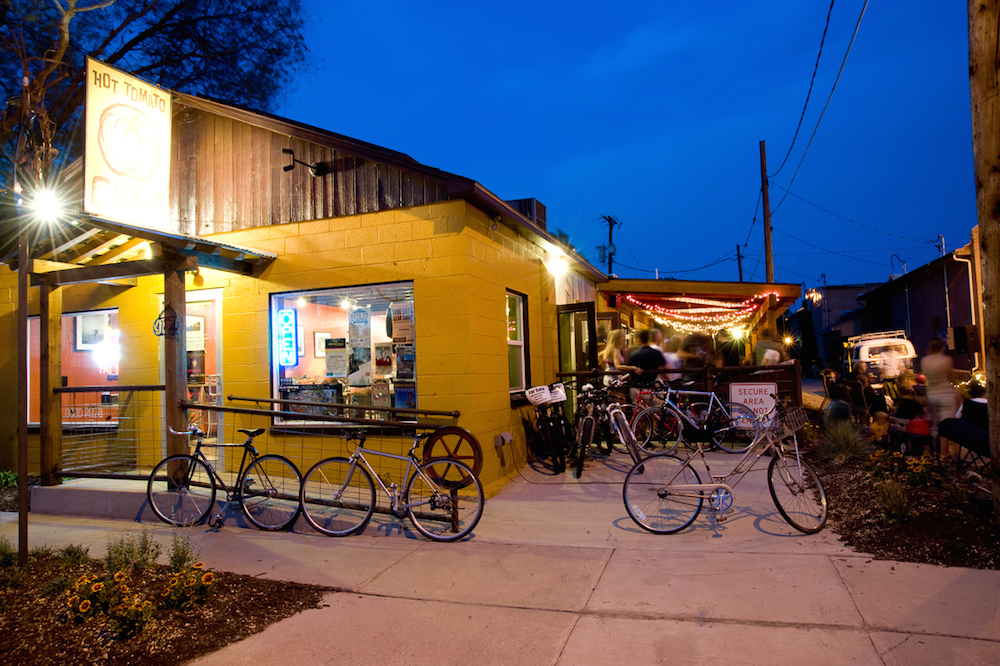 Co-owned by bike photog Anne Keller, the Hot Tomato Café is an absolute must for its unreal pizza.
Don't even think about leaving Fruita without a stop at the Hot Tomato Café. The famed pizzeria, co-owned by bike photographer Anne Keller, will convert even the most rigid glutards with their chewy, from-scratch crusts, glops of mozzarella and chunky toppings. (Yep, GF pizza is available, too.) Loose hours mean flexible closing times, but doors are always locked on Sundays and Mondays.
True nightlife isn't Fruita's forte. The town's general lack of party-hopping bars means that a stop at the liquor store would warrant a better party on most nights. Two neighboring brewpubs, Suds Brothers and Copper Club Brewing Company, serve up high-octane suds and stack a full bar, but last call comes early around these parts, and the town doesn't move much on Sundays, so ask for a growler to go.
GEAR TIPS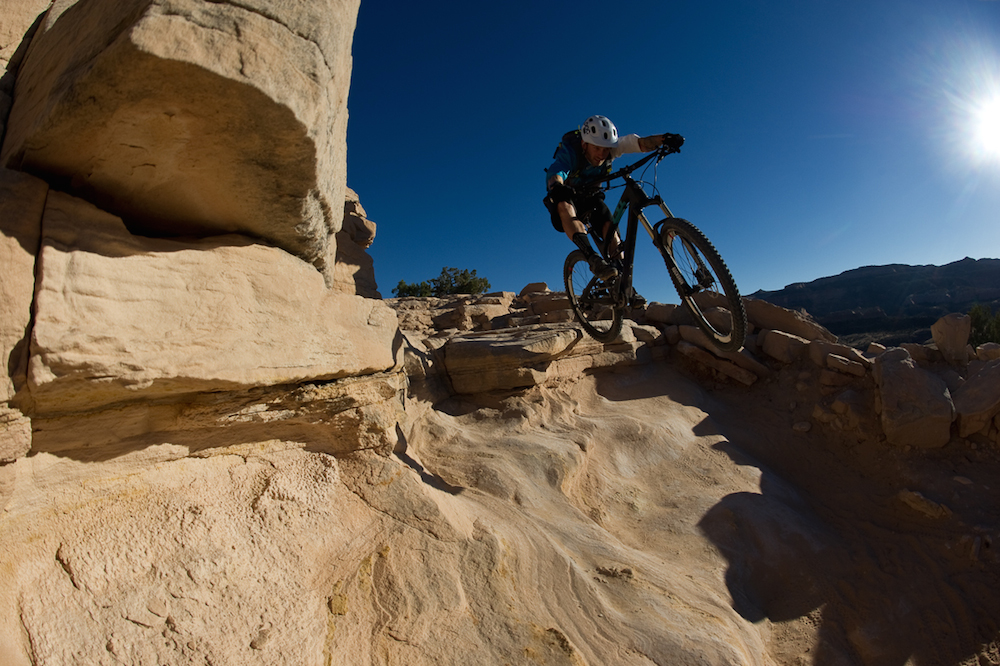 While notorious for high-speed desert flow, you can still get pretty #Enduro in Fruita, so bring your full squisher bikes to handle the rocks. Anne Keller photo.
On the trail, it's not the size of your bike that matters the most. The undulating singletrack can be devoured by a 100mm cross-country bike as efficiently as a 150mm Enduro/trail bike; a 26'er can roll as wonderfully as a 29'er. What does matter; however, is that you leave your hardtail at home. The boulders aren't huge out here, but technical rock gardens are persistent and your extremities will thank you for full suspension cushioning.
Consider bringing a high beam headlamp. The open trails around 18 Road are practically built for night riding, especially during a full moon.
Whatever you forget, Over the Edge will help you get your bike and kit dialed. The ladies and gents at Fruita's best-stocked bike shop know the trails intimately and have a wealth of local riding knowledge to impart.
From The Column: Local's Guide
READ THE STORY
Fact: The Front Range is getting crowded and something needs to be done to accommodate the rapid influx of hikers, mountain bikers, and runners sharing the existing trail network. In response to a bit of a growing crisis, Jefferson County, Colorado is trying something new: designating two popular mountain bike trails as bike-only for a one-year pilot program. Just outside Denver, Jefferson County manages nearly 50,000 acres of open space, hosting 7 million annual recreational visitors.
READ THE STORY
When Tim Koerber first went to Oman, he had never even heard of the place, let alone traveled outside the United States. The trip transformed him into an absolute weapon of a photographer, helping him refine not just his riding and technical photography skills, but building his confidence to deal with the unexpected. Because, let's be real here, the unexpected is something that shows up pretty often in the world of professional mountain bike photography. Since then, his career has