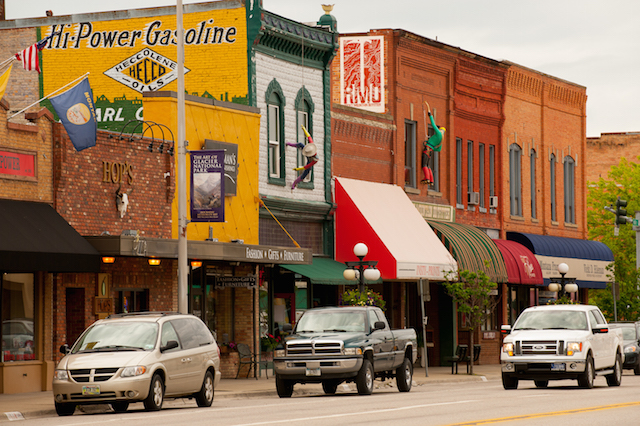 Kalispell's historic downtown provides inexpensive amenities with friendly service and local vibes. Donnie Sexton photo.
One reason—a very good reason—to plan a ski trip to Kalispell is that it's not a ski town. Its convenient central location in Montana's Flathead Valley makes for easy access to resort skiing at Whitefish Mountain Resort and Blacktail Mountain, cat skiing with Great Northern Powder Guides and backcountry skiing in Glacier National Park, but Kalispell remains refreshingly, well, Montana.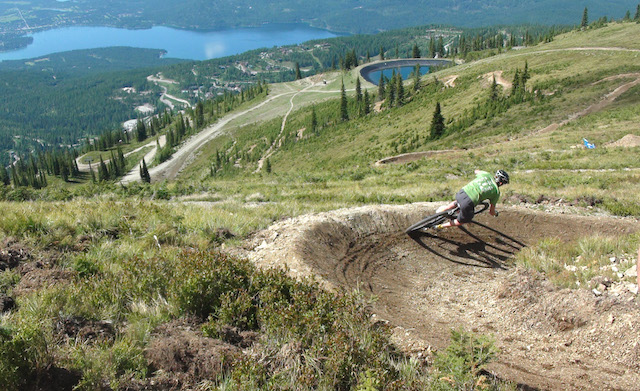 Ripping the Kashmir trail at Whitefish Mountain Resort. Photo courtesy of Diane Medler.
Despite the year-round recreation opportunities for skiers, hikers, mountain bikers and boaters, in Kalispell, flatbed trucks outnumber Subarus, Cabela's substitutes for REI, and the most popular bar in town is a windowless, sawdust covered hole-in-the-wall named Moose's. The surrounding ranch land that separates Kalispell from Whitefish, the resort town 30 minutes to the north, and Flathead Lake, the largest freshwater lake in the West 20 minutes to the south, provides a yuppie buffer that keeps Kalispell affable, authentic and affordable.
Never Ending Outdoor Opportunities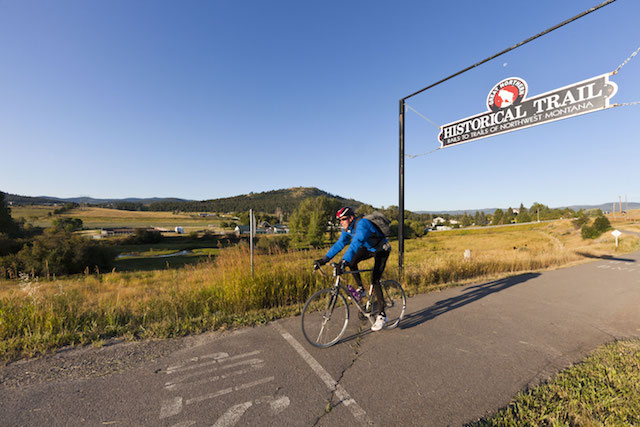 Cyclists of all types can enjoy the endless trails around Kalispell throughout the season. Kalispell Chamber of Commerce photo.
Three million acres of protected land surround Kalispell, and it's easy to get inspired with 360-degree mountain views of three mountain ranges and the peaks of Glacier National Park. More than 500 fishable lakes fill the Flathead Valley, including hike-to high alpine lakes in Jewel Basin and the 27-mile long, 15-mile wide Flathead Lake that trumps Tahoe in size and rivals it in scenery.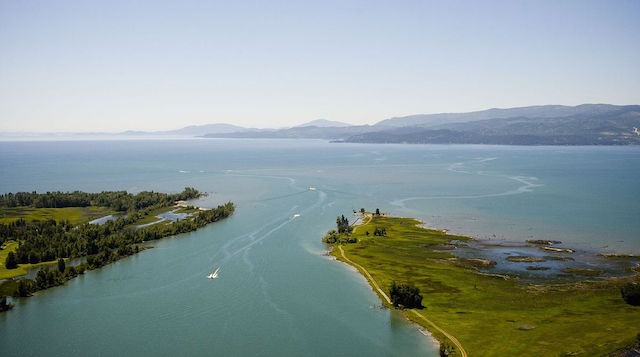 Ever heard of Flathead Lake? Probably not. But it's bigger than Lake Tahoe. Katie Brady photo via Wikipedia.
An ever-growing network of mountain bike trails begins just a few minutes southwest of Kalispell. The area's rivers offer miles of blue ribbon fishing and exciting whitewater stretches along the Wild and Scenic Middle and North Forks of the Flathead River starting at the Park.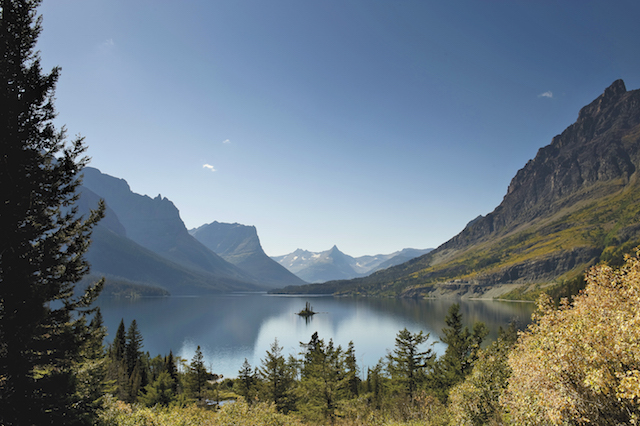 Saint Mary's Lake in Glacier National Park. Donnie Sexton photo.
Only 32 miles from Kalispell, Glacier National Park encompasses a million acres of pristine wilderness, 175 named peaks, 730 miles of trails and one of the largest remaining grizzly populations in the lower 48. Road bikers can climb 3,000 feet to the top of the Continental Divide on the famed 50-mile Going-to-the-Sun Road in spring, before it's open to traffic. In winter, the road draws Nordic skiers and intrepid ski mountaineers approaching the area's vastly untapped ski terrain.
SKI GLACIER NATIONAL PARK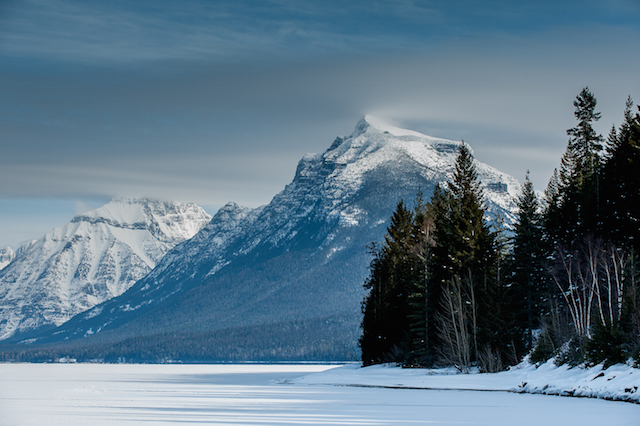 The empty, vast expanses of Glacier National Park require huge approaches to access for skiing in the winter. Donnie Sexton photo.
Fewer than 200 people backcountry ski in Glacier National Park each winter. Greg Fortin, owner and lead guide at Glacier Adventure Guides, guided a group with Backcountry Magazine around the Mini Glacier area of the Park in 2012. Accessing the remote zone required an 11-mile ski in and three nights camping in igloos. Fortin guides about two dozen backcountry skiers into the Park each winter. Most ski opportunities require forest navigation through the lower elevations, and the wilderness setting requires at least intermediate backcountry skills and a solid avalanche education. The "easiest" access lies West of Marias Pass, but do yourself a favor and hire Fortin.
Whitefish packs about 2,300 vertical feet of skiing and riding coated by 300 inches of snow annually. Whitefish photo.
If you're a skier visiting Northwest Montana in winter, you're most likely here to ski Whitefish Mountain Resort (the resort formerly known as Big Mountain), 15 miles from Kalispell. When moisture from the Pacific meets cold, dry air from nearby Canada, which it does on a regular basis, Whitefish collects a special snow that usually skis three times better than the snowfall count leads on. A couple inches makes a huge difference and it tends to stick around, thanks to the cloud cover and the lack of crowds. New this season, the Flower Point Chair accesses north-facing tree skiing on the backside that holds fresh snow for days after a storm.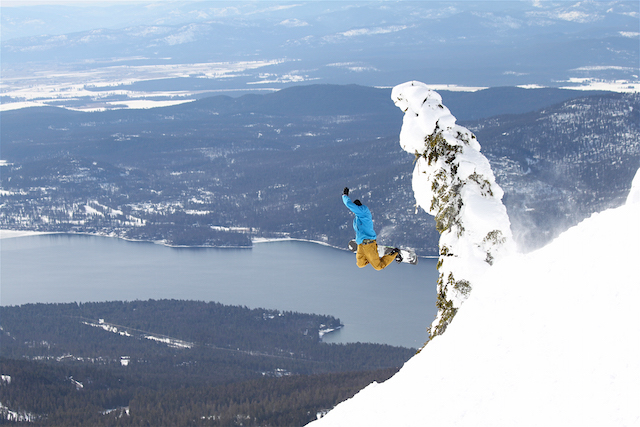 Whitefish Mountain doesn't only offer incredible snow, but picture-perfect views as well. Whitefish Mountain Photo.
On a powder day, start with the Upper Langley/Langley and Powder Trap area on the frontside—it's a fairly steep fall line with open trees and a lot of vertical—and follow it up with Good Medicine for some shorter tree shots. When it opens, follow a local from East Rim to Whitey's and Performance (patrol's name for the apron skier's left).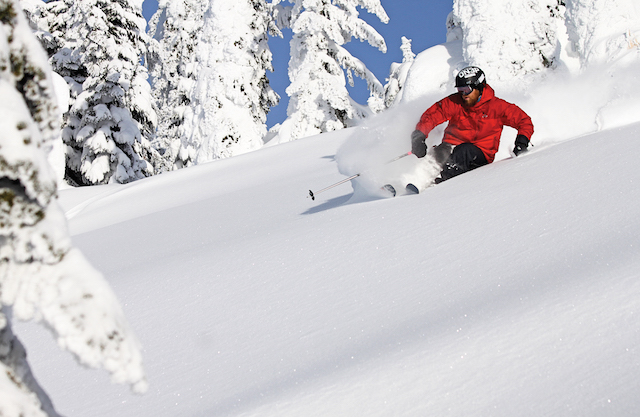 David "Powder" Steele enjoys bluebird skies and deep pow at Whitefish Mountain. Whitefish Mountain photo.
Finish the day with Hellroaring Basin and Connie's Coulee and a traverse to the Picture Chutes apron. Aprés is a no-brainer. The Bierstube has it all, even live music. If you're lucky enough to be drinking on a Wednesday, don't miss the weekly ski patrol roast. When the area's notorious fog rolls in, head to Blacktail Resort.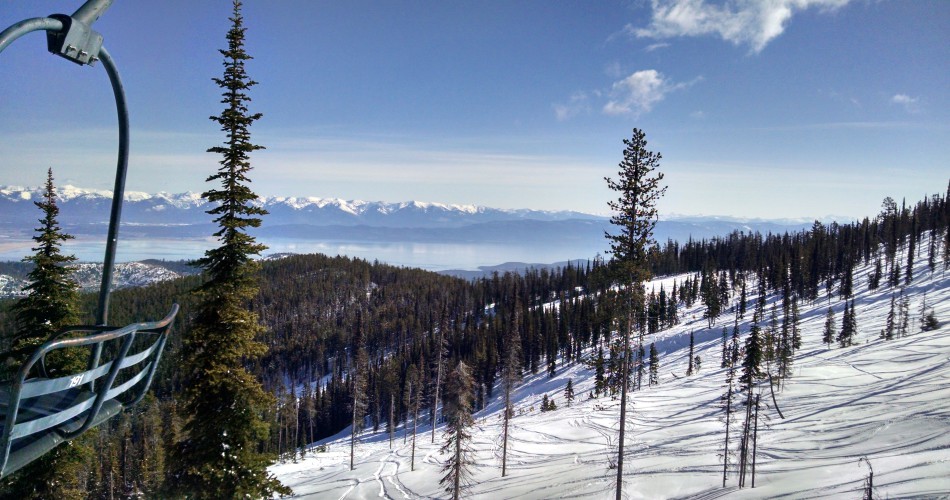 Blacktail brings the laidback vibe, cheap tickets, and entirely north-facing terrain to the Northwest Montana ski scene. Blacktail Mountain photo.
Twenty eight miles south of Kalispell, Blacktail Mountain has all the elements of a throwback resort–$36 lift tickets, $4 microbrew, three slow chairs and a family vibe—but it's only been open since 1998. A former Whitefish Mountain Resort manager overcame numerous hurdles to obtain the only ski area land permit granted by the U.S. Forest Service in the last 20 years.
Get the lowdown on 28 different mountain town destinations with TGR's full Local's Guide lineup.
Open Wednesday through Sunday, Blacktail offers some surprisingly long runs and decent pitches in its 1,000 acres and 1,440 vertical feet—all of which are north facing. But the best part of Blacktail might be the view of Flathead Lake. Down the (never ending) road from Blacktail, the perennially popular Tamarack Brewing Company offers every Montana beer you've never tried and delicious grub before.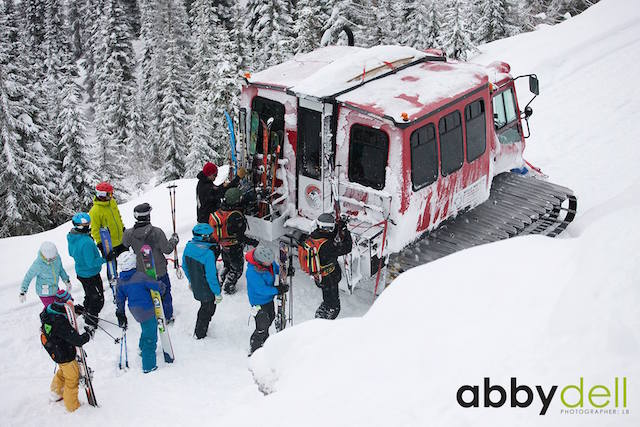 Great Northern Powder Guides is Montana's solo cat skiing op. Abby Dell photo via Great Northern.
Great Northern Powder Guides, the lone cat skiing operation in Montana, accesses a snowy sect of Stillwater State Forest off lonely U.S. Highway 93. It's hard to find affordable cat skiing with terrain steep enough to warrant a turn, but GNPG found a way to cut operating costs—make your own cats that burn less fuel and accommodate more people. GNPG passes the savings on with day rates starting at $350.
QUALITY IS NOT SACRIFICED FOR LOCAL FEEL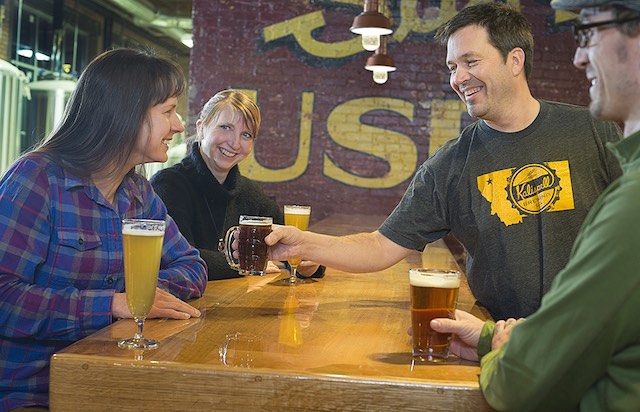 Locals enjoy handcrafted beer at the Kalispell Brewery. Kalispell Chamber of Commerce photo.
In Kalispell, you'll find the inexpensive amenities and friendly service that are hard to find in a resort town. It's all priced—and positioned—for locals. Sure, there's a new craft brewery pouring a hoppy IPA and a homemade ice cream shop scooping "salted maple," but they share Kalispell's historic downtown with a coin shop that's occupied a century-old building for 24 years and an 8,000-square-foot western supply store.
The food scene is "local," but it always has been—cattle, bison, yak and elk are all raised on surrounding ranches, huckleberries grow wild and cherry orchards line Flathead Lake. New, high quality restaurants are popping up, like Mackenzie River Pizza Grill and Pub and 406 Bar and Grille, a tapas spot that opened in early March.
With world-class recreation in every direction, affordable dining and lodging and gracious locals, Kalispell is the accessible launch pad to access the best of Northwest Montana.
KALISPELL MUSTS:
Kalispell with Glacier National Park in the distance. Dan Petesch photo via Wikipedia.
Out of the endless opportunities the Kalispell offers for activities, food, and drink, there are some major must-dos while in Kalispell. These are just a few.
Ski shop: Sportsman Ski Haus
Backcountry guides: Glacier Adventure Guides
Bike shop: Wheaton's
Lodging: The Kalispell Grand Hotel, which occupies a century-old three-story brick building at the corner of First and Main. "The Grand" offers that historic hotel experience without giving up the flatscreen. With the comfortable and clean rooms, you'll have everything you need and nothing you don't. The super friendly and helpful staff prepares a complimentary homemade continental breakfast in the morning and fresh baked cookies in the afternoon.
Coffee: Montana Coffee Traders
Breakfast: Bonelli's Bistro
Lunch: When In Rome pizza
Dinner: Hop's Downtown Grill
Brewery: Kalispell Brewing
Bar: Mooses Saloon
Ice Cream: Sweet Peaks
From The Column: Local's Guide
READ THE STORY
Matthias Giraud. Eric Pütsep Photo. Matthias Giraud is going 50 miles an hour when he slams into the rock spire that juts out from the Pointe d'Areu; a peak just northwest of Mont Blanc. An impact at such speed, even within the protection of modern cars, is invariably catastrophic and likely fatal. Hanging from his parachute like a puppet attached to strings, Giraud has no such protection. He stops moving the instant his body makes contact with the rock, and free fall is interrupted
READ THE STORY
If you don't know who Dylan Stark is, we'll forgive you. A mainstay on the admittedly very niche BMX scene, Stark broke onto the mountain bike scene a few months back with his domination of the famous El Toro stairs. Since then, he's picked up a few big-name sponsors, and made his way to Whistler to join the rest of the mountain bike world. Hopping onto the Whip-offs train without even an official invite, Stark decided to bend the rules a little (he must still be a BMXer at heart, we suppose)
READ THE STORY
Aspen Skiing Co has raised their company minimum wage for the second consecutive year in a bid to make their hiring of entry-level employees more competitive. The recent bump increases the company's minimum wage to $15 an hour, up $1.50 from the prior year's $13.50. Caleb Sample, Aspen's director of talent acquisition, explained that "15 dollars an hour — it's kind of unheard of," and that he believes it's "going to make us much more appealing. That's the hope anyway." The pay raise will