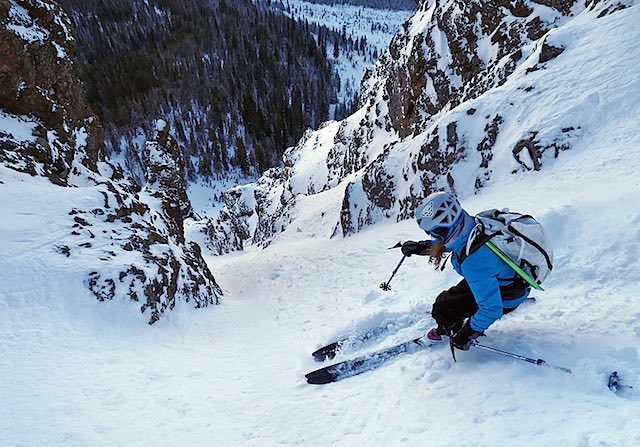 Kt's capabilities in the mountains have propelled her into the skiing industry's spotlight. Beau Fredlund photo.
Kt Miller doesn't waste any time. As soon as the action wrapped up from our recent ski exploration of the Julian Alps, Miller, the trip photographer, was buried in a corner full of skiing, climbing, and camera gear, editing photos for Backcountry Magazine in a tiny apartment in Sella Nevea, Italy. While you may or may not have heard of Kt Miller, one thing is for sure: the ski industry will be seeing a lot of the name in the near future. The 24-year old Cooke City, MT-based skier and photographer is stepping into the limelight with skills behind the lens, in front of the lens, and a solid reputation as a ski mountaineer and serious, avowed penchant for couloir hunting.
BROADWAY TO BACKCOUNTRY
Kt's photography has started to gain traction throughout the ski industry with independent assignments and expeditions. Kt Miller photo.
The hype is for good reason: Miller gets it done. Quiet, but fiercely ambitious, Miller has propelled herself over the last few years to rise from just another stoked skier to someone whose name the industry will know. Her competence in the mountains, camera in tow, has brought a host of new commercial and editorial assignments both at home and around the globe, and full-blown industry support, with recent, covert sponsorships by players like Dynafit and LowePro, as well as smaller partnerships.
At first glance, Miller appears a small, smiling, wide-eyed spirit, but first impressions belie a toughness that can hang with the best. A proud Montana native and child of dedicated outdoor lovers and skiers, Miller grew up around skiing and climbing legends like Conrad Anker and his family, making it seem as though a life in the mountains was a predestined course. But then she will nonchalantly reveal a defining fact from her youth, like it is the normal precursor to her current position. "Until I was seventeen, I wanted to be a Broadway actress." She smiles gleefully, reveling in the incongruity. "It's true –I went to musical summer camp for six years!"
It clearly didn't last. The deeper Miller got into showbiz, the more she saw the darker, cutthroat side of the business, and it turned her off. "I decided I wanted to do something where I could surround myself with positive people," she said.
GETTING BACK INTO THE MOUNTAINS
Growing up in the mountains has allowed Kt to easily transition back into the mountain scene. Beau Fredlund photo.
Luckily, it was an easy transition back to live with mountain people. "I pretty much grew up at Bridger Bowl. My dad used to ski 120 days a year; a total Bridger Bowl dirtbag!" laughs Kt. "Then he built houses all summer and supported our family. So I thought that I wanted to become a guide. I went to Alaska and got in with Southeast Alaska Backcountry Adventures (SEABA) as an apprentice heli-ski guide."
During Kt's second winter in Haines, however, well-known pilot and SEABA ski guide Christian Cabanilla died after falling through a cornice while guiding clients to a run. Miller, on-hand for the rescue and recovery, was deeply affected by the event. Ultimately, she concluded that guiding was not her path either. "I wanted to ski with people who could have my back too if things went wrong – and I also realized I should get more experience in the mountains myself."
It still seems like people are always saying 'Wow, a WOMAN did that.' I think it would be cool for people to say 'Wow, a PERSON did that.'
She returned to Montana, focused on climbing and skiing. But when friends introduced Kt to Brody Leven, ski mountaineer, social media maven and Salomon athlete, another door opened. In 2013, Leven proposed a trip–with Kt as the photographer–to ski first descents in Romania. The trip turned out to have notably horrible snow, but it saw a lot of attention on the internet and social media. "That was big for my photography," says Kt. Since then, her name has been popping up in commercial ski industry shoots, independent adventures like the Shifting Ice expedition to Greenland, and upcoming editorial assignments. She spent weeks in Chamonix working last winter with Caroline Gleich and the late Liz Daley, recently releasing this short video about their time in the Alps.
PUSHING FORWARD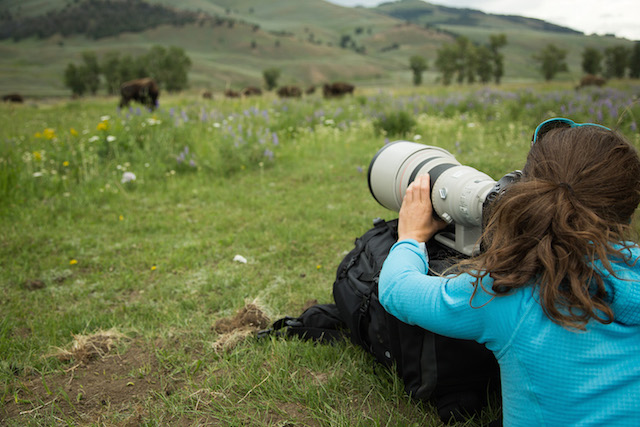 Kt dedicates most of her time to the outdoors whether she's on a photography assignment or hunting for couloirs. Beau Fredlund photo.
The loss of another mentor in Liz Daley was difficult for Miller as she began her own career. "I was really looking forward to doing more trips with her and having another extremely competent female partner in the mountains. But that is life – it is important to take precautions, learn, and be humble, but it is important not to let life pass you by. And it is just as important to have fun skiing flat powder as to have fun pushing yourself in a high consequence ski mountaineering line."
Unlike the impact of the accident at SEABA, Miller has drawn strength and inspiration from meeting and skiing with Daley despite losing her to the mountains. "Long term I'd really like to continue to push myself mentally and physically in more technical terrain, while maintaining a humility for the mountains and putting safety as the number one priority. I'd love to see more women doing rad stuff and telling their stories. It still seems like people are always saying 'Wow, a WOMAN did that.' I think it would be cool for people to say 'Wow, a PERSON did that.'"
From The Column: Women in the Mountains
READ THE STORY
.There's simply so much to love about all the different ski resorts in British Columbia. Story by Tim Neville: On the first of five road-trips to British Columbia, my buddy Tyson is about to eat it. We're standing on an airy ridge looking down a snowy rib that drops vertically for about a body length before relaxing into a wide-open run-out choked with untracked snow. This is Craigellache, one of a dozen quality double black–diamonds off a ridge at Kicking Horse Resort called CPR. Behind us
READ THE STORY
Sun Valley's backcountry is home to some of the finest recreational opportunities and natural beauty you can find in Idaho. Unfortunately, this same area has also been home to two devasting wildfires. The first being in 2007, followed by a much bigger fire in 2013. RELATED: Jeremie Heitz and Daron Rahlves Face Off in Gnarliest Ski Race Ever Both were ignited from lightning strikes and quickly burned through huge swaths of open land. What most don't realize is that the initial Castle
READ THE STORY
@WinterWonderGrass We're headed to WinterWonderGrass at Stratton Mountain with the TGR Stokemobile this weekend, December 14th through 16th! Join us and get tickets here: winterwondergrass.com/stratton Stratton has been having a fantastic fall and it's about to get a lot better. The Southern Vermont ski town famous for its maple syrup, farm to table cuisine, and technical tree skiing is kicking off the first 2018 WinterWonderGrass music festival. If past years are any indication, it's