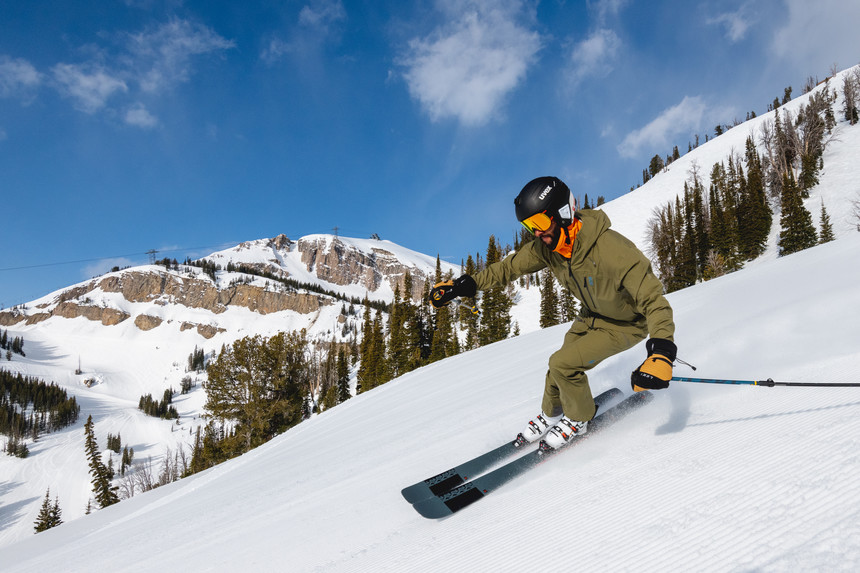 Benjamin Alexander making turns at Jackson's own Snow King. | Stephen Shelesky photo.
The first modern Olympic games took place in 1896 and finally in 2022 is Jamaica sending its first ever alpine skier to Beijing for this years Winter Games. The catch is that Benjamin Alexander has only been skiing for a few years. Early on, his technique was described as "the worst ever seen" and "horrendous" by one of his mentors. But between Benji's dedication, hard work, cunning sense for marketing himself, fearlessness, and pure love of skiing, he put the time and effort in and qualified for the Olympic games. While he may not necessarily be going for gold, Benji's unmatched charisma is just the thing needed to inspire others. We were lucky enough to chat with him and will be tuning in on February 13 to watch his race and cheer him on!
So, tell us a little about yourself.
Benjamin Alexander: I was born and raised in England to a Jamaican father and an English mother. I found skiing really late in life, at age 32, which is kind of an anomaly, and I found skiing through my previous profession which was being an international DJ. I played across five continents and in over 30 countries. For Christmas of 2015, I was invited to a heli-ski trip in Canada. Mica Heli is the name of the resort, and so my friend invited me up, he's actually a Jackson resident, just to hang out with everyone. It's a really nice lodge and there were maybe three or four of us who weren't skiing, or didn't have the ability or didn't know how to, and on one of the days, we were flown up to the top of the mountain to meet the skiers. I saw my friends do this incredible thing in this terrain I'd never experienced before because most of my DJ gigs were booked in warmer climates, and I decided there and then that I wouldn't come back to this heli-ski trip, which was an annual event, unless I was one of the skiers. Realistically, getting into skiing, my goal was just to heli-ski and be good enough to keep up with my friends. I never imagined that I'd be on this path to the Olympics.
Have you been back to Mica Heli since then?
BA: My ninth day of skiing ever, which was Christmas of 2017, was heli-skiing. I've been back again since and performed much better. It's so good. It's just incredible. We were back up there with a bunch of Jackson people – Lynsey Dyer, Travis Rice, and a bunch of other really cool skiers and snowboarders when I was there.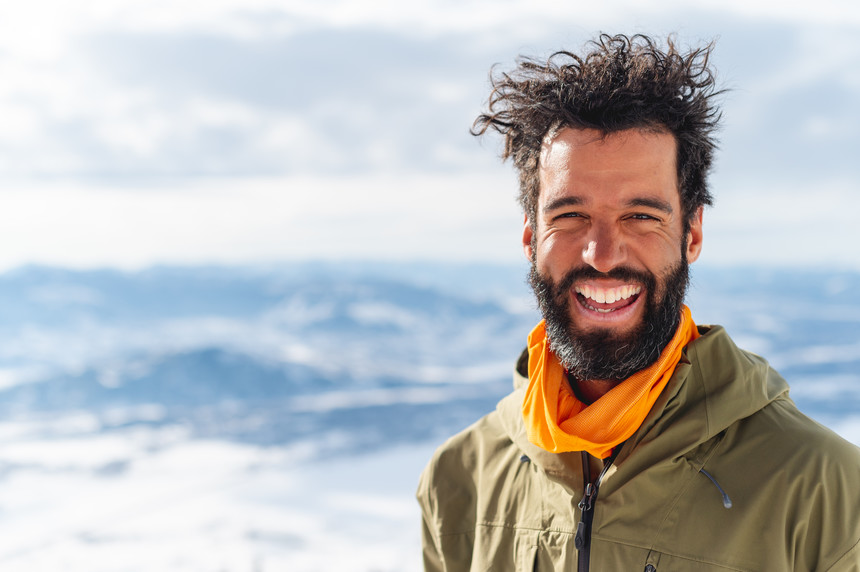 It's pretty cool to see Benji's determination and stoke for skiing. | Stephen Shelesky photo.
How did you go from wanting to just keep up with your friends to wanting to be in the Olympics?
BA: Some friends of mine set up this event at Revelstoke. It's essentially a gathering of 200 tech entrepreneurs who are just getting drunk and dressing up and skiing. This was really the first time that I was a) good enough and b) in such a large group of skiers that I really experienced the social element of skiing. What I call "team human" against the mountain. While I was skiing with my friends, being mixed race, half-black, half-white people would always kind of lean on the fact of my Jamaican heritage. I was the Black representative of the group and Jamaican so people would always talk about Cool Runnings and Jamaican on ice, and making all of these sideways jokes, shall we say, and they said, you should go to the Olympics. So in 2018, I went to the Olympics, and I noticed that there were only three athletes in participation from my father's nation. 2018 was also the year I fell in love with skiing. I went to Niseko, I went to Patagonia, I drove thousands of miles by myself to find better snow. I was really, really hooked. 2018 was also the year that I gave up DJing. At the beginning of 2019, I decided to go back to Revelstoke for this event, but instead of staying for the five days, I decided to go for a whole month and see what a month of skiing felt like. I really thought the most likely outcome of that month would be death or serious injury - I just loved to go fast. On the third day, I connected with a skier called Gordon Gray who is a former Europa level ski racer for the United States. After being introduced to him, I said "look, I have this crazy idea of going to the Olympics. I'd love to have your opinion on it and have you let me know if it's possible." He said "let's ski together," and we did. At lunch time he pulls me aside, and says "okay, you have the worst technique I've ever seen. It was horrendous, absolutely horrendous. But what I can't figure out is how the heck you're keeping up with me. I've skied at the highest level all around the world for the United States, and skied for 40 years now, but you're keeping up. You're absolutely fearless. I think you could do this. With enough training it's possible. If you were afraid, there'd be no chance. The fact that you're fearless, we can teach you the technique." It was Gordon that helped me choose Giant Slalom and it was Gordon that set me off on my way to get there. That encounter was almost three years ago to the day, but it wasn't until the end of 2019 that I moved to Jackson and kind of went full time with it.
How did your international DJ career help or influence where you are now?
BA: It helped in so many ways. I've spent the last six months on the road in hotels, getting to ski races, training in all parts of Europe. I think for a lot of people, being away from home for so long and changing the bed you sleep in every three days can be a little discombobulating, but for me it's just a return to the DJ world so it doesn't phase me in the slightest. Secondly, when I worked as a DJ, I never solicited the services of a manager or an agent so I was always very acutely aware of how to market myself and how to get bookings in the places I wanted to get to. I've used a lot of those same tactics and techniques and that understanding of self promotion to really help raise my profile, which in turn, has helped me find sponsors.
Benji's keen sense for marketing himself helped him land sponsors with Stio, Atomic, and Leki. | Noah Wallace photo.
What's your goal for the Winter Games?
BA: The hope is really to inspire the next generation of athletes to kind of start much younger. I really want to take part in the longevity of the Jamaican alpine ski team. We lost the President of the Jamaican Ski Federation four months ago and so I've been doing all of his work as well, over the last few months. I hope to officially take that role afterwards and help the next generation of athletes so that they can do much better in 2026 and 2030.
Do you feel pressure as the only member of the team or more just honored to be representing Jamaica?
BA: I'm absolutely honored to be doing it and I'm surprised somebody didn't think about it sooner. I've been so honored and so overwhelmed by the support. I think everyone is interested in Jamaica at the Winter Games, of course, by virtue of the 1988 bobsled team and everything that came after that. It's just a fun story that lots of people are willing to get behind.
What are your skiing goals after the Olympics, if any?
BA: To ski powder. To get rid of my bloody race skis and ski powder. I can't wait to come back to Jackson, I'll be coming straight back to Jackson the day after my event. I'm so excited to ski powder. I'm so excited to get on my Bent Chetlers and have fun.
Do you have any interest in other competitive disciplines?
BA: No, racing is just incredibly challenging on the body. To try and break into the old guard and compete with athletes who have been doing this since they were two and training since the age of four and all that, it's just nearly impossible to be competitive starting at the age of 32. Going to the Olympics this one time and having my performative moment of participation, that's great, but my story really lies in showing up to the next Olympic games in a suit - not a race suit but a proper business suit as President of the Jamaican Ski Federation.
Before his DJ career and his finance career, Benji dabbled in some modeling too. | Noah Wallace photo.
Do you have plans to inspire other Jamaicans to get into skiing or join the team?
BA: Absolutely, I've already got names. I'm speaking to about seven athletes that will be on the skis or a snowboard for us in 2026. Now that I have a very in-depth understanding of how the qualification process works and an understanding of how the Jamaican Olympic Association works with the IFC, I have some really cool, fun ideas about how to get Jamaicans from the island onto cross-country skis, for example, so we can have more representation next time around.
Anything else you want to add?
BA: I'm excited to go skiing with Todd and Kai Jones, you should put that in there.