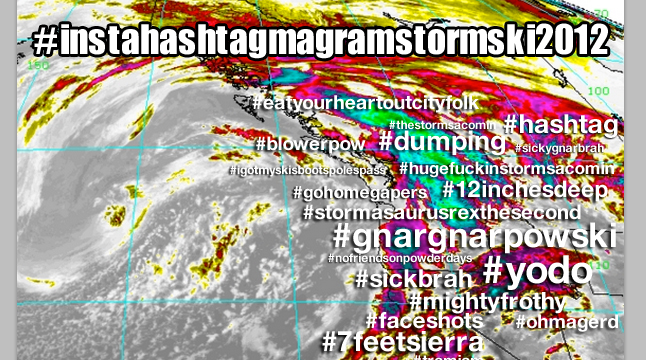 Many are saying Tahoe and the rest of the West is about to get pummeled with snow. Naysayers predict rain. #whatever #itson #7feetbitches !!

Social media platforms, blogs, and websites are a-buzz, and the chatter in dive bars from Tahoe City to Santa Cruz has been incessant about the series of storms barreling down on the Sierra Nevada. While professional meteorologists—and a few amateur radar watchers—were talking about this four-storm system weeks ago, the general public has just recently become privy to the news: Tahoe is about to get buried!

Over beers in Northern California's dives and on headlines throughout the area, naysayers and sandbaggers are predicting rain. But those that know know that the first storm of the season—being dubbed "JW" by Kirkwood's marketing guru Coop Cooper—signifies the actual beginning of winter in Tahoe.

"Everyone in Tahoe keeps saying 'wet' because the newspapers keep writing that," says Bryan Allegretto, the mastermind behind Tahoe's preeminent weather website TahoeWeatherDiscussion.com — which will soon be joining forces with OpenSnow to create the dream resource for skiers and riders by skiers and riders. "That's why I keep saying on my site, 'don't give in to this media trap.' Some of the best and most fun days of riding in Tahoe are when the snow level is at like 7,500 feet. Most of these ski resorts — like Squaw who has a ton of lifts up high — have chairlifts that start at like 8,200 feet and go up from there. Everyone looks out their window downtown at lake level, around 6,000 feet, and sees rain and says, 'It's wet, I'm not going skiing.' Meanwhile, up top some of us are skiing powder all by ourselves."
A series of four consecutive storms over a five to six day window are forecasted for the Tahoe region. The first system rolled through yesterday dropping anywhere from 6 to 8 inches. The next storm moves in Thursday night and will settle over Tahoe into Friday night. And, the biggest storm rolls in Saturday and into Sunday, with the possibility of precipitation lingering into Monday.

"I've been telling people that we're looking at a 7,000-foot snow level through Friday with a couple feet of snow and more on Saturday," says Allegretto. "You have anywhere from 1,000 to 2,500 feet of vertical on these mountains that is going to get 3 to 7 feet of snow!"
The good news for pow-starved skiers not located in the Sierra Nevada or Pacific Northwest — which looks to be getting hammered, too—is that these strong storms will be traveling east toward the Tetons and Rockies.

"The strongest piece of the main west-coast storm will head east on Sunday night and Monday," writes the prescient weather resource OpenSnow, "and should bring decent snow to many Colorado mountains, primarily from Aspen north to I-70 and the Wyoming border."

So, be patient and brace yourself for the unavoidable onslaught of blower Instagram pics and ubiquitous hashtags from Tahoe and the PNW that will be clogging your feeds this weekend. This beast of a storm is headed your way soon enough.

Check back early next week for a recap from Tahoe. Until then, be safe, think cold, positive thoughts, and share your early season storm photos with us on Twitter and Instagram (@TetonGravity) by using the hashtag: #StormWatch. We're eager to see those pow pics.
READ THE STORY
Well, ladies and gentlemen here it is, demanded by the public at large, the official soundtrack for our new film . About a week ago we premiered to a sold-out crowd in Walk Festival Hall at Jackson Hole Mountain Resort. Now the film is headed out on the road across the country and the world. Be sure to check out our full tour schedule here and be sure to check back frequently as new shows are added daily. Buy Tour Tickets here. Film Synopsis:
READ THE STORY
This post originally appeared on Powderchasers.com. 23 inches has fallen at Timberline Lodge in Oregon in the past few days! It's snowing in the Cascades currently and today is opening day for Arapahoe Basin In Colorado. The extended forecast while warm early next week looks cold and deep in the 7 day period. There is a lot going on for mid-October! The Pacific Northwest has seen significant snowfall in most of the Oregon Cascades where less has fallen further north in Washington. A
READ THE STORY
In case you missed it, this weekend marked the beginning of winter for the northern Rockies. We know it's only September, but Montana, Wyoming, and even parts of Colorado were blessed with some pretty significant snowfall. Some of us just couldn't resist the itch, and dusted off our skis and boots to take them out for their first walks of the season. Well, we all know that with early season skiing comes some serious spraying, so here are a handful of the best captures we found on the ol'