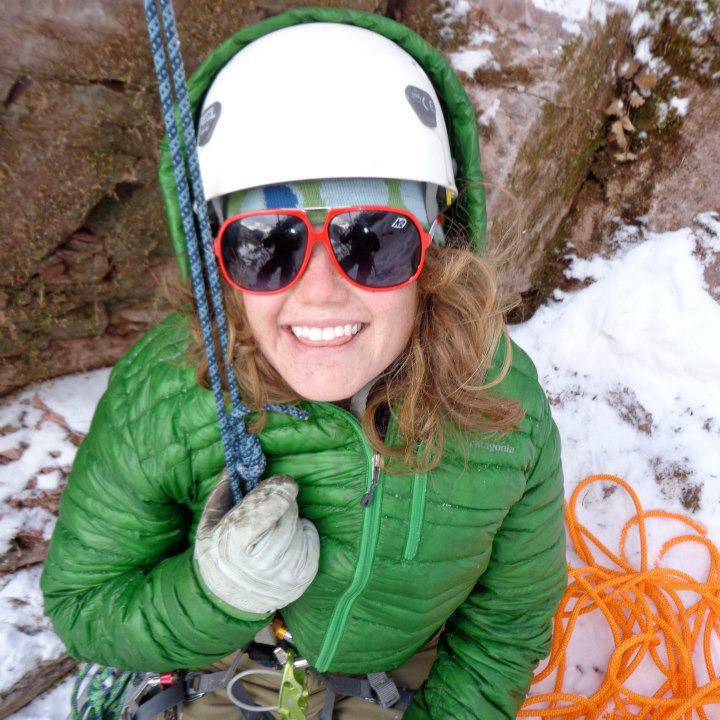 Olivia Buchanan died in an avalanche southwest of Silverton, Colorado Tuesday. Photo via Facebook.
Updated Thursday, January 8th, 11:30 AM MST: Following the tragic death of two promising American ski racers earlier this week in an avalanche in Austria, we regret to inform you of a second to take the life of a young, passionate outdoorsperson. 23-year-old Durango, Colorado native, Olivia Buchanan, died yesterday in an avalanche southwest of the tiny town of Silverton, Colorado. Buchanan and her partner, another Durango local named Ryan Mooney with whom Olivia had worked for years at Purgatory Ski Rentals, were skiing down the Rabbits Ear avalanche path off of Kendall Mountain when a small avalanche caught the young Durangoan and dragged her through a stand of trees. Despite a heroic rescue effort from local search and rescue personnel that lasted into the early evening and an immediate Flight for Life evacuation to Mercy Regional Hospital, Buchanan succumbed to the injuries suffered in the slide and was pronounced dead yesterday evening. Our thoughts and condolences go out to Olivia's family and friends.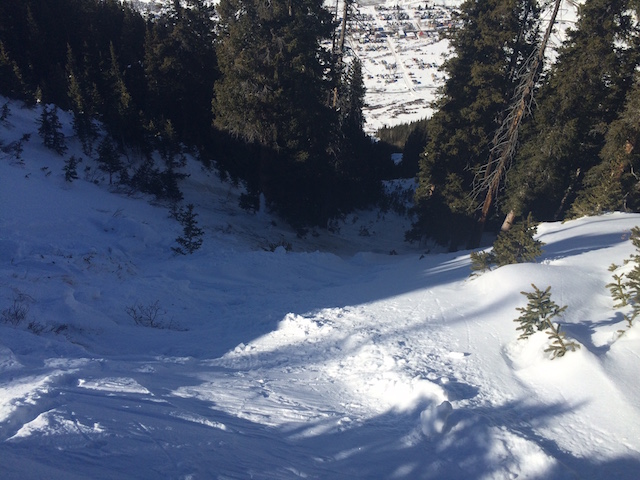 This CAIC photo shows the slide path of the slide that swept Olivia down the Rabbits Ear avalanche path outside Silverton.
The Colorado Avalanche Information Center had listed the avalanche hazard in the South San Juan area as moderate at all elevations, with a typical Colorado hazard–persistent slabs–lurking in the snowpack. "The most dangerous slopes are near and above treeline where the wind deposited drifts at upper elevations onto existing Persistent Slabs in the past two weeks," said the CAIC's forecast, and that warm temperatures beginning on Monday were creating the possibility of loose wet slides on east, south, and west aspects. According to the preliminary CAIC incident report, the slope Olivia and her male partner were skiing was on a northwest-facing aspect at 11,000 feet below treeline. The slide was said to have run roughly 400 feet.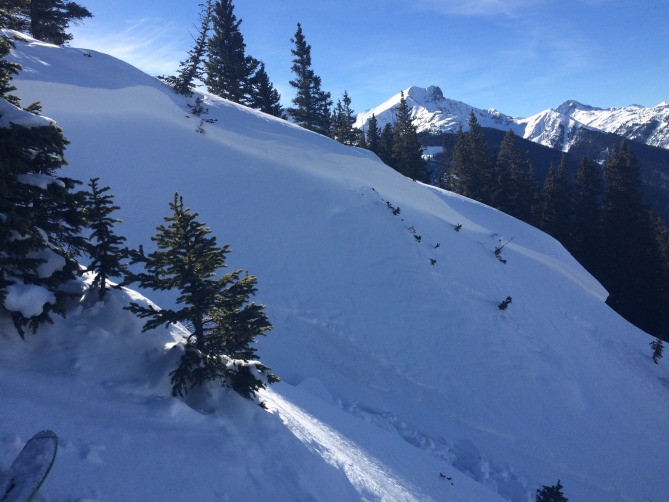 The crown of the avalanche on Kendall Mountain southwest of Silverton. CAIC photo.
According to The Durango Herald, Buchanan's partner began CPR efforts immediately following the avalanche, and search and rescue volunteers were alerted of the incident around 4 p.m. local time. The volunteers were ferried up to 11,000 feet via helicopter while Silverton Mountain ski patrol staff assessed further avalanche danger towards them. Since the helicopter was unable to land near the scene of the avalanche in order to immediately load Olivia into the aircraft, San Juan Search and Rescue had to get Buchanan down the mountain to a waiting ambulance, which they accomplished by 7 p.m. that evening. Olivia was then transferred to a Flight for Life helicopter that took her to Mercy Regional Hospital in Durango, where she was treated as a cold-water drowning victim but soon pronounced dead, having succumbed to the injuries she sustained in the avalanche.
Buchanan was a former intern at the Silverton Avalanche School and a geology student at Montana State University. She is survived by her mother and father, Amy and Evan Buchanan, and her younger sister Emma. "We're doing alright, but its pretty gloomy around here," said fellow Durango local and TGR forum member Zach Cooley. "She worked here at Purgatory Ski Rentals starting when she was in middle school, and her dad's been working here for thirty years, so we're all in bad shape. She was just a really happy young lady that was stoked on the outdoors." Our hearts and prayers again go out to Olivia's family and friends.
READ THE STORY
In his very first podcast we welcome Eric Pehota, the freeskiing pioneer and undeniable ski legend, to the LPP. We sat down in his shop in Pemberton, BC alongside one of his sons... and friend of the show, Logan, who just happens to be one of the best skiers on the planet right now. Listen Eric talks about pioneering countless first descents in the Coast Mountains of BC with his ski partner and friend, Trevor Petersen. In the late 1980's and early 90's Eric and his ski partner,
READ THE STORY
Last November, Burton snowboarder Kimmy Fasani was breastfeeding her second son when she noticed a pea-sized lump in her armpit. "Oh shit," she thought. Both of Fasani's parents had died of cancer and she'd set up her lifestyle to avoid any possibility of getting it herself. But, a day after finding the lump, she sat in her doctor's office and listened to them clinically diagnose her with breast cancer. "Within three days, everything was flipped upside," she says. Fasani, Truckee native,
READ THE STORY
The Ridge Infinity kit is a durable freeride kit for ripping no matter the conditions. | Helly Hansen photo. Freeride skiing takes a toll on your gear – your skis, boots, and outerwear need to hold up to abuse season over season. As much as I love lightweight gear, reality is, an ultralight touring outerwear kit just isn't going to cut it for mobbing around in and out of bounds. Helly Hansen's solution comes in the form of the smartly designed Ridge Infinity Shell jacket and pants, and