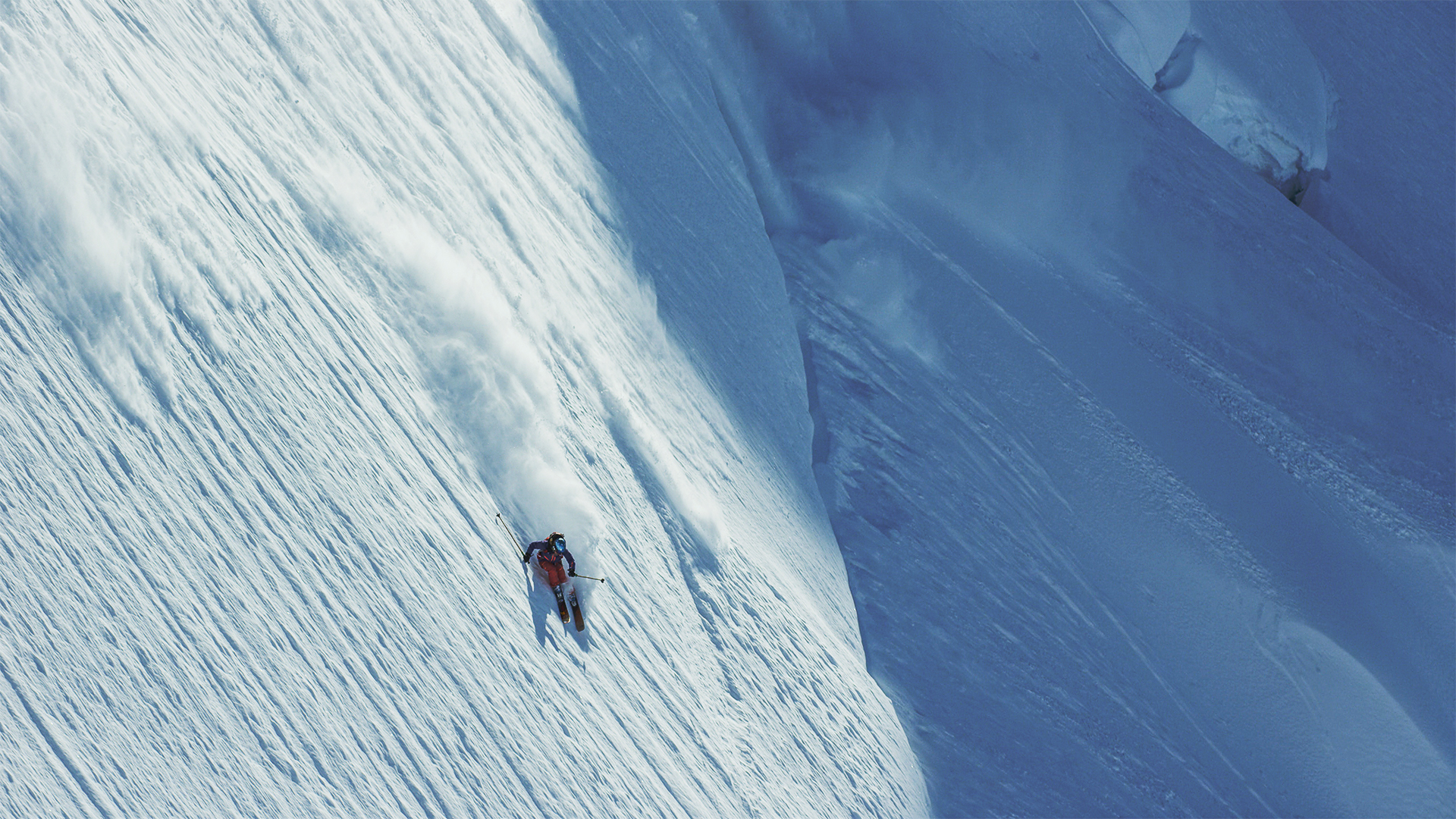 Angel shredding the steeps in Juneau, Alaska for her first-ever opening segment in Almost Ablaze.
We asked TGR and The North Face athlete, Angel Collinson, what she's been doing lately to get ready for this ski season. Judging by her performance in TGR's recent film Almost Ablaze, we weren't surprised to find that she takes training during the offseason pretty seriously.
This year, Angel has been training hard in the off-season in Salt Lake along with fellow SLC pros Rachel Burke, Dash Long, and Julian Carr. Aside from their custom ski-conditioning program, she's been using the new Mountain Athletics training app from The North Face, which puts together month-long training programs for those looking to get in shape for backcountry skiing, rock climbing, or distance running, with a new update providing training programs for all-mountain skiing and general fitness.
She's also been practicing tricks on trampolines, mountain biking, and doing daily yoga, all the while, touring with the acclaimed all girls ski film Pretty Faces. Needless to say, she's getting after it. Angel spoke with us about her training, how it benefits her goals, and the importance of getting creative with your workouts.
On her strategy

My ski conditioning program is mostly all body weight exercises with some kettle bell and dumbbells–no real weights. We do a lot of stabilizing and balance stuff like one-legged, lateral, and regular box jumps. Jane Fondas—these things kill—but outer hip and outer glute exercises really help me with touring in the backcountry. If I've been doing Janes, my hips don't cramp up when I'm touring, but if I haven't, they do. Oh, and a lot of core, the stuff with twisting movements is the most beneficial I think, like seated Russian twists with a weight.
Also, whenever I can, I always try and get a mountain bike ride in. I like going on short but super tough rides. I like it because it challenges me on the ups and the downs, but it's still a ton of fun.
I also do yoga every day. I don't do it for the workout, and I don't like it to be tough–I do it for the restorative factors. I like it to be calming and I use it to work on my breath. If I do a breath workout every day, it helps me in every other aspect of my life. Yoga ends up playing a huge role in my skiing because it's taught me how to use breathing to calm my body and my mind.
On her Goals
My biggest goal this year is to start integrating tricks into my everyday skiing. So I went to Mt. Hood to ski at Windells this summer with Hadley Hammer to work exclusively on tricks. I also got a pass to Snowgression, a big gym full of trampolines and foam pits. I have been trying to go there twice a week. It's hard for me to learn on snow, so pre-season training is really important.
On Staying Motivated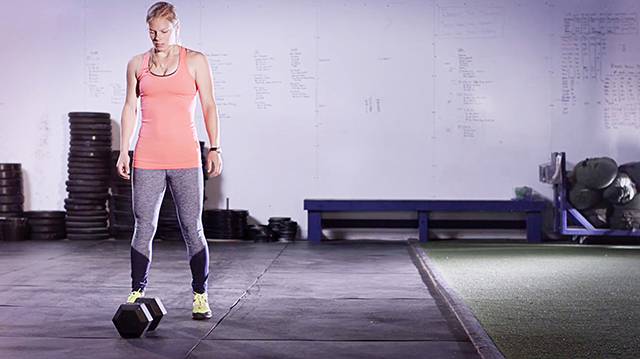 I think it's important to stay creative and find something new if what you are doing isn't working. A lot of people don't train in the off season because they don't like going to the gym, but I would say they just haven't found the right gym, trainer, or people to train with. And if you aren't in the gym, you should be getting outside or doing whatever gets you excited.
The athletes I know who hate gyms are out mountain biking, trail running or doing something else every single day. Find whatever makes you push yourself and do it. For me, I know that I like working out in a group, so I'll spend the money to go to classes because I know I need those other people to help push me.
On Training for Fast Big Mountain Skiing
Training in the offseason is a huge contributor to going fast and having stamina in the mountains. For me, overall strength is key, because then once ski season starts, I already have good base fitness so it gives me the ability to just focus on my skiing.
3 tips to remember

#1: When you're training and you start getting really tired, that's the most crucial time to push through because that is the point where it comes in on the ski hill. So whatever it is that motivates you to just keep going, channel that.
#2: Breathe. I find that breathing not only helps calm and silence my mind, but it also helps my overall energy levels.
#3: Listen to your body. If you pay attention, your body will tell you if you should keep going or when it's time to stop. Don't let ego get in the way because we all have good and bad days. Give yourself permission to go easy if you aren't feeling well, don't let someone override your inner voice, and always remember to breathe.
Angel's Top Three Favorite Mountain Athletic Workouts
#1. The Quadzilla Complex:This is a loaded, plyometric-based complex of exercises completed back to back designed to train eccentric leg strength. Eccentric strength is "negative" strength. You use eccentric strength to lower yourself into the bottom of the squat, and hike down a steep hill. Alpine skiing primarily demands eccentric strength. Gravity "bounces" you down the ski slope and your legs absorb the negative force for each landing.
#2. Poor Man's Leg Curl Workout: Skiing is really quad-intensive and The Poor Man's Leg Curl trains the backside of the leg - hamstrings and glutes - to add balance and durability.
#3. Hard Rock Core Circuit Workout: The exercises target movements, not muscles, and forces your core to work in every single direction–up, back, and sideways.
---
Ready to get ready for the first run of the season? Download the Mountain Athletics app today, get your gym shoes on, and get to work...
READ THE STORY
ELEMENTAL from Sage Cattabriga-Alosa on Vimeo. Sage Cattabriga-Alosa rips. Whether it is BC pillows, unimaginably large Alaskan spine faces, or desert freeriding, he puts his mark on a mountain face like a true master. Wait, desert freeriding? Like on bikes? Yup. For those of you that haven't figured this part out yet, Sage is quite the accomplished mountain biker. Living in the two-wheeled hotbed of Bend, Oregon surely helps, but hanging out and riding with professional mountain bikers
READ THE STORY
For the second time in as many days, Teton County Search and Rescue responded to a call from an injured skier Saturday afternoon, reports the Jackson Hole News & Guide. The 36-year-old managed to get his "ski tips [stuck] in the snow, and hit his head and crashed pretty hard," said Teton County Undersheriff Matt Carr who also mentioned that the man was "complaining of a head injury and some pain in his spinal area." The patient was retrieved via helicopter, transferred to an ambulance and
READ THE STORY
Story by Matt Coté If this were Instagram, the scene before me might seem cliché. My ski tips dangle over a cornice while a steep, blue spine screams back up in the key of ecstatic tension. ER3 is one of Lake Louise Ski Resort's marquee big-mountain lines in what feels like an endless amphitheater of cascading geology. The Canadian Rockies are some of the youngest mountains on the planet, and the Earth's strata are on display like it's been dissected. If I turn 180 degrees though,