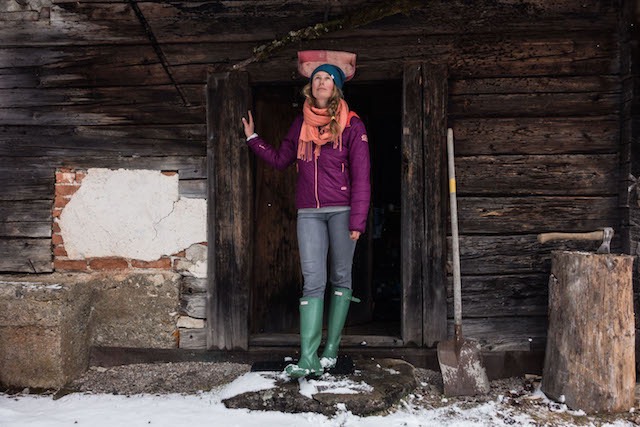 The hut's doorway includes a pillow nailed to the entry for the sake of taller guests' foreheads. Atomic photo.
The never-ending dearth of reasonable skier housing has forced skiers to innovate, produce, and build their own new, custom living solutions for decades. You can read about how TGR cinematographer Dan Gibeau and his wife Brittany did exactly that with a 172 mobile tiny home, or the many other subjects of our Base Camp column. Yet sometimes, the creativity lies in seeing what already exists.
So when skier Molly Baker moved to Europe last summer to work more closely with her ski sponsor, Atomic, she decided to look to the past for her ski house. Way, way into the past: she found herself moving into a tiny hut that has been standing for centuries on a homesite first recorded in community records around 1100 AD.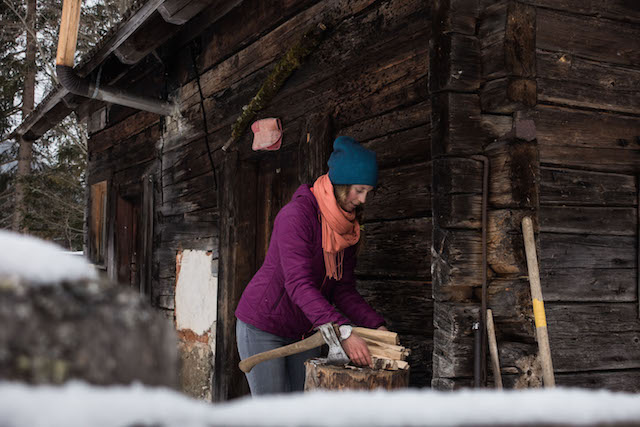 "My coworkers probably thought it was a little strange, but the reason I wanted to live in a hut like this was that I was afraid of swapping out the kind of life I had been living for a different kind of lifestyle, and losing all my inspiration." Atomic photo.
No stranger to ski bum life, Molly spent three years living and being on tour around North America in Outdoor Research's Tiny Home with multiple tiny-housemates, after which most people would be ready for a change: space, convenience, the ability to sprawl and own more than a couple of bags of gear and clothes. But for Molly, the tour was not a marketing gimmick, but a window into her idealized ski lifestyle: truly minimalist in space, needs, and possessions, and with as few distractions from skiing as possible.
HUNTING FOR THE PERFECT HUT
Despite the small size of the hut, up to several guests can be fit into the home alongside Baker. Brigid Mander photo.
When Molly arrived in Austria, Atomic offered the standard assistance for relocating employees, but she balked at the offer: a modern apartment in a tidy little town. Instead, she set out to find the ultimate simple skier's hut, and focused on what the Austrian Alps already had: a plethora of tiny shepherd's huts scattered around on farms in the snowy valleys near the Atomic headquarters in the town of Altenmarkt im Pongau.
"My coworkers probably thought it was a little strange," says Molly. "But the reason I wanted to live in a hut like this was that I was afraid of swapping out the kind of life I had been living for a different kind of lifestyle, and losing all my inspiration."
Molly spent her first few months in Europe splitting time between working at Atomic and hiking around, speaking with local residents about their mountain huts. "I spent all summer looking, and hiking up to pastures. I asked all these farmers if I could rent their huts for the winter, but they didn't think I was serious at all. They were like, 'Oh, that's cute.' And then they would just laugh at me," Molly said. For months, she got nowhere.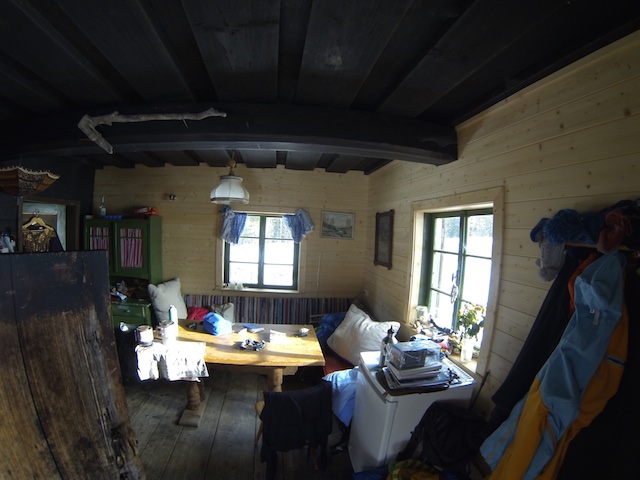 Some of the current walls of the hut have been standing since the 1600s. Brigid Mander photo.
In a stroke of luck, a fellow Atomic worker had grown up in a nearby farming valley, and introduced Molly to the one landowner who might be open to an American ski bum taking up residence indefinitely. The farmer, whom everyone calls Herbie, breeds cows and sheep but also happens to be an avid ski tourer and weathered mountain athlete. He himself had spent time ski bumming in the US and Australia decades ago.
SEE ALSO: 16 other mountain cabins, huts, tiny homes, RVs, and even teepees in TGR's Base Camp column
"It was not weird to me that Molly wanted to live in a hut," he said. "I got to live in a hut like this in Canada. I know skiers," he grinned with a face tanned from a lifetime in the mountains and working outside, "but for others around here, yes, it would be weird."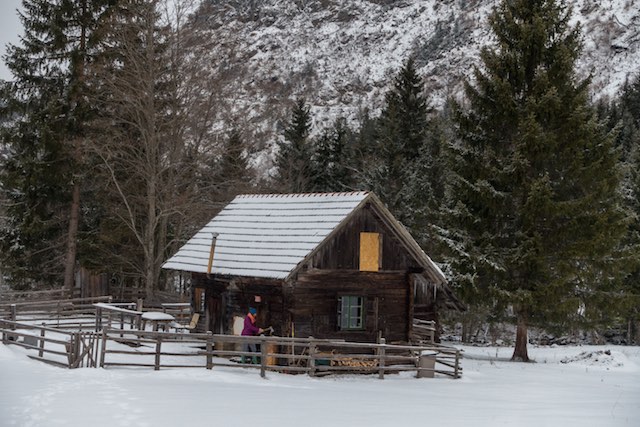 The two-room hut belongs with an avid local skier who was open to letting Molly bum it in his hut. Atomic photo.
"The day I came to see the hut, I was so happy," says Molly, brimming with satisfaction. She found a tiny, ancient two-room structure in a snowy cow pasture a ten-minute skin from the road. Designed simply, inside there is a cookstove that works as both a heat source and a kitchen stove and walls so old no one seems exactly sure how many hundreds of years ago they were erected. For modern conveniences, there is one sink in the bedroom with one faucet to supply a thin stream of (very cold) running water from the nearby river, minimal electricity thanks to a hydroelectric setup, and simple wooden furniture covers basic needs.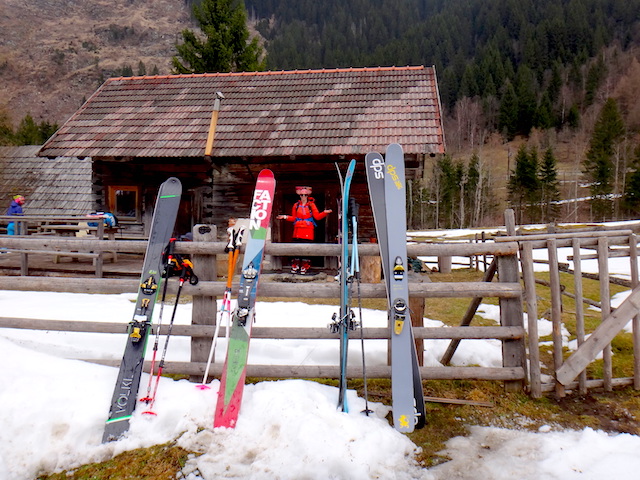 The doorway is cut to the height of shorter medieval sized people, so a cushion nailed to the frame resides right where taller modern visitors will hit their foreheads. The key and door handle look like the first edition ever invented, hammered at the forge by firelight. For Molly, nothing could have been more perfect.
Long story short, the places we live in, and what we put in them, own us.
"I've lived in my truck, a barn, the tiny house, and now the hut in Austria," she said. "The fabulous thing about the hut is realizing that this isn't a mistake, but a pattern of living in places that make sense for me. It's the watermark of my life. Especially after the tiny house, I just couldn't go back to living in a 'regular' place."
While small, the place certainly isn't sterile... Atomic photo.
The hut search was not so easy for the people at Atomic headquarters to comprehend, but they rolled with it. According to Christina Hofinger of the marketing department, Molly nearly cried when she came back from her first visit of her new home, concerning the whole office. "We assumed it was probably bad," said Christina. "We thought, she didn't like it. So we asked: 'Is it at least big?' – No. – 'Does it have a shower?' – No. – 'Washing machine?' – No. – 'Toilet?' – Only outside. – 'Can you drive there?' – No. Well, maybe with an SUV. – 'Internet?' – No. – Hmm, we thought, well maybe we should look for something else. But then Molly said, "I love it! It's the best place I've ever seen!"
THE SKIER'S PERFECT HOME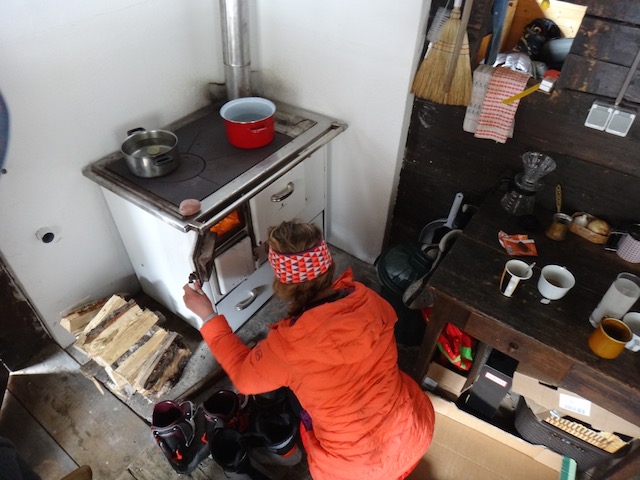 The cooking stove provides more than enough heat to keep the hut warm. Brigid Mander photo.
Based on centuries of local community records kept in town, the hut site was first mentioned in writing around 1100 AD, according to Herbie, and is steeped in local history. "This is one of the oldest places around here," said Herbie. Some of the current walls are the remnants of a bigger hut that was likely built around the 1600's, then dismantled to the current small two-room structure.
Meals have definitely not suffered from living off the grid. Atomic photo.
Inside, however, everything a skier needs is available. The cookstove kicks out a massive amount of heat, despite the cracks through the boards of the old door. Ski clothes dry, food is prepared, skiers recharge. While small, there is just enough space for Molly–and up to several houseguests, who get to sleep on the wooden kitchen benches–to stay organized and ski everyday. And ski options abound: tucked at the bottom of a valley, several seasons worth of backcountry ski lines can be explored, with the Dachstein and more mountains for touring a short drive away in multiple directions.
More than a quirky skid shelter to crash in and save money, the hut for Molly symbolizes a pattern that has become a personal philosophy. "Long story short, the places we live in, and what we put in them, own us, so if you don't have much and live in a place that means something to you, you're more free to translate your life into its own meaning," Baker said. "Many skiers have got this figured out. I don't think I'll grow out of this stage (the living in freaking amazing places stage) for awhile... maybe ever."
READ THE STORY
.There's simply so much to love about all the different ski resorts in British Columbia. Story by Tim Neville: On the first of five road-trips to British Columbia, my buddy Tyson is about to eat it. We're standing on an airy ridge looking down a snowy rib that drops vertically for about a body length before relaxing into a wide-open run-out choked with untracked snow. This is Craigellache, one of a dozen quality double black–diamonds off a ridge at Kicking Horse Resort called CPR. Behind us
READ THE STORY
Sun Valley's backcountry is home to some of the finest recreational opportunities and natural beauty you can find in Idaho. Unfortunately, this same area has also been home to two devasting wildfires. The first being in 2007, followed by a much bigger fire in 2013. RELATED: Jeremie Heitz and Daron Rahlves Face Off in Gnarliest Ski Race Ever Both were ignited from lightning strikes and quickly burned through huge swaths of open land. What most don't realize is that the initial Castle
READ THE STORY
@WinterWonderGrass We're headed to WinterWonderGrass at Stratton Mountain with the TGR Stokemobile this weekend, December 14th through 16th! Join us and get tickets here: winterwondergrass.com/stratton Stratton has been having a fantastic fall and it's about to get a lot better. The Southern Vermont ski town famous for its maple syrup, farm to table cuisine, and technical tree skiing is kicking off the first 2018 WinterWonderGrass music festival. If past years are any indication, it's