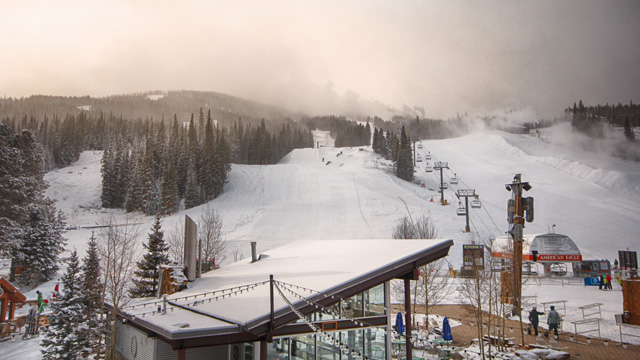 Chairlifts are beginning to spin across America. Colorado's Copper Mountain, pictured here, is open for the season.

Over the weekend 18 inches dropped in Bozeman, Montana. Two more feet fell in Alta, Utah, to make for a 43-inch base one week ahead of opening day. California's Mammoth Mountain is open from top to bottom. Sixteen inches of snow just blanketed Grand Targhee in Wyoming. And on the east coast, in a glimmer of brightness along Hurricane Sandy's tragic path, mid-Atlantic and northeastern ski resorts received a bounty of snow.

Early season blizzards or not, opening day is inching closer at all resorts. So to make sure you are ready to shred as early as possible we decided to compile a list of some major - and not so major - US resort opening days, and those resorts that have already opened. So drag the gear out of its summer hibernation, replace whatever you trashed last season, and update to the latest and greatest. Before you know it, winter will be full-on, so get out there and get ready.
While this list is pretty long, it does not list every resort in the United States. If you know of a resort opening, list it in the comments. Dates subject to change.

Browse All Resorts World Wide In The TGR Travel Section

COLORADO

Arapahoe Basin: OPEN
Loveland: OPEN
Copper Mountain: OPEN
Wolf Creek: Nov. 14
Winter Park Nov. 14
Eldora: Nov. 16
Vail: Nov. 16
Beaver Creek: Nov. 21
Steamboat: Nov. 21
Monarch: Nov. 21
Crested Butte: Nov. 21
Telluride: Nov. 22
Aspen Mtn: Nov. 22
Snowmass: Nov. 22
Ski Cooper: Nov. 22
Durango: Nov. 23
Silverton: Dec. 1
Howelsen: Dec. 1
Sunlight: Dec. 7
Aspen Highlands: Dec. 8
Ski Granby Ranch: Dec. 12
Powderhorn: Dec. 13
Buttermilk: Dec. 15

UTAH

Brighton: OPEN
Solitude: Nov. 14
Alta: Nov. 16
Park City: Nov. 17
Snowbird: Nov. 15
The Canyons: Nov. 23
Powder Mountain: Nov. 21
Snowbasin: Nov 22
Deer Valley: Dec. 8

WYOMING

Grand Targhee: Nov. 23
Jackson Hole: Nov. 24
Snow King: Dec. 8

WASHINGTON
Stevens Pass, Nov. 21
Mt. Baker: Tenatively Thanksgiving
Crystal Mountain: TBD

IDAHO

Sun Valley: Nov. 22
Schweitzer: Nov. 17

MONTANA

Big Sky: Nov. 22
Bridger Bowl: Dec. 8
Whitefish Mountain Resort: Dec. 8
Montana Snowbowl: Dec. 11
Moonlight Basin: Dec. 8
NORTHERN AND SOUTHERN CALIFORNIA

Bear Mountain: OPEN
Mammoth: OPEN
Northstar at Tahoe: Nov. 16
Squaw Valley USA: Nov. 21
Kirkwood: Nov. 21
Alpine Meadows: Dec. 7
Homewood: Dec. 10

NEW MEXICO

Taos: Nov. 22

ALASKA

Alyeska: Nov. 21

ARIZONA

Arizona Snowbowl: TBD, mid-December

OREGON

Mt. Hood Meadows: Nov. 19
Mt. Hood Ski Bowl: Nov. 25
Mt. Bachelor: Tentatively Nov. 21

WISCONSIN

Trollhaugen: OPEN

NEW YORK

Whiteface: Nov. 23
Gore: Nov. 25
Hunter Mountain: Nov. 25
Plattekill: Dec. 11

MAINE

Sugarloaf: OPEN
Sunday River: OPEN

VERMONT

Okemo: OPEN
Killington: OPEN
Stratton: November 24
Stowe: November 17
Jay Peak: November 23
Mad River Glen: November 22, Tenatively

PENNSYLVANIA

Whitetail: Dec. 4
Blue Knob: Dec. 14
Camelback: Dec. 16

WEST VIRGINIA:

Timberline Resort: Dec. 8
Winterplace: Dec. 9
Canaan Valley: Dec. 10
READ THE STORY
Well, ladies and gentlemen here it is, demanded by the public at large, the official soundtrack for our new film . About a week ago we premiered to a sold-out crowd in Walk Festival Hall at Jackson Hole Mountain Resort. Now the film is headed out on the road across the country and the world. Be sure to check out our full tour schedule here and be sure to check back frequently as new shows are added daily. Buy Tour Tickets here. Film Synopsis:
READ THE STORY
This past spring I road tripped out to California to take advantage of their fat snowpack after an above average season for the Eastern Sierras. I started out hitting Mammoth Park and lapping top to bottom runs on the Mammoth Gondola. A few days later Colter showed up with plans to camp and do some Ski-mountaineering in the Palisades near big pine. Camp life. I was loving laid back condo life with the Saga crew but was eager to go camp in the Buttermilks. Everything came together for
READ THE STORY
In case you missed it, this weekend marked the beginning of winter for the northern Rockies. We know it's only September, but Montana, Wyoming, and even parts of Colorado were blessed with some pretty significant snowfall. Some of us just couldn't resist the itch, and dusted off our skis and boots to take them out for their first walks of the season. Well, we all know that with early season skiing comes some serious spraying, so here are a handful of the best captures we found on the ol'