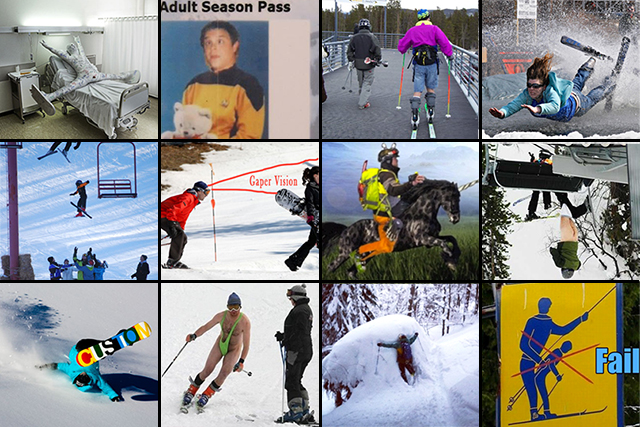 Win one of many in our #WayOfLifeCrisis Contest! Way of Life is now available on iTunes:

Two weeks ago, we hosted a contest on Facebook to see who could come up the best caption for a particularly embarrassing moment in one TGR athlete's history. But this week, it's your turn. Our #WayOfLifeCrisis Contest will host spontaneous contests on Twitter, Instagram, Pinterest, and Tumblr, as well as through our TGR newsletter and in the TGR forums, , so be sure to follow us on those platforms or register for the newsletter or forums if you haven't already.
Want to win? You'll have to be willing to bear some of the most embarrassing moments from your time on skis or a snowboard. Left your ski rack open while people try and chase you down in the parking lot? Fell getting off the chairlift or standing in the liftline? Claimed a run only to double eject on the first turn? Or did you get torn apart in the forums asking a ridiculous question? If any of those come to mind (and more), you'll get a chance to win (but only if you're following our various social media accounts, hint, hint…), and we'll all get a chance to remember the truly ridiculous and hilarious moments that as much a part of our snow-addicted way of life as the best powder day.
Unfortunately, if you can't imagine revealing your most embarrassing moments as a skier or snowboarder, you'll simply have to plop down $12.99 for the HD digital download or $29.95 for the DVD & Blu-Ray combo pack.
READ THE STORY
In the 1950's resident cats began disappearing in Sandpoint, Idaho. A local hermit was suspected, and his house searched. Inside, authorities found the bodies and hides of numerous local cats that had gone missing... It was reported that the man enjoyed cat stew, and as a result, was soon hauled off to the asylum and forgotten. Until now. Rumor has it that he has escaped. Directed by - Zeppelin Zeerip Co-Producer + Photographer - Jasper Gibson Starring - Joey Sacket, Jasper Gibson,
READ THE STORY
Checking in this morning from the Ghee! Grand Targhee photo. Heavy snow will be falling over the next seven days favoring southern Coastal BC, The Pacific Northwest and a good portion of the northern Rockies. The pattern will continue well into next week. 17 inches of pow fell at Crystal Mountain yesterday! Winter-like conditions are upon us many ski areas that are developing early season bases for some epic openings. Alta had 30 inches last weekend, Solitude close behind, and just last
READ THE STORY
As part of the 2020 Winter TGR Grom Comp presented by GoPro, we are stoked to announce the GoPro monthly winners! With the snow finally falling, these three grom edits got us fired up for the upcoming season. So, without further ado, the three monthly winners are Simon Karroum, Solomon Fragakis, and Olin Speare. All three winners will receive a brand-new GoPro Hero 9 camera, and we're stoked to see what they'll capture with it this year! Simon Karroum (Best use of GoPro POV):