By Michael Sudmeier
Pandas know what's up. Even though the bears are descendants of carnivores, they're addicted to bamboo. And who can blame them—it's one of the fastest growing plants on earth and apparently pretty tasty. Taking a cue from these creatures, a pack of skiers is tapping this natural material for their poles.
With a blend of humor and humility, Tanner Rosenthal and Oakley White-Allen stand at the head of this tribe. Their company, Panda Poles, crafts poles not from aluminum, but instead from bamboo. And while these poles are inspired by the past, they also deliver a healthy dose of fresh technology.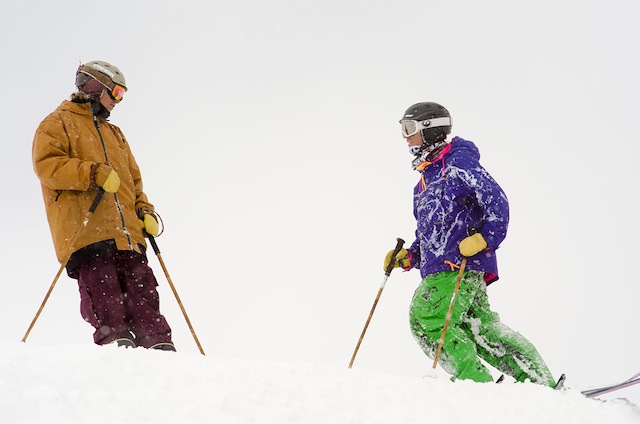 Panda Poles Founders Oakley White-Allen and Tanner Rosenthal
In 2008, Rosenthal began having visions of poles made from bamboo. As much as these dreams were rooted in the present—and a life built around ski bumming—they were also inspired by the past. Bamboo poles first came to prominence in the 1930s when more and more skiers turned to them for their durability and minimal weight. With time, bamboo became an anomaly as manufacturers turned to aluminum.
Rosenthal kept toying with the idea of making poles from bamboo. He admired both their simplicity and their ability to have a reduced impact on the environment. "It was really simple," he reveals. "You just take a piece of bamboo and attach a grip and basket to it." Yet he didn't just aim to resurrect old designs and materials—he aimed to perfect them.
Napkin sketches for Panda Poles' Zero Drag Powder Baskets
To Rosenthal's surprise, he learned that his best friend and pro skier Oakley White-Allen had also been thinking about crafting poles from bamboo. And like Rosenthal, White-Allen was interested in exploring new designs. Soon, the two began building poles. They were especially interested in developing a new basket design, one that aimed to eliminate snags while skiing the trees.
"Oakley and I paired up and we just started taking the steps towards making a product and after a couple of seasons of testing and developing the concepts, we felt like we had something we could bring to market," he explains. "I pulled together some capital, we created the molds, and started building poles. By January of 2011, we had the business off the ground and going."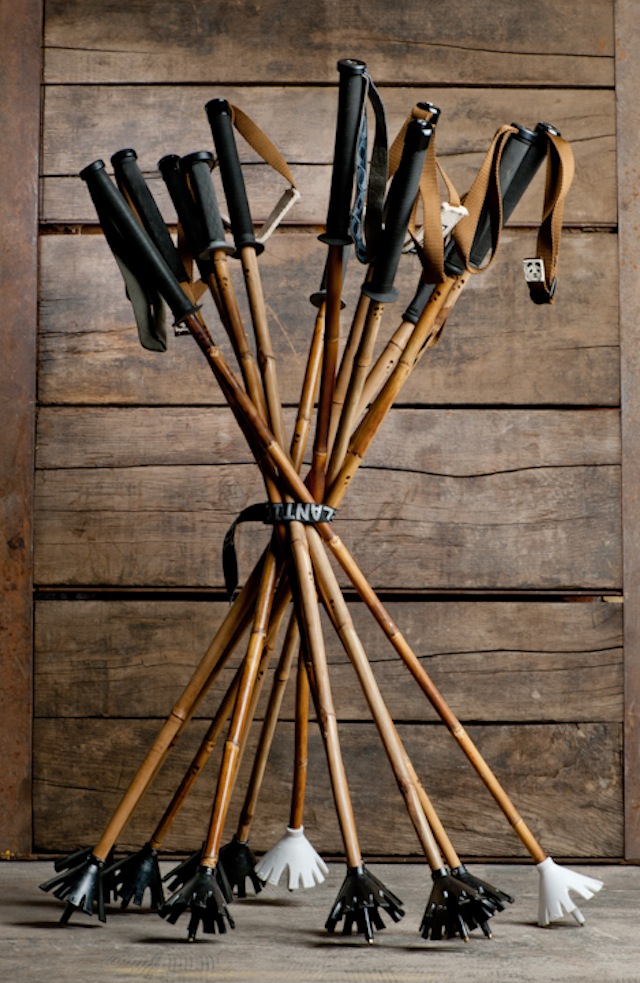 Panda Poles soon garnered attention. While skiers first noticed the poles' bamboo construction, they came to appreciate their Zero Drag Powder Baskets. Thanks to a conical design, these baskets offered ample flotation while eliminating the likelihood of getting caught in the trees. And as much as skiers turned to the poles for their aesthetics and functionality, they also appreciated the story behind them. "Our poles are handmade to our customers' specifications," explains White-Allen. "I think it's that attention to every set that makes them special." Whether it's length, grips, basket style, or pole straps, customers determine how they want their poles to look and perform.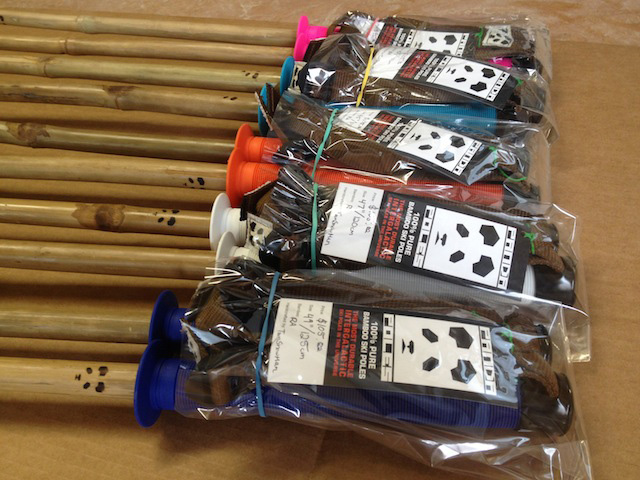 And while this approach affords customers a plethora of options, each design revolves around a commitment to craftsmanship. With the assistance of long-time friend Kody Kirkland, Rosenthal carefully builds the brand's poles at its workshop in Pocatallo, Idaho. After receiving shipments of bamboo from Asia, they carefully wash each piece by hand, sand any irregularities from its nodes, and drill holes for attaching a basket and ice tip. These pieces are then paired "to make sure that the two pieces of bamboo are a perfect match," offers Rosenthal. "Which, to me, is one of the most important steps because having an even keel in both hands is really important." The two then sand the poles down to accommodate grips, put metal inserts atop the poles, apply a series of Panda Poles logos using an electric brander, and add the grips, straps, and baskets that a customer requests. Although the company sells its poles through a handful of retailers, Panda Poles estimates that eighty percent of its sales come from its website, where visitors can readily order a customized pair.
When Rosenthal and White-Allen talk about Panda Poles, they speak of bamboo with a sense of reverence, a reverence born in a deep appreciation for the aesthetics of the material as well as its ecological benefits. They emphasize bamboo's ability to mitigate erosion, sequester carbon, and grow so rapidly that it can be harvested frequently. In addition to minimizing its footprint through the use of bamboo and an efficient production process, the company also uses hemp and recycled materials for its straps and packaging.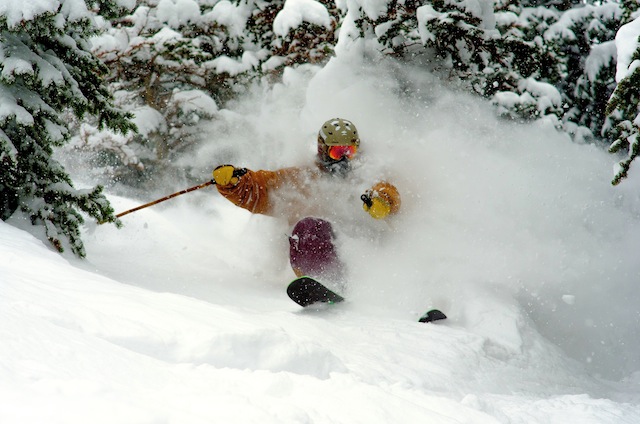 Panda Poles Cofounder Oakley White-Allen getting after it
Yet Rosenthal is quick to point out that perhaps—even more than bamboo—passion is the most important ingredient in crafting a pair of Panda Poles. "I've been a ski bum for years, so I have an immense amount of passion for this sport," he explains. "I'm putting that energy into every single pair of poles that gets built. This whole company is built on the premise that skiing comes first."
And as much as Rosenthal and White-Allen are building ski poles, they're also building a community. Panda Poles has served as a catalyst for uniting a group of like-minded skiers that range from competitors on the Freeride World Tour to local rippers. In addition to White-Allen and Rosenthal, heavy hitters like Drew Tabke, Angel Collinson, Sander Hadley, Mark Abma, Chris Turpin, and Silas Chickering-Ayers are part of the company's team. Rather than being united by contracts and photo incentives, they're brought together by their love for skiing. "All Panda Poles athletes are volunteers," offers White-Allen. "With their efforts and endless enthusiasm for skiing, we've proved that our ski poles are as much fun as we can imagine." Rosenthal credits White-Allen and his presence on the Freeride World Tour for helping build inroads with athletes and awareness of the brand—especially in Europe. "Without Oakley, we wouldn't have that," he explains. "That's a really big role in our success—being able to get our products into the right hands."
Photo by Brett Colvin and provided courtesty of Panda Poles
As part of its efforts to build a community around the brand, Panda Poles releases a steady stream of edits throughout the winter. Whether showcasing the durability of its poles, documenting deep pow days, or featuring Rosenthal dressed up as a Panda, the edits remain true to the ethos of the brand and its focus on simply having fun. "One half of Panda Poles is a media outlet and the other half is the product that we sell and distribute," explains Rosenthal. "That's something that stresses me out like crazy when I'm behind my own deadline on getting a video out . . . I'll push right up to the end of my limits making sure we get that Panda vid out because it's so important to me that we don't leave our audience hanging."
Definitely check out this recent Panda Poles edit featuring Sander Hadley. He's one of the up-and-coming members of the tribe and a strong candidate for rookie of the year.
While Panda Poles has a growing following throughout the world, the brand has especially deep roots in Utah and Idaho. When Rosenthal and White-Allen were first launching Panda Poles, they routinely moved their workshop throughout the Salt Lake area, assembling poles at their homes and those of their friends. They eventually acquired a trailer that became the company's workshop. The trailer remained parked at the house Rosenthal and White-Allen lived in at the base of Little Cottonwood Canyon for a number of years, a house simply known as the Panda House. "I was waiting for the officials of Cottonwood Heights to come knocking at our door any day," he confesses. Luckily, they never did.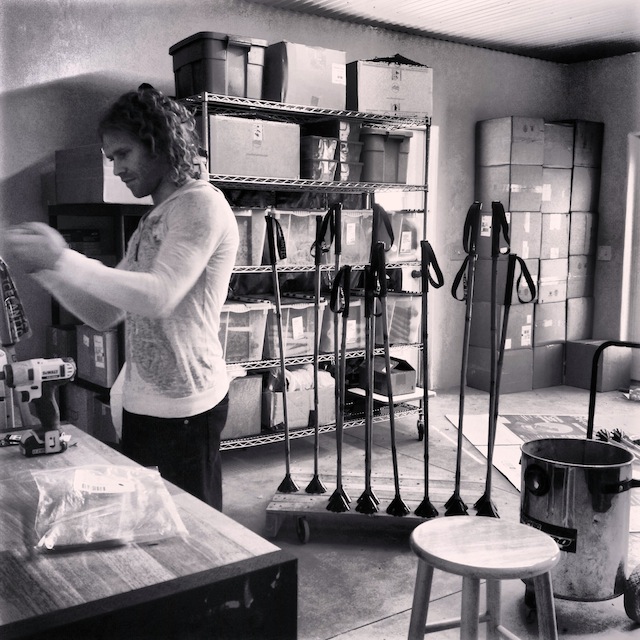 Rosenthal hard at work. Photo by Maureen "MoPho" Rosenthal and compliments of Panda Poles
In January of 2013, Rosenthal—and Panda Poles—moved back to his hometown of Pocatello. "Moving to Pocatello was the best thing we could have done," he offers. "I'm living in the house I grew up in and the shop is one hundred feet away, so that's really cool." For Rosenthal, the move to Pocatello also coincided with the birth of his son, Moses. This latest chapter for Panda Poles is a continuation of the brand's commitment to building relationships. The move has allowed Rosenthal to reconnect with old friends, spend time lapping his home mountain of Pebble Creek, and focus on both his family and Panda Poles—which often feel like one and the same. "Running a business is the most difficult yet rewarding experience of my life other than having a child," he explains. "But it's a very similar thing."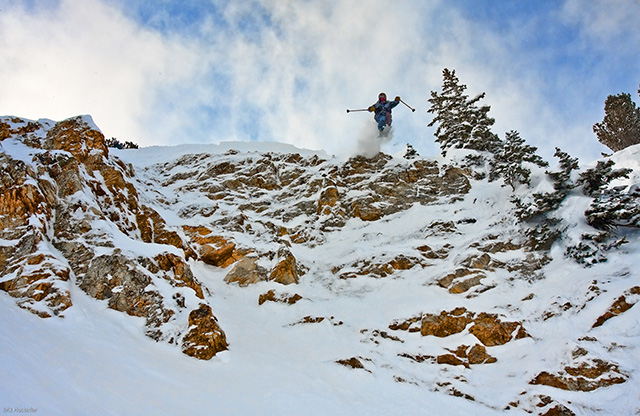 Rosenthal hard at work again—but this time product testing. Photo by Erik "Bro" Hostetler.
Since its inception, Rosenthal and White-Allen have always approached Panda Poles with a strong sense of purpose. Whether selecting materials, crafting poles, or working to reduce their impact on the environment, this sense of purpose is immediately evident. It also taps into skiing's rich history while aiming to contribute to it. "Skiing has an ancient heritage and has gone through countless evolutions," offers White-Allen. "I hope we can play a role in reminding skiers of how our past can grow into our future."
From The Column: Upstarts and Underdogs