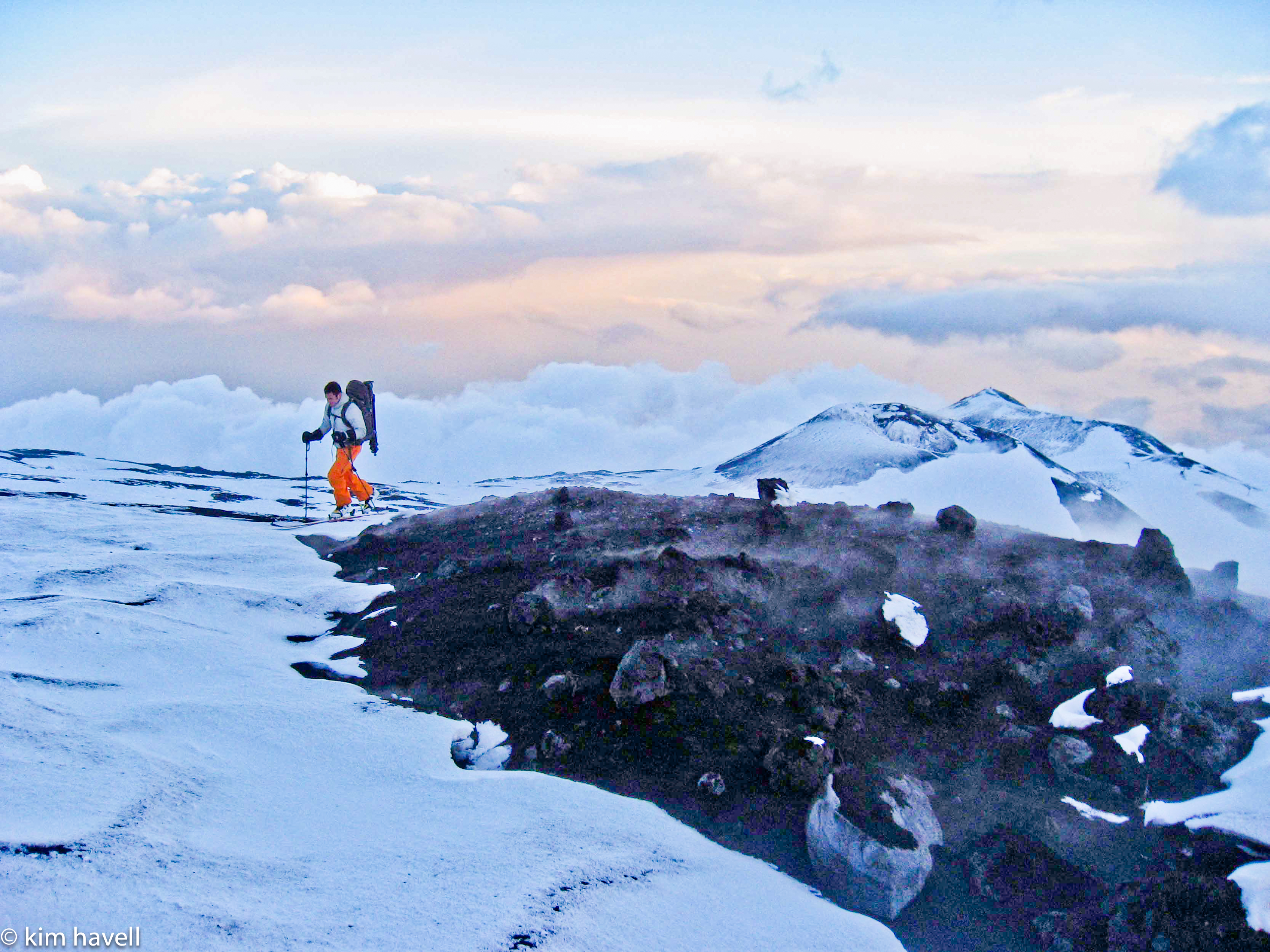 Nick Waggoner skins up a volcano in Italy.

Last winter, filmmakers Nick Waggoner and Zac Ramras, photographer Grant Gunderson, and Salomon freeskiers Elyse Saugstad and Kim Havell went to Italy on assignment for Salomon Freeski TV to shred Mount Etna. The episode is soon to drop. In the meantime, read the story below.

The spray of liquid magma burst into the night sky. Mount Etna was erupting, as she does once roughly every two months, and we were skiing under the orange glow of her latest paroxysm.

In early February 2012, a promising Italian snow forecast had us chasing a storm to Sicily, an island on the Mediterranean Sea. While much of the U.S. languished in a dry early winter Europe was being blasted by heavy snowfall and Italy was deep in the weather pattern. With a lofty goal of ski exploration on Sicily's notorious active volcano, Etna, our team thought it best to aim for winter-like conditions.

With the promise of powder, we booked tickets and landed two short days later in the coastal Sicilian city of Catania. Geographically, Sicily is the soccer ball to Italy's boot. Assembled at the airport, we had a vague plan of action. On assignment for Salomon Freeski TV, filmmakers Nick Waggoner and Zac Ramras, photographer Grant Gunderson, and Salomon freeskiers Elyse Saugstad and I loaded into a white minivan and drove out of the city and up towards the volcano.
Reigning above numerous fragile, cozy old towns, Mount Etna basks in a sea breeze that wafts over its small, scattered cones, jagged igneous black-rock ridges, and wide, fluted flanks. Steep, rocky lines run down parts of her face along with miles of more benign terrain to descend. Topping out at almost 11,000 feet, Etna's high position provides unobstructed views of the coastline, which blend seamlessly into the olive groves and vineyards dotting the landscape.

The quaint Sicilian town of Nicolosi was our home for the next 10 days. From the lower vantage point we admired the mountain, scoped our dream lines, and we waited. Each morning we were greeted with unpredictable weather and the repercussions of an eruption that included turbulent cloud cover, and low visibility for skiing on her relatively blank, high-alpine expanse. Café-bound, we sipped our espressos, snacked on arranchinas (popular rice cones & balls served hot with a variety of inner ingredients) and waited for sunshine and clear windows to explore the vast terrain and the best ski lines on the active volcano.

We quickly realized we had to accept Mount Etna at her best and her worst. She threw out strong winds, thick fog, serpent-like clouds, and serious eruptions. She rumbled, coughed, spit, and spewed volcanic bits, with lava flow and liquid magma sliding down her slopes. We inhaled and skied ash debris but also enjoyed a few short sunny, clear stretches with a steady refresh of white snow from the constant storm cycle.

With slow access via an ancient gondola, creaky chairlifts, and struggling pomas, we got a gradual boost up 740 meters of hillside. Passionate locals joined us in gondola line each morning with their short carving skis and big smiles. Pouring out of the cabins, we warmed-up with the Sicilians on a few of the groomed options at one of Etna's two ski resorts.


Elyse Saugstad skis Mount Etna.

After sampling the mellow in-bounds terrain, our team headed into the backcountry. Though there is easy access to ski tour and explore the many additional acres of more challenging off-resort offerings, there is absolute solitude. We had any line we chose all to ourselves.

As we ventured across Etna's broad landscape, we crossed high ridgelines that protected hidden valleys of rocky couloirs, mini-volcano cones, and small amphitheatres with mini-golf-like terrain. Dropping off one sastrugi-ridden ridge to the West, we skied wind-buffed corridors and then toured back up and skied corn back to the resort. Checking out the Volcano cones, we set a hard edge on each icy turn on the windward slopes and then skied packed powder on the leeward. Skiing into the craters was almost always soft as the sun reflected heat into the white belly of their inner bowls. We got a taste of everything.

One evening as the setting sun cast luminous colors over the horizon and the volcano erupted behind us, Nick turned to us and asked, "Should we hike up and get some ski shots next to the lava?"

Elyse and I looked at each other, then looked at Nick, and said, "No, thanks."

Though there were many cultural highlights we were there to ski. When the visibility was poor up high, due to Etna's unusually deep snowpack during our visit, we were able to find good alternative options. We ducked into heavily wooded hillsides off the winding road up to the resort. From a skier perspective, the forests needed some pruning, but we found tight alleyways and fun, smooth powder skiing under the protected canopy of the towering trees.

The tempestuous visit was a beautiful and healthy reminder that nature is very, very close. Etna was in charge and we were on her agenda. After ten days of patience, waiting, and unusual skiing adventures on Etna's flanks, our U.S. team "Magma" was provided with a couple of lessons: don't book a ticket to Etna for a storm and Sicily is beautiful but Etna can be a tricky beast.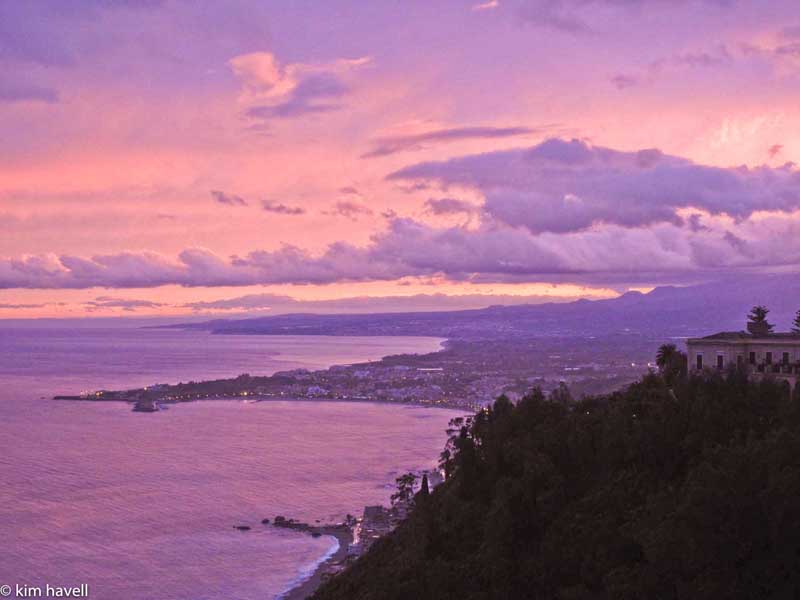 The sunset in Taormina, Italy.
READ THE STORY
Well, it's a magical time of year again. Sticky spring snow is being plastered to the sides of the mountains high above Chamonix, France just in time for the Aiguille Du Midi tram to re-open after a lengthy COVID hiatus. Of course, that means the locals are absolutely frothing to get after it, and that's just what Tof Henry and Seth Morrison did on one of the biggest lines of them all: the Aiguille Du Midi's Mallory Route. More of a climbing route than a ski line, it comes into rare condition
READ THE STORY
Kai Jones' progression in big mountain skiing isn't slowing down, with the young gun spending the better part of the winter stacking clips in Jackson and Montana for the upcoming TGR film. To cap off the season, he just pulled off a descent that he's been dreaming of for his entire life: skiing off the summit of the Grand Teton. Inspired by generations of legendary skiers in Jackson Hole, Kai teamed up with his close friend and mentor Tim Durtschi, as well as Jackson Hole Mountain Guides'
READ THE STORY
The ski industry has lost a legend. Last Thursday, Mike Wiegele Heli Skiing announced that their founder Mike Wiegele had passed away at the age of 82. For the last 50 years, Wiegele's name was synonymous with the best feeling in the world: skiing bottomless, untouched powder. In 1970 this humble farm boy from Austria offered his first-ever heli guided ski trip in Valemont, BC. It was a wild and revolutionary idea, but Wiegele was certain that it would take hold despite the lack of initial