By Marty Basch
I-93 is New Hampshire's road to the snow. The north-south interstate directs Boston's wicked weekend warriors and other regional flatlanders to an easily accessible White Mountains playground in a quick hour and a half. This playground contains a cluster of ski areas that sport some of the state's preeminent parks, greatest vertical drop, and biggest mountains—Waterville Valley, Loon and Cannon. No slouches, Waterville and Loon are legends of the East Coast terrain park scene, having hosted parks for nearly two decades and consistenly building the East's biggest and most creative features. Meanwhile, Cannon boasts New Hampshire's most rugged and untamed terrain - a proper East Coast paradise for freeriders and gate chasers alike. These mountains have nurtured high fliers like Pat Moore, Chas Gouldemond, Scotty Lago, Mike Ravelson and Colby West, and Cannon's most infamous local - Bode Miller.
Waterville Valley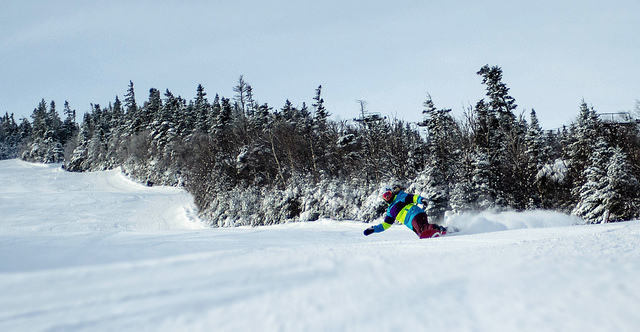 Laying down the monorail tracks at Waterville. Waterville Valley photo.
First exit off the interstate is Waterville Valley, which is located in a cul-de-sac 11 miles down Route 49. Don't be fooled by its snug family-slant and quaint town square-style village. There are plenty of long, scenic cruisers, challenging black runs, and a robust park scene. Hannah Kearney is a product of Waterville Valley Academy's Black and Blue Trailsmashers Ski Club. Hell, Waterville has been known as one of the birthplaces of freestyle skiing ever since a young hot-dogger named Wayne Wong took a bus across the country to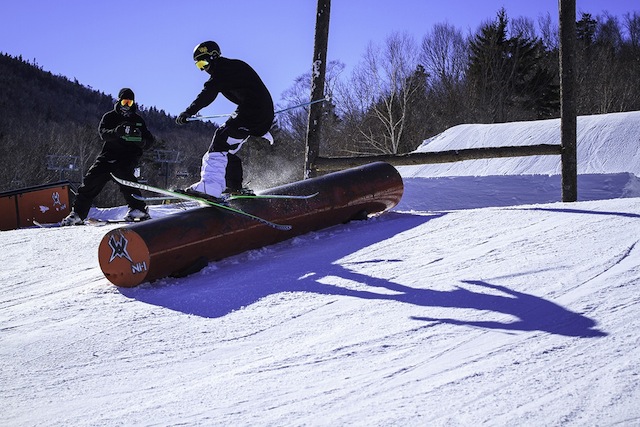 With a dedicated Poma lift that can be accessed with its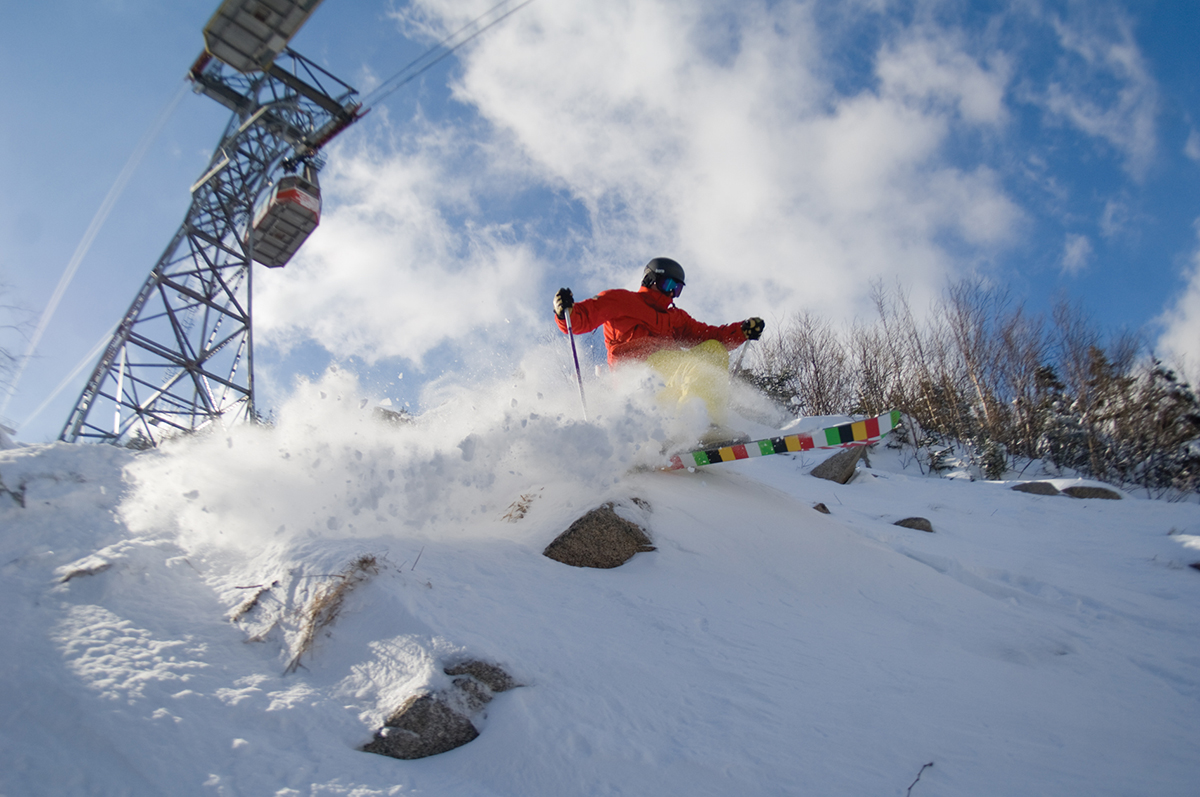 An unknown Cannon local shreds the mountain's steep and rock-littered tram line, which can be a freerider's paradise if it fills it enough. Greg Keeler/Cannon Mountain photo.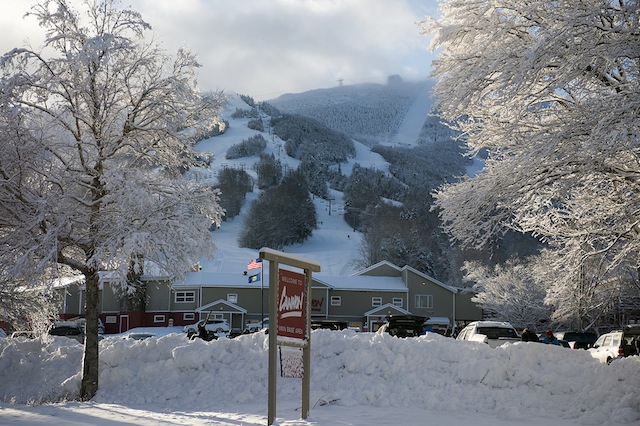 Dawn breaks at Cannon's quiet base area, with the summit terminal of the legendary tram in the distance. Cannon Mountain photo.
The no-frills mountain—which has no base development—is home to locals who are loyal, old school, and likely adorned with duct tape. Non-holiday midweek specials make lift tickets reasonable. The scenery's incredible, with a bunch of scorching runs like the spectacular Upper Ravine and Upper Cannon from the scrub pines on the summit and the wonderfully wide Gary's and Rocket from the Zoomer triple. Upper mountain glades like Lost Boys and Go Green tend to hold snow well.
Standing above its parks—which include Turkey Trot's small to medium boxes and jumps and Tossup's medium to large jumps and rails—is Cannon's sidecountry stuff. The legendary Tucker Brook Trail (accessed from the summit with a Cannon ticket; no uphill traffic allowed) is a narrow, out-of-bounds burner. It features 13 winding turns and is best done with car-spotting. But you can also rejoice in the 1,850-feet of vert at Mittersill, a once-abandoned ski area adjacent to Cannon. Mittersill opened with its share of steeps first in 1946, but was then left for dead before reopening in 2011 as a lift-serviced sidecountry area with no snowmaking and limited grooming (for now). The mountain, in essence, is open at Mother Nature's fancy.
For a brew, duck into the Cannonball Pub at the Peabody Base Lodge. You might catch Bode and his buds at the down-home Dutch Treat in quaint Franconia when he's in town. Nonetheless, Lincoln's more active, and closer for the ride home.
When it comes to skiing and riding the I-93 corridor, you can't go wrong. No matter where you hop off the interstate, you'll find snow and plenty of fun within a reasonable drive of metropolitan Boston.
Are you sure you're fully prepared to tackle Boston's favorite ski highway? Check out TGR's "Wicked New England Setup, Guy:" http://bit.ly/1bdGZMj
READ THE STORY
This week in 'Women in the Mountains' we sat down with Wild Barn Coffee's Jenny Verrochi who masterminded an underground women's naked ski event. Sounds cheeky and chilly! Will Beihoffer photo. On March 20th, you could see a full moon on top of Bluebird Backcountry's West Bowl. Well, 22 full moons to be exact. It was all part of a women's event focused on one beautiful, singular goal: skiing butt naked in the backcountry. The cheeky idea came from Jenny Verrochi, who's based in Boulder,
READ THE STORY
Earlier this month, Santiago Vega completed the first-known disabled ski descent of the Grand Teton with IFMGA guide Mark Smiley via the Ford-Stettner Couloir, one of the 50 Classic Ski Descents on North America. Vega was born with Fibular Hemimelia on his right leg and Poly-syndactyly on right hand. At 5 months old, Santi and his family began traveling from Santiago, Chile to Salt Lake City once a year medical treatment at Shiners Hospital. In Utah, Vega started ski racing at age 14 and
READ THE STORY
John Collinson's upbringing was a little different than most pro skiers. He grew up in a closet in Snowbird employee housing with his older sister Angel, and didn't do many things that most kids do. However, what he did experience was unfathomable, like summiting Rainier at 4 years old, summiting Everest at 17, and so much more. On the podcast, Mike Powell and Collinson talk about how he went from the closet to his sister's shadow, to pro skier, to social media influencer known for his