THE VOLKL TWO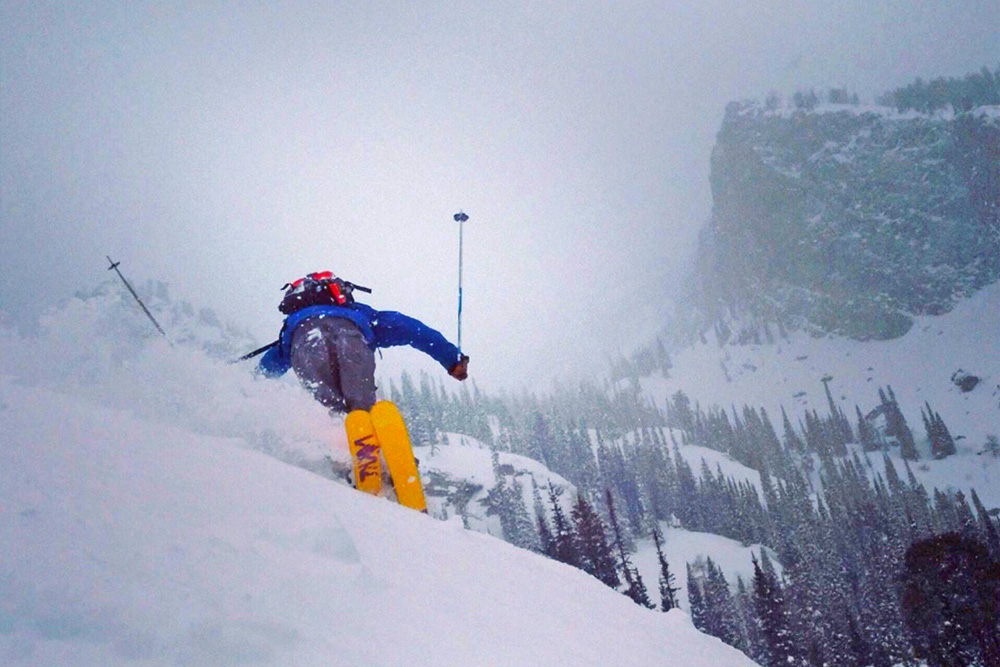 Post-Production Assistant Austin Hopkins nosebutters into the Jackson Hole backcountry on the Two.
Check out the Volkl Two at evo.com here.
Just to give you a little bit of perspective, I'm 6'2", 190 pounds, and mainly try to ski all over the mountain and dip into the backcountry off of Jackson Hole Mountain Resort. I'm all about steeper lines, cliff drops, skiing fast, and love to jump off stuff, as I'm coming from a park and jibbing background.
The strengths? On any given pow day this year at Jackson Hole, I found this ski was all I wanted. The 124 mm waist really allowed this ski to float effortlessly in powder and popped out of turns with little effort. The thing I loved most about this ski was its easy ability to put the ski on edge and not initiate a carved turn - the Two is all about the pow smear! Taking this ski to crud snow was no problem either. The full rocker intimidated me early on, but was surprised to find this ski performing the way it did in crud and on occasional hard pack. The Two had very minimal tip chatter when skiing hard and fast on the pow-less snow due to the medium to medium-stiff flex. This ski offers way more versatility than you might think - an effortless damp pow slaying stick that skis super well in most conditions. Volkl also designed the Two to feel a little bit damper, heavier, and more stable than the One, which made it a confident platform to straightline out of cliff drops with, a bit less twitchy on groomers, and a great quiver choice for pounding through heavy, wet pow.
The drawbacks? This ski did feel a little awkward on hard snow at first, moving a little slow from turn to turn with the full rocker and large turn radius. Surprisingly, in some of the crud / tracked areas of the mountain, this ski rocked. I found it to be the perfect balance of stiffness and playful smooth buttery dampness. The Two kicks ass in these kinds of conditions, as its stiff enough to not deflect and bounce around, and soft enough to smooth out the ride. As long as you like riding more centered and ski fast, you'll find this ski to be super fun all over.
The bottom line? Although advertised as a super pow slaying stick, this ski holds it own in most snow conditions and is easily the most fun ski I've ever ridden. The super durable construction makes the Volkl Two insanely reliable when stomping huge airs.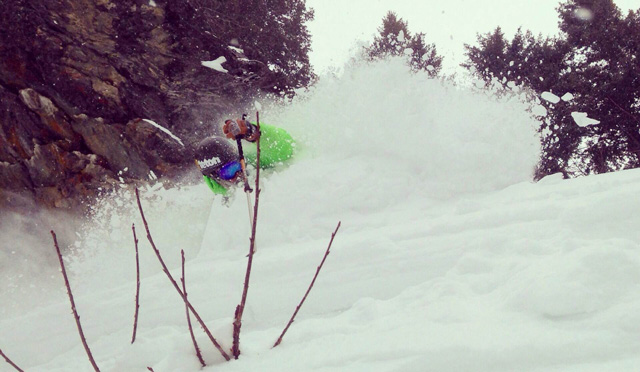 Who should buy this ski? If you look at all sorts of terrain with a "Let's go jump off that thing!" kind of eye and ski for the pure joy of winter playgrounding, then you'll go nuts for this ski. - Austin Hopkins, Post-Production Assistant
THE VOLKL ONE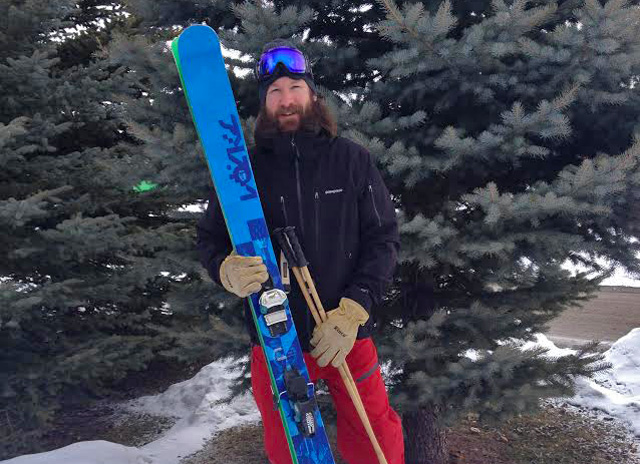 With a burly beard and two elk kills under his belt this year, Director/Producer Troy Beacham was the savage we needed to put the Volkl One to the test.
Check out the Volkl One at evo.com here.
The strengths? Lucky for me, the conditions on my first day skiing the Volkl One were top to bottom wind buff powder. It may have been the ski racing I was watching from Sochi but I felt like I was in the running for gold. The ski felt incredible under foot, literally popping through the transition from turn to turn. Carving full speed through the powder on edge, I quickly realized what all the fuss was about with full rocker design. These planks were a lot of fun, playful and easy to ski. What a day!
The drawbacks? At 5'10 – 195lbs, I typically prefer a stiff ski that allows me to use my strength to drive through turns in steep terrain and make up for my lack of technique. Usually, I'm on my trusted Volkl Katanas, which are stiffer, flatter, and burlier than the Ones. A couple of days after the amazing wind buff came the sun crusted chunder on the lower third of the mountain. This is not where the One excels. The fun more or less came to a halt as I carefully continued my turns to the bottom of the mountain. Despite the relatively stiff flex, the highly-rockered tips just don't give you anything to drive through the variable snow. This is when I realized the One is a quiver ski and not the all mountain charger I have come to expect from my Volkls.
I did get another chance to ride deep powder on the One and just as before it preformed brilliantly. This ski is fun in the right conditions. It delivers amazing energy into your turns with very little effort and therefore saves your legs on those longs days when the snow is just to good to leave. This was also a brilliant ski in soft moguls - the tiny contact length made pivoting easy and, like in powder, you got to pop from turn to turn without using much energy, instead of slogging it out from trough to trough.
If you're a resort skier as I am, you'll also notice a bit of instability when you're in the flats. So little of the ski is actually riding on the snow that you don't have much purchase when ski is not on edge, so taking the One out on groomers begs you to lay them as far down as possible, turn after turn, in order to get as much of the edge to connect as possible.

The bottom line? If you are looking for a super fun ski to bring out on powder days, the Volkl One is for you. If you're hunting for a one-ski wonder, you may want to keep looking, or keep a cambered ski in the quiver for firm days, but don't take my word for it. Every skier is in search of a different feel and if you like an energetic, poppy, and air-filled powder day, take the Volkl One for spin.
Who should buy this ski? If you're a lighter skier who sniffs out every little bump that will put you in the air, you might forgive the One's twitchiness in sub-prime snow. The One feels and skis lighter than the Two, has a more dynamic edge hold and comes across as snappier and poppier than its bigger, damper brother. While burlier chargers will appreciate the lack of a speed limit on the Two, those that take it a little slower, turn more, and still want a widly fun ski at more medium speeds, the One will produce more smiles. - Troy Beacham, Producer/Director
From The Column: TGR Tested
READ THE STORY
Four Faction athletes—two women and two men—set out to ski-tour from Zermatt to Verbier. They follow the route made famous by the Patrouille des Glaciers ski mountaineering race, an event with military origins. The inaugural race, contested by Swiss Army soldiers, occurred during WWII in April, 1943. The contest was designed to evaluate the operational capacity of troops under duress in the alpine environment. It's a route that takes your average Joel and Jan three+ days to complete, but
READ THE STORY
Japan or Jackson? Caite Zeliff sampling the Japow like conditions at JHMR last winter. Nic Alegre photo. Every so often, a storm cycle comes through Jackson Hole that is so marvelous it's cemented in local lore. They're the kind of weather events that crusty ski bums will tell you about after one too many shots of whiskey. They'll get this far-off look in their eyes and exclaim, "Remember the January of 2020?" For those of you who weren't in Jackson during that magical month last year,
READ THE STORY
The Wasatch Ultimate Ridge Linkup, better known as the WURL, is not for the faint of heart. That's certainly true when intrepid runners complete it during the summer, which is usually when it's done, but it's especially true when it's done as a ski tour. Each summer, runners travel the ridges surrounding Utah's Little Cottonwood Canyon, a thirty-six mile route that sees 18,000 feet of elevation gain. So, when Salomon athlete Mali Noyes decided she wanted to ski the WURL, she knew she