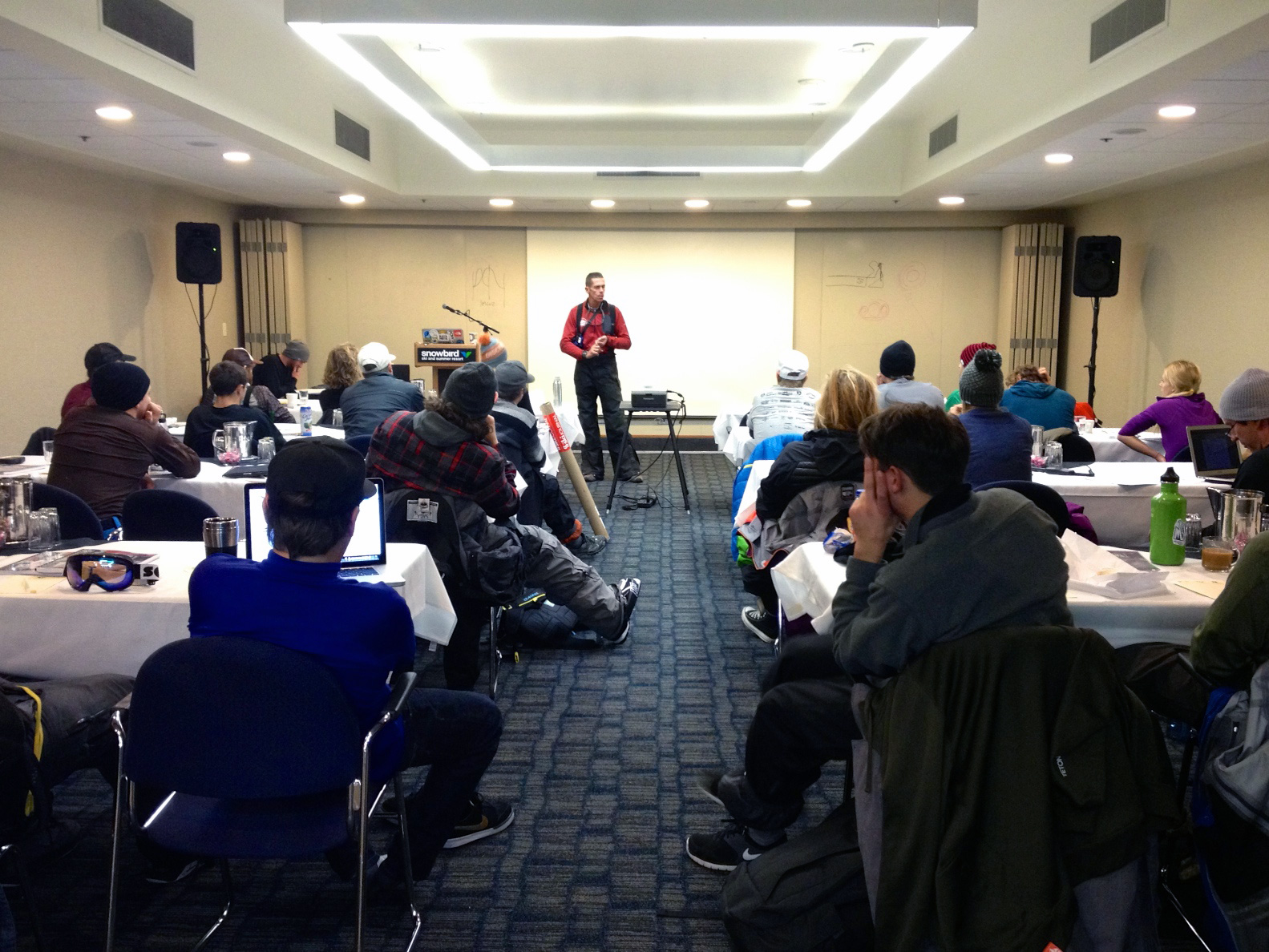 Craig Gordon of the Utah Avalanche Center speaks during Teton Gravity Research's International Pro Riders Workshop at Snowbird. The class brings together the TGR roster of ski and snowboard athletes to go over safety protocols before the filming season gets underway.

— Photos and words by Brody Leven

His broken rib may or may not have punctured his lung, causing veteran TGR athlete, Sage Cattabriga-Alosa, to scream in agony. Hovering over him, my partner and I stare blankly for a moment, trying to recall the proper medical procedures that we learned two hours before. I hear screaming from the patients scattered across the bowl. Sage stutters his breaths, reminding us to reevaluate his vital signs. When I finally remember to put my hand up the back of his shirt to check for spinal fractures, our patient remains frighteningly in character. The three-time Powder Awards Rider of the Year pretends to wince as I touch a central vertebrate, cueing an inquiry into pertinent past injuries and, ultimately, saving his life.

The Teton Gravity Research International Pro Riders Workshop (IPRW), held at Snowbird on December 4-6, brought together 35 of the world's best skiers, snowboarders, and cinematographers.

"As a high-profile company in consequential situations, we consider the influence we have and how important it is to be safe and to set a good example," TGR co-founder Steve Jones said.

"In a real mountain scenario, you improvise to handle all of the variables you didn't think of in the classroom," Sage said. "Until you're practicing in the field, you don't realize the implications of the challenges you'll encounter."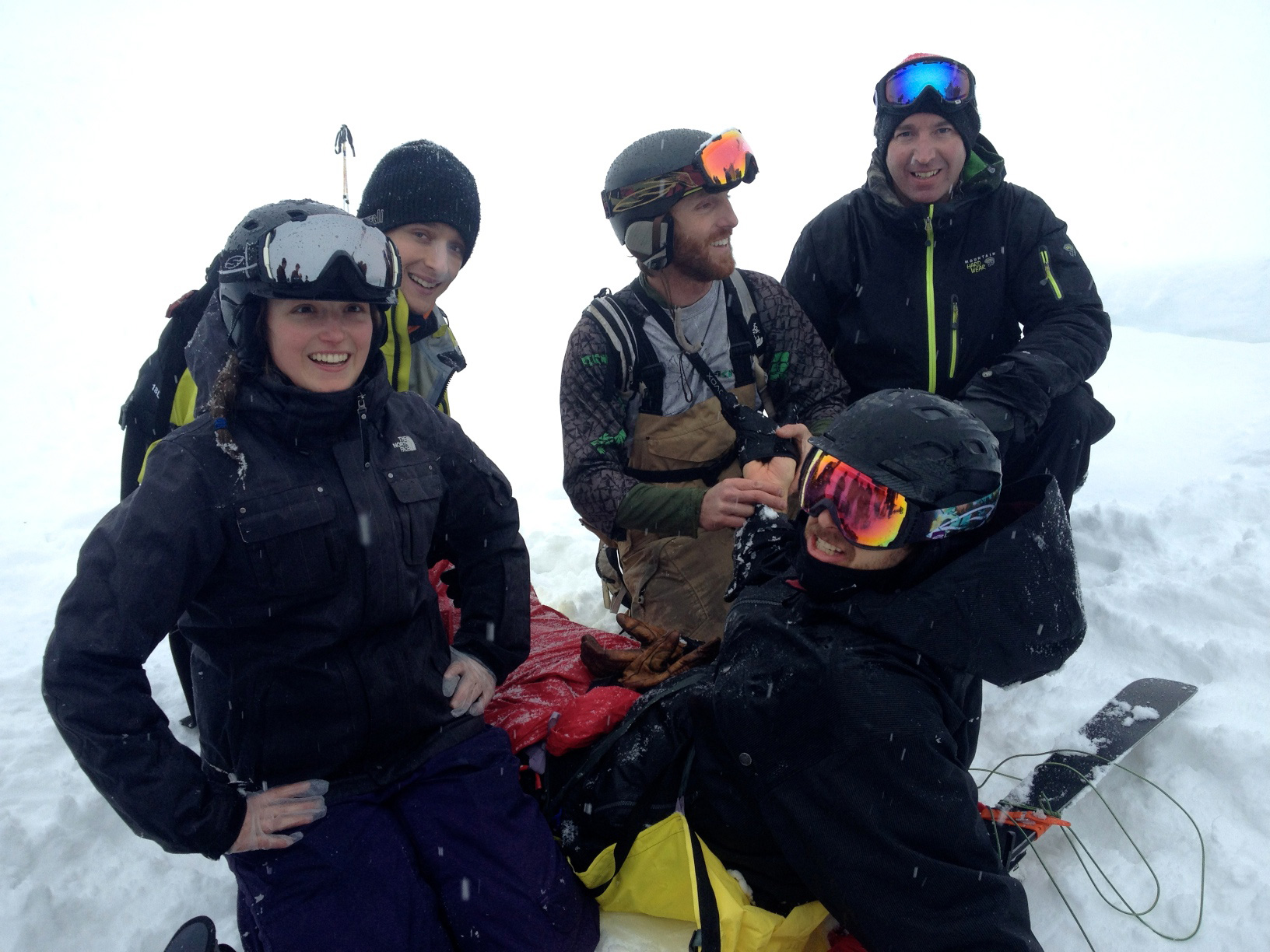 Sage Cattabriga-alosa acts as a 'victim' during a training scenario at the International Pro Riders Workshop at Snowbird.

The clinic, featuring wilderness first aid, snow safety, and rope work, exists in contrast to recent press about the carelessness and risk in professional freesking. Risk assessment and management was the week's theme. Craig Gordon of the Utah Avalanche Center finished an avalanche presentation saying how it was "great to be associated with all of the awesome talent and professionalism in this room." That statement rang true throughout the class, proving once again that TGR's focus on efficiency and safety is paramount to the success of its films.

Denali lead medic and IPRW instructor Dave Weber emphasized practicality throughout the clinic.

"This crew is at the upper echelon of skiing and riding," Weber said, "and what is expected of them would be daunting for anyone without such extensive skills. Their professionalism sets them apart in how much information they can process. These skills are perishable, and we're here to refresh them. We tailor this training to what they see in their unique work environment."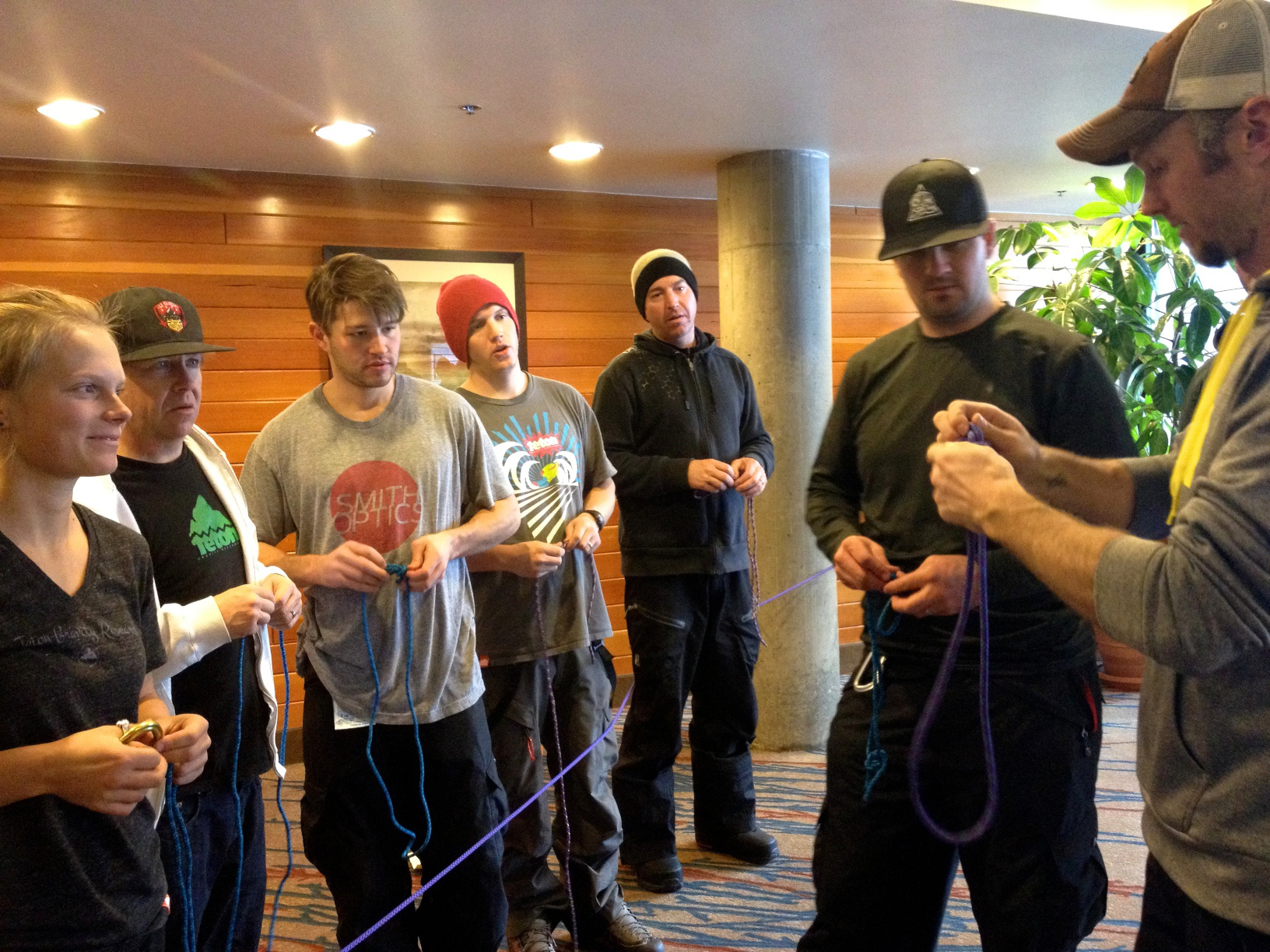 Angel Collinson, TGR co-founder Steve Jones, and TGR"s Brian Wulf, Dan Gibeau, Pete O'Brien and Dustin Handley learn knots at IPRW at Snowbird.

Todd Ligare agrees with Weber's teaching approach.

"If this course was being taught to the general public, it would be done under the assumption that they always have the right tools," Ligare said. "But to keep it real, they teach us to improvise with what we have. Building the makeshift rescue sled was a perfect example of that."

So, what does a film crew and its athletes discuss during the first meeting of the year?

"Sluff management, radio communications, helicopter protocol, summer fun, and winter plans," TGR supervising producer and IPRW organizer Greg Epstein said. "We put the athletes and filmers back into the training grounds. Everybody is taking it seriously and doing a good job, probably because they're working with their winter crews. Bringing the team together is equally important as the skills they're learning."

Not all participants are snow science geeks, though. When former TGR lead guide, Jim "Sarge" Conway, asked Tim Durtschi if he'd ever dug a snowpit, Tim casually replied, "I've dug jumps?"

This self-proclaimed novice went on to prove his sarcasm, earning the week's fastest time of 1:41 in the mandatory finding of two buried avalanche beacons in under three minutes.


Tim Durtschi and John Collinson dig snowpits at IPRW at snowbird.

"If you take longer than three minutes, you fail. You don't fail the class; you fail at knowing you can find two of your buried friends in three minutes," TGR lead guide, Kent Scheler, said in the first five minutes of the first day. "When we help each other in training, we can help each other in the real situation. And if everybody is on the same page, it's amazing how quickly it comes together."

Catering to athletes across the TGR spectrum, IPRW bequeathed different nuggets of knowledge to each attendee. The "Deeper, Further, Higher" crew of TGR snowboarders found medical-specific class details particularly pertinent.

"The first aid mock scenarios were most relevant," Forrest Shearer said. "Learning to be medically self-sufficient is important when we're stuck in the field for days following an injury."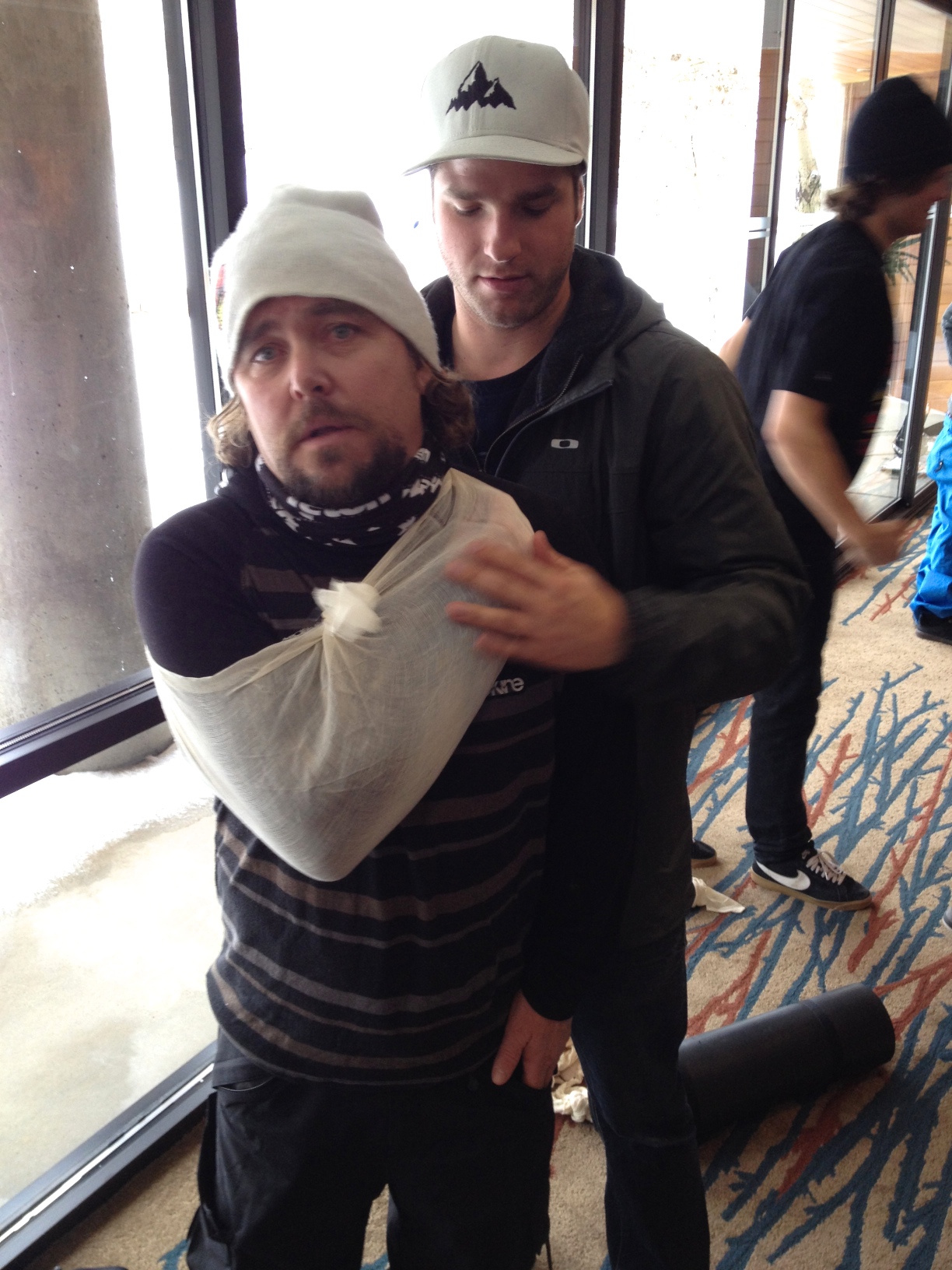 Dash Longe ties a make-shift sling to TGR co-founder Todd Jones during first-aid training at IPRW.

Simultaneously, 14-year-old Daniel Tisi's focus is far from glacier camps on other continents.

"I film with TGR in Jackson. This class is like going to school with all of your idols. No one cares how old I am because I need to learn this stuff, too," Tisi said.

Comparing the clinic to his 8th-grade classroom, Tisi, the youngest athlete on the TGR roster said, "I have notes on every single thing they've said so far."


John Collinson practices searching for multiple burials during avalanche training at IPRW.

Tim Durtschi explains why IPRW is germane to his skiing, "Jump landings in the backcountry are 35-45 degrees — the perfect avalanche pitch — and often lead into terrain traps. We come down hard on the snowpack, and we want to avoid digging pits in, ski cutting on, or otherwise damaging a pristine landing. If you're jumping into a pitch you haven't yet skied, you want to be as confident as you can that it won't slide."

Each year, the reputable clinic has built on previous sessions.

"The curriculum is a lot different than last year. Way more stuff outdoors and hands-on. The review of last year's Wilderness First Aid certification is great," Dash Longe said, who has attended IPRW four times. "You're only as safe as the people you're out with. If you're more advanced than your other dudes and you get hurt, you're the one that gets hosed. It's good to know your crew has a similar training background."

Daron Rahlves chimes in: "If something does happen, I know I'm in good hands."


Rappelling from lift towers at IPRW at Snowbird.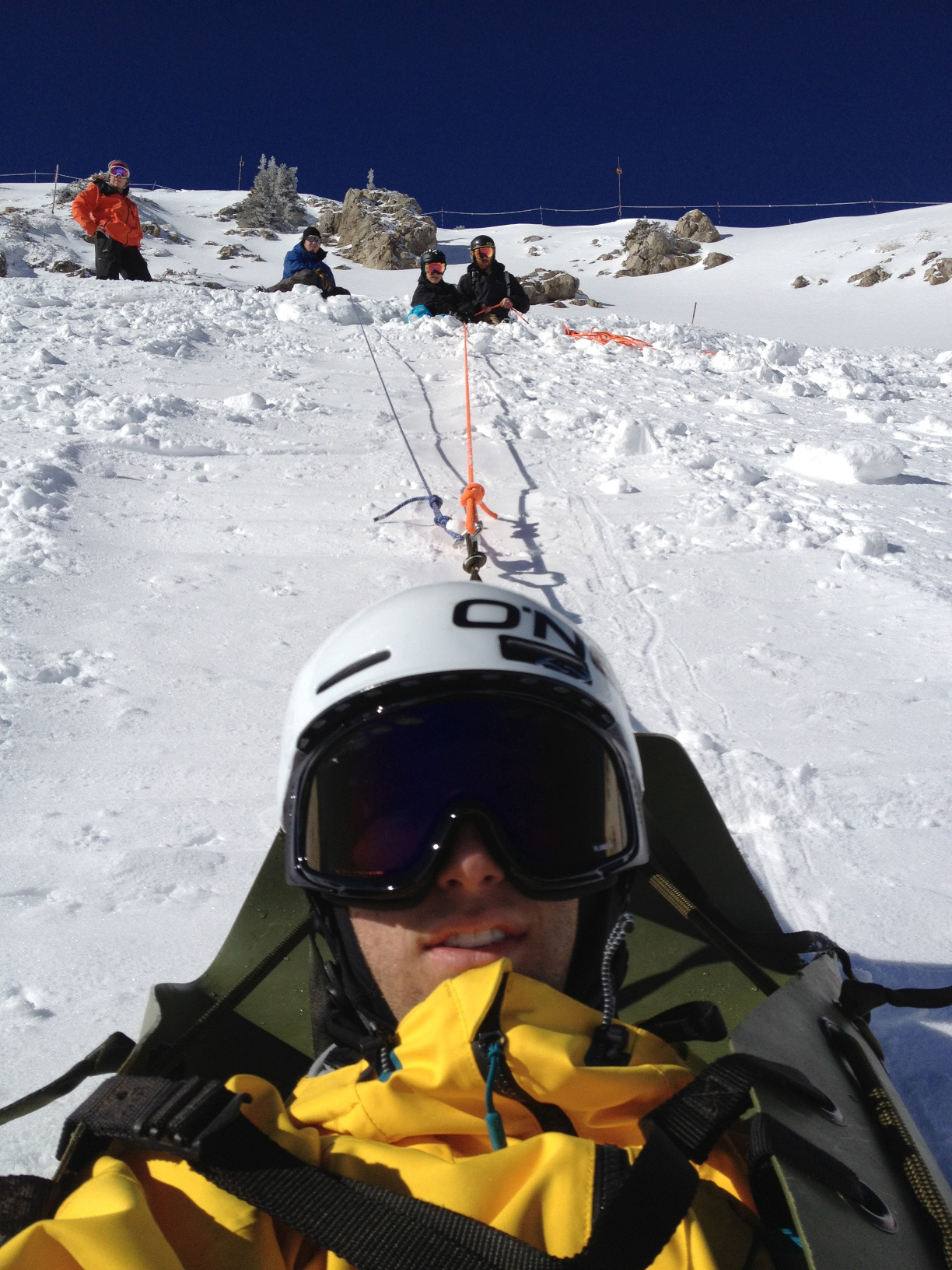 The author of this post, Brody Leven, gets "rescued."

Early morning classroom sessions led to packed training days in Snowbird's closed Mineral Basin. Between rappelling from lift towers and rigging crevasse rescue pulleys, the participants reveled in the scenery and absorbed knowledge, sitting far above the clouds over Salt Lake City.

Kent Scheler's closing words said it best: "You guys are super dialed and ready for the season now. Let's make it a good, happy, and healthy one."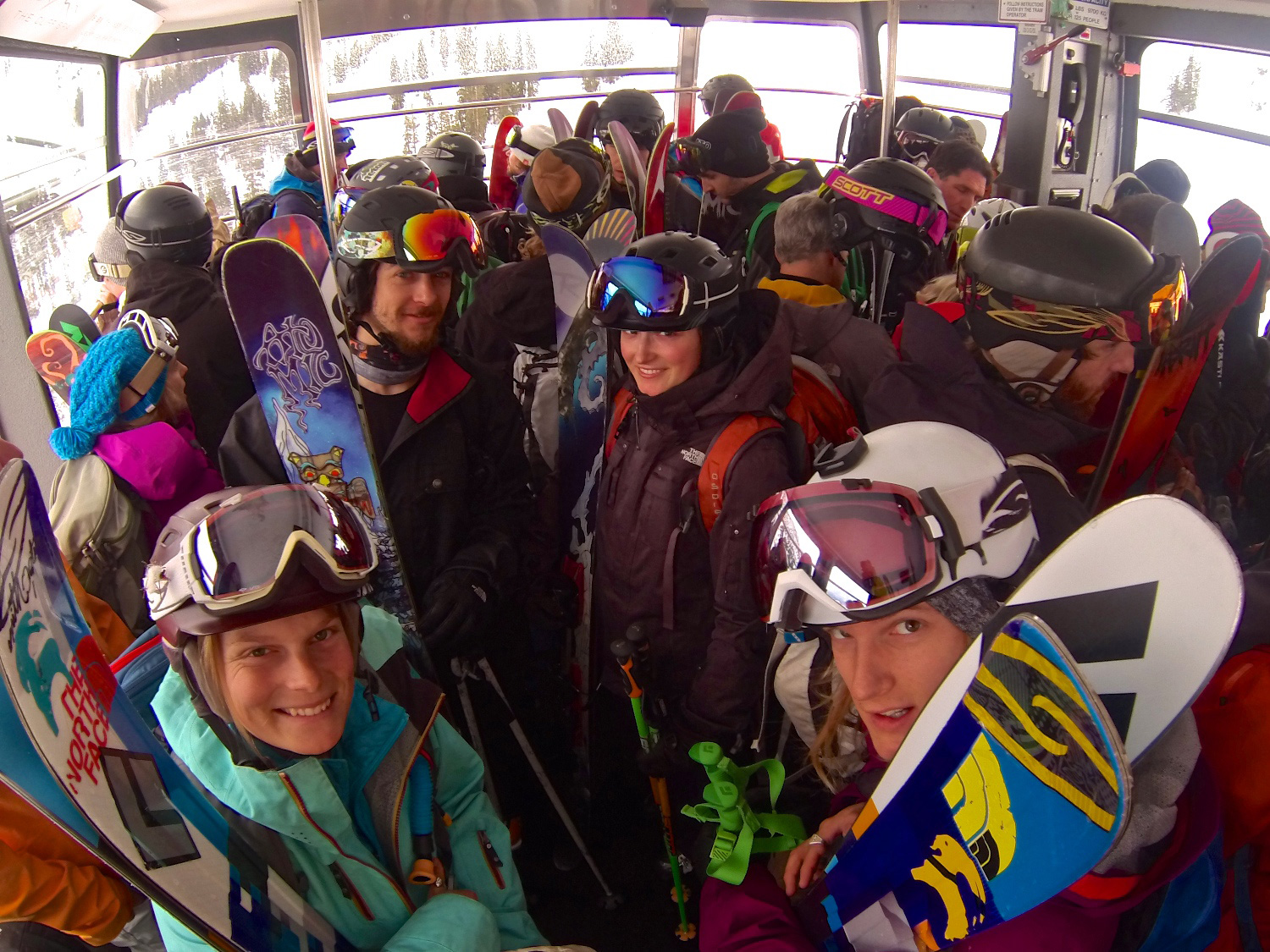 Angel Collinson, Sage Cattabriga-alosa, Jill Garreffi and John Collinson on the tram at Snowbird.
READ THE STORY
Arc'teryx photo This morning, Arc'teryx announced a voluntary recall on all its first-generation Procline ski boots. A defect was discovered in some boots where the rear axis pin failed, which could potentially lead to a fall hazard. The backcountry ski boots, introduced two years ago, feature an innovative walk mode mechanism that allows for lateral flex in the ankle area in addition to standard rearward flex, aiding in climbing and skinning on steep slopes. The recall affects all boots
READ THE STORY
This past spring I road tripped out to California to take advantage of their fat snowpack after an above average season for the Eastern Sierras. I started out hitting Mammoth Park and lapping top to bottom runs on the Mammoth Gondola. A few days later Colter showed up with plans to camp and do some Ski-mountaineering in the Palisades near big pine. Camp life. I was loving laid back condo life with the Saga crew but was eager to go camp in the Buttermilks. Everything came together for
READ THE STORY
The 2017 TGR Hall of Fame At the 2017 TGR Family Dinner, co-founders Todd and Steve Jones announced the first round of inductees into the TGR Hall of Fame, bringing back many stoked memories of the incredible work these athletes have done throughout their lives. The inductees and their families were in attendance, receiving a three-night stay at the Teton Mountain Lodge during the world premiere weekend. All three athletes led storied careers, pioneering the world of freeskiing and