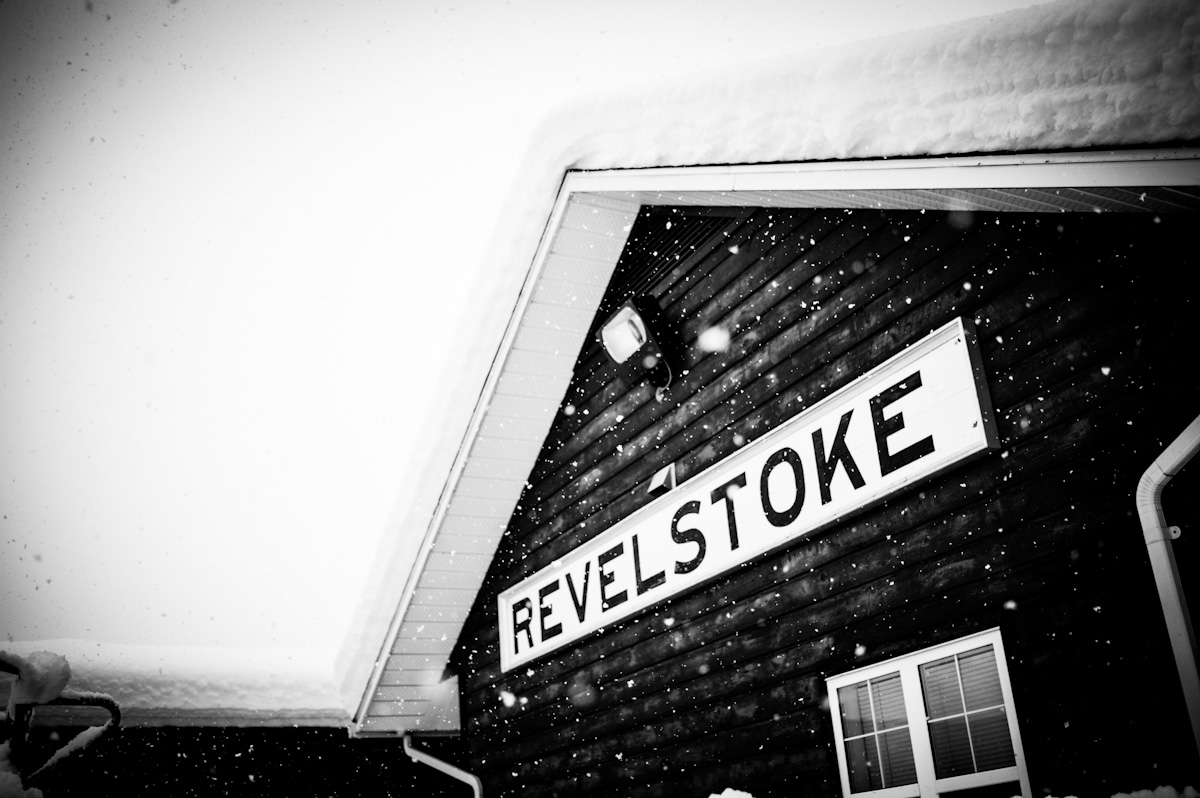 The snow has been stacking up in Revelstoke. On Jan. 11, the first stop of the Swatch Freeride World Tour by The North Face is scheduled to pop off. Photo: D.CARLIER.
The Swatch Freeride World Tour Is Ready to Go
Tomorrow marks the beginning of the Swatch Freeride World Tour by the North Face, and the action will go down on Mackenzie Peak at Revelstoke Mountain Resort. Dubbed "Mac Daddy," the face is a perfect venue for the best in the world. And, this year we actually get to see the best from all over. For years the North American-based Freeskiing World Tour and European-centric Freeride World Tour have run mutually exclusive contests during the winter, each crowning their own "World Champion" at the end of the season. This year, however, the tours have come together to create a unified world tour, aimed at pitting the best against each other and determining an indisputable World Champion in men's and women's big-mountain skiing and snowboarding.
The six-stop tour has handpicked venues throughout the world for big-mountain freeriding. In addition to this week's Revelstoke comp, the FWT will stop on the Italian and French sides of the Mont Blanc in Courmayeur and Chamonix, in California's Sierra Nevada at Kirkwood's cliff-strewn Cirque, in the Tyrol Range where Fieberbrunn Pillerseetal exemplifies Austria's terrain, and culminating in Switzerland at the infamous Bec de Rosses venue for the Swatch Xtreme Verbier.
Around 60 competitive big-mountain freeriders from all over the world have been posted up in Revy for about a week waiting for a weather window to run the contest. Just as the competitors started arriving, so did the snow. Upwards of three feet of snow has blanketed Revelstoke and set the "Mac Daddy" face up with insane conditions for Friday's comp.
Among the competitors are TGR's Griffin Post, Colter Hinchliffe and Ralph Backstrom.
Mackenzie Peak, the FWT venue, is just outside of the Revelstoke Mountain Resort Boundary. Photo via FWT.
"It has been snowing ever since we got here," says Hinchliffe, who has been diligently icing and resting a banged up leg in the hopes of being able to compete. "Friday is supposed to be full-on bluebird, primo conditions. The fact that we're waiting for the conditions to be right is going to make for a good show; it should be really sick."
Post agrees: "It's snowed probably two to three feet on the venue. If the snow locks up it should be all-time conditions."
Relying strictly on a visual inspection — rather than being allowed to get into the venue to size-up airs, probe landings, and see first-hand what the conditions are like — athletes are constantly mulling over photographs of the "Mac Daddy" face to get familiar with the terrain and choose a line or determine a direction to head out of the start gate.
"There are two dramatically different options," says Post. "Skier's left is far more playful and flowy; whereas the skier's right is more gnarly and exposed, it's traditional big-mountain skiing. I'm pretty sure I'm headed skier's left to get into some doubles and ski the less-exposed zone. I think the skier's right is going to sluff super hard and with all of the new snow it is not the day I would want to ski it."
"At this point I am doubtful rather than hopeful for Friday," says Hinchliffe, "If I am feeling good Friday, though, I am looking at the skier's right side of the venue, it's exposed getting in but then there are a couple of nice features on the right side and that direction leaves a couple of options down low — a little roller or a third and fourth cliff. As far as the top, I'm looking to rip the face on the top and maybe find something to jump off."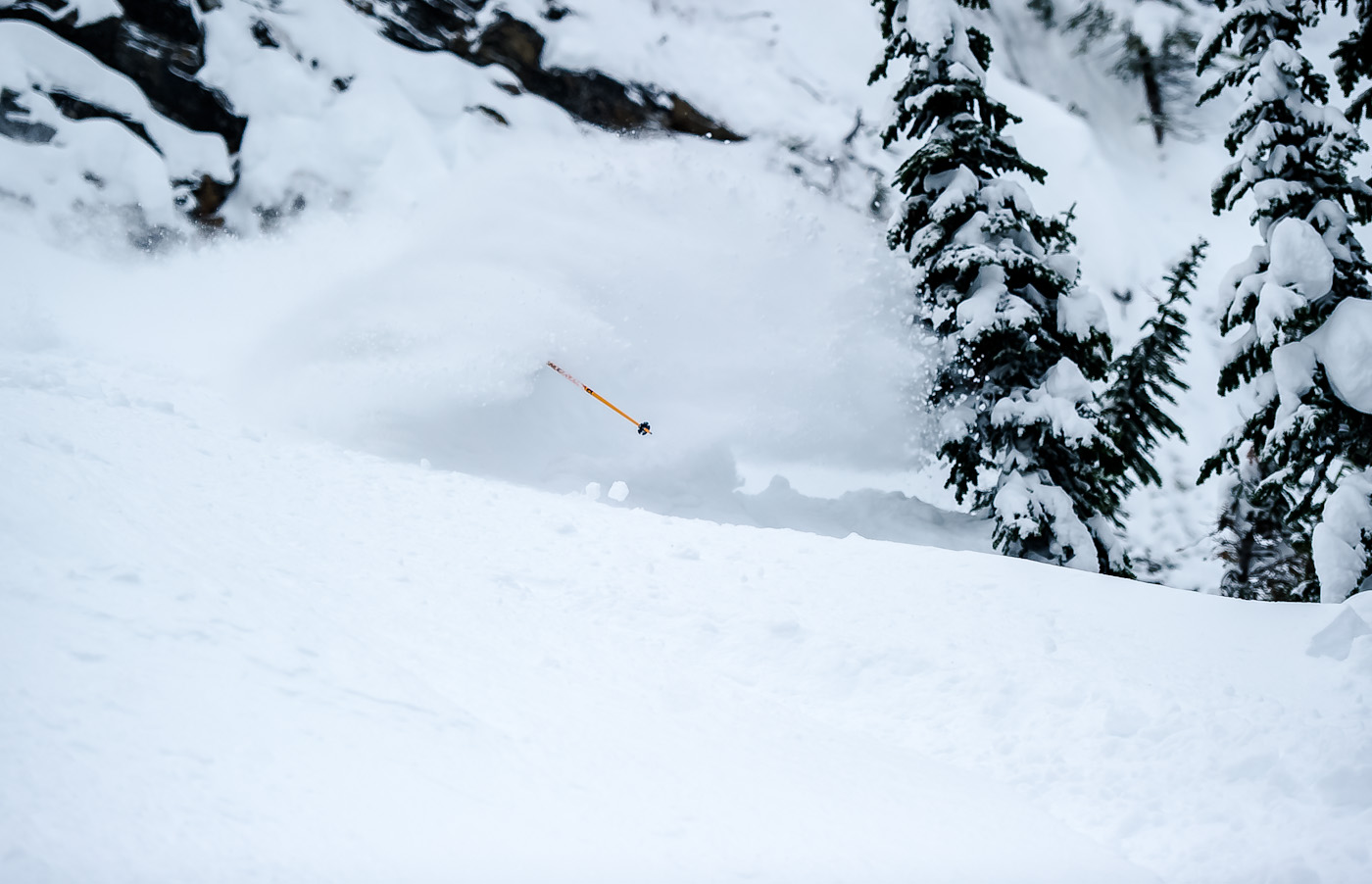 A skier gets deep in the fresh snow at Revelstoke. Photo: B. Long
With the merger of the North American and European tours, there are a lot of new names for fans US-based fans of big-mountain competitive skiing and snowboarding.
"The talent in men's skiing is so deep," says Post. "Pretty much every skier out there I'm excited to watch. There are younger guys who are super hungry and older, seasoned guys who are a little smarter. A few guys in particular are Sam Smoothy and Markus Eder, I always like watching Tabke, of course. It's such a stacked field, it's crazy how many really good skiers there are up here, and it's anybody's game."
Hinchliffe shared his thoughts on the competition field.
"I am pretty stoked to see what Johnny Collinson is going to do out there," Hinchliffe said. "He seems to be feeling good right now, and he's definitely not suffering from a leg injury. He's been out there doing threes off of everything he can find. We're on a similar wavelength. The standard Tabke show should be cool to watch, too. I'd like to see O'Meara kill it, I'm sure he will. I'm excited to see who pops up and who shines."
Stay tuned for a recap of the comp.
Click Here To Watch A Live Stream Of The Event
Official Start List:
Snowboard Men
Last Name
First Name
Nationality
Hometown
Carlson
Tim
USA
Stevens Pass
Rodosky
John
USA
Jackson Hole
Badoux
Emilien
SUI
Valais Alpes
Van Helfteren
Irian
Holl
Luebke
Sammy
USA
Squaw Valley
Rizzuto
Jamie
CAN
Fernie
Guillot-Diat
Ludovic
FRA
Villard-de-Lans
Annetts
Matt
USA
Jackson Hole
Charlet
Jonathan
FRA
Chamonix
Routens
Aurelien
FRA
La Grave
Rouge
Joel
SUI
Alpes Vaudoises
Backstrom
Ralph
USA
Squaw Valley
Orley
Flo
AUT
Hochfugen
Snowboard Women
Last Name
First Name
Nationality
Hometown
Mouthon
Anouck
FRA
La Clusaz
Lucas
Casey
USA
Kirkwood
Yates
Shannan
USA
Snowbird
Mouthon
Elodie
FRA
La Clusaz
Rozies
Margot
FRA
Pyrenees
Bock
Aline
GER
Innsbruck, Arlberg
Lazzereschi
Iris
USA
Squaw Valley
Dewey
Laura
USA
Snowbird
Ski Men
Last Name
First Name
Nationality
Hometown
Slemett
Leo
FRA
Chamonix Mont-Blanc
Lyons
Charlie
NZL
Mt. Olympus
Kappler
Ryan
CAN
Revelstoke
Coirier
Adrien
FRA
Les Arcs
Heitz
Jeremie
SUI
Les Manecottes
Gauthier
Laurent
CAN
Whistler/Blackcomb
Hinchliffe
Colter
USA
Aspen, CO
Salencon
Nicolas
ARG
Bariloche
Guri
Kevin
FRA
Les Menuires
Lindberg
Willie
SWE
Rikgransen
Post
Griffin
USA
Jackson Hole
Ducroz
Aurelien
FRA
Chamonix
Chickering-Ayers
Silas
USA
Mad River Glen, VT
Eder
Markus
ITA
Klausberg
Smoothy
Sam
NZL
Treble Cone
Lopez
Julien
FRA
Tarentaise
Tabke
Drew
USA
Crystal Mountain
Barkered
Reine
SWE
Are, Sweden
Hausl
Stefan
AUT
Arlberg
Michaud
Seb
FRA
La Clusaz
Collinson
John
USA
Alta / Snow Bird
Fornell
Dani
AND
Ordino-Arcalis, Vallnord
Nelson
Luke
CAN
Fernie
Ogilvie
Benjamin
CAN
Fernie
Haunholder
Matthias
AUT
Fieberbrunn
Daiek
Josh
USA
Kirkwood
Bijasson
Mathieu
FRA
La Clusaz
Collin
Sean
USA
Squaw Valley
O'Meara
Kevin
USA
Squaw Valley
Ski Women
Last Name
First Name
Nationality
Hometown
Gundersen
Pia Nic
NOR
Anstadblaheia
Segal
Natalie
AUS
Jackson Hole
Slinning
Anne May
NOR
Aalesund
Wright
Crystal
USA
Jackson Hole
Walkner
Eva
AUT
Dachstein
Lercher
Sonja
CAN
Blackcomb
Paaso
Jackie
USA
Squaw Valley
Maxfield
Ashley
USA
Jay Peak / Peak
Hargin
Christine
SWE
Ramundberget
Wallner
Nadine
AUT
Arlberg
READ THE STORY
Well, ladies and gentlemen here it is, demanded by the public at large, the official soundtrack for our new film . About a week ago we premiered to a sold-out crowd in Walk Festival Hall at Jackson Hole Mountain Resort. Now the film is headed out on the road across the country and the world. Be sure to check out our full tour schedule here and be sure to check back frequently as new shows are added daily. Buy Tour Tickets here. Film Synopsis:
READ THE STORY
This post originally appeared on Powderchasers.com. 23 inches has fallen at Timberline Lodge in Oregon in the past few days! It's snowing in the Cascades currently and today is opening day for Arapahoe Basin In Colorado. The extended forecast while warm early next week looks cold and deep in the 7 day period. There is a lot going on for mid-October! The Pacific Northwest has seen significant snowfall in most of the Oregon Cascades where less has fallen further north in Washington. A
READ THE STORY
In case you missed it, this weekend marked the beginning of winter for the northern Rockies. We know it's only September, but Montana, Wyoming, and even parts of Colorado were blessed with some pretty significant snowfall. Some of us just couldn't resist the itch, and dusted off our skis and boots to take them out for their first walks of the season. Well, we all know that with early season skiing comes some serious spraying, so here are a handful of the best captures we found on the ol'