By Michael Sudmeier
Last week, both snowboarding's past and its future were on prominent display at the Jackson Hole PowWow. Now in its second year, the event brought together a tight-knit crew that included snowboarding pioneers, board designers, brand representatives, shop owners, professional riders new and old, media outlets, and Jackson Hole locals.
Unlike many industry events—where the focus is on a keg or manning a desolate demo tent—the PowWow revolved around riding. Throughout the morning and afternoon, attendees quickly ducked in the event tent near Jackson Hole's tram. Here they mounted decks and found a posse with which to ride. The tent's potent wet dog odor, ample snow, and bluebird skies served as an additional catalyst for maximizing time on the snow.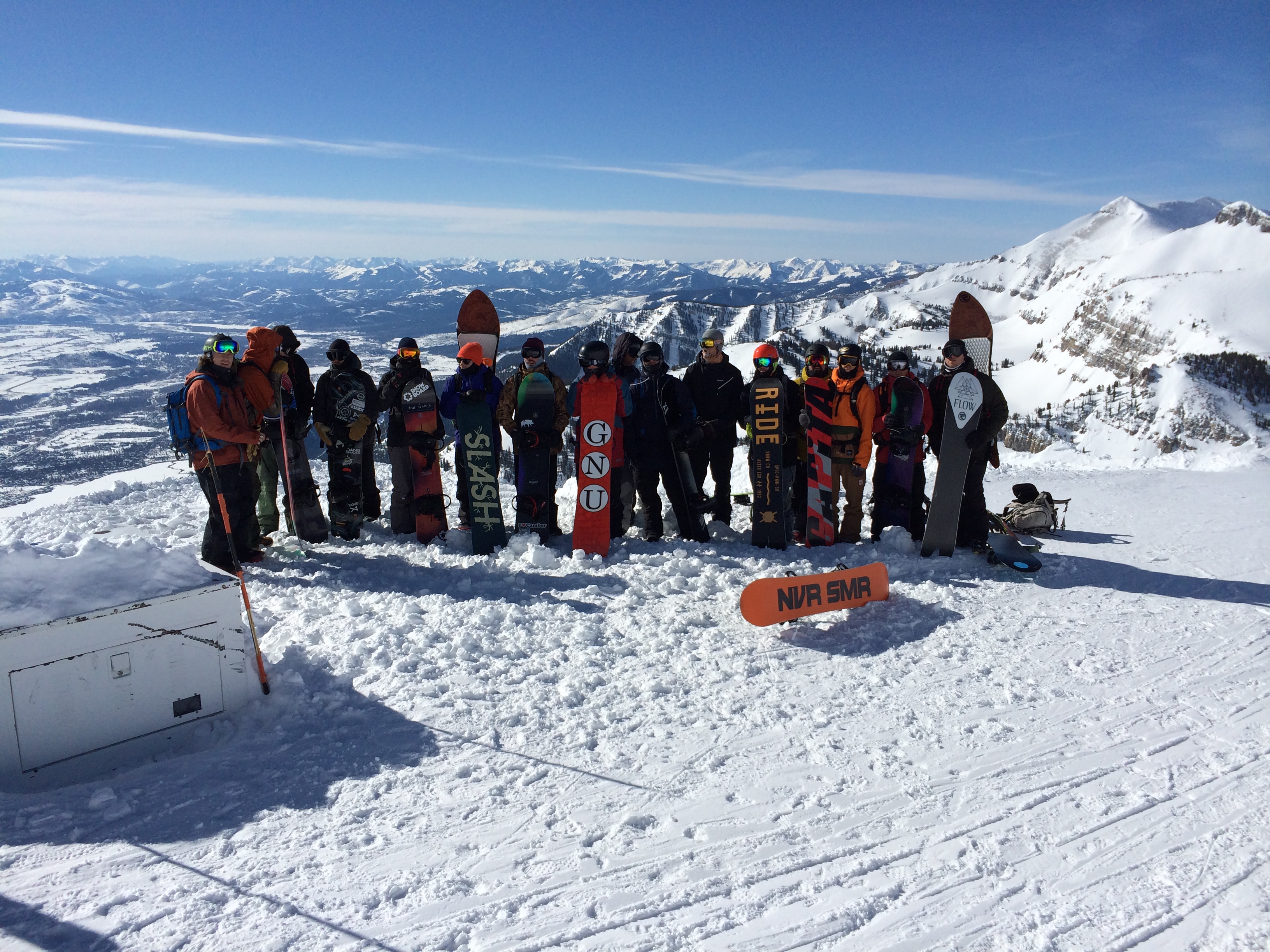 A group of PowWow participants took a break from lapping the sidecountry to pose for this photo atop Rendezvous Bowl at Jackson Hole. The resort was a key sponsor for the event, making the magic happen.
If, however, one was inclined to loiter in the tent, it contained no shortage of eye candy, as a test of 2015 decks served as one of the PowWow's marquee events. In addition to formally enlisting local diehard shreds, this test was open to everyone in attendance—which totaled around seventy-five riders. Participating brands ranged from boutique builders to established giants, and included Burton, Venture, Never Summer, Gentemstick, Cold Smoke, Unity, Notice, K2, Ride, Lib Tech, Gnu, Arbor, Franco Snowshapes, Rossignol, Slash, Yes, Jones, Dupraz, Amplid, Illuminati, Nitro, and Grell.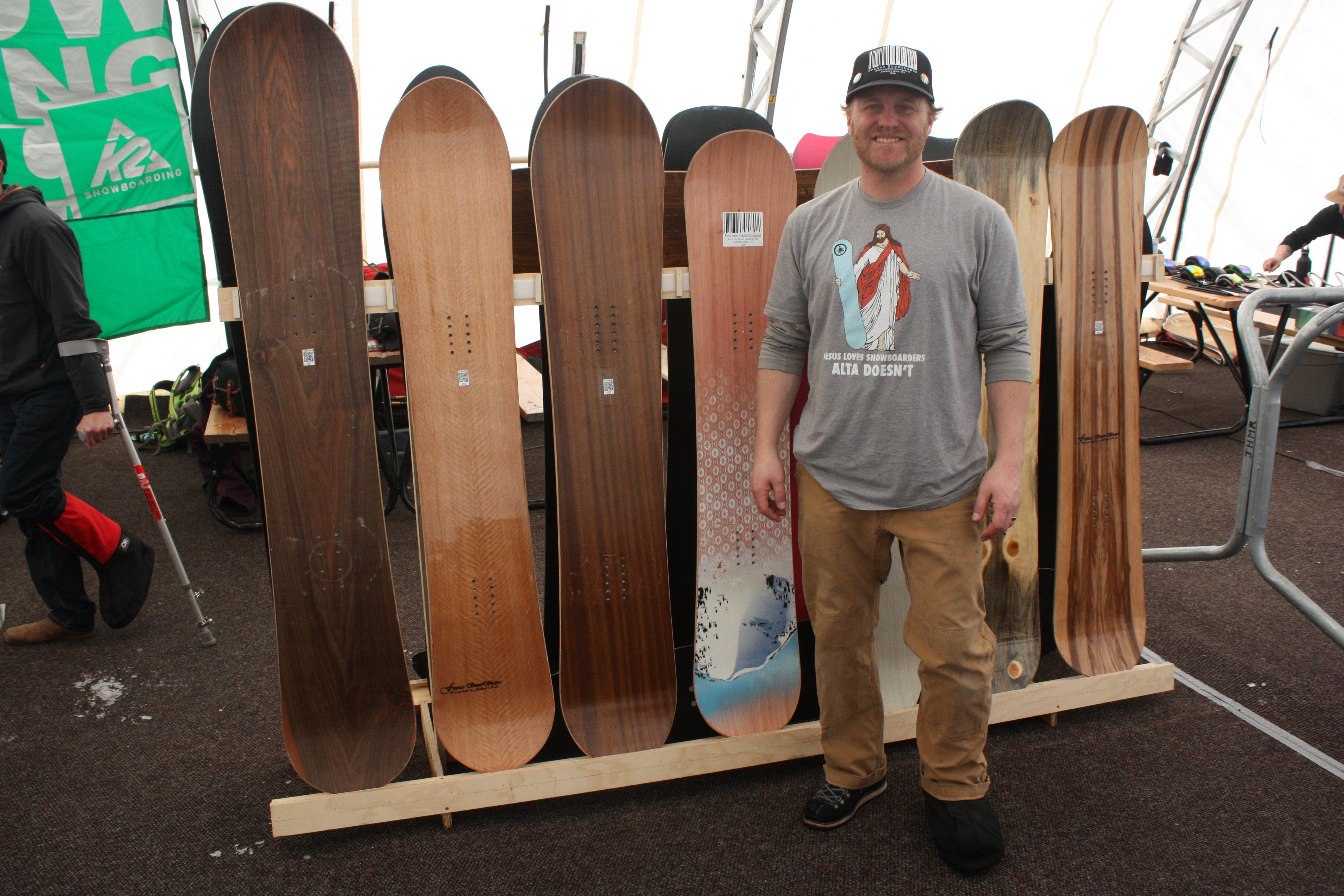 Mikey Franco of Franco Snowshapes poses with some of his boards. In case you're wondering, his shirt reads, "Jesus loves snowboarders. Alta doesn't."
The diversity of board shapes—combined with the prevalence of board designers on hand—alluded to snowboarding's roots while also providing a glimpse into its future. While many of these shapes seemed appropriated from the eighties, they also served as testament to the increasing focus riders and brands are placing on them—a movement that many view as analogous to how surfing treats shapers and board shapes.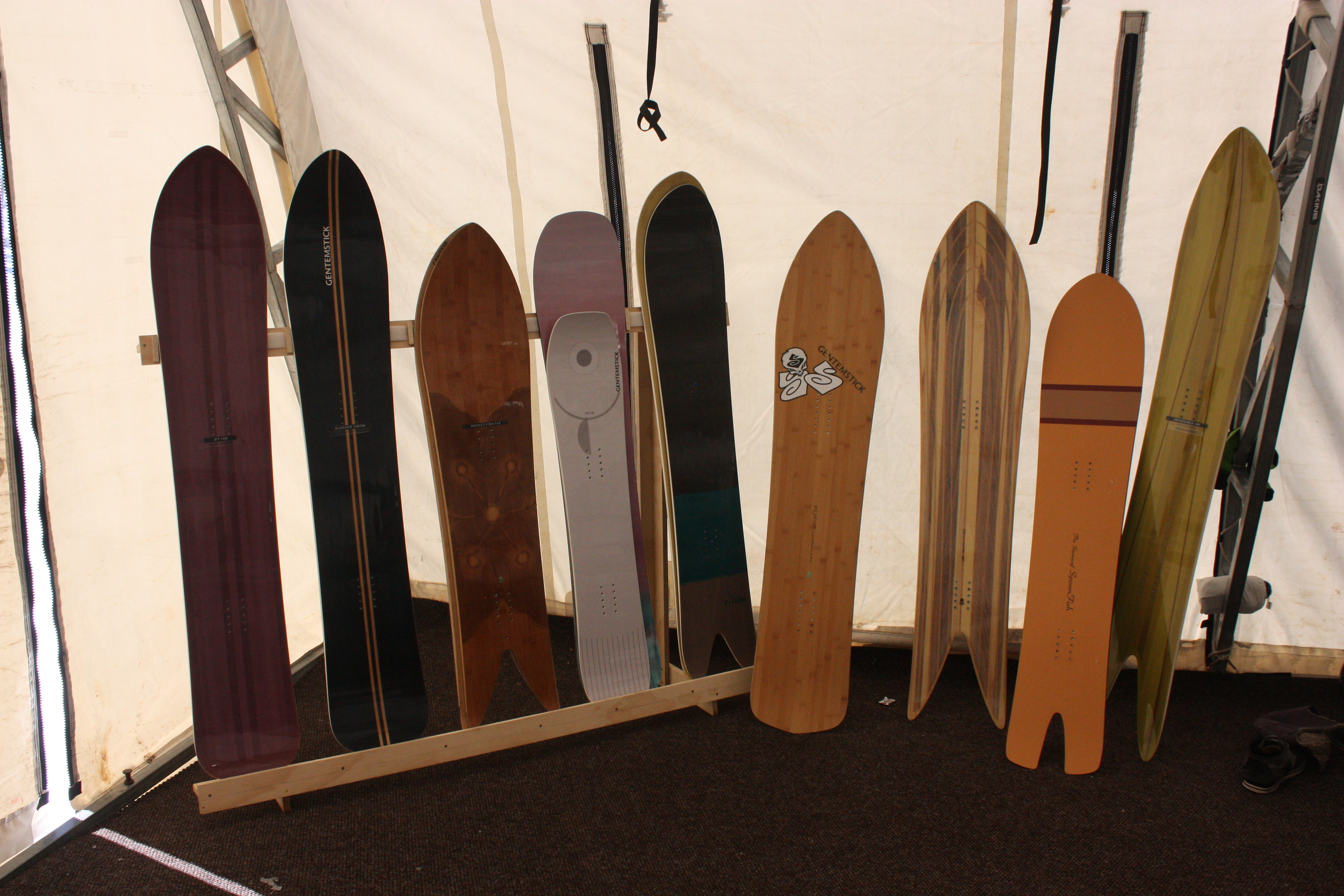 This early morning photo captures a rare moment in which Gentemstick's boards are all present in the demo tent. Each year, riders at the PowWow salivate over the Japanese company's boards and jockey for a chance to take them for a spin.
Yet as much as the PowWow showcased board designs and provided a venue for testing them, it was also about celebrating snowboarding's roots and the culture that sustains it. According to Rob Kingwill, the event's founder and a snowboarding legend in his own right, the PowWow is about embracing a core vision for snowboarding—a vision, he notes, that has often been overshadowed by energy drinks, the X-Games, and outside influences that have worked to shape snowboarding for their own gain.
Kingwill emphasizes that despite the mainstream attention this interpretation of snowboarding receives, "For most people in the world, that's not what snowboarding is about. Snowboarding is about riding with friends, finding new places, and hopefully riding powder." Consequently, he aimed to create an experience where the focus was on the riding. Inspired by the Legendary Mt. Baker Banked Slalom and Travis Rice's Natural Selection from 2008, Kingwill set out to create an event that brought his friends and fellow riders to his home mountain. "I just wanted to show my friends [Jackson] and get people to come shred . . . I think that's why it's been pretty successful. Everyone just falls in love with being here—just like me." Perhaps as a result of Kingwill's enthusiasm and the purity and sense of purpose behind the event, the PowWow even served as a gathering place for a number of legendary riders including Dale Rehberg, Andy Hetzel, and Roan Rogers.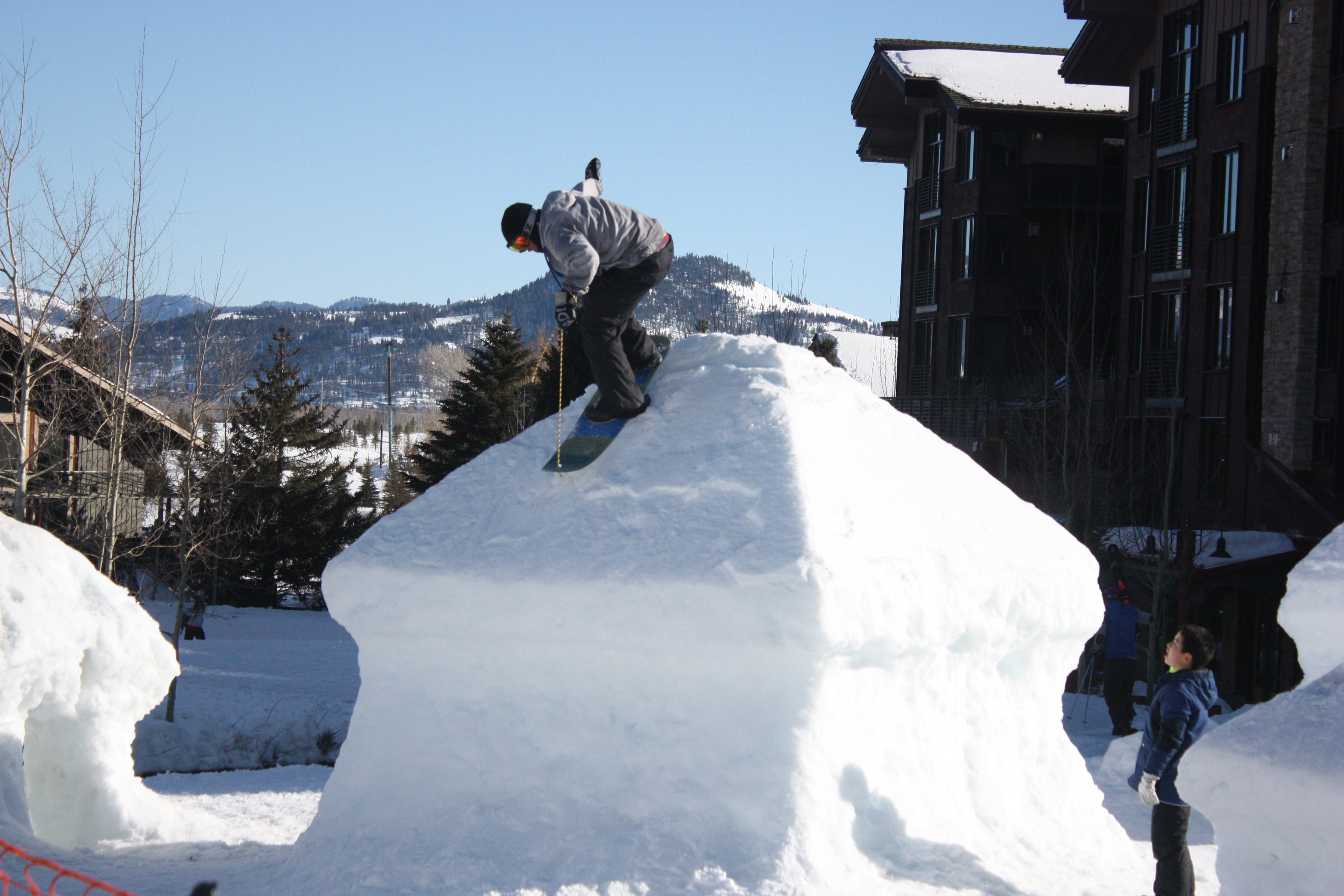 At the end of the day, riders on snowskates and Grell Boards terrorized the little kid sled hill—and other assorted objects. This photo could easily illustrate a diagram on how bones get broken.
In addition to days filled with riding, the PowWow was anchored by evening events that blended history, storytelling, and simply kicking back with friends. On the second night of the PowWow—which loosely spanned from March 10th to March 16th—riders gathered at the Q Roadhouse to explore diverse chapters in snowboarding's evolution.
Alex Hillinger, the director of Asymbol, kicked off the evening by introducing the second year of Travis Rice's Pass It On Project. At last year's PowWow, Hillinger and Rice kicked off the first installment of this endeavor, which sent one of Rice's signature decks off into the world. Fellow snowboarders were encouraged to simply ride the board and—per instructions attached to its topsheet—post a photo of themselves riding it to Instagram using the #PassItOnProject hashtag. The resulting photos—which stemmed legendary pros and weekend warriors alike—documented the board's journey across continents and seasons. The common denominator in all of these photos was an intense sense of stoke. To further its reach, the Pass It On Project is sending three boards off into the world this spring, one of which was put to use the next day at the PowWow.
Rob Kingwill christened one of the boards from Travis Rice's Pass It On Project with a nice little warm-up run through Central Couloir. (Photo by @robkingwill)
Photographer Chris Figenshau discussed traveling to Nepal with Jeremy Jones and TGR. His slideshow provided an overview of the crew's journey and Jones' objective—riding a line on a face the team named the Shangri-La Spines. This line will be featured prominently in Higher, the final installment of Jones' Deeper, Further, and Higher trilogy of films.
After Figenshau, Stephen Koch took to the stage. While guiding the audience through slides that documented dozens of first descents, Koch also spoke about the lessons he learned through snowboarding. And despite his abundance of first descents throughout the globe, many of these lessons came from the challenges and uncertainties that have accompanied his exploration—including an avalanche on Mount Owen that swept him over 2,000 feet and his efforts to ride the tallest peak on each of the seven continents. Koch revealed that sometimes we are quick to label as failures the very experiences that stand to shape us the most. Ultimately, success may look very different from our initial objectives and assumptions.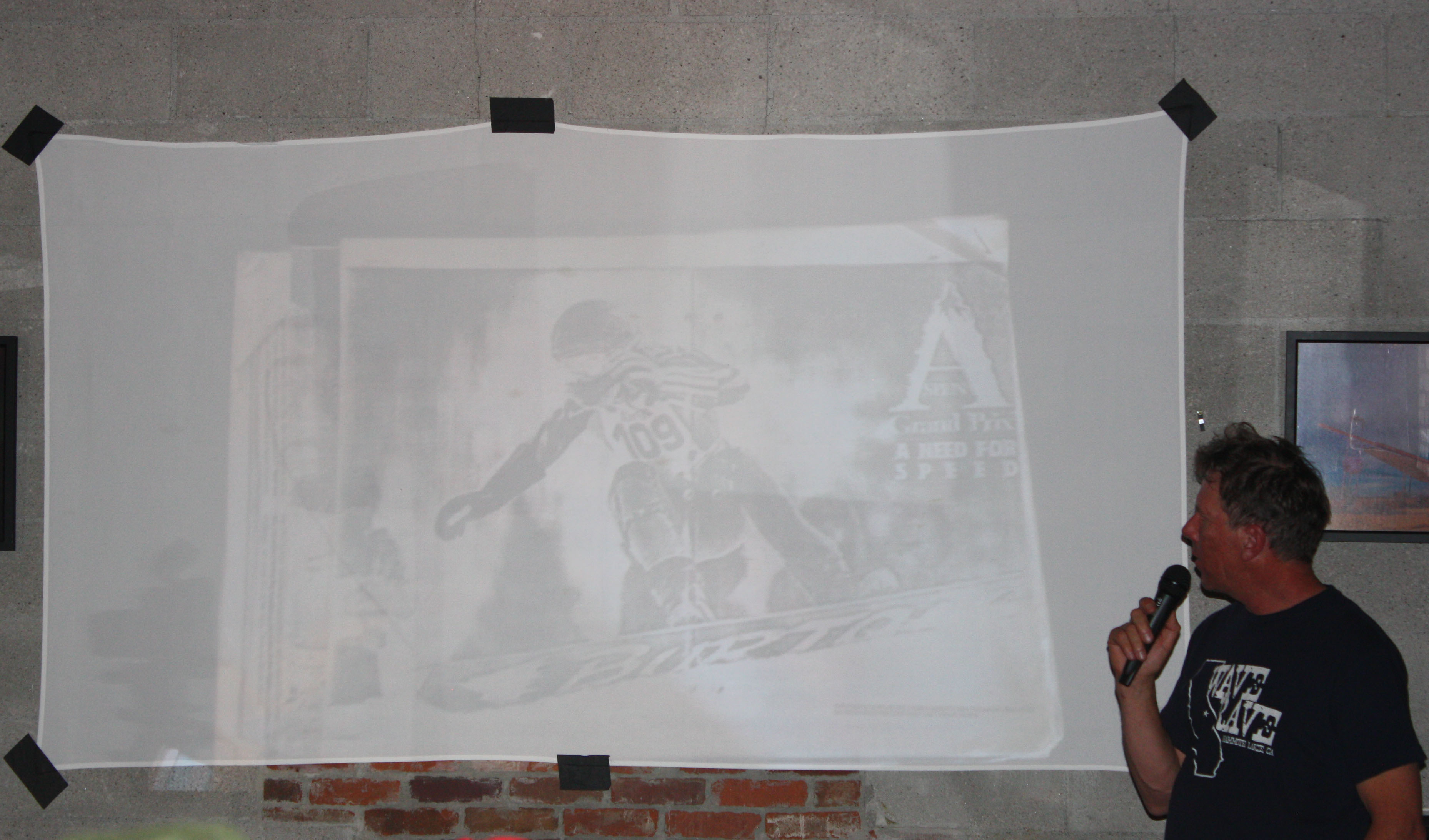 Jeff Grell provided a glimpse into snowboarding's past while also embodying the passion that has sustained it through the years.
The night served as a makeshift time machine, delivering riders further and further into snowboarding's past. And ultimately, Jeff Grell took to the stage to talk about a crucial era in snowboarding's history—one in which everything was so new and so different. Grell discussed his time working with Tom Sims, as well as how he came to develop the highback binding. "Back then it was all about sharing ideas," he explained. "You never thought about what tomorrow meant. It was just like 'this is a great idea. I'm so stoked on what I'm doing . . . I'm so passionate about it that I just got to turn people on to it.'" Grell added, "I don't have any of my old boards because I gave them all to other people. I think the Pass It on Project actually started a lot earlier." That night—and in the days ahead—Grell was often introduced as "the reason you're able to make heelside turns." Yet his contributions to shredding don't stop there. Grell provided an overview of his efforts to organize contests and events while also attempting to entice Aspen and other resorts to open their lifts to snowboarders.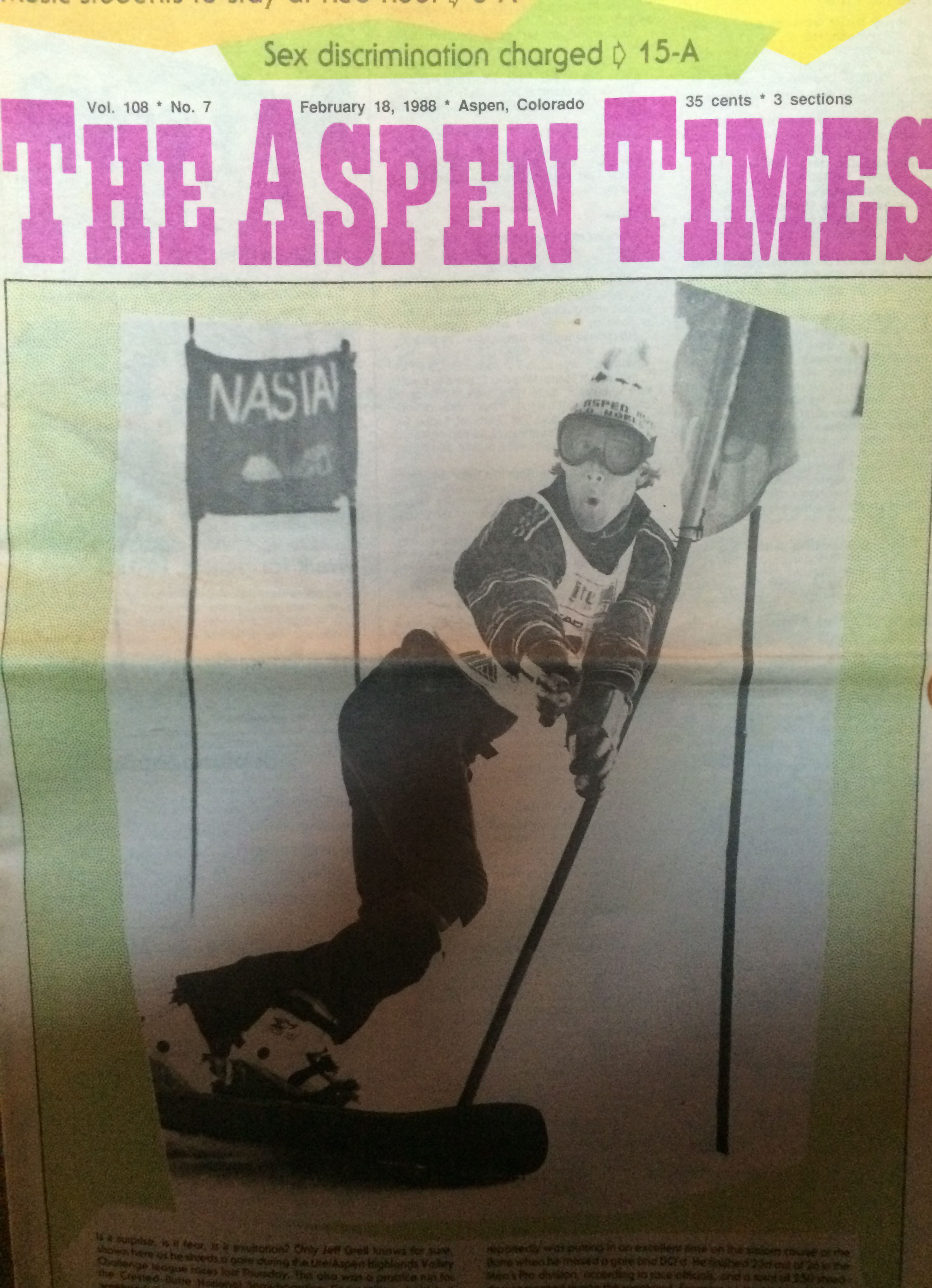 Prior to the evening event, Grell provided a tour of the contents of his briefcase, which was adorned with vintage snowboard stickers.
Grell's briefcase contained everything from his patent for the highback binding to old newspaper clippings to letters. One letter from the Aspen Highlands Skiing Corporation stated, "We regret denying your request for the implementation of a snowboarding program at Aspen Highlands for the 1984/85 season." The letter did, however, state that the mountain would reconsider its position if he could obtain a one million dollar insurance policy.
Proof of his deep love for snowboarding, Grell continues to pioneer new developments in how riders slide on snow. Most recently, he has been developing Grell Boards, which blend the simplicity of Snurfers with sophisticated molds and fiberglass technology. Seemingly, Grell's commitment to snowboarding is as strong as ever. While waiting to present, he stepped outside the building and shared one of his boards with kids climbing on a snow pile. Regardless of whether he's in spotlight, Grell will forever be both a pioneer and a prophet of standing sideways on the snow.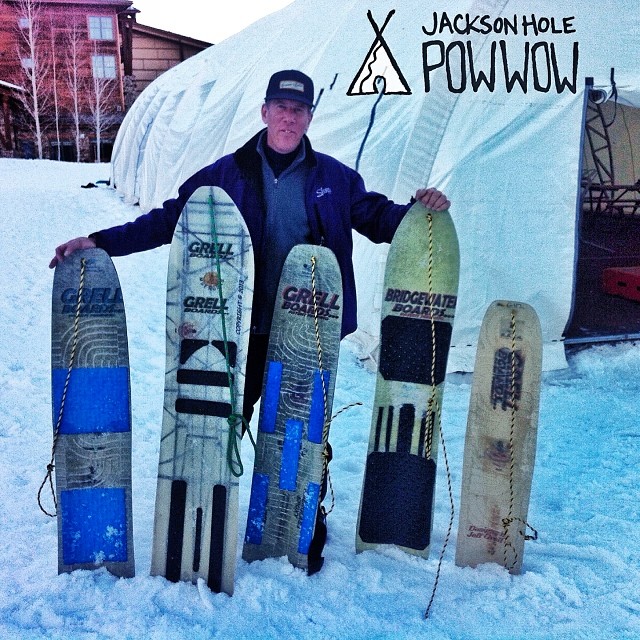 Jeff Grell displays some of his latest inventions—Grell Boards. Inspired by the Snurfer, these boards bring snowboarding back to its roots. (Photo by @robkingwill and @jhpowwow)
The days that followed were filled with a blend of riding, chairlift conversations, and sidecountry hikes. Board builders and reps were quick to solicit feedback on their latest designs, which tended to blend board shapes, camber profiles, and sidecut radii with a greater degree of attention than ever before. "More companies are trying cool shapes—there are more freeride and powder-specific boards," offered Jerome Boulay, Venture's sales manager. A common refrain from brands was that they had never been to an event where the caliber of riders and testers was so high and where the testers provided such meaningful and nuanced feedback.
Venture's Snowy Owl was one of the many unique board designs on display at the PowWow. For riders like Venture Sales Manager Jerome Boulay, the deck functions as a splitboard for ascents and a bindingless pow surfer for getting after the goods on the way down.
According to Unity Owner and Founder Pete Wurster, Jackson Hole also provided the perfect venue for the test. "It's probably the best place to test boards. Because of the nature of Jackson Hole you go from a beautiful powder day to gnarly slush to icy moguls through the trees back to a groomer all in one run." Wurster added that the PowWow also created an environment in which boards were evaluated on their merits rather than the hype that surrounds them. "You throw all of the money, marketing, pro riders, and hype out the window and here we're all in the same plane," he explained. "Small manufacturers that are doing some really unique stuff can be looked at on a level playing field and get as much attention as the bigger brands that everyone knows."
Whether riders were hiking or rocking the lift, conversations unfolded with ease at the PowWow. Here, the crew from Snowboard Magazine captures one of these moments. The magazine served as a key sponsor for the event and had a full posse in effect. (Photo @snowboardmag and @susiefloros).
Although the event officially drew to a close on Thursday evening, the good times flowed through the weekend. On Friday, a number of riders gathered for splitboard tours elsewhere in the Tetons. Many of the brands also remained for a consumer demo on Friday and Saturday. And those brave enough to embrace kickers, banked turns, and a running clock stuck around for the Dick's Ditch Banked Slalom.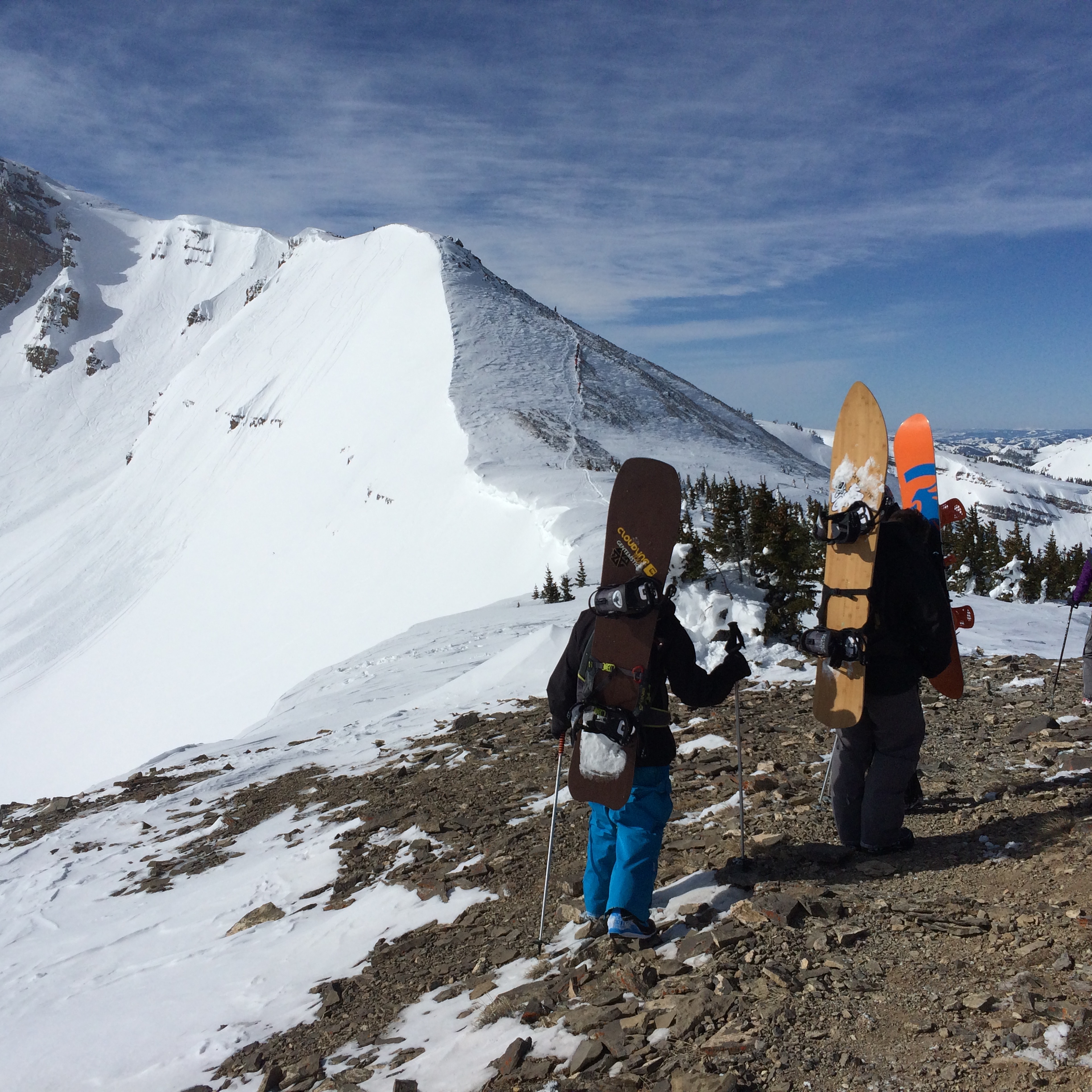 Jackson Hole Mountain Resort and the adjacent sidecountry provided the perfect canvas for testing boards. Powder, ice, slush, groomers—over the span of 4,000 feet you'll find it all.
The closing celebration on Thursday night further revealed how tight the bonds can be that unite riders. Jeff Grell reflected on the PowWow while also sharing additional insights from spending the past thirty-five years of his life snowboarding. He was also joined by friends and fellow pioneers who paved the way for snowboarding. Steve Link and Mike Troppman spoke about their early experiences riding and refining board designs. Link also shared memories of his friendship with Tom Sims, including the time they spent filming James Bond's snowboard scenes from A View to Kill. Mike Troppman began producing his Ultimate Control Boards in 1981 and Link founded Summit Snowboards in 1982. Although the companies they founded have long since ceased to exist, their legacies remain. Whether riders realize it or not, they are forever indebt to Grell, Link, and Troppman. This became further evident when a microphone was passed around the room and riders shared memories of the first time they went riding—experiences all made possible by the pioneers who preceded them.
Mike Troppman, Jeff Grell, and Steve Link (from L to R) have been riding together for thirty-five years. Their contributions to snowboarding run deep—and continue to this day.
At the end of the evening, Kingwill revealed that Grell was selected as the chief of the PowWow. Bestowed upon Grell by a vote from his fellow riders, this award recognized him for embodying the spirit of the event. "Thank you for the honor. I can't wait until next year," he said. "I've been to hundreds of events in my life and this is the funnest one yet." As Grell gave thanks, it was clear that his passion for snowboarding was as strong as when he strapped in for the very first time decades ago.
READ THE STORY
Some adventures are a long time coming. Big mountain riders Jeremy Jones and Griffin Post have been adventuring deep into the mountains of Alaska for most of their careers, but in recent years have turned to embracing a foot-powered approach to exploring these peaks. While it might be much easier to reach these legendary ski and snowboard objectives with a helicopter, both riders have learned to appreciate slowing down the process and doing it the hard way. A few years ago, after an
READ THE STORY
Is hardbooting a sign snowboarding is finally moving out of its mom's basement? With Phantom's newest Slipper HD boot system, it just might be. The number of snowboarders in the backcountry has been on the rise. Only seven years ago I remember frequently receiving remarks from other recreationalists like it was something novel: "oh a splitboarder." Even at busy trailheads like Colorado's Berthoud Pass, it was rare to see other human-powered snowboarders. In the last two or so years I'd be
READ THE STORY
The North Face and Pattie Gonia (they/she/he) are teaming up to host a Summer of Pride, aiming to celebrate how nature lets you be who you are, and all of the beautiful ways that you get outside. With workshops, panels and activities for all, Summer of Pride is about exploration in all shapes and forms. Their mission is to help cultivate community together through a love for nature and having a good time outside. The tour heads to Portland, OR, Columbus, OH, Denver CO, and San Francisco, CA.