Lee Lau & friends testing Intuition's new liners in British Columba last January.
Intuition Liners are known for producing high performance boot liners for use in ski and snowboard boots and for other applications, and there one of the few products in skiing or snowboarding that absolutely live up to the hype. Intuition uses a proprietary themoformable closed-cell foam that is designed to be heat-molded to your foot, is more resistant to packing out than other liner material, is stiffer, and holds in heat to an astounding degree . This set-up has eliminated so many of the issues that made ski boots the most miserable piece of sporting equipment in modern history, from ankle pinching to frozen toes to shin bang to bunions due to a poor fit, that skiers who sport them no longer look with longing envy at snowboarders and dream about what a pain-free shred experience might be like.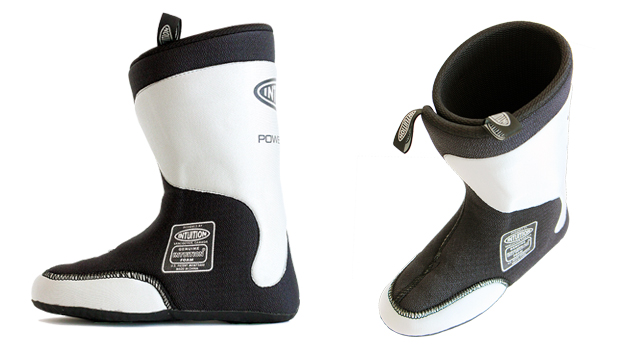 Intuition's new Pro Wrap liner for 2014, the stiffest liner in the company's quiver.
The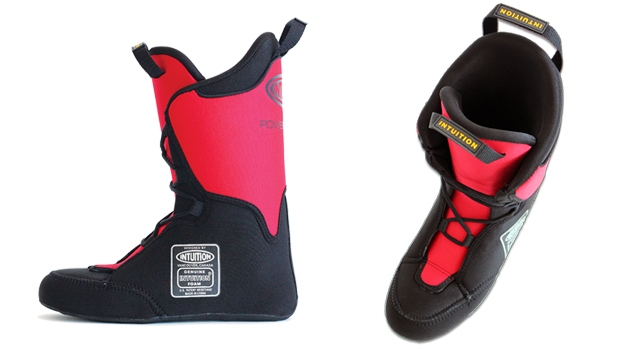 The new Pro Tongue liner.
Another distinguishing feature of the Pro Tongue and Pro Wrap liner is that the bottom of the liner has 7 millimeters of foam that can be removed to accommodate either thinner foam (Intuition will supply on request) or a footbed. Once removed only the Strobel board remains on the liner bottom; theoretically giving one more options when heat-molding the liner to customize for footbeds, or if desired, for foam.
I should also mention that I tested the medium volume version of these liners. Intuition usually sells liners in three different volumes. If you have a high volume boot that your feet are swimming in, you'll want a high volume liner. For a low volume or "plug" boot you might want a low volume liner, maybe even order a size smaller liner than normal. Just keep in mind you will lose some of the warmth that Inuition's thicker liners provide.
Drawbacks? Because the liners are so stiff, you are almost required to custom-fit or cook these liners. The foam is not like the Intuition 2.0 Dreamliner foam, which is softer and more readily and quickly molds to one's foot through normal use thanks to body heat, negating the need to go through the somewhat tricky process of molding the liners on your own without deforming them or having to seek out an Intuition retailer to do the process for you.
Instead, the Pro Wrap and Pro Tongue are so stiff that you will possibly beat your feet into mangled submission before your body heat molds the liner to a comfortable fit. For the custom molding process either use the Intuition-supplied
The Scarpa Maestrale
 RS with a Scarpa-specific Intuition tongue liner, an Atomic alpine boot with the new Pro Wrap liner, and the new Dynafit Vulcan with the new Pro Tongue liner, which is more touring-friendly than the wrap liners. We'll be reviewing the Maestrale and Vulcan, which are going head-to-head as category-breaking freeride touring boots, soon.
Bottom line? The Pro Tongue and Pro Wrap are an excellent investment for more aggressive skiers looking to stiffen up an old, packed-out boot or who simply want a stiffer, warmer, and more comfortable performance from their existing boot. Intuition liners in general are worth their weight in gold for anyone with uncomfortable or cold boots, and skiers can choose other models based on their boot type and ski style.
The Pro Tongue is generally easier to go touring in since the tongue is free to move forward and increase your range of motion, while the the Pro Wrap features the wrap liner - generally the best performing design on the downhill - which is better for a resort or non-touring boot. You lose a tiny bit of weight savings and touring performance compared to other Intuitions, but if you're all about the down, the investment is well worth it. The Pro Tongue retails for $198, while the Pro Wrap is up for $187. Both are available either direct through Intuition or at Intuition retailers.
-Lee Lau
Want more info? There's some great further discussions about Intuition liners in the TGR forums:
READ THE STORY
Some adventures are a long time coming. Big mountain riders Jeremy Jones and Griffin Post have been adventuring deep into the mountains of Alaska for most of their careers, but in recent years have turned to embracing a foot-powered approach to exploring these peaks. While it might be much easier to reach these legendary ski and snowboard objectives with a helicopter, both riders have learned to appreciate slowing down the process and doing it the hard way. A few years ago, after an
READ THE STORY
spreading the SLAG. | Shannon Corsi photo. Ski Like a Girl founder Kimmie Geer arrived in Bozeman, MT with only a raincoat to survive the winter, not knowing the first thing about skiing. As a graphic design major at Montana State University, she secured a job at a store in downtown Bozeman called Heyday in 2011. After a few seasons of learning to ski, and discovering her passion for social media marketing she began printing private label items for the store. 'Ski Like a Girl' ended up
READ THE STORY
Michelle Parker taking it all in at Red Bull Formation. Izzy Lidsky photo. Michelle Parker has long been a household name when it comes to action sports. I can remember watching Superheroes of Stoke in high school and seeing Parker and Ingrid Backstrom be the first examples of women skiing big lines I'd ever seen. Parker ended up winning Best Female performance for that film. A Lake Tahoe native, her career dates back to her teens when she began competing in freeskiing before switching to