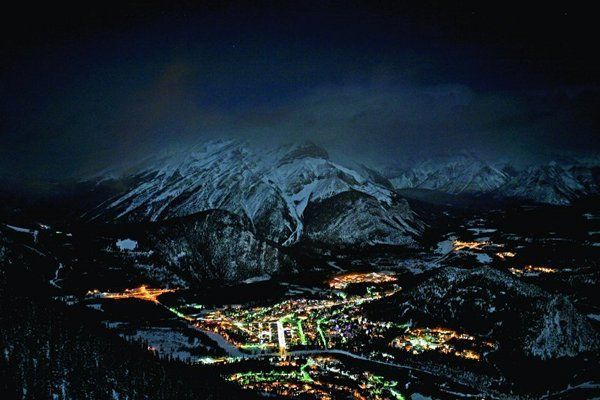 The mighty Mt. Norquay dominated ski headlines in October as the first resort in Canada to open for the 2012-13 season! Add three months and four meters of snow in the Banff – Lake Louise area and their only just beginning the longest ski season in North America with some of the best ski conditions in the world! With 35cm of snow in the last two days and another 15cm forecasted for today, there is still time to Find Your Wild in Canada's Protected Playground.

Night Skiing & Tubing

Mt. Norquay's incredibly popular and family friendly night skiing and tubing are back for the 2012-13 season! Open Friday and Saturday nights from 5pm till 10pm (9pm for tubing), you can ride Cascade Chair, ski three runs and hit the rails, kickers and boxes in the terrain park. Afterwards, you can warm up in the lodge with a hot beverage before you make your way back into Banff on the dedicated night skiing shuttle.

As well as nighttime access, tubing is also open during the day. A popular activity for kids aged five to ninety-five, snow tubing combines family fun, snowy adrenaline rushes and laughs that will stay with you long after you leave! The tubing park currently features uphill walking access only, with a brand new tubing conveyer coming soon! Tubing is available as part of your tri-area ticket from Ski Banff Lake Louise Sunshine.

Snow Days Return!

Celebrating everything that is great about the winter season in Banff – Lake Louise, Snow Days features a month-long series of events that include a downtown ski hill, ice carving competitions, street hockey on Banff Avenue and sleigh rides through the snowcapped mountains of Banff. Find Your Wild skiing by day and ice-skating, sleigh riding, hockey playing, ice wall climbing and Getting Your Après On by night!

Find your wild in Canada's Protected Playground this winter; visit www.SkiBig3.com for vacation specials, ski packages and all the latest updates straight from the resorts.
READ THE STORY
Vail CEO Rob Katz wrote a letter with a message for the upcoming ski season. Flickr photo. Back in March, Vail and other large ski industry corporations were faced with the tough decision of closing their resorts – essentially killing off their main revenue streams – in response to the growing COVID-19 pandemic. At this point, it's unfortunately become clear that we're all in it for the long haul, and many ski resorts have been asking themselves existential questions about the upcoming
READ THE STORY
READ THE STORY
You know what's more annoying than wearing a mask? A COVID-19 outbreak running rampant in your town, forcing local small businesses to close, overwhelming your healthcare system, and threatening the lives of the immunocompromised members of your community. We'd say that's way worse than wearing a cloth mask for 10 minutes while you're grocery shopping. The reality is that we all crave normal life, but that won't happen anytime soon if we don't all do our part. The data shows that the