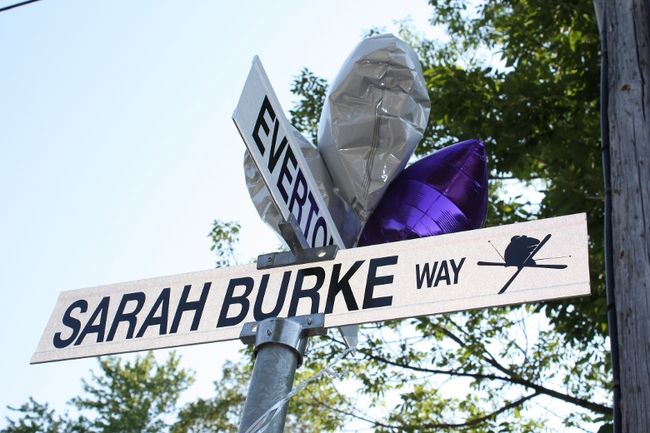 Midland, Ontario - The logo on the new Sarah Burke Way street sign in Midland features a freestyle skier, but it's the little happy girl who got on and off the school bus and the one who loved trampolining in her yard that family, friends and neighbours remember.

"Most of our memories is not of the skier but of a special human being who made everyone feel good," said her father, Gord Burke.

The renaming of Huron Street to Sarah Burke Way was a complete surprise to the Burke family.

"It makes me feel pretty good," said the late skier's father. "It honours Sarah so much. It makes me think of my neighbours, of the kindness of them, how they've helped out so much."

Burke said his daughter loved Midland and that she would be proud of the honour bestowed on her.

About 50 people attended the unveiling Thursday afternoon, including the Burke's neighbours, Debbie and Rick Dalziel, who were instrumental in getting the street renamed.

The sign project was completed in about six months and the unveiling was attended by Midland Mayor Gordon McKay.

The mayor gave an eloquent speech about the historic moment and gave tribute to the late four-time Winter X Games gold medallist.

"She's truly a remarkable lady. She revolutionized her sport and showed what inspiration and dedication is all about," McKay said.

Within two days of the 29-year-old Canadian freestyle skier's death, Burke's neighbours developed the idea of having her street named after her.

"My wife and I just got talking and we came up with this idea to rename the street to Sarah Burke," said Rick Dalziel.

He and his wife started a petition that was "unanimously" signed by all the neighbours.

"It filled up quickly," Dalziel said.

They took that petition to the Midland chief administrative officer, Ted Walker, who took it to mayor and council.

"They did a wonderful job how fast they made this happen," Dalziel said.

The Burke family has lived on the street for 22 years.
Story and photo via Midland Free Press.
READ THE STORY
As skiers we're always talking about the snowpack and how stable or unstable it is, but what does that really mean? This slide in Hyalite, Montana is a pretty good example of 'unstable snowpack.' Triggered by a skier who made it all the way down before the face actually broke (one lucky fellow), the slide was a pretty classic slab avalanche. Our friends at the Gallatin National Forest Avalanche center broke down what happened with slide. Essentially, it was a slab of wind packed snow
READ THE STORY
This quaint Montana town has the western charm of an outdoor playground but the amenities of a city. Grant Gunderson photo. Whitefish, Montana locals will proudly tell you that "Whitefish is not a ski town, it's a town of skiers." From a quick glance, that phrase feels a bit misleading. It appears that Whitefish has all the classic ingredients of a quintessential ski town. There's a ski resort eight miles from downtown, a world-class National Park in its backyard, and plenty of open space
READ THE STORY
Big waves are nothing new to surfers these days, but how about to skiers? California skier Chuck Patterson decided to combine two of his favorite things-- big wave surfing and skiing on some of Half Moon Bay's biggest swells. Using custom skis designed specifically for this feat, and taking inspiration from Patterson's late friend, Shane McConkey, they allow him to carve the waves as he would snow. Fitted with classic ski bindings, and worn with regular ski boots, the carnage if Patterson