Despite the fact that it's been warm enough for a few resorts to keep the lifts open for mountain biking into the first weekend in December, it is indeed technically winter on the East Coast. When the snow does come, skiers and riders will find that more and more hills are now catering to the burgeoning freeride population carrying 120-waisted, rockered pow skis onto their lifts and befuddling the rest of the region who is still on tiny carving skis.
The name of the game for many resorts this summer was to have as many employees as possible (as well as volunteers) marching around the woods to cut and clear new glades. From tiny Plattekill in central New York to Sugarloaf in northern Maine, many resorts have expanded into their woody environs. Outside of that, there are a few other interesting tidbits in East Coast resort news, from water parks to new freeride programs and everything in between. Before you buy your pass or plan your trips, read up on the news from the East's best hills for freeriding.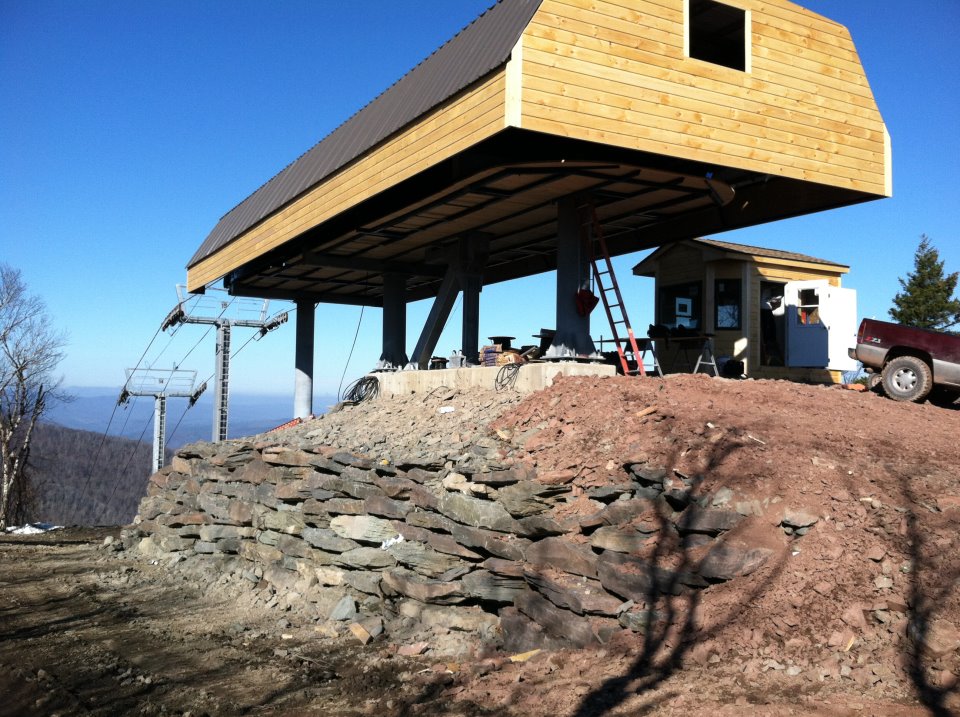 The new high-speed quad charilift at Hunter Mountain.
NEW YORK
One of the closest to downtown N.Y.C. and thus one of the busiest, Hunter Mountain is opening a new high-speed quad, the Zephyr Express, on the resort's west side, which holds the hill's steepest terrain, best bumps and quality glades if you're smart enough to keep your eyes open. Hunter's also got a new mobile site, 54 new snow guns and a new groomer.
Season pass: $949 for adults.
Day ticket: $68 for adults, $61 for 13-18.
Specials: Available online until Christmas Eve and then for mid-week only after that, the 3X card gets you three days of skiing for $119.
While known more for its world-class mountain biking than its ski terrain, Plattekill is a favorite N.Y. maggot haunt when the East Coast blizzards swing farther south as they have in the past few seasons. The independent, family-owned hill organized a work day this year to clean out some new glades, so mags can look forward to a little more space in the trees when they stop by this winter.
Season pass: $575 for adults.
Day tickets: $56, $44 for college students and juniors (8-17).
Specials: $15 lift tickets on Jan. 6, Feb. 3, and March 2. $30 early-season rates in effect until Christmas Eve.
The resort with the biggest vertical drop in the East and the only in-bounds terrain requiring an avalanche-trained ski patrol staff returns to the 2012 season unchanged from 2011. Some minor refurbishing and capital projects have been undertaken, but other than that, nothing new. For those looking to get a chance to ski The Slides — 35 acres of hike-to open chutes at Whiteface Summit — your best bet is March, when the snow is deeper, stable enough to be skied and occasionally pow. Especially if another 250-inch season hits like last year.
Season pass: $720 for adults, $385 for teens and college students.
Day ticket: $79 for adults, $64 for teens.
Specials: The Empire Card goes for $89 and gets you your first and sixth days of skiing free and $15 off all other days.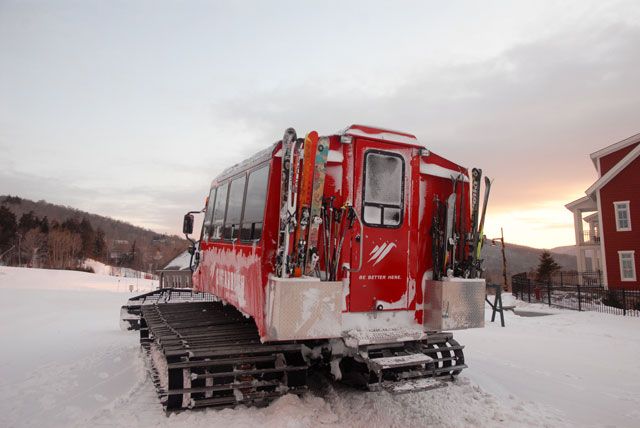 The Lincoln Limo at Surgarbush.
VERMONT
A new, cheaper young adult pass (the adeptly well-coined "For20's" pass) is being offered for $399. The resort saved 23 tons of C02 emissions last year by switching its off-road fleet to biodiesel. The Lincoln Limo, New England's only "cat skiing," gives you the chance to score snowcat-assisted first tracks before the lifts open on powder days. For those who want to shred Sugarbush's endless Slide Brook Basin glades covering all 200 acres between Mt. Ellen and Lincoln Peak, and don't want to spend a night in the woods, guided tours are available including with Warren Miller legend and Sugarbush mascot John Egan. Uncanny for the East, Sugarbush also has a Mountaineering Blazers program for kids where they skin around Slide Brook and learn backcountry skills, winter camping, and improve their big-mountain skiing.
Season pass: $1,569 for adults 30+ $399 for young adults 19-29, $479 for youth 7-18. Cheaper passes available for Mt. Ellen-only or Mt. Ellen Plus passes.
Day tickets: $58-$88, depending on type of pass.
Specials: SugarDirect card for $99 gets you your eleventh day and one other day free, and 20 percent off all weekend days (25 percent for weekdays).
Also be sure to check out the benefit event for the Flyin' Ryan Foundation, which was set up after Vermont freeskier Ryan Hawks died tragically at the Kirkwood stop of the Freeskiing World Tour last spring and seeks to provide scholarships for gifted but disadvantaged athletes and adventurers.
For those of you who didn't get a chance to read about Jay's $50 million expansion earlier this fall, there are some big things going on in the Northeast Kingdom. While no new terrain or lifts will be opened this winter, Jay's taken a few big steps to combat their reputation of shady lodging and non-existent off-hill entertainment by opening a new Tram Haus Lodge with high-quality studios and a new bar and restaurant, a new ice rink, golf course club house, cross-country ski center and the Pump Haus and Conference Center, an indoor water park with a surfable wave, lazy river and a handful of waterslides including an aqua loop.
Season pass: $799 for adults.
Day tickets: $75 for adults, $55 for 6-18.
Specials: Anyone from Vermont or with a season's pass at another mountain gets a day ticket for $55 any day of the year. The 581 card costs $99 and gets you $19 off any ticket you buy.
A new high-speed quad replaces the former fixed-grip Fourrunner Quad that accesses Mount Mansfield, the resort's most popular lift along with the Gondola. Although, you'll still have to buy the locals just as many beers to find the goods. The Fourrunner should help clear out Stowe's legendary weekend lift lines a bit quicker. Outside of that, a gondola ride now brings you across the Stowe parking lot to Spruce's tamer trails and environmental award-winning luxury accommodations.
Season pass: $1,996 for adults, $499 for college students.
Day ticket: $88 ($92 Saturdays) for adults, $66 ($69 Saturdays) for kids.
Specials: The StoweSeven, StoweSix, and StoweFive season passes offer significantly cheaper passes that exclude holiday periods, Saturdays, or weekends altogether.
Not too much has changed at the legendary co-op for this year; the single chair is still spinning, the snow's all natural, snowboarding still isn't allowed, and if you're interested in buying a share in MRG's unique co-op operation, they go for $2,000 a pop. Stop by Feb. 11 for the 2012 Ski The East Freeride Tour stop at MRG — the Unconventional Terrain Competition — which will give you a chance to compete in a big-mountain comp format on the cliff-strewn Liftline trail.
Season pass: $963 for adults, $609 for a Saturday-blackout pass, Triple Major College Pass gets MRG, Bolton, and Jay for $299.
Day tickets: $66 for adults, $50 for 6-18.
Specials: The Mad Card gets you 3 days for $144, and the 30 Day Ticket lets skiers and riders ride for 30 consecutive days from the day of purchase for $332. Might be good if your new ACL is set to go by March. …
Not too much news to report from one of Vermont's more affordable hills, which also has the most extensive night skiing in Vermont and an on-site wind turbine. While not packing as much vert as bigger hills like Stowe and Jay, Bolton's down-home operation has some super fun woods and great backcountry for those who come equipped to hike around, or who want to take part in a guided tour of Bolton's unmarked stashes that are stuffed with about 310 inches of snow annually.
Season pass: $599 for adults, $429 for Triple Major College Pass for Bolton, Jay, and MRG.
Day tickets: $55 for adults, $44 for youth, seniors and college students.
Specials: $199 Powder Pass gets you four days plus one free before Christmas.
Three Vounteer Days this fall brought out a 100+ strong crew each day to clear glades and re-paint the classic Red Double — pretty much the only lift running at Magic and the only one you'll ever need to access the small hill's awesome and laissez-faire managed terrain. The co-op, a true bastion of Vermont ski culture, will also be having Danielle Lillard head up a new Freeskiing Team program at Magic. This will build on the success of the Magic Extreme Challenge as a key stop of the Ski The East Freeride Tour in establishing Magic as southern Vermont's center for freeride skiing, and a welcome alternative to the tame blues southern VT's more corporate resorts are known for.
Season pass: $449 for adults and teens, $149 for college students.
Day tickets: $59 for adults, $51 for teens.
Specials: a special Holiday White-Out Pass goes for $279 and gets you 19 days of skiing during Christmas Week, MLK Day Weekend, and President's Week, when it will likely be less crowded than nearby Stratton and Okemo.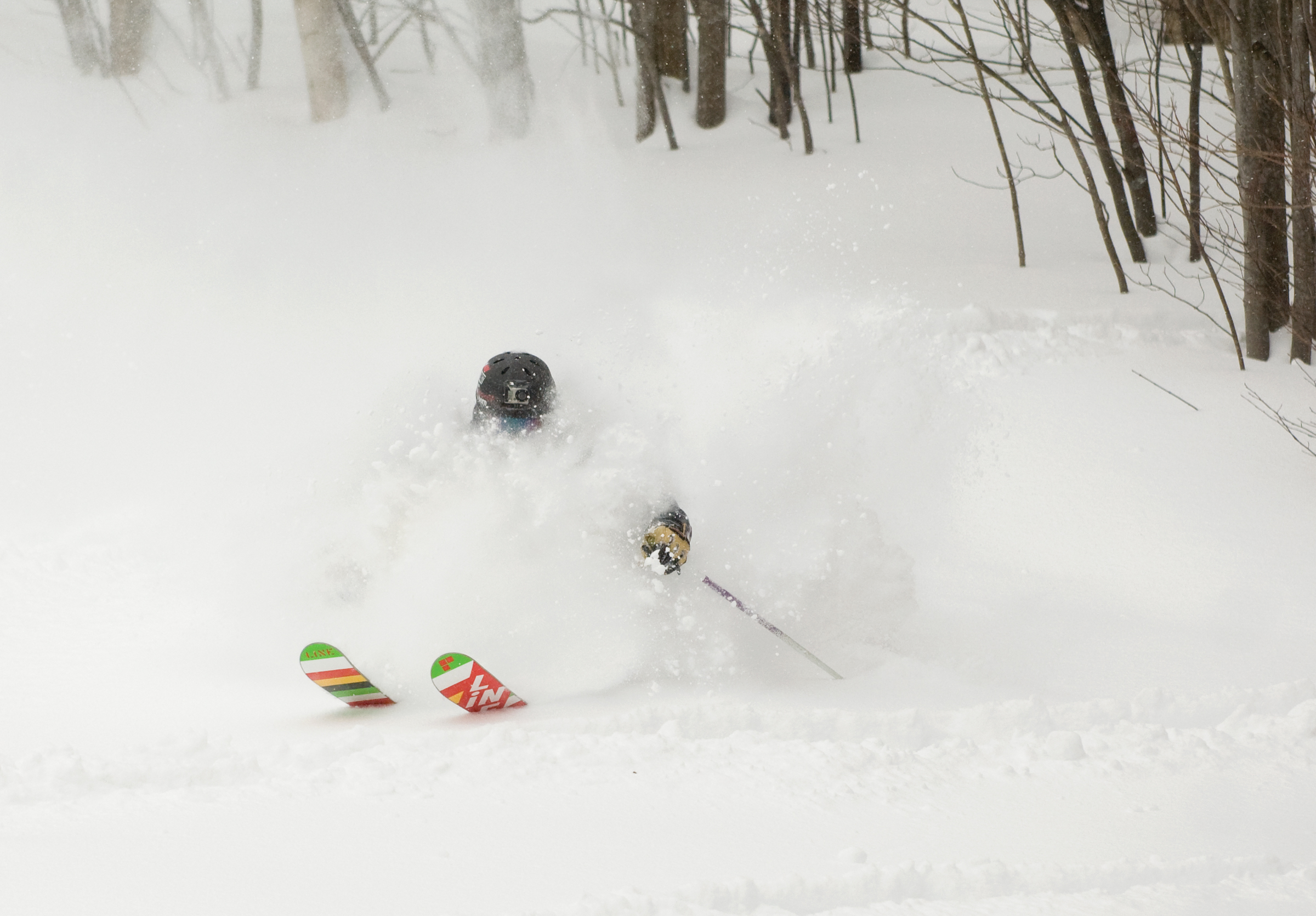 Skiing some epic powder at Cannon Mountain in New Hampshire.
NEW HAMPSHIRE
Cannon Mtn., which received 248 inches of snow in the 2010-'11 season, the second highest snow total in its history, returns with the second season of the re-opened Mittersill double chair. Mittersill was a previously-shuttered and unmanaged hike-to face of the mountain that required a shuttle transfer back to the base, but is now accessed by a new double chair that opened 71 days last season, exceeding the resort's expectations. The resort treats the area as an extended gladed terrain – i.e. no snowmaking, grooming, and limited patrolling. While several locals were distraught at the idea of improving access to their favorite stash, Cannon's marketing director, Greg Keeler, heard almost no negative feedback from locals once the chair opened last January.
Season pass: $760 for adults.
Day tickets: $68 for adults, $55 for 13-18.
Specials: 2-for $68 every Tuesday & Thursday outside of Christmas and February vacation weeks, $36 every Wednesday for New Hampshire residents.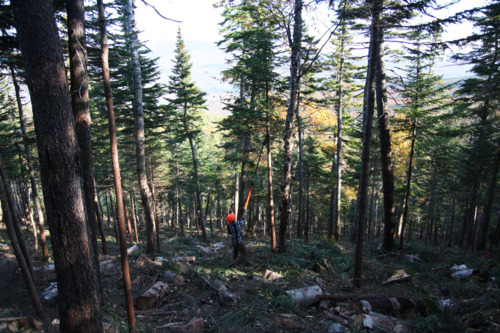 Cutting the Brackett Basin glade at Sugarloaf in Maine.
Shredding the Brackett Basin glade at Sugarloaf in Maine.
MAINE
If you've had a chance to read a recent issue of Powder Magazine, you'd know the big news is Sugarloaf's gladed sidecountry expansion along the ridge toward Burnt Mountain. Last year, 270 new acres of glades opened up, and 100 more come on line this year, some from additional clearing in existing terrain, and some from further expansion along the ridge. As well, a new fixed-grip quad – the fastest model on the market – replaces the Spillway East chair, and has been built lower and is heavier to minimize closures and swinging chairs from Sugarloaf's infamous high winds.

Season pass: $1,149 for adults, and $899 for teens — works at Sunday River and Loon Mtn. as well.
Day ticket: $77 for adults, $66 for teens.
Specials: Maine residents ride for $39/day every Wednesday, and the Frequent Skier Card, which works at Sugarloaf, Sunday River, and Loon Mtn., New Hapshire, costs $97, gets you one free ticket, $15 off weekend tickets, and $25 off weekday tickets.
If you make your way to Sugarloaf, you definitely have to take the hour drive over to Saddleback. Much like Magic Mtn. and Mad River Glen in Vermont, Saddleback is all fixed-grip lifts, great glades, and true New England ski culture. As well, the Kennebago Quad is separate from the more beginner-friendly areas and hosts the Casablanca glades, some of the highest and steepest tree skiing in the East. Some additional tree clearing went down on the glades off the Kennebago and several trails were graded smoother in order to be able to be opened with less snow.
Season pass: $699 for adults, $249 for college students, and $399 for 7-18.
Day ticket: $59 for adults, $49 for 71-18 year olds as well as college students.
Specials: Maine residents get a $29 ticket the first Sunday of every month.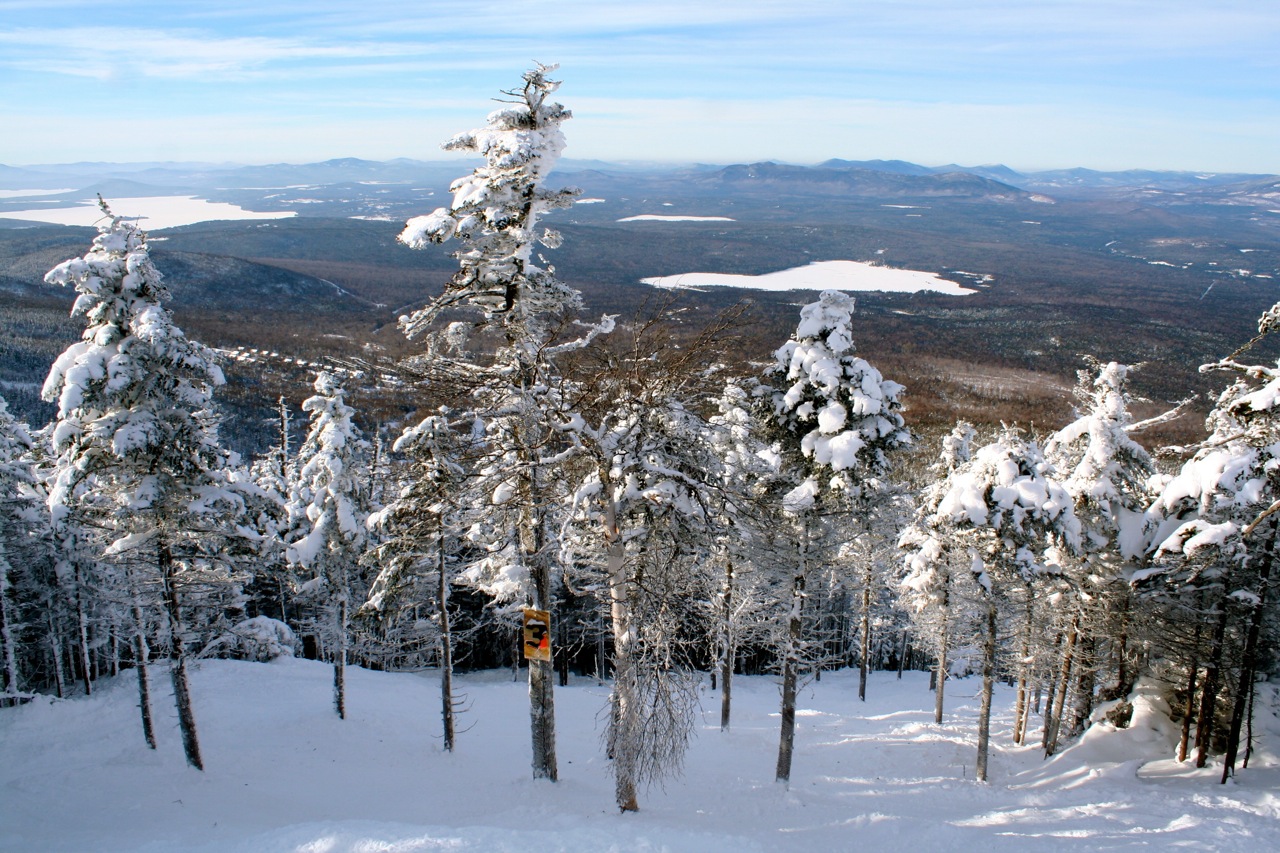 Saddleback glades in Maine.
READ THE STORY
This week in 'Women in the Mountains' we sat down with Wild Barn Coffee's Jenny Verrochi who masterminded an underground women's naked ski event. Sounds cheeky and chilly! Will Beihoffer photo. On March 20th, you could see a full moon on top of Bluebird Backcountry's West Bowl. Well, 22 full moons to be exact. It was all part of a women's event focused on one beautiful, singular goal: skiing butt naked in the backcountry. The cheeky idea came from Jenny Verrochi, who's based in Boulder,
READ THE STORY
There's a few mountains out there whose shape just screams "SKI ME." Among those is one that stands deep in Pakistan's Karakoram range, Laila Peak, a hauntingly beautiful spear of rock whose Northwest Face is a perfect 45-degree ramp of snow that drops nearly 5000 feet to the glaciers below. Not to mention that the face hangs over an equally sized cliff that requires a potentially deadly traverse to navigate. The peak saw its first summit ski descent in 2018 by a team of French skiers.
READ THE STORY
John Collinson's upbringing was a little different than most pro skiers. He grew up in a closet in Snowbird employee housing with his older sister Angel, and didn't do many things that most kids do. However, what he did experience was unfathomable, like summiting Rainier at 4 years old, summiting Everest at 17, and so much more. On the podcast, Mike Powell and Collinson talk about how he went from the closet to his sister's shadow, to pro skier, to social media influencer known for his