Story by Jeff Musall and Yahoo! News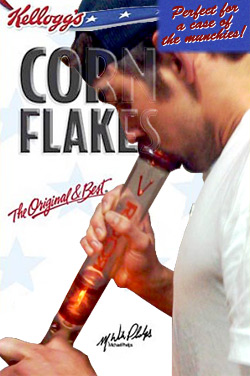 John Fahey, the president of the World Anti-Doping Agency (WADA), has indicated the body may look at changing the criteria for cannabis as a banned substance for athletes. The idea that cannabis doesn't fall into the descriptions applied to performance enhancing drugs isn't new, but the fact that it's gaining traction is.

A coalition of Australian sporting bodies met with David Howman, WADA's general director. They wanted to express their contention that cannabis should not be on WADA's banned list of match-day performance enhancing drugs. After the meetings, a statement was released.

"There are those who believe that our current criteria need to be amended and that will be given appropriate consideration through this review process," Fahey said. He went on to talk about drugs that are banned in some sports but not in others. That's the crux of the argument for changing the criteria on cannabis.

What's really at issue is whether or not WADA, or any athletic governing body for that matter, will go on listing cannabis as a banned drug in sports where it is clearly not a performance enhancer. Currently, an athlete testing positive for cannabis can receive a two-year ban. That's incredibly harsh for something that has no discernible effect on the sporting outcome.

No decision this year

There won't be any change in the rules in time to mean anything for the 2012 London Olympics, but changes could be put in place as early as 2013, which would have an impact on the 2014 Winter Games in Sochi, Russia.

It seems WADA is considering the wider social picture wherein cannabis isn't seen nearly as negatively as in the past. People are becoming more accepting of the substance as a medicinal or recreational substance.

What sports would cannabis still be banned from?

WADA isn't looking at not testing for it at all, but not looking for cannabis unless it's use is shown to give a potential advantage in a particular sport. While it's not something that will help a competitor in most sporting endeavors, something which requires a steady hand is different. Two given are shooting and golf. The criteria for banning cannabis would be if it is shown to be performance enhancing.

It will be interesting to see how sports organizations in the United States react if an ant-doping body like WADA determines cannabis to be something they aren't going to test for in many competitions. The attitudes about the use of the plant are loosening in the U.S., but not as quickly as in some other countries. How will sports testing for cannabis be handled?
READ THE STORY
Some adventures are a long time coming. Big mountain riders Jeremy Jones and Griffin Post have been adventuring deep into the mountains of Alaska for most of their careers, but in recent years have turned to embracing a foot-powered approach to exploring these peaks. While it might be much easier to reach these legendary ski and snowboard objectives with a helicopter, both riders have learned to appreciate slowing down the process and doing it the hard way. A few years ago, after an
READ THE STORY
spreading the SLAG. | Shannon Corsi photo. Ski Like a Girl founder Kimmie Geer arrived in Bozeman, MT with only a raincoat to survive the winter, not knowing the first thing about skiing. As a graphic design major at Montana State University, she secured a job at a store in downtown Bozeman called Heyday in 2011. After a few seasons of learning to ski, and discovering her passion for social media marketing she began printing private label items for the store. 'Ski Like a Girl' ended up
READ THE STORY
Michelle Parker taking it all in at Red Bull Formation. Izzy Lidsky photo. Michelle Parker has long been a household name when it comes to action sports. I can remember watching Superheroes of Stoke in high school and seeing Parker and Ingrid Backstrom be the first examples of women skiing big lines I'd ever seen. Parker ended up winning Best Female performance for that film. A Lake Tahoe native, her career dates back to her teens when she began competing in freeskiing before switching to