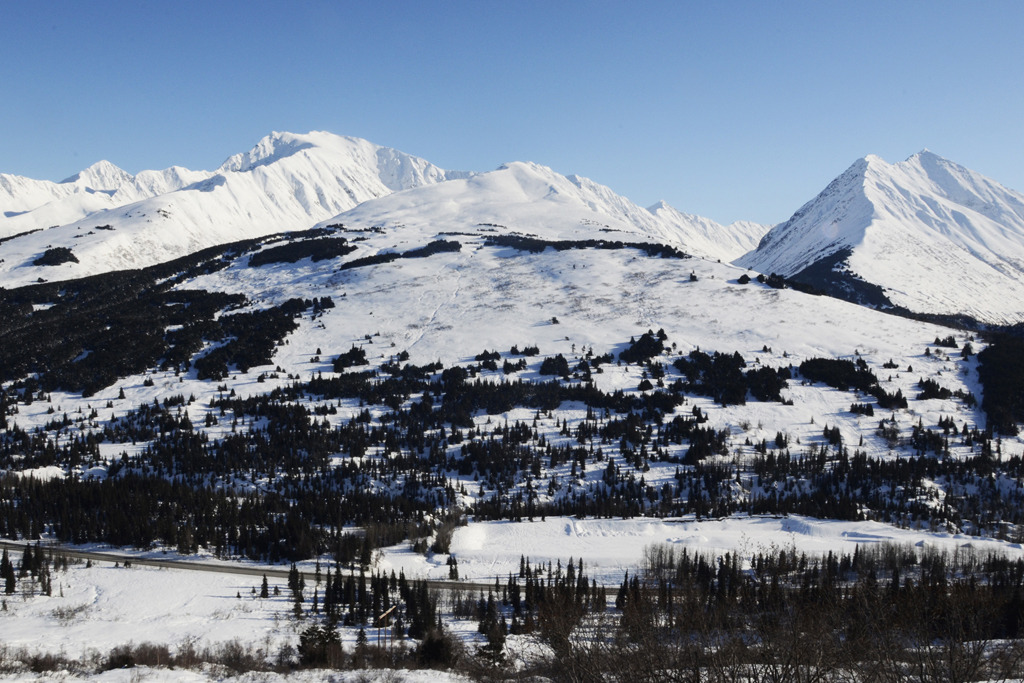 A look at the front side of Manitoba Mountain on Alaska's Kenai Peninsula. Someday, three surface lifts will take you to the top.
October 10, 2011
— Ryan Dunfee
This fall the Mountain Rider's Alliance, a burgeoning group dedicated to "creating sustainable mountain playgrounds," takes its first step to develop the Manitoba Mountain Ski Area Restoration Project in Alaska's Kenai Peninsula. The MRA is set to submit an application for Phase I — a Nordic center — with the hopes of opening for the 2012-13 season.
Manitoba's Project Manger Dave Scanlan said downhill skiing operations won't begin for another two to three years, but if and when they do, three surface lifts will access 10,000 acres of high-angle terrain, with face after face of Chugach-style spines running 270 degrees from the ridge along Surface Lift III (3,700 feet) up to the Block Chutes Headwall and Silvertip Mountain (5,020 feet). Think Silverton Mountain with heli-quality AK terrain, accessible for about $40 a day. The fact that Chugach Powder Guides sought out an exploratory permit for an area an hour and a half skin from Manitoba validates the potential of the terrain here.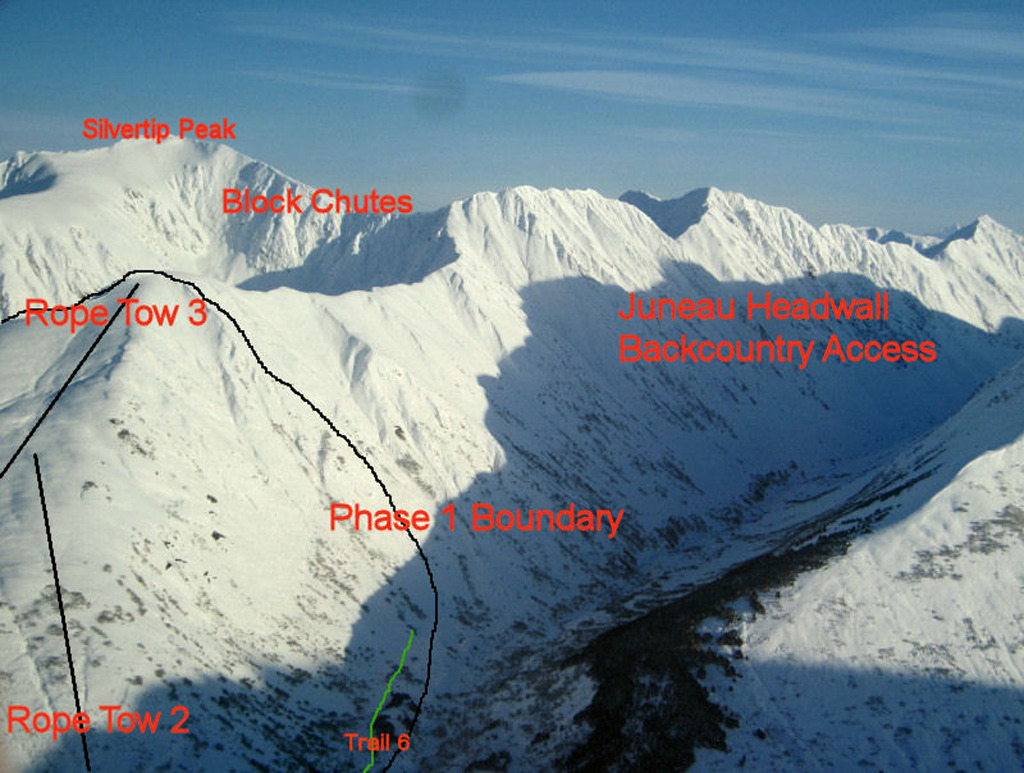 Manitoba Mountain's side country.
Jamie Schectman, co-founder of the Mountain Rider's Alliance, says that today's equipment technology has steepened the learning curve for aspiring freeriders. Skier and snowboarders have advanced and ski areas should advance, too.
"We haven't had ski area development to keep up with the fact that there's a lot more people getting after it," Schectman said.
Aside from Silverton, the Schlasmans lift at Bridger Bowl and the new Polar Chair at Fernie, Schectman sees that there hasn't been a significant amount of resort expansion into high-angle terrain in North America.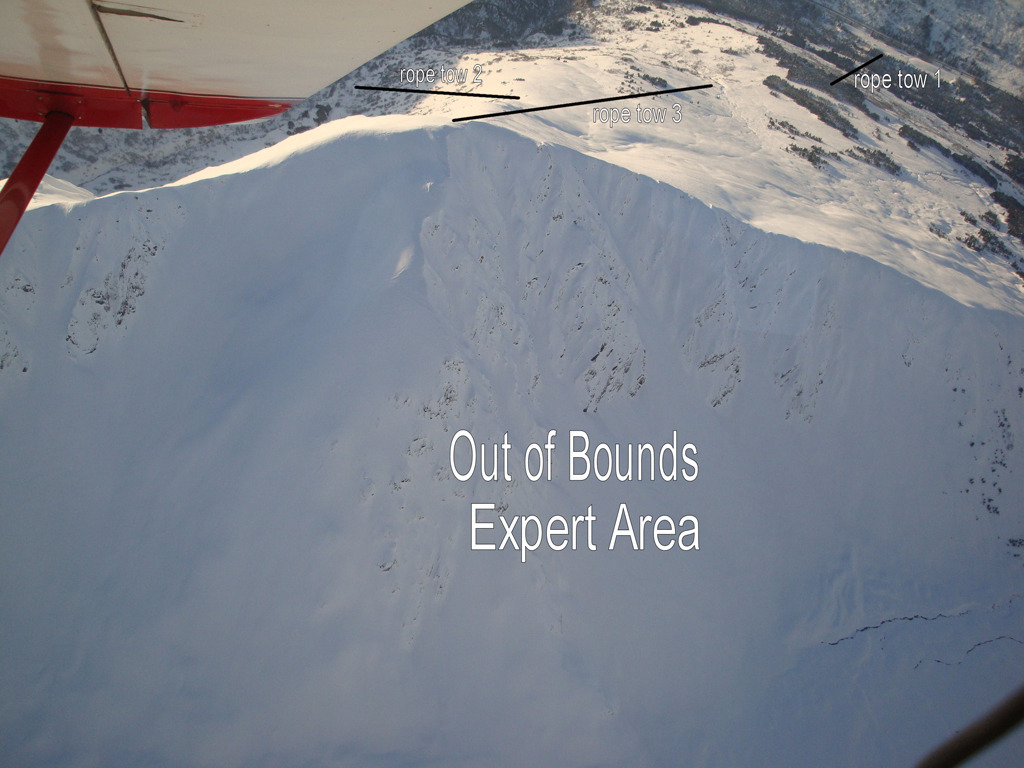 Check out Manitoba Mountain's backside.
MRA is currently brainstorming how this new area would run operationally, but talks have revolved around everything from a Silverton-style guiding operation to a waiver-based backcountry access system, or requiring attendance at backcountry awareness seminars held at the ski area before accessing the goods out the gates.
MRA is also entertaining the development of an avalanche safety and guide training center, perhaps in conjunction with one of the local schools, something Schectman notes is largely absent in North America, compared with the opportunities available in Europe.
While the MRA says they will only develop infrastructure and grow the operation in line with the demand they see — they'd be happy with 150 to 200 riders on a Saturday the first few years — two cards play in their favor.
The three planned surface lifts access a low-angle, open meadow perfect for beginners and families, which also receives sun during the darkest months of the year. MRA is intent on making this area accessible to the 325,000 people that live within a 2 1/2 hour drive from Manitoba by offering them an affordable and down-home skiing experience.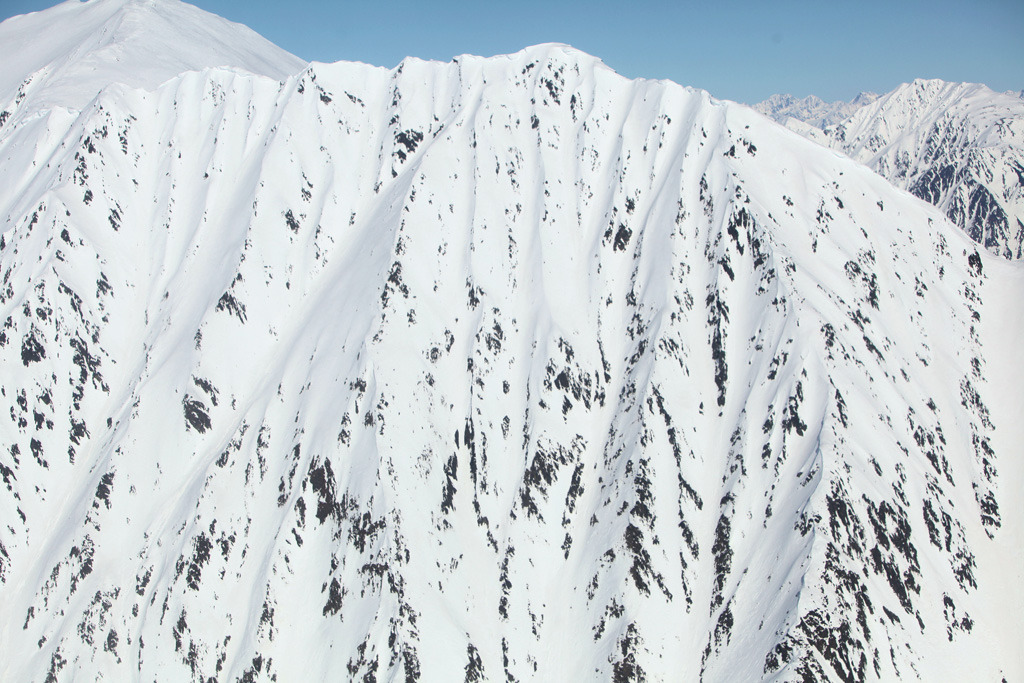 This is a closer look at the "Juneau Headwall" backcountry access area.
Second, none of the meadow is entrained by the high-angle avalanche terrain sitting outside the boundaries of the mountain, which will keep the operational burden low by negating the need for a large snow-safety program to protect in-bounds terrain.
Scanlan, a long-time Hope, Alaska, resident has spent 10 years planning ski areas in Alaska and originally became involved in the project when a neighbor in nearby Cooper Landing, 30 minutes from Manitoba, approached him to help develop winter tourism in the area, specifically related to skiing.
After meeting with state and U.S. Forest Service representatives, it was recommended the MRA begin by building and running a Nordic center on the state land at the base of the proposed ski area before they expand into downhill skiing operations.
The state land encompasses the lower 500 vertical feet of land at the base of Manitoba Mountain, which is the site of an old ski area that last operated in 1960.
With a summer tourist boom juxtaposed against a largely shuttered wintertime tourism industry, Scanlan sees an opportunity to better the local population's year-round employment prospects while also serving the community's recreation wishes.
While no lift-assisted shredding will go down for several years, you can be sure plenty of people in both the Lower 48 and in Alaska will be watching closely to see how MRA's inspirational vision of a new kind of ski area develops.
For more, visit www.skimanitobamountain.com and www.mountainridersalliance.com.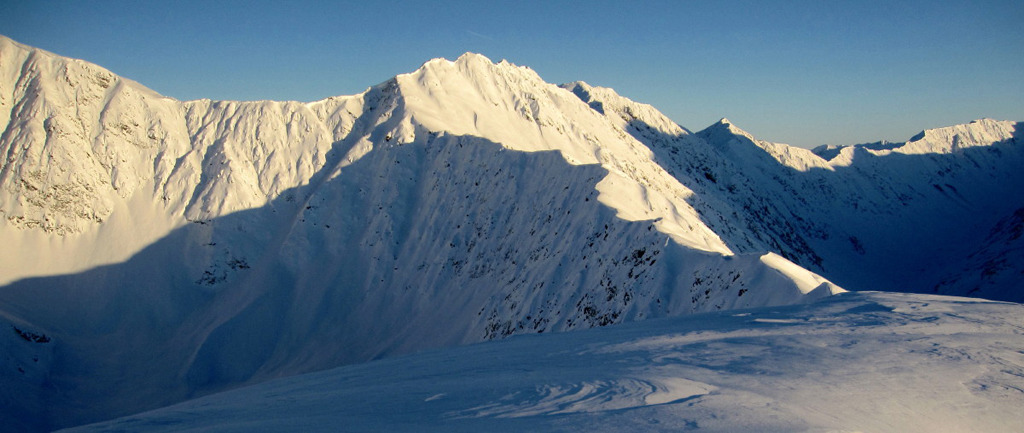 The view from the top of Manitoba Mountain, looking toward the "Block Chutes."
READ THE STORY
Much of the magic of skiing and snowboarding in the Tetons lies in the idea of traveling through and connecting with wild, remote places - which could be at risk with proposed new bighorn sheep closures. | Max Ritter photo. Access to backcountry skiing and snowboarding in Grand Teton National Park and surrounding Forest Service lands is at risk. For those of you who enjoy spending your winters ski touring high in the Tetons, you might already be familiar with the issues winter
READ THE STORY
Tim McLaurin rockin' out. | Liza Barnes photo. Last year, we all had a lot on our plate. Between pandemics, elections and climate disasters, there was plenty to frown about. But despite all that, Jackson hero Tim McLaurin decided he had to do something—anything—to lift the town's morale. With that goal, in March 2020, McLaurin found a spot on Town Square, grabbed his headphones, and started dancing. Why? It's hard to boogie and frown at the same time. So week after week, he danced—all for
READ THE STORY
Another Rampage has come and gone but this is surely one that people will be talking about for a long while. After a hiatus in 2020 due to the COVID-19 pandemic, riders arrived in the Utah desert hungry to put on a heck of a show. Between whispers of Brandon Semenuk's single crown bike and the chute Cam Zink and Carson Storch had built, one thing was absolutely certain- whatever was about to go down at the event was going to be huge. But as more features appeared on the hillside, more crashes