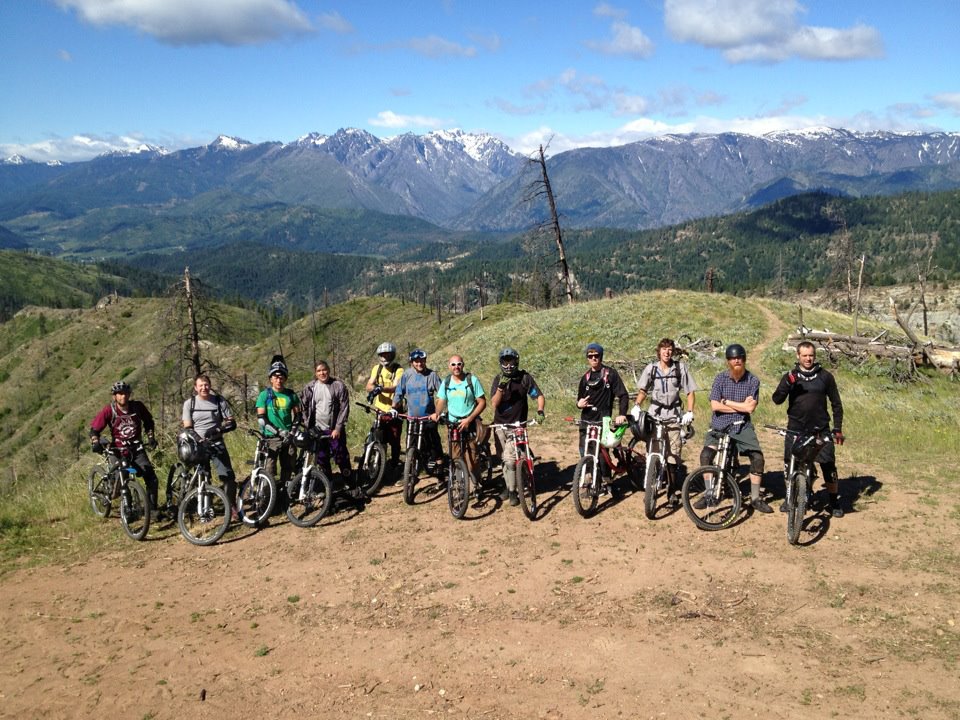 Leavenworth locals... they got a pretty cool spot to call home. Das Rad Haus photo.
There's a reason why mountain people, from photographers like Garrett Grove to skiers like Ingrid Backstrom, flock to the bizarre Bavarian mountain town—it's got every kind of recreation you could want including skiing, climbing, biking, and drinking beer. And despite its abundance of recreational opportunities, Leavenworth was somewhat of a sleeper until Jim Jack blew the lid off with the best tourism ad campaign ever (see below).
The town itself toes the line of being cheesy. When people describe Leavenworth as a Bavarian village, they're not joking. In the 1960s, the town's economy was failing, so it formed a committee called Project LIFE (Leavenworth Improvement For Everyone). This committee decided that to become economically viable the town needed a theme, and that theme was based around Germany. Today, despite the amusement park feel, Leavenworth is a real place with a tight community and a hell of a lot to do.
Photo Courtesy of IcicleTV
There's a good chance you associate Leavenworth with skiing and riding. Stevens Pass is up Route 2, and a lot of the mountain's locals live in Leavenworth. FWT snowboarder Tim Carlson is a Stevens rider. Stevens is small and homey, but it's steep and has good terrain. It gets a lot of well-deserved attention, in part due to former marketing dude Chris Rudolph's ability to befriend anyone and extol the virtues of his home hill. TGR shot the 3D segment from Light the Wick there and they've done other spring shoots at Stevens as well. There's also good backcountry access in the area. Icicle Creek Canyon, which has good climbing in the summer, gets you access to peaks like Cashmere Mountain, or you can link up routes like the Chiwaukums Traverse.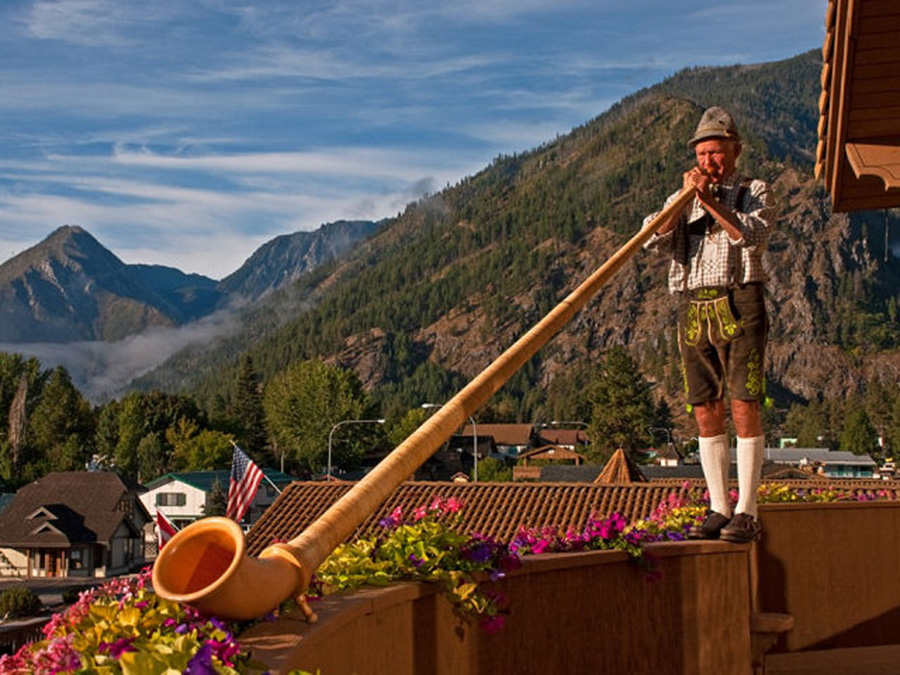 The Alps run deep here. Photo Courtesy of the Leavenworth Chamber of Commerce
In the summer, Leavenworth is laced with singletrack. Freund Canyon is the local close-to-town loop. If you want a burner, Nason Ridge is a proving ground. It has a grueling climb but offers a great view. Up the road, Stevens has the first and only downhill mountain bike park in the state—and really throughout the Pacific Northwest outside of Canada. It opened in 2011, and Stevens has been adding trails every year. It already has a dedicated crew of local riders. Das Rad Haus is the local Leavenworth bike shop and it is, indeed, rad.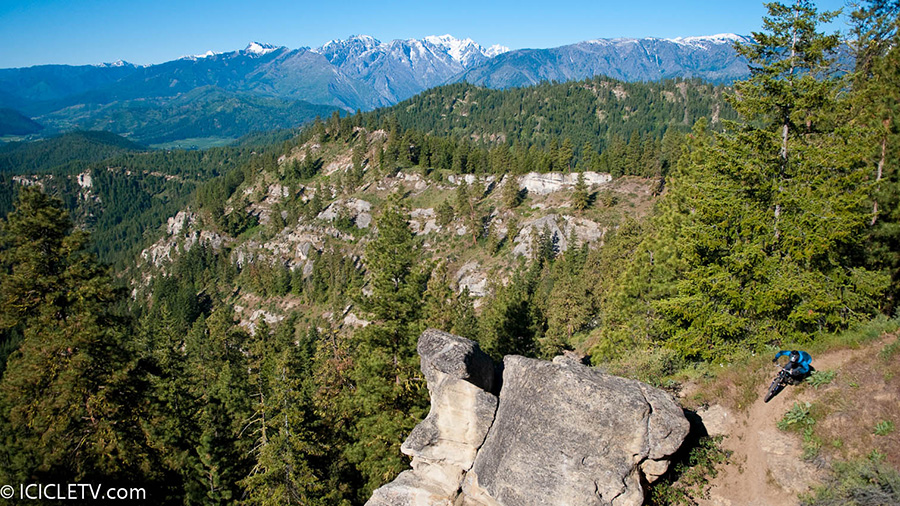 Leavenworth boasts a lifetime of singletrack that's far dryer than what you find closer to the coast. Photo Courtesy of IcicleTV
Leavenworth is home to all kinds of climbing, from classic trad routes to mixed routes to bouldering. The main cragging areas are Icicle Creek (perfect for moderate multi-pitch trad routes like Outer Space), the Snow Creek Wall and Tumwater Canyon, which has fun sport routes and camping. It's all beautiful, clean granite and the options are limitless.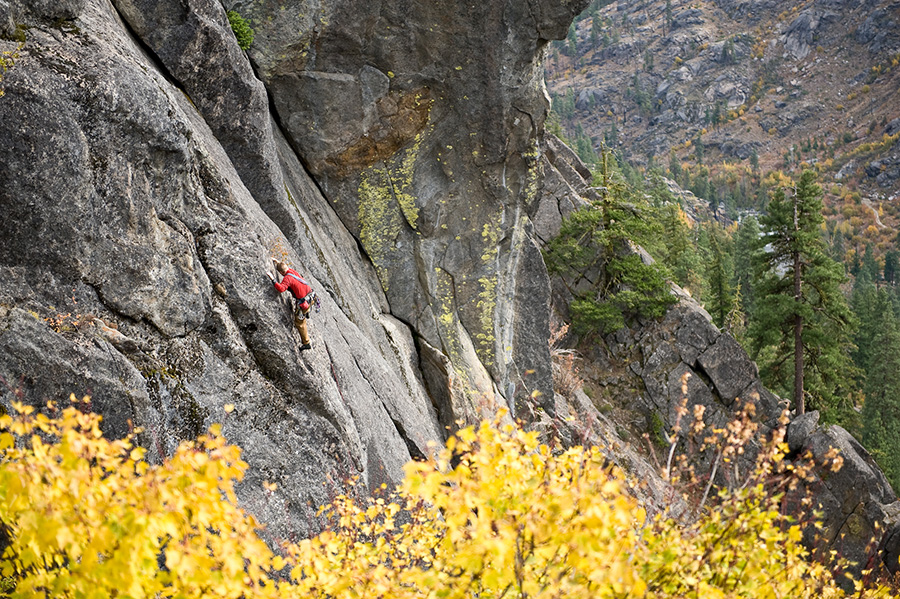 Fall climbing around town. Photo Courtesy of the Leavenworth Chamber of Commerce
If you want to keep your feet on the ground, the options are equally appealing. Leavenworth, and the 700 miles of forest that surround it, has some of the best hiking and backpacking in the state. The Enchantments, and the 18-mile trail to get to them is an all-time backpacking trip. During the peak season (which runs from June 15th to October 15th), you'll need to snag a permit from the Forest Service. Permits are competitive to get, so plan ahead. There's also great day hiking out of Icicle Creek, and the surrounding areas. You really can't go wrong.
For padding, the class III Wenatchee flows through town before it meets up with the Columbia in the town of Wenatchee. The 18-mile stretch from Leavenworth to Monitor is popular because it's one of the best moderate stretches in the state. There's good playboating at Rodeo Hole, downstream in Cashmere. Commercial companies raft the section as well.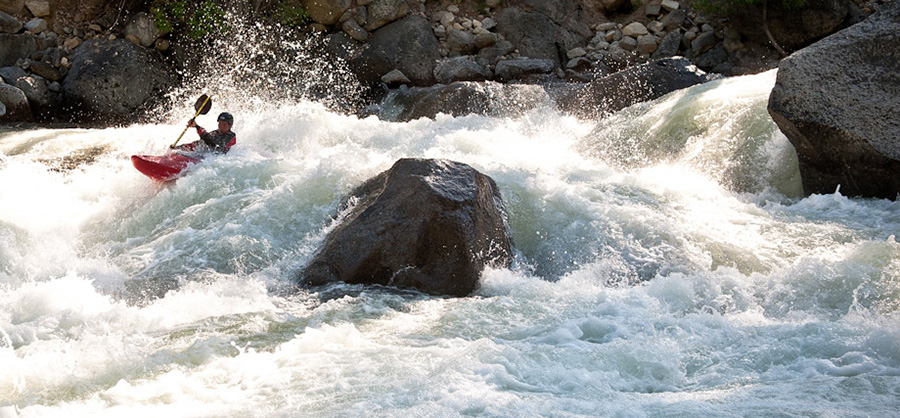 With the amount of precip the Cascades get, you can bet there's some rowdy rivers. Photo Courtesy of the Leavenworth Chamber of Commerce
There's good fishing in the area, too. Salmon and steelhead can be found in the Columbia and Wenatchee, and cutthroat and rainbows populate Icicle Creek and the high mountain lakes.
Are you thirsty yet? There's a lot of good wine in the area, but Leavenworth is, obviously, a beer town. It's also a sausage town—in more ways than one. There are plenty of places to get German-themed beer and brats, but check out two-year-old Icicle Brewing Company. It's Leavenworth's only actual brewery and the recipient of numerous awards.
We're assuming you're dirtbagging it and that you don't want to pay much for a place to sleep. Leavenworth backs up to the Okanogan-Wenatchee National Forest, so there's cheap Forest Service camping at places like Bridge Creek, Chatter Creek and Tumwater. In the winter, you can park and sleep in Lot F at Stevens. Sleep well—there's lots to do tomorrow.
From The Column: Local's Guide