How Martini manages his life as a pro-skier and co-founding director of Stept Productions.

By Erme Catino

Nick Marini is quite possibly the busiest pro-skier that you will ever meet. Growing up in Winchester, Mass., the 22-year-old has risen to the top of freeskiing in just a few years. However, it's his impressive work ethic that has proven he is more than just a skier. Along with his brother, Alex, dedicated friends, and business partners, Martini has taken his skills as a skier, college student, and entrepreneur to charge ahead in the ski industry.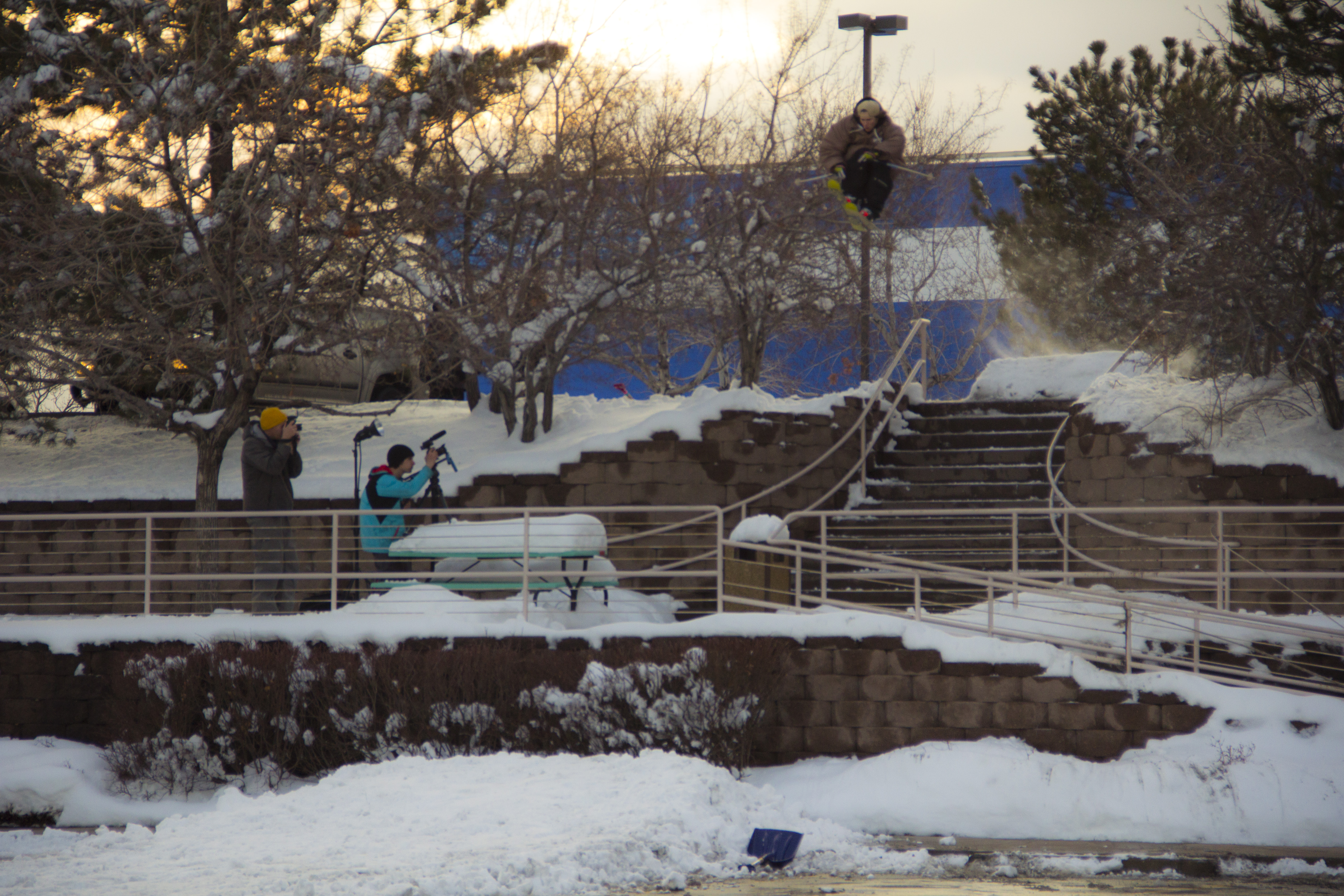 The Stept Crew at their finest.

Erme Catino: Within three to four years you have gone from appearing in your first Poor Boyz film to the top of freeskiing. It doesn't seem like long, but I'm sure it must feel like ages ago – how has the whirlwind been?

Nick Martini: It has been hectic. After I started doing well in competitions everything seemed to kick off… In 2009, I was asked to host an urban trip in my hometown of Boston, for Poor Boyz's Every Day is a Saturday. Ever since then, things got busy from filming with TGR, Stept, and Poor Boyz, skiing in the Dew Tour, and the injuries – which is how I fell in love with filming.

EC: When you began filming with TGR, and signed with The North Face, the Stept movies took on a whole new level. How have you balanced running Stept while filming segments with TGR and Poor Boyz?

NM: The winters have been insane and full of traveling, which is fun. However, in the summer the production side of things ties me down with editing, so I haven't been able to spend time at Hood, etc. There was a time actually when we got so busy, we almost stopped making Stept films, but in 2010 I hurt my knee, and got into filming while I was working on my recovery video blog… I put all of my energy into Stept and our upcoming film Network. After Network, things flew by, all of our riders began coming into the scene with TGR and Pooy Boyz such as Cam Riley and Clayton Vila. Now, things are coming full circle with a bunch of us transitioning to filming full-time again with Stept.

EC: Your Stept crew of Sean Jordan, Clayton Vila, Cam Riley, Shea Flynn among others have all taken off around the same time. What's that like, and what is a day in the life at the Stept house?

NM: A lot of us grew up skiing together. My brother Alex, initially moved to Boulder to attend The University of Colorado and then we followed suit for skiing and school. Recently a lot of us have branched out to film with other companies, and now I think we are all coming into our own. If we hadn't done that, Stept wouldn't be what it is today. This season, we are coming back together with experiences learned from working with TGR and Poor Boyz, and can focus on making our best Stept work to date. I'm really hyped to focus on Stept this year!

This season is actually the first time the whole Stept crew is under one roof – we recently moved into a house 3 months ago. There are 13 of us in one house. Prior to this, a few of us lived together – those early years were the loosest couple of years of my life. Now, we have a studio and editing suite, but it is still typical Boulder. We are either skiing all day/night, if there is no snow we'll party until 6:00 a.m. it's hectic on your head especially since the college party nights are often midweek and not your typical Friday and Saturday nights… We love it, we have been doing this together for 10 years so when it dumps, everyone is ready to work and all of us can operate the lights, winch, camera, etc.

EC: Your films combine a raw nature and cinematic style that I think is unique. What do you see the future holding for you as a pro-skier and continuing with Stept?

NM: One of our goals is to think we have a broad perspective. Although our content is very niched — urban skiing — the film is enjoyable to watch for all ages and types of skiers.

Personally, I learned so much from Todd Jones (TGR) and Johnny DeCesare (Poor Boyz Productions). Both have been huge inspirations, and they taught me so much in terms of business and marketing.

With Stept we really started taking on documenting street-based skiing. You hear a lot of people saying they're taking the park into the backcountry, with Stept we're taking the park out of the terrain park and into the streets. The majority of snowboarding films are urban, and I think we're filling that gap in skiing.

Additionally, Cam and I have been busy with Stept Studios — commercial film projects with nonendemic media. It's been fun to dive into the production side of Stept Studios and we're getting recommendations from others within the industry. That side of Stept has been getting super busy. We keep things separate so it's great. With Stept Productions, we're still the badass kids, but we keep it professional for Stept Studios.

EC: Talk about the recent injuries, are you healthy now?

NM: Yes. It feels so good to be walking and skiing, it's crazy to think back on the injuries the past four years. I've had six to seven surgeries and tore my ACL three times. My knee is f'ed again, and the decision was to take out my ACL for this year and ski without it, then re-evaluate in the spring. The past few years I was able to film small segments with TGR and Poor Boyz, but last season was the first year I didn't film with Stept. This year I'm going to take it back a bit, but I'm excited to ski.

EC: If you could have a dream film trip this season what would that be, and who would you bring?

NM: To be honest, I would love to go to Japan or Alaska, but a dream trip for me would be to go to Boston. The East Coast is so good for urban. Our friends and family are there, and it's really supportive. Boston is one of my favorite cities to film regarding the architecture — the landscape is very atheistically pleasing for urban. Two winters ago we were there for two months, the shots turned out so well, and to go back with the whole Stept crew would be a dream.


READ THE STORY
This week in 'Women in the Mountains' we sat down with Wild Barn Coffee's Jenny Verrochi who masterminded an underground women's naked ski event. Sounds cheeky and chilly! Will Beihoffer photo. On March 20th, you could see a full moon on top of Bluebird Backcountry's West Bowl. Well, 22 full moons to be exact. It was all part of a women's event focused on one beautiful, singular goal: skiing butt naked in the backcountry. The cheeky idea came from Jenny Verrochi, who's based in Boulder,
READ THE STORY
There's a few mountains out there whose shape just screams "SKI ME." Among those is one that stands deep in Pakistan's Karakoram range, Laila Peak, a hauntingly beautiful spear of rock whose Northwest Face is a perfect 45-degree ramp of snow that drops nearly 5000 feet to the glaciers below. Not to mention that the face hangs over an equally sized cliff that requires a potentially deadly traverse to navigate. The peak saw its first summit ski descent in 2018 by a team of French skiers.
READ THE STORY
John Collinson's upbringing was a little different than most pro skiers. He grew up in a closet in Snowbird employee housing with his older sister Angel, and didn't do many things that most kids do. However, what he did experience was unfathomable, like summiting Rainier at 4 years old, summiting Everest at 17, and so much more. On the podcast, Mike Powell and Collinson talk about how he went from the closet to his sister's shadow, to pro skier, to social media influencer known for his