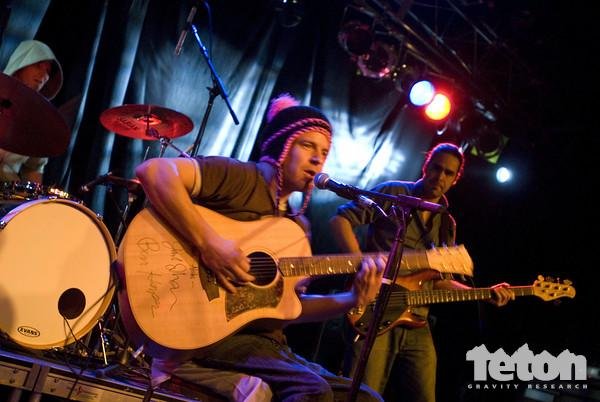 Marc Andre Belliveau is making popcorn in Quebec's Chic Choc Mountains, speaking to passers-by and juggling the phone at the same time. It's almost the end of the ski day, but he wasn't out skiing. His sit-ski, he explains, is being repaired.

In the meantime, Belliveau has been keeping busy working, playing his guitar, writing music, and getting it done: He recently released a 5 song EP titled "Sideshow" that is now available on iTunes and Amazon.com. We caught up with him to chat, find out what he uses for inspiration, musical goals, and what he thinks of the new direction of sit-skiing.

Teton Gravity Research: How long did you work on the songs on your new EP?
Marc Andre Belliveau: For the last four or five years I have been writing the songs for that album. I started recording these five songs for 2 or 3 months, in Quebec with my good friend, a guitarist. I do still have about 10-15 more songs I want to record. I want to make a whole album.

TGR: Where do you plan on taking your music?

MAB: I am still working on signing with a record company, but I kind of like the way I am doing it myself now. But it is hard to reach people this way. It is just like one friend telling another friend, and then they buy the songs. So – I'd like some help with promotion, and so if I get a deal that'd be nice.

TGR: What is the inspiration for the songs?

MAB: Inspiration is pretty simple, it is just day to day. Sometimes I sing about my accident but not always. Sometimes I just throw some shit out there and see what happens. My songs are pretty personal, I think people won't be interested, but then I find they can relate.

TGR: What happened to your sit-ski?

MAB: I tried to modify it, and it didn't work. So this year one of my friends, who is a good metal worker, modified it for me. We put in a motocross shock and changed the whole suspension system. I hope it is going to work!

TGR: Sounds burly.

MAB: Well, the last year I went shooting with TGR, I hurt myself. I had a big tomahawk off a cliff. The sit-ski could not handle that much speed and bump, so that is why I have been modifying it. It is going to be back here this week, so I'm pretty excited.

TGR: What do you think about Josh Dueck and the first ever backflip on a sit-ski?

MAB: I'm pretty impressed by Josh Dueck. He came to visit me in the hospital when I got hurt; he was hurt one year before me. He was so good already on his sit-ski, and jumping the biggest jumps in the park. I'm not surprised — I'm so impressed. He's definitely a big inspiration. I'd like to get to that level, but for now I'd just like to get back on a good machine.

TGR: What else is going on? How's the rest of life?

MAB: Right now I'm working at the ChicChac [a hostel that provides snowmobile-skiing and catskiing] in eastern Canada, by the Chic Choc Mountains. My brother — he is a forester here — talked to me about this place; I feel right at home here. There is a big freeskiing community, and I like the way people are promoting freeskiing here. I never would have thought I'd be stoked on here, but it's really good. It doesn't beat out West, but it is pretty legit.
Watch a clip of Marc Andre in TGR's 2006 feature film Anomaly.
READ THE STORY
"Concerningly stairlike" sastrugi makes for great climbing. The skiing? That's for you to decide. | Max Ritter photo. "I think this bootpack might be the best part of our whole day," I half-joked to my ski partner Max, who was working hard not to roll his eyes as we booted up a narrow couloir in the Tetons that from afar we had deemed "chalky." Wind howled up the leg vents in my ski pants as I kicked steps up concerningly stairlike sastrugi, which was proving to be an excellent surface
READ THE STORY
Expand your quiver, expand your mind. No really, it's true. Snow, much like life, is variable. It's helpful to have a tool for the deep days, the park days, groomer days, and the all around days. If you want a ski that can handle just about anything, has an uncanny ability to be a charger through crud, slice through ice and is a stallion on steep groomers, Atomic's 2023 Maven 93c is what you need. Let's break it down, from tip to tail and everything in between. Ski: Atomic Maven 93c When I
READ THE STORY
Charging inbounds through variable snow and on steep groomers is the Maverick 95ti's diet of choice. | Atomic photo. As much as we might want to, we can't always ride in perfect conditions. Take a season like the winter of '21-'22, where many western resorts struggled to keep terrain open due to a severe lack of snowfall - there weren't really very many days when riding inbounds warranted a powder ski. Let's face it: powder skis are super fun, but aren't the best tool when it's firm. Your