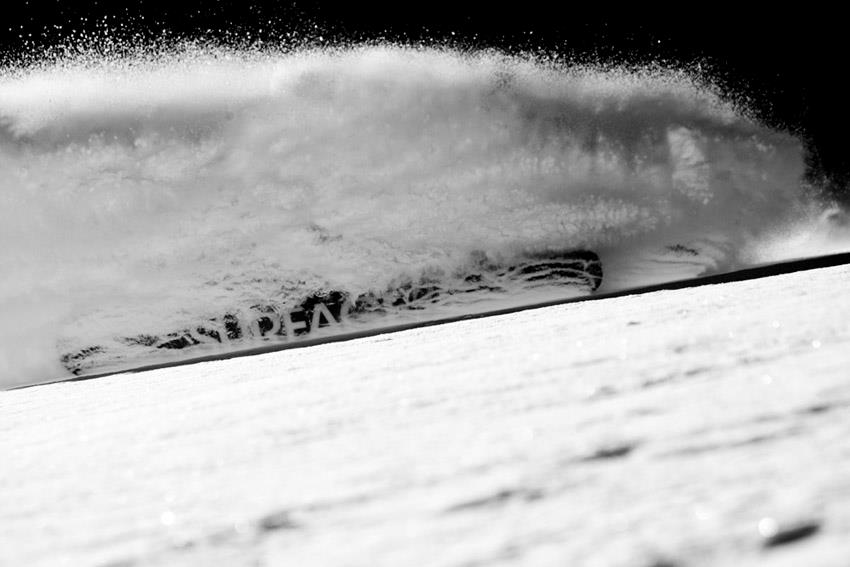 Hayden Price crushing in Alta. Photo by Adam Clark.

Skiing around Alta with Hayden Price is like riding with the best skier you know, your best friend, and the best tour guide ever. Except he's the guide skiing up to a cliff zone, throwing a huge 180 into pow, and only waiting for you because he wants to watch and give you a high five. You don't actually ski with Hayden at Alta as much as you follow him, graciously. The 26-year-old has had an Alta season pass for 24 seasons. He has a distinct style on skis—seemingly disinterested with passing trends, though invariably on the cutting edge. Hayden was the first skier I remember really watching—like, taking notes and emulating—when I moved to SLC seven years ago. He can't ski Alta without people following him, and you'd be intimidated by that fact if he weren't the happiest, mellowest, and friendliest icon on the mountain. Everyone knows him and he knows the mountain from behind a set of powder-surfing eyes like none other. He's that popular local shredder at your little hometown hill…except he's that guy at freaking Alta.




BRODY: Hey dude. Where are you and what's been happening?

HAYDEN: Hey Brody! I have been enjoying a better snow year here in Utah's Wasatch mountains and am currently packing up my gear to head to Canada on a film trip.

BRODY: Where did you grow up? How often did you ski?

HAYDEN: I grew up at the mouth of Little Cottonwood Canyon. I skied mainly on the weekends.

BRODY: Although you were frequently at Alta, your home was actually down Little Cottonwood Canyon's Highway 210, in Salt Lake City. What differentiates you from a skier who has grown up living right in the Town of Alta?

HAYDEN: Growing up in Salt Lake City was a true blessing. I had the oasis of Alta only a stone's throw away and yet grew up in a metropolitan city. I believe this kept me open to the diversity that may not otherwise be found if I grew up in the bubble that is Alta. Seriously, it is a different world up there, and you feel it the moment you arrive. SLC has a great music, art, and food scene that I really enjoy. Variety is the spice of life.

BRODY: Speaking of variety, please describe your ski style and what influences it.

HAYDEN: My style is a cornucopia. I spent years dedicated to the idea that I if I can ski it forward, I should be able to ski it backward. As that motivation evolved, I looked to other sports for inspiration because I felt skiing was a little dried up. I saw the way other action sports were using their apparatuses and wanted to emulate the moves they were doing on my skis. Skateboarding, snowboarding, surfing and mountain biking had a lot to offer my thirst for different skiing. Growing up at Alta, surrounded by loads of "classic" skiers, I strived to differentiate myself from the masses. I skied a whole season of resort riding without poles in hopes of cultivating a unique relationship with my edges and the way my skis flexed. Watching all the possibilities a skater has for doing tricks, I felt there must be more I can do on my skis. I am currently focused on butters, presses, scrapes and strange transitions. If there is snow, I'll slide on it and find something that makes it interesting to me.

BRODY: You ski huge cliffs, backcountry tours, park, natural jumps, and super deep pow. People don't understand what kind of equipment you use for such an array of pursuits. Do you have an arsenal of gear, or what? What is one piece of gear you couldn't live without?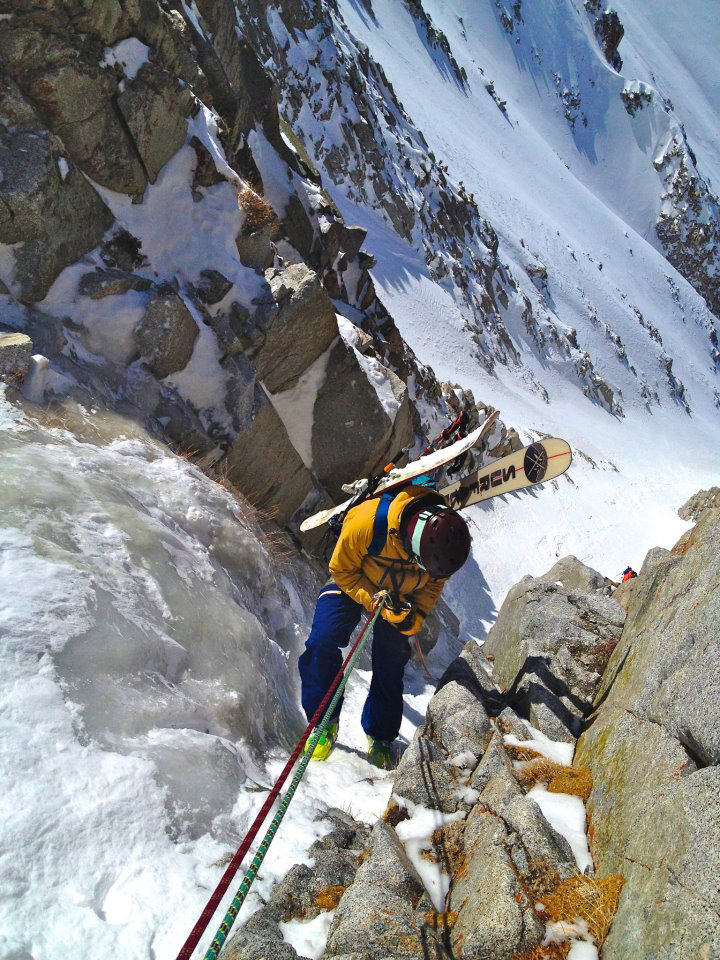 Hayden Price dropping into a line. Photo by Brody Leven.
HAYDEN: I definitely have an arsenal. Skiing is so particular now that I choose my skis specifically for what I'm doing that day. I have a lightweight tech binding setup for long tours and soul pow turns, and multiple sidecountry setups consisting of Marker Dukes or Alpine Trekkers for hitting jumps and drops out of the resort. My inbounds bindings are Rossignol FKS. All of my skis are 110mm under foot or wider, and all have some type of rocker technology. I couldn't live without my Full Tilt boots.

BRODY: Surface employed your snow-snorkel expertise in designing a new ski. Please explain.

HAYDEN: The Lab001. I look to other sports for inspiration not only for ski sliding techniques but also for the technologies they are using. The new Lab ski has a front-to-back "3 stage rocker" as well as "Deep Dish" technology. This idea comes from our desire to have a really surfy powder ski that has a catch-free feeling. The "Deep Dish" is a left-to-right convexity on the base of the skis. Essentially, the ski is base-high by a few centimeters. This really allows the ski to be tossed around at will and opens up the world of trickery in powder snow.

BRODY: Do you film with anyone? Where can people see and follow you (besides as fast as they can at Alta)?

HAYDEN: I filmed with Sweetgrass Productions last year in Nelson, BC. This season I have been focused on working with local [Little Cottonwood Canyon] boys, Dubsatch Collective. We have a great season lined up with some really fun ideas. Stay tuned, as webisodes are dropping frequently on dubsatch.com

BRODY: Why Alta?

HAYDEN: It is the birthplace of powder skiing. The quality and quantity of powder that falls at the end of Little Cottonwood Canyon is unmatched worldwide. You can't beat the access, the people, and the terrain. Alta and the surrounding areas are pure magic!

BRODY: Your skillset is not only strong but also uniquely diverse, how did it develop?

HAYDEN: I watched my home hill heroes, like Sage, and wanted to do what they were doing while adding my own flavor to the mix. [As a teenager,] I would ride Chip's Run at Snowbird with all of my snowboard homies, copying the style of tricks they were doing off the cat tracks and gaps. I ran a terrain park at Alta with my friend Jordan for a few years. We always pushed each other to do more creative tricks and to be able to do them in many ways and on different terrain. I am really into climbing and mountaineering, too. Combine the jib aspects and long distance pursuits for fresh snow and you get me, HP.

BRODY: Who do you love to ski with? Do you like everyone following you?

HAYDEN: I love to ski with friends and family. Skiing with any of the Dubsatch crew is always great and I don't mind anyone following us around. Join in on the fun!
Regardless of whether he grew up in the Town of Alta or twenty minutes down the road, Hayden is most at home on that mountain. His skillset reaches from one end of skiing's spectrum to the other while being one of those skiers who you recognize through unique skiing style, not through his outerwear or the bottom half of his face in the liftline. Since that season seven years ago, when I first realized how capable he was in the mountains, I've watched Hayden's mentorships and friendships develop within the Little Cottonwood Canyon ski community. Not only does everyone know HP, but they only have compliments to offer. Forthcoming video parts will finally expose HP to the world, showcasing his talents as not a park skier, backcountry skier or Alta skier, but as a mountain skier.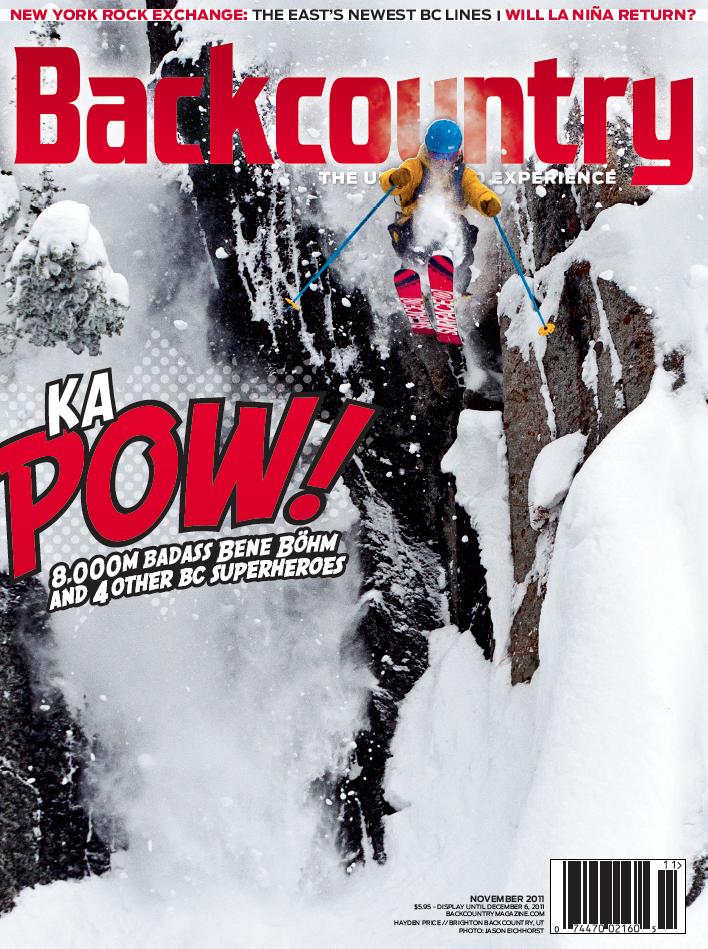 Hayden Price on cover of Backcountry Magazine.
Want to ski like Hayden, book your next Alta ski vacation online through http://mountainreservations.com

READ THE STORY
Well, ladies and gentlemen here it is, demanded by the public at large, the official soundtrack for our new film . About a week ago we premiered to a sold-out crowd in Walk Festival Hall at Jackson Hole Mountain Resort. Now the film is headed out on the road across the country and the world. Be sure to check out our full tour schedule here and be sure to check back frequently as new shows are added daily. Buy Tour Tickets here. Film Synopsis:
READ THE STORY
This past spring I road tripped out to California to take advantage of their fat snowpack after an above average season for the Eastern Sierras. I started out hitting Mammoth Park and lapping top to bottom runs on the Mammoth Gondola. A few days later Colter showed up with plans to camp and do some Ski-mountaineering in the Palisades near big pine. Camp life. I was loving laid back condo life with the Saga crew but was eager to go camp in the Buttermilks. Everything came together for
READ THE STORY
In case you missed it, this weekend marked the beginning of winter for the northern Rockies. We know it's only September, but Montana, Wyoming, and even parts of Colorado were blessed with some pretty significant snowfall. Some of us just couldn't resist the itch, and dusted off our skis and boots to take them out for their first walks of the season. Well, we all know that with early season skiing comes some serious spraying, so here are a handful of the best captures we found on the ol'