Eric Hjorleifson Freeride Touring Helmet Cam Video from 4FRNT Skis on Vimeo.
On November 23, Eric "Hoji " Hjorleifson gave a talk titled "The Evolution of Touring Gear" at the at the Escape Route in Whistler. Hoji has been instrumental in the development of a lot of gear but lately in particular has contributed knowledge to the current lineup of Dynafit "Free Touring" boots. For those of you who aren't backcountry gear geeks these are the Dynafit Vulcan, Mercury and One; boots which come about as close to the ideal of having a superlative walk mode and light weight while maintaining stiffness and burliness. This line of boots seeks to marry downhill and uphill performance in one package but at different price points.
Hoji is no stranger to skiing enthusiasts. Much to his own self-admitted surprise the way he annihilates powder and pillows skiing on Dynafits opened the minds of many a skier who'd previously viewed Dynafits as specifically for the one piece scholler sausage-stuffed skin suit crowd. Footage had started circulating almost two years ago about his exploits on those bindings (video is a year old but excerpted footage had circulated almost two years ago in trailers).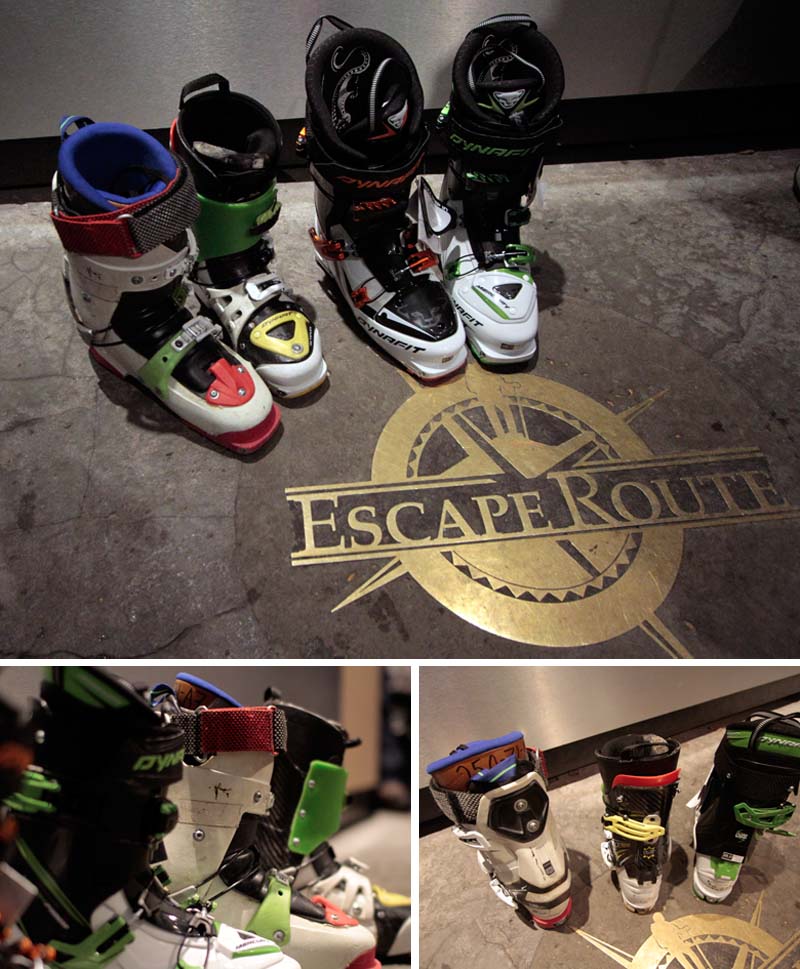 The Escape Route is a longtime Whistler locals' backcountry gear hangout and a fine place to display Hoji's art. In the top picture from L to R: modified Titan, frankenTLT5, Dynafit Mercury and Dynafit One. The Vulcan is in short supply and the only pair the shop had were bought that very day.
Hoji's talent and fetish for modifying gear had also caught the attention of the denizens of internet forums many of whom seem to have way too much time on their hands and have dissected and discussed Hoji's gear choices. Indeed the gear-queer interest has been so stalkerish that there have multiple threads dedicated to Hoji and his gear including Ask a Hoji,Ask a Hoji Part 2 and no less than two threads dedicated to Hoji's custom Frankenboot modification of the Dynafit Titan boot.
This interview continues the Hoji stalk and was supposed to be short; just talking about boots. However Eric's an articulate and astute character; a thinking man's skier if you will. His thoughts about skiing, ski touring and gear were well formed and informed. On with the questions.
LL: How old are you, where did you start skiing, when did you start heading into the backcountry and where do you live now?
EH: I'm 29 years old. I started skiing in the Canadian Rockies; Lake Louise was my home mountain. I first started heading to the backcountry when I was about 16 ... or 17 and I now call Whistler home.
LL: Are the Rockies where you first started learning about sketchy snowpacks or was that a combination of experience from different places?
EH: Definitely! I also learned a lot when I lived in Revelstoke in the early 2000s and I've tried to soak up knowledge from people with more experience than me. As you probably know almost every small town particularly in BC has backcountry ninjas who've forgotten more than I could ever learn.
LL: You're a solid technical skier and I don't mean in the sense of movies. I mean in the sense that your form, your technique and your balance is exceptional. Almost boring in its symmetry. Particularly I think back to the first 2 minutes of the 4Frnt movie "Loyalty" where you lead a crew of gifted athletes hop-turning down slope. Where did you learn to ski like that?
EH: I've got to credit all my ski coaches. I did a lot of racing till I was 15 and got tired of the structure. I'd have to say I owe a lot of that to my dad Tom who's not just an artist but also did a fine job ski-coaching.
LL: You're known for your skiing segments. You showed some versatility this season by bagging some lines in the Freshfields Icefields north of Golden and more notably the North Face of Clemenceau (with Martin Lefebvre, and Chris Rubens). How much mountaineering or ice-climbing have you done?
EH: Not much pure ice-climbing. A bit of mountaineering. Most of my climbing is limited to front-pointing on crampons. My good buddy Matty Richard has been trying to talk me into doing more but I always end up skiing pow.
LL: Finally some people might be surprised to know that you edit your own videos. Why did you start doing that and how did you learn?
EH: Around the time that MSP did "Push" in 2009 they gave athletes the opportunity to edit their own segments. I'd always been fascinated by how videos came together and was sometimes disappointed when particular lines or mountains I would ski would end up not used. You can't really blame the editors for that. They weren't there so there's no way they could know how I was feeling on a line and they have to work with constraints of time and flow. I really enjoyed the opportunity to get involved in the creative process. For that I owe a bunch to Scott Gaffney who helped me learn how to edit and put footage together in an artistic package.
Basically I sometimes have a strong emotional connection with a particular segment; or day; or trip. It's a feeling that's hard to put into words. Learning how to edit my own segments allows me to try to put something together that tries to capture the moment.
It's hard to keep on top of editing software but I try as much as I can. The technology moves so quickly. As soon as I learned Final Cut people are now moving on to Avid. But it's fun to try.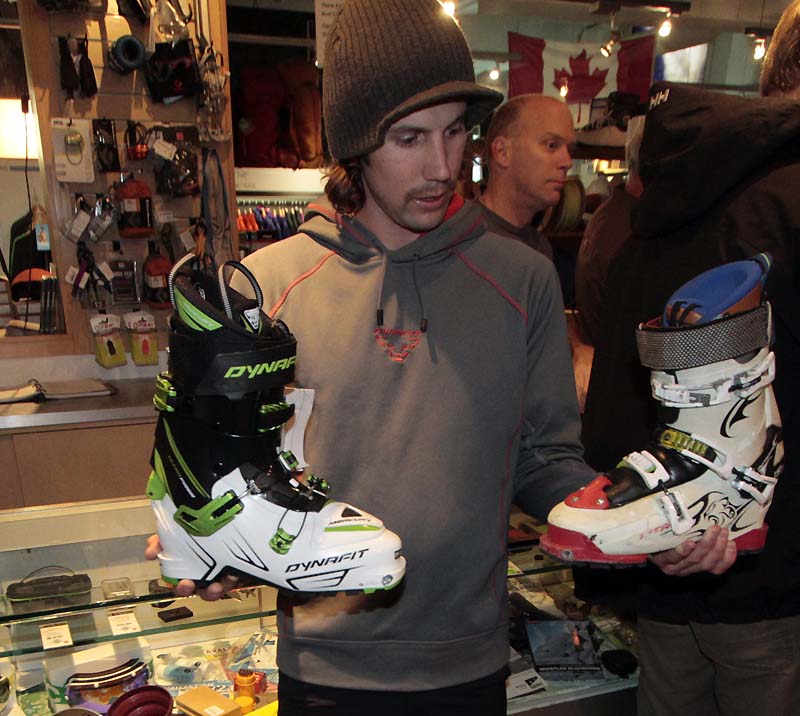 Eric Hjorleifson holds the Dynafit Mercury on the left and on the right is his frankenboot Titan that started it all.
LL: Let's talk about your boots and your modifications. A lot has been written about the boots which gave you notoriety; the Dynafit Titan. What is your title with them and why did you start modifying boots?
EH: Officially I'm a consultant to Dynafit in a contractor capacity. What this means is that I share my ideas about the boots and give them insight. You've got to appreciate that the North American market is a small part of the overall market for backcountry and that my modifications were for a North American market. To be more accurate its even smaller than that because the people who were really looking for something like my modified Titan were from BC, the Pacific NW, or the Western US so the market's even smaller than that.
I was actually a bit surprised by the attention paid to the boots. I mean, I knew that people were curious about them but I didn't know to what extent. Personally, from skiing in racing boots all the time and using alpine-trekkers fixing broken gear was getting kind of old and I knew that if I didn't look into something with a walk mode I'd be looking at losing toenails or maybe toes when I got older.
I won't repeat what I did with my Titans as it's been described in a bunch of different articles but basically, I customized the boot so it fit my skiing style which is centred and relies on lateral movement (more on that boot-ski philosophy here). I also wanted to improve the walk mode so I modded the Titan so I could remove the tongue when skinning. In the 2009-10 season I was filming with Matchstick at Golden Alpine Holidays and I was shooting footage of self propelled lines with Dynafit FT12 bindings, my 4Frnt skis and my modified Titans. I developed a ton of confidence filming and skiing on that setup and I've never looked back from there.
LL: There was quite a stir when Dynafit took you on in 2011 and then made it long term in 2012. How did you come to meet Dynafit and then ultimately they become comfortable enough for them to take you on in an official capacity?
EH: It started out here at this store. Escape Route was a Dynafit Competence Center which basically meant that the staff had a lot of technical knowledge and expertise about the product line. Around 2 years ago I first met with the folks from Dynafit who were there to talk to Escape Route and a bunch of Whistler locals who were long time users of the products, raced ski-mountaineering and hard-chargers in their own right. Some people from Dynafit were there and were kind enough to let me show the modified Titan. I showed them footage of what I skied at GAH with Dynafits on these modified boots.
To be honest, I didn't know what they thought initially. These guys practically invented a lot of the gear we took for granted so maybe it was a bit much to expect them to open up right from the start. I get the feeling we're coming at this from a different perspective than they are in some parts of Europe as you can probably appreciate. But credit where credit's due, the guys, especially Federico Sbrissa, were open to suggestions and as we worked together more and more we meshed.
What was a revelation too was the first time I saw the DNA boot. It was meant for a totally different application than the way I ski or approach lines but I could see the direction it was going and it was great direction. Then the TLT5Performance came out and I had a chance to use that boot as I was coming back from knee surgery. I wasn't charging quite as hard as I had in the past due to rehab and I really got a chance to appreciate the lateral stiffnes and that fantastic walk mode. Of course I modded that boot too and ideas really came together as we were marrying the technology and features from that boot into something that also had good downhill performance yet could also be light. And we wanted to keep that fantastic walk mode. After lots of work, what came together is the line of Free Touring boots.
LL: Something's that not well known is that you don't get prototype boots very quickly. You wear a sz 25.5 boot and most prototypes are sz 27. How do you get around that when in the middle of the product development cycle?
EH: Like I said I ski a ton with Matty Richard. Matty's a size 27 foot. Matty's actually part of the test team and he gives me a ton of feedback on the boots and how they feel. I get a chance to see how the boots' working. Because I ski with Matty a lot I can also sometimes guess or he'll tell me if he feels like there's something off or not quite perfect. As you know the prototype Vulcans aren't quite the same as the production (proto Vulcan review here from Wildsnow) . The productions will be a bit stiffer.
It's a good thing they don't have to wait for my go-ahead for the Vulcans. Those boots are in short supply. I don't have boots yet ... Dynafit's taking care of paying customers first - good for them but maybe you and I have to be patient!
Hoji with the modified TLT5 Performance on picture left. Matty Richard is Hoji's skiing partner in arms on picture right.
LL: Speaking of stiff boots, I'm 160 lbs. You're about the same weight. Matty is also not a big guy. It seems a little crazy that people are now "complaining" that the Vulcan is too stiff, given that for so long the internet skiers have been asking for a stiff boot. What do you think about the Vulcan versus the Mercury?
EH: I was just talking to Julian (Stoddard - the Dynafit rep) about this. It's almost the case that guys our size can't really stress gear out the way that bigger guys can. Mass matters. I do think it's kind of funny that people are now saying the Vulcan is too stiff. It's got the kind of crazy lateral stiffness that I like because my skiing style is to really carve hard and move laterally - something that probably comes from the racing background.
Right now I'm on prototype Mercurys, and I'd say that almost all the time it's perfect for me. Everyone's different though. They have different sized bodies. Different ski styles and ski in different conditions. Of course, there's also a big difference in price between the boots so I'd say that it's good to have choices.
LL: Some people are modifying the Vulcan/Mercury. For example some people are modifying the tongue so it can be more easily removed in the uphill/downhill transistion. How much do you still tinker with gear?
EH: I don't think I'll every stop modifying gear! I'm never happy. Whenever you think something's perfect you'll find some way to improve it. The difference now, though, is that I've got the company behind me and lots of people - very experienced people - to use as sounding boards, and to bounce ideas back and forth. It's a huge advantage to have support. I can't talk much about what's in the works, but wait till next year. I know – it's ridiculous that this season has just started and we're already talking like that.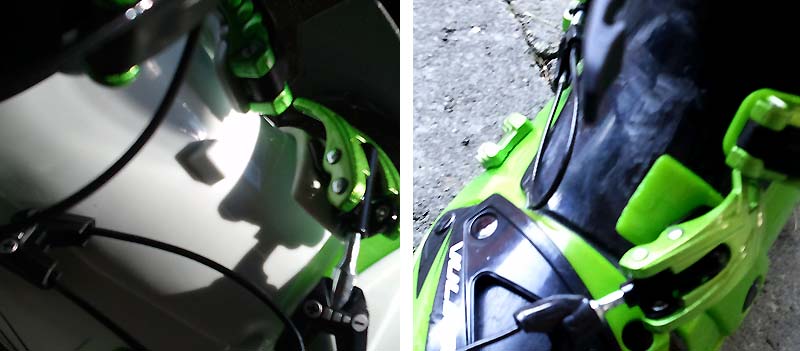 One example mod for the Vulcan/Mercury is the James McSkimming modification (right) which is to cut off the square tab from the external hard plastic tongue thus making the tongue easier to remove. Keep the tongue on for the downhills and take it off for the uphills for free-floating stride.
Click Here To Buy The Dynafit Mercury
READ THE STORY
The ski troops of the 10th Mountain Division endured incredibly brutal combat in World War II, battling frostbite and hostile alpine environments during their short but violent campaign against German forces in Italy's Apennine Mountains. Casualties in the winter of 1945 were staggering, but when the ski troops returned home they poured their heart and soul into the newly-evolving ski industry, opening ski resorts, managing ski schools and influencing innovation. Unlike most of Europe, prior
READ THE STORY
ELEMENTAL from Sage Cattabriga-Alosa on Vimeo. Sage Cattabriga-Alosa rips. Whether it is BC pillows, unimaginably large Alaskan spine faces, or desert freeriding, he puts his mark on a mountain face like a true master. Wait, desert freeriding? Like on bikes? Yup. For those of you that haven't figured this part out yet, Sage is quite the accomplished mountain biker. Living in the two-wheeled hotbed of Bend, Oregon surely helps, but hanging out and riding with professional mountain bikers
READ THE STORY
The Mountain Infantry: A Return To Nature Story from OneDegreeTV on Vimeo. Icelantic Skis and F4D Studio is proud to present: The Mountain Infantry: A Return To Nature Story. This film documents the iconic 10th Mountain Division and how nature played a role in their lives when they returned home from WWII and influenced the start of the North American ski industry. A team of Icelantic Skis athletes spent several days learning from descendants of the 10th Mountain Division while creating