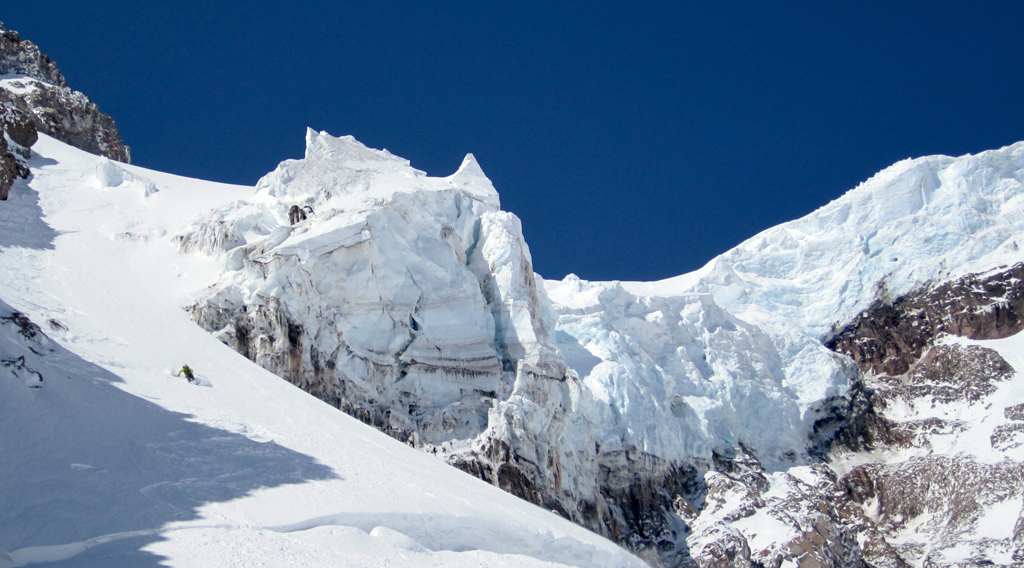 December 2, 2011
— Dan Kostrzeski
Rainier Mountaineering, Inc. guide, former Crystal Mountain patroller and serious ski mountaineer Seth Waterfall spends his workdays guiding clients up massive alpine peaks in the world's highest ranges. But on his days off, Waterfall sets his sights on deep overhead days or big vertical lines such as the first and unrepeatable ski descent of the Nisqually Ice Cliff on 14,411-foot Mount Rainier. Tetongravity.com caught up with Waterfall between guiding seasons for his recap on no-fall conditions, serious rockfall and skiing some of the world's biggest lines.
Teton Gravity Research: Describe the Ice Cliff line you skied on Mt Rainier last spring?
Seth Waterfall: There is a feature on the mountain called the Nisqually Ice Cliff and it's part of where the Nisqually Glacier comes off the summit and runs south and actually runs around this rock ridge. As you are descending the left side drops off a huge rock cliff so with the ice and the rock it's probably a good 1,000-foot tall cliff. But last year with all the snow from La Nina, it's the first time I've ever seen it, but there was a strip of snow that ran continuous between the rock ridge and the ice cliff.
If you skied down above the ice cliff, you could get over into this snow strip and ski down that. So two friends of mine, Tyler Jones and Andy Bond who both work at RMI with me, on April 21 we decided to go up to Camp Muir. We actually had another route in mind but this was our back-up plan.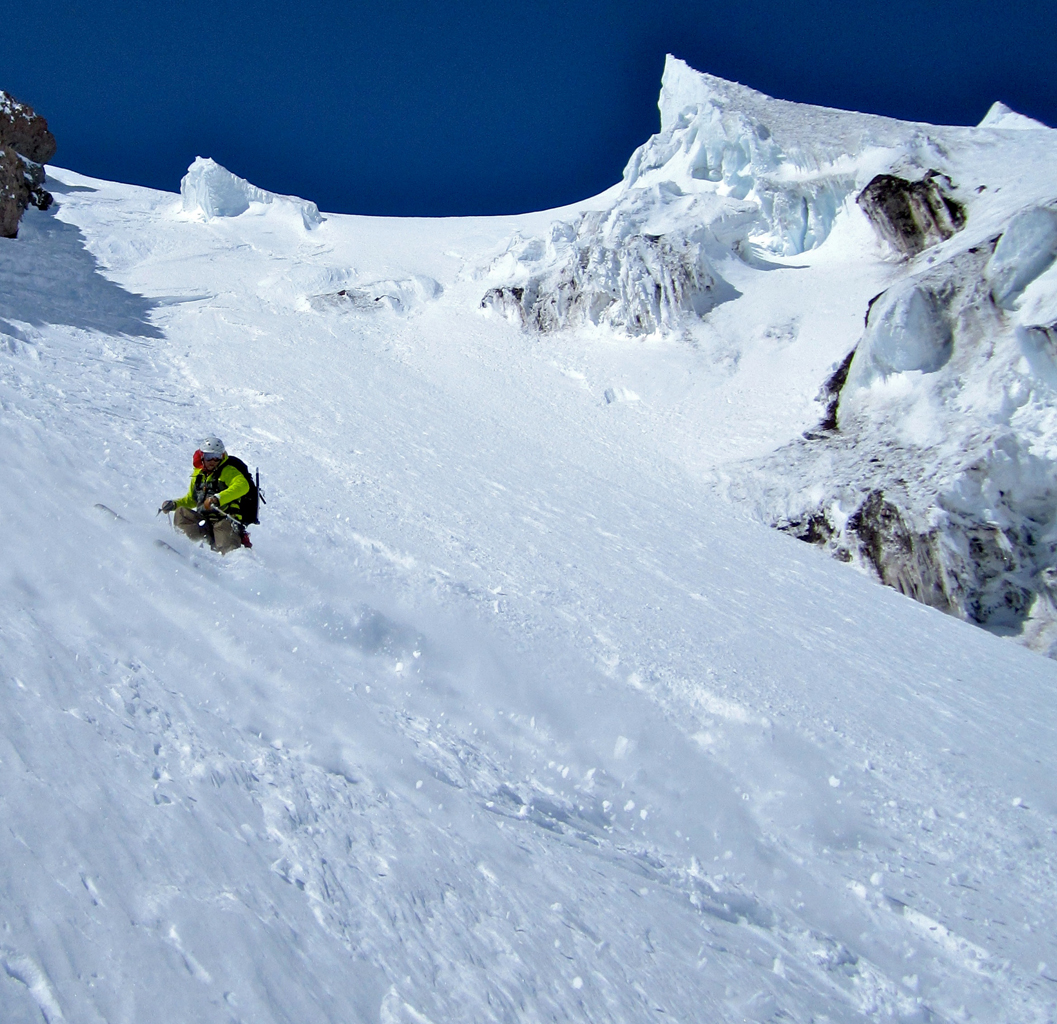 TGR: Why did you pick that line?
SW: There are just a few routes on Rainier that haven't been skied down. A lot of them are what people used to think of as really steep ice climbs, but now people are skiing down them — which is one of the coolest things about living in the Northwest, that you can ski down people's favorite ice climbs.
So we went up to Muir in a storm, but we had a good forecast so we went to Camp Muir woke up in the morning and had blue skies. We headed out from Camp Muir, which is at 10,000 feet elevation and went up to the summit in about 3 1/2 hours and investigated our line on the west side of the mountain that we wanted to ski. But we found lots of rime ice and water ice and not good snow. So we came back and decided to give the Ice Cliff a try, since no one had ever skied that, we believed.
It went pretty straightforward, we were able to locate the entrance, ski down and the skiing was really exposed but not terribly steep — maybe 45 degrees and one small pitch of 50 degrees. But it was really firm so it was definitely heads-up skiing, no hip checking or anything like that. We skied it in about ten small pitches then just a little jump over the bergshrund. Actually, the trickiest part was weaving through the crevasses below the route and trying to get out of the Nisqually Glacier and onto the Muir snowfield.
We popped out on that took a little break and decided to ski all the way down to the Nisqually bridge, which is about an 11,000 vertical foot run.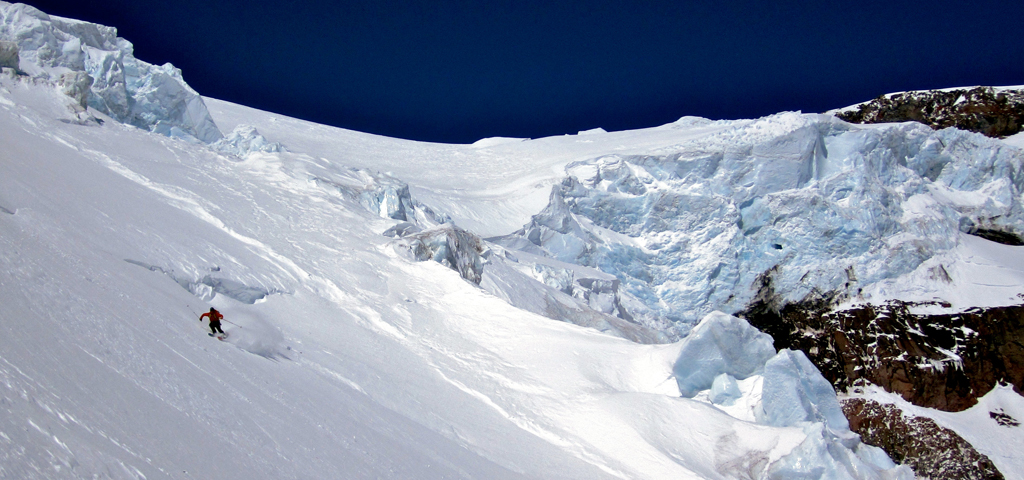 TGR: So was it a first ski descent of the Ice Cliff?
SW: Well, a couple weeks after we did the trip I ran into a friend who said that Mike Hattrup skied it back in the nineties. I know Hattrup so I sent him an email and he said "no way"— that he'd never heard of anyone ever skiing it before. So I'm pretty confident that no one had ever skied it before.
And now the whole thing has fallen apart — there's about two miles of rock debris underneath. The whole cliff we skied down is detached and collapsed and totally changed forever, so nobody is ever really going to do it again.
Sounds like it was a super inspiring line?
We were pretty psyched on it. Then just to have it fall apart after that is pretty weird.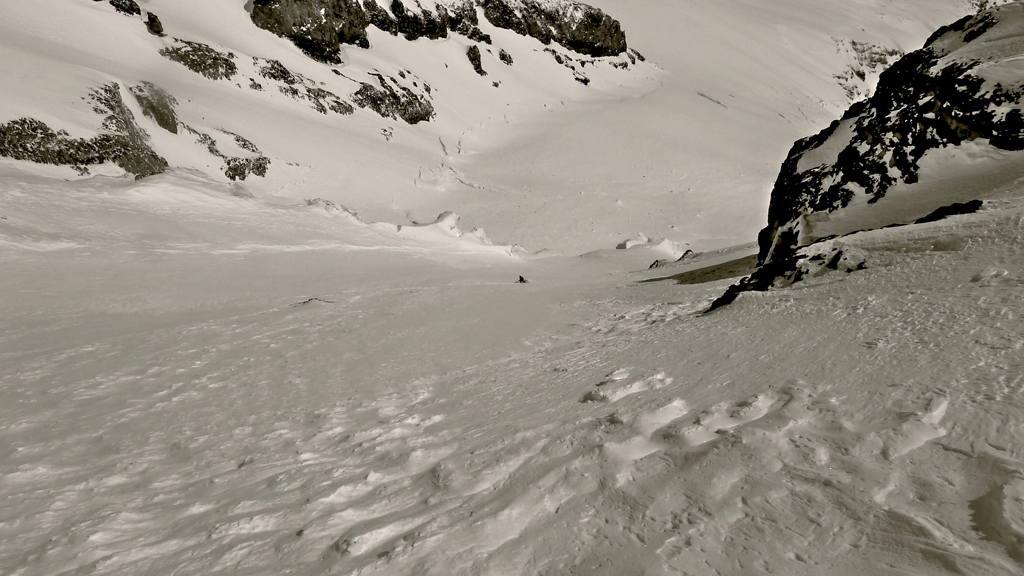 TGR: What do you think caused the cliff to crumble?
SW: I think it was all the snow that was sitting on it. Once it started to melt it was undermining the rock. It was obviously super unstable to begin with. Stuff like that happens every fifty years on Rainier — some big rockfall.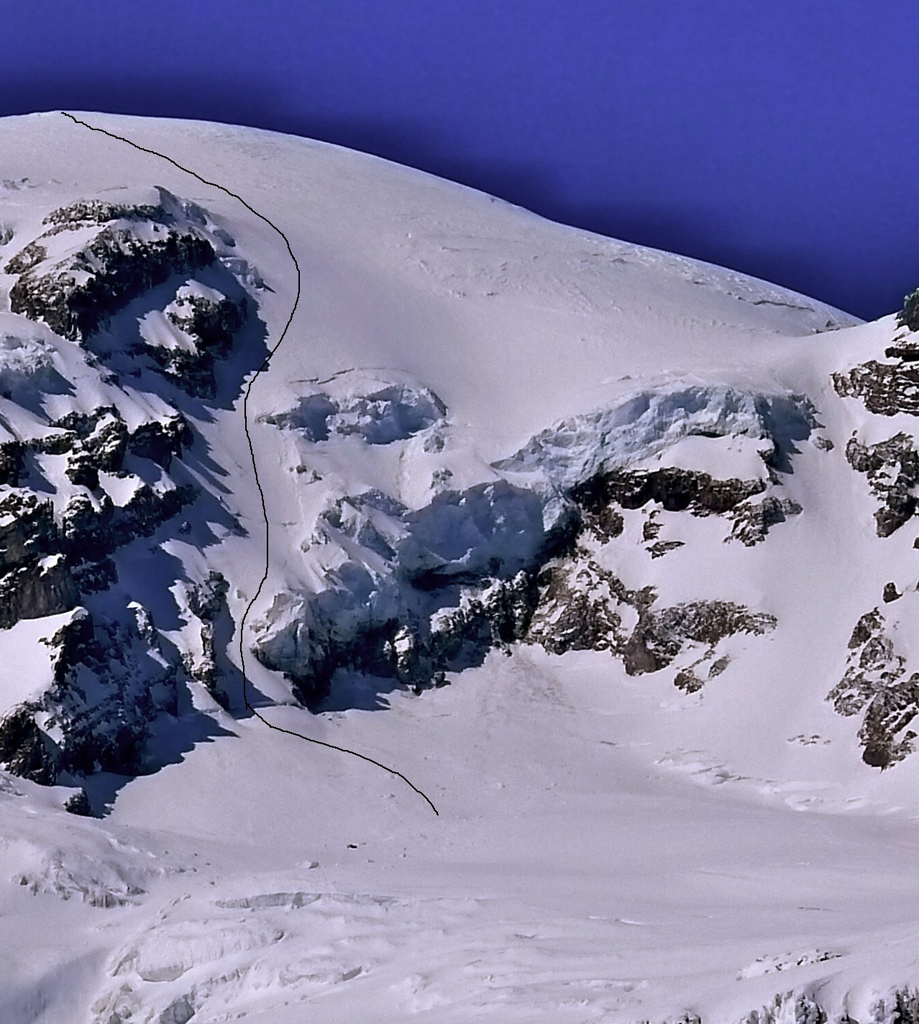 _____
Part 2 - Antarctica
_____
TGR: What was your most inspiring trip this past winter?
SW: My most inspiring trip last winter was my trip to Antarctica with Peter Whittaker and Ed Viesturs. It's a place I've wanted to go for a long time and it's such a cool continent to go to. The terrain there is like nothing I've ever seen in my life and there are huge ice caps as far as the eye can see and then the Ellsworth Range sticks right out like a buzz saw —just a super straight line of craggy peaks. It's a magic place and I'd love to go back.
TGR: What surprised you most about the environment down there?
SW: What surprised me the most was the reliance you have on technology down there. The reliance you have on your planes and fuel to get you in and out. Without the logistics set up down there, there is really nothing. And the feeling of remoteness, if I go to Africa or if I go to Asia I always feel like there are other people around, there are cites and all these other things — you feel remote when you are in the mountains, but you can basically walk out of any of those places. And in Antarctica you can't walk out, there is no place to go.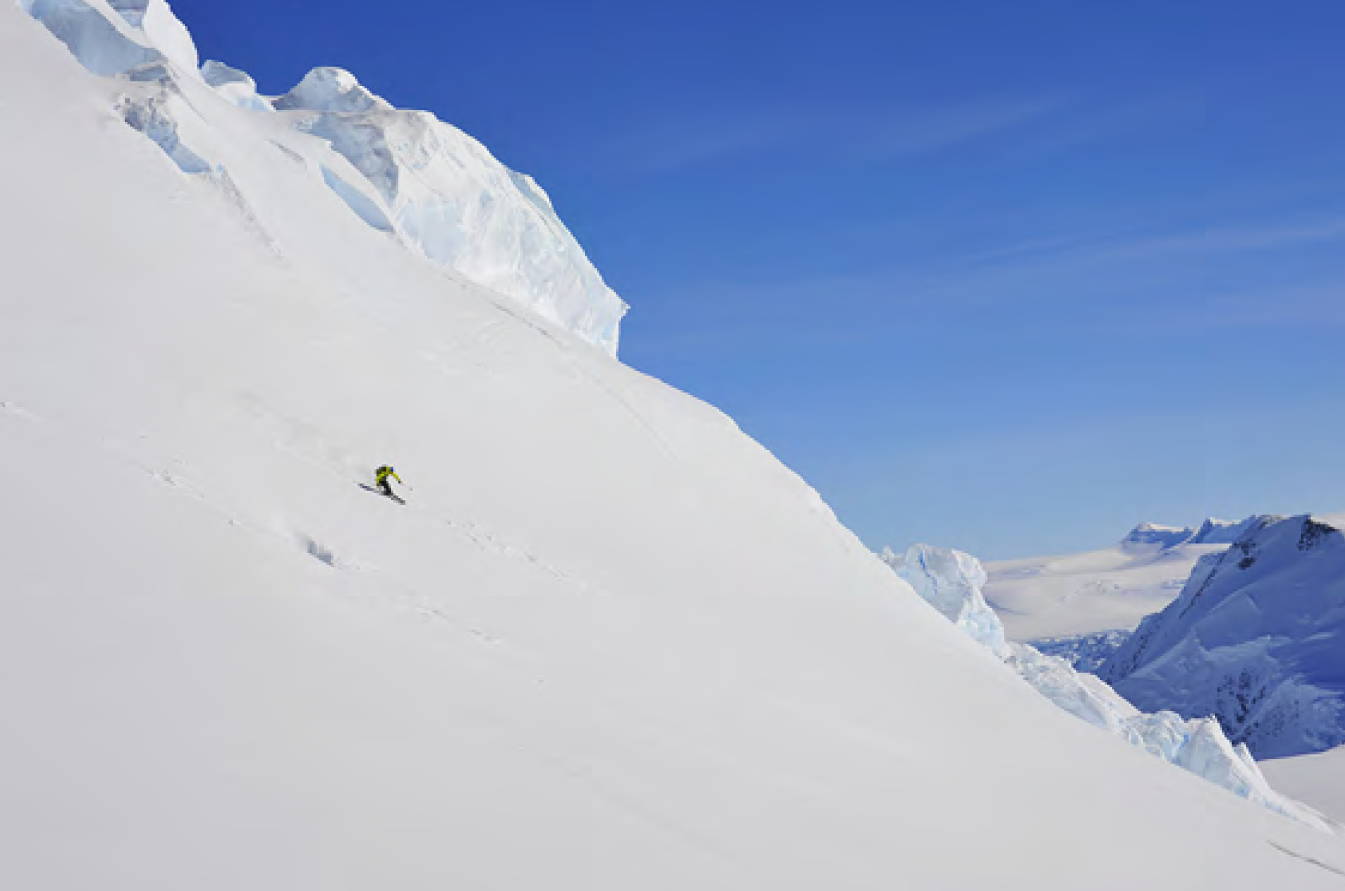 TGR: What is different about skiing in Antarctica?
SW: It's interesting because Antarctica is both the highest continent on earth and the driest continent on earth so they don't receive very much precipitation at all, but what they do receive stays as snow. And it gets these really cool light effects and the snow blows around so it looks like diamonds hanging in the air. But the ski conditions were typically just a few inches of snow over a firm base and sometimes ice, so it's way different than what I'm used to skiing in the Northwest, which is just tons and tons of sick powder.
TGR: Anything different from an avalanche perspective down there?
SW: Yeah, it's funny from an avalanche stability perspective, because even on flat terrain you get this whompfing sound. Up here it would totally freak me out, but down there it's really common — even on flat terrain that won't avalanche, you get these big air pockets trapped in the snow and you can hear it rolling along for like a quarter mile. It would last forever. Then you could hear it moving down the valley, it was totally insane.
But as far as avalanches, especially ice avalanches and cornice falls, they just don't have them because the glaciers move so slow and it's so cold there that you don't really have seracs that collapse. We saw some debris and the guys that work down there said it was from two years ago. Where in Alaska or on Mount Rainier that stuff changes day by day. Down there it's on the year-to-year program.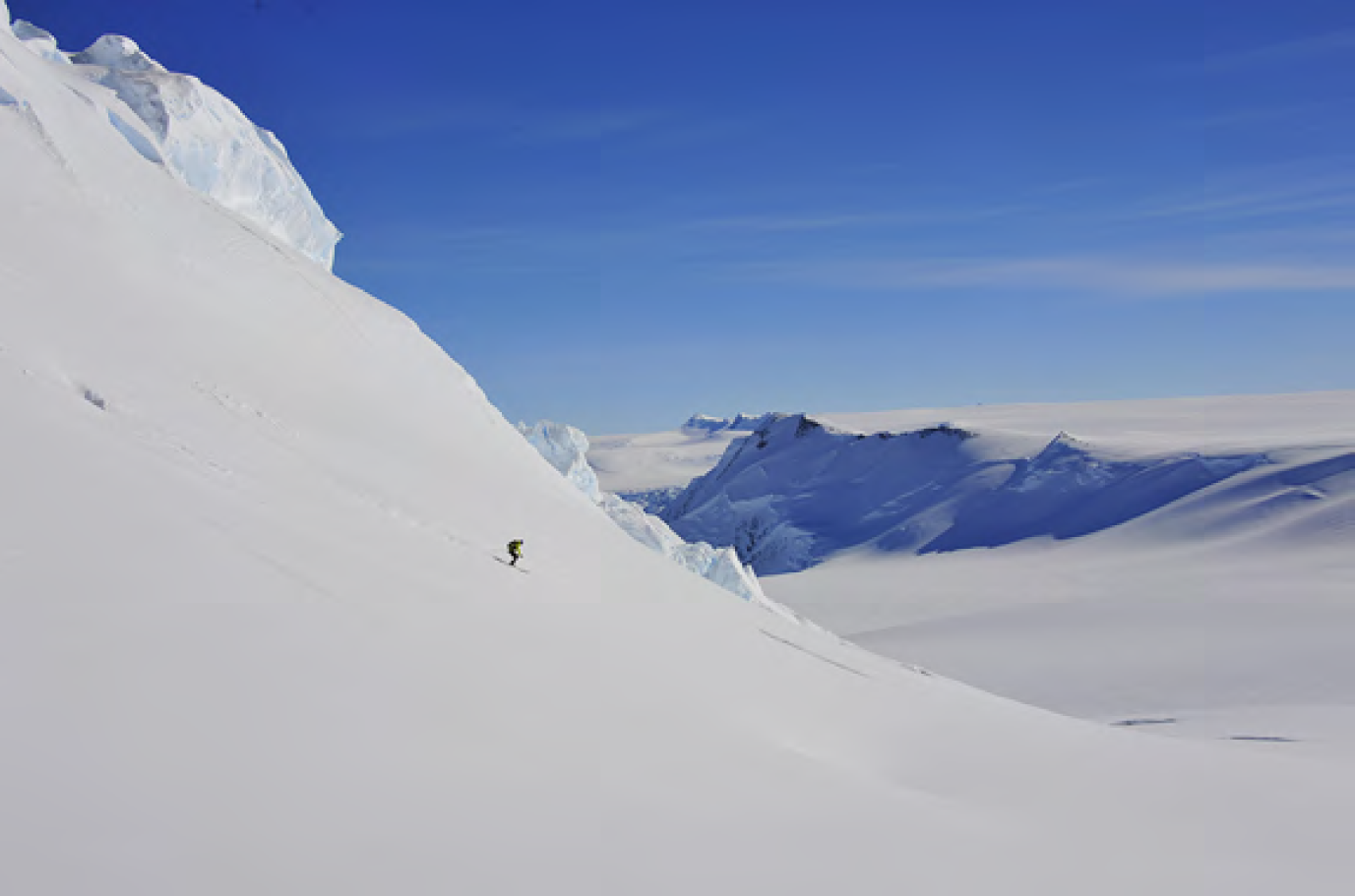 TGR: What did you wind up skiing in Antarctica?
SW: We ended up skiing some moderate stuff. The less steep stuff was really glaciated and there was lots of crevassing around. We actually got on some stuff around Union Glacier Camp, which is the main logistics base that you fly into. Around there it's really variable from really sun affected and really hard snow to just a few inches of powder over really firm base. It could be good skiing but it also could be really bad skiing.
And the wind goes to work on stuff pretty quick down there. It will blow snow from one side of the mountain to the other. Depending on the way the winds blowing the powder will either be on one side of the range or the other.
_____
Part 3 - Denali
_____
TGR: Antarctica, the Ice Cliff and you've skied off Denali as well?
SW: Yeah, one big ski descent on Denali. That was in 2009 right after I got back from Mount Everest. I met up with a my friend Tyler Jones and he had camp set up at 14,000 feet so we did one day from the airstrip to 7,000 feet, then to 14,000 feet, rested a day, then went to the summit and then skied back all the way.
A lot of people down-climb the West Buttress, but we ended up skiing down it and spent another rest day and then skied all the way out.
TGR: What was the toughest part of that trip?
The toughest part of that trip was that I actually had Giardia from Katmandu and didn't realize it. I was super sick up there. By the time I got done with that I'd just come from Everest, spent a few days with my folks and then went right up to Denali and every three days or so I'd be violently ill. By the time I got back home I'd lost twenty-five pounds. I was pretty weak by the time I'd got back.
TGR: Anything on your hit list for this winter that you're excited about?
SW: So this winter I'm excited to see La Nina coming back because I'm a Northwest guy. I'm pretty excited for a good ski season. I might get a chance to go back to Antarctica with Dave Hahn, so that's in the works. That's just one of the coolest places on Earth and I'd love to go back. In the springtime I'm possibly heading back to Everest — after a year off I'm ready to get back on the big one. And that's it, that's my horizon right now.
READ THE STORY
Griffin Post at the discovery site of Bradford Washburn's abandoned 1937 camera cache. | Leslie Hittmeier photo. Now here's a real-life treasure hunt story. After a multi-month search spread across three separate expeditions, professional skier and mountain explorer Griffin Post discovered a historic cache of camera and climbing gear abandoned in 1937 by legendary mountaineers Bradford Washburn and Robert Bates. Washburn and Bates, members of the Harvard Mountaineering Club embarked on an
READ THE STORY
In his very first podcast we welcome Eric Pehota, the freeskiing pioneer and undeniable ski legend, to the LPP. We sat down in his shop in Pemberton, BC alongside one of his sons... and friend of the show, Logan, who just happens to be one of the best skiers on the planet right now. Listen Eric talks about pioneering countless first descents in the Coast Mountains of BC with his ski partner and friend, Trevor Petersen. In the late 1980's and early 90's Eric and his ski partner,
READ THE STORY
Teamwork makes the dream work! Back in February of this year, a bout of cold and clear weather gave way to incredible conditions for skiing big mountains in British Columbia. Based out of Golden, BC, ACMG/IFMGA Guide Mark Herbison was a stone's throw from a line him and his friends Christina Lustenberger and Sam Smoothy had been eyeing – the first descent of the East Face of Mt. Ethelbert. The beautifully prominent peak beckoned ski tracks, and with extraordinary conditions, the trio got it