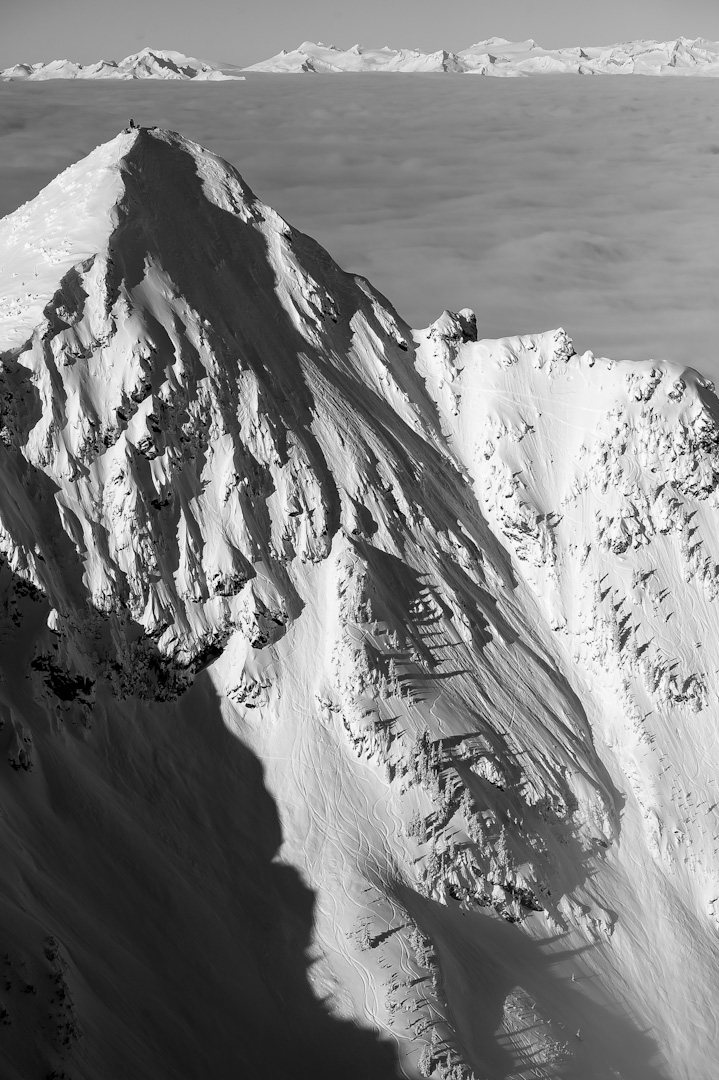 Ski and snowboard athletes put on a show on Mackenzine Face at Revelstoke Mountain Resort during stop No. 1 of the Freeride World Tour. Photo by B. Long.
Words by Greg Fitzsimmons

The first stop of the newly structured Swatch Freeride World Tour by The North Face went down last Friday in a serious way. After waiting four days on a weather hold because of slow-moving storm that dropped 3 feet of snow on Revelstoke Mountain Resort's 1,600-foot "Mac Daddy" face, 60-plus athletes from all over the world competed in men's and women's skiing and snowboarding.

With it all said and done, TGR's Ralph Backstrom made a statement in men's snowboarding, perennial podium-finisher Drew Tabke posted the day's highest score en route to winning the men's skiing title, Sweden's Christine Hargin built on the momentum from last year's overall FWT title with a win in women's skiing, and Snowbird-based ripper Shannon Yates took home the hardware in women's snowboarding.

It was clear from the first few men's snowboarders to drop in on "Mac Daddy" that the conditions were no joke. Rider-triggered sluff exposed pepper on the skier's right and skier's left sides of the venue. But, creative competitors were able to find blower snow in zones unaffected by the slide activity.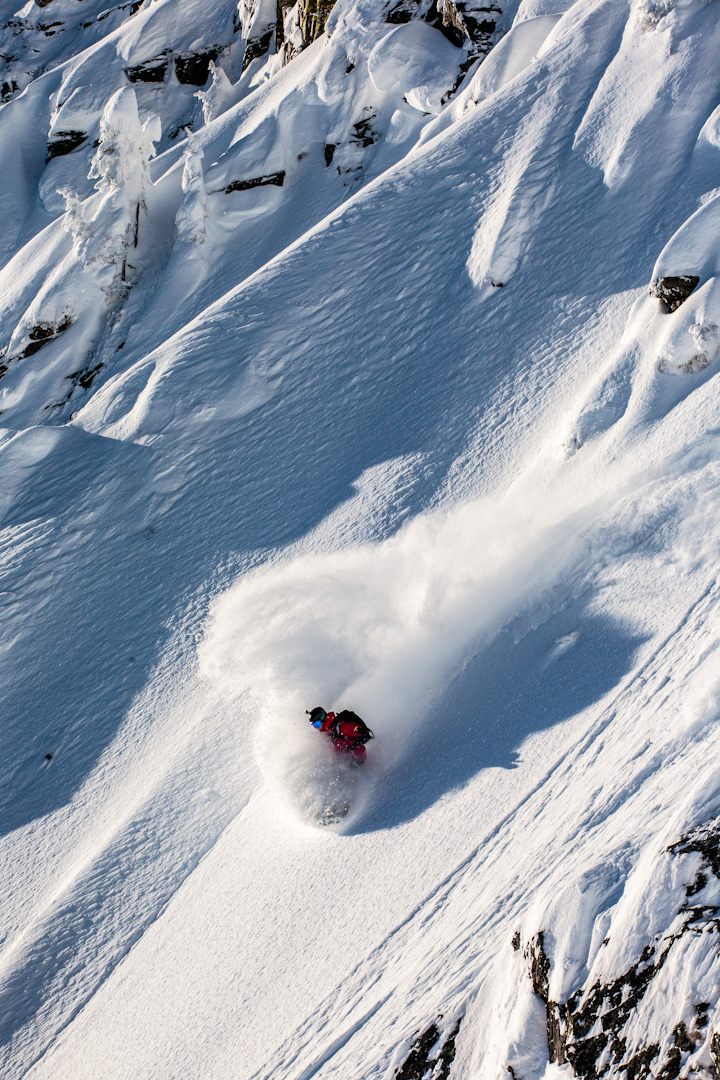 Ralph Backstrom rages down "Mac Daddy" face on his way to win the first stop of the Freeride World Tour. Photo by B. Long.

Backstrom's line perfectly exemplifies the creative approach to riding that had fans of
Johnny Collinson spins a 360 at Revelstoke. Photo by J.ANTONIUK.

Aside from the top three men (Tabke, Heitz, and Lopex, respectively), Johnny Collinson's line had everyone buzzing—in Revy and online. Collinson found a massive air on the skier's right side of "Mac Daddy" and spun a sleepy three off of the downward takeoff. Despite augering in the landing, Collinson's blend of big-mountain and freestyle skiing warrants mention.

On the women's side, the female skiers and riders inherited a beat-up, sluffed-out, and debris-riddled venue after the men hammered "Mac Daddy." The scores on the women's side reflected the difficult conditions, with four of the 10 female skiers earning 40+ points. Defending FWT Champion, Christine Hargin, of Sweden, earned the win with a 65, followed by Norwegian Nadine Wallner and Aussie Nat Segal, respectively.

Shannon Yates stomped two airs and stayed on her feet to win the women's snowboarding title, with French riders Margot Rozies in second and Elodie Mouthon in third.

Now, athletes are headed to the Alps for the second and third stops of the Freeride World Tour, with stops on the Italian and French sides of the Mont Blanc in Courmayeur and Chamonix. Italy's Courmayeur hosts the second comp of the year on January 19th.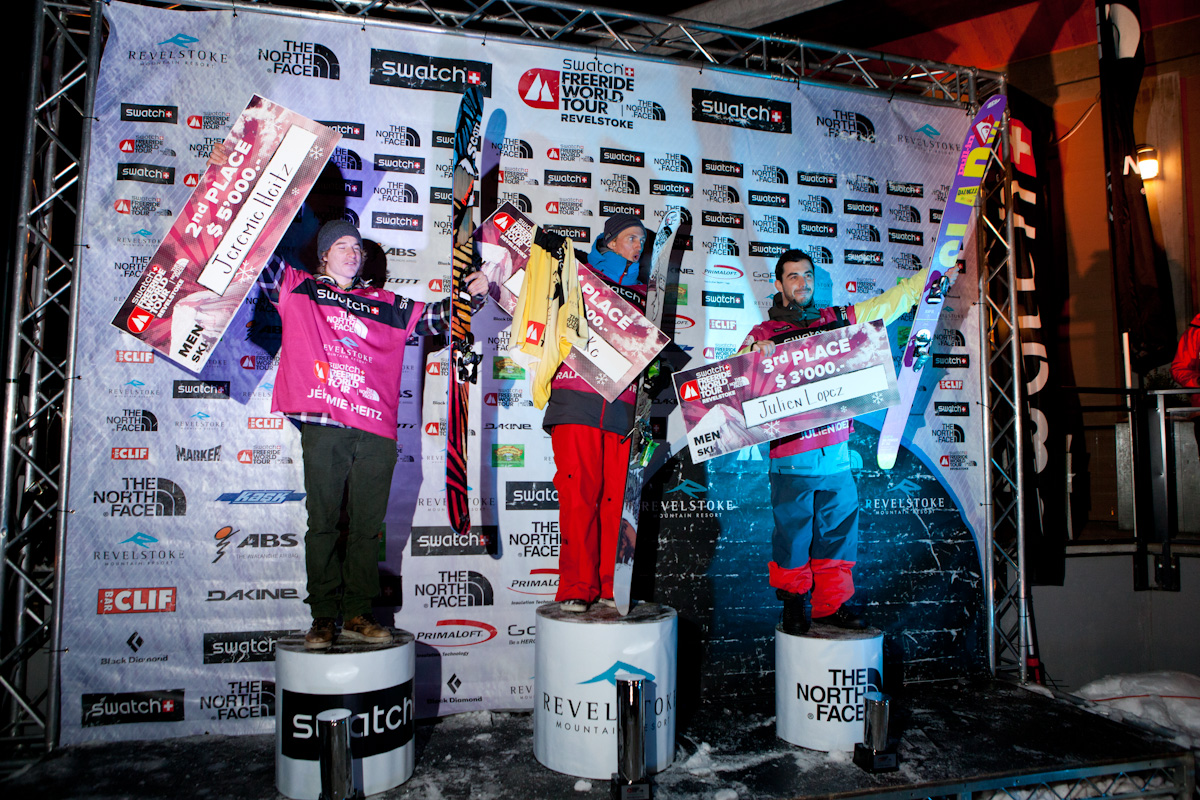 Men's ski podium. Photo by R. SIHLIS.

Men's Ski Results


1. Drew Tabke, 91.00

2. Jeremie Heitz, 79.67

3. Julien Lopez, 73.00
4. Laurent Gauthier, 72.00

5. Charlie Lyons, 70.33

6. Griffin Post, 68.33

7. Sam Smoothy, 66.33

8. Nicolas Salencon, 62.33

9. Markus Eder, 59.00

10. Wille Lindberg, 56.33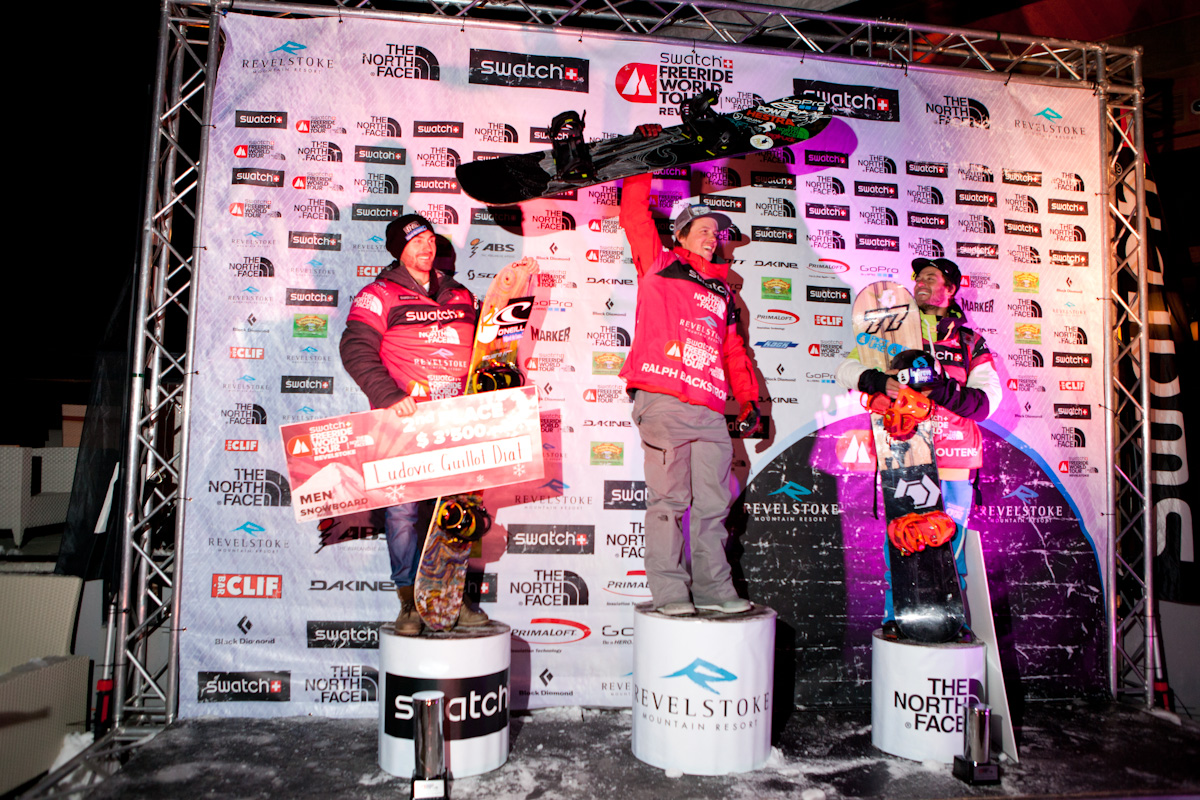 Men's snowboard podium. Photo by R. SIHLIS.

Men's Snowboard Results


1. Ralph Backstrom, 89.33

2. Ludovic Guillot-Diat, 79.33

3. Aurelien Routens, 74.33

4. Tim Carlson, 70.33

5. Emilien Badoux, 63.67

6. Matt Annetts, 59.00

7. Joel Rouge, 54.67

8. John Rodosky, 53.67

9. Irian Van Helfteren, 44.67

10. Sammy Luebke, 41.67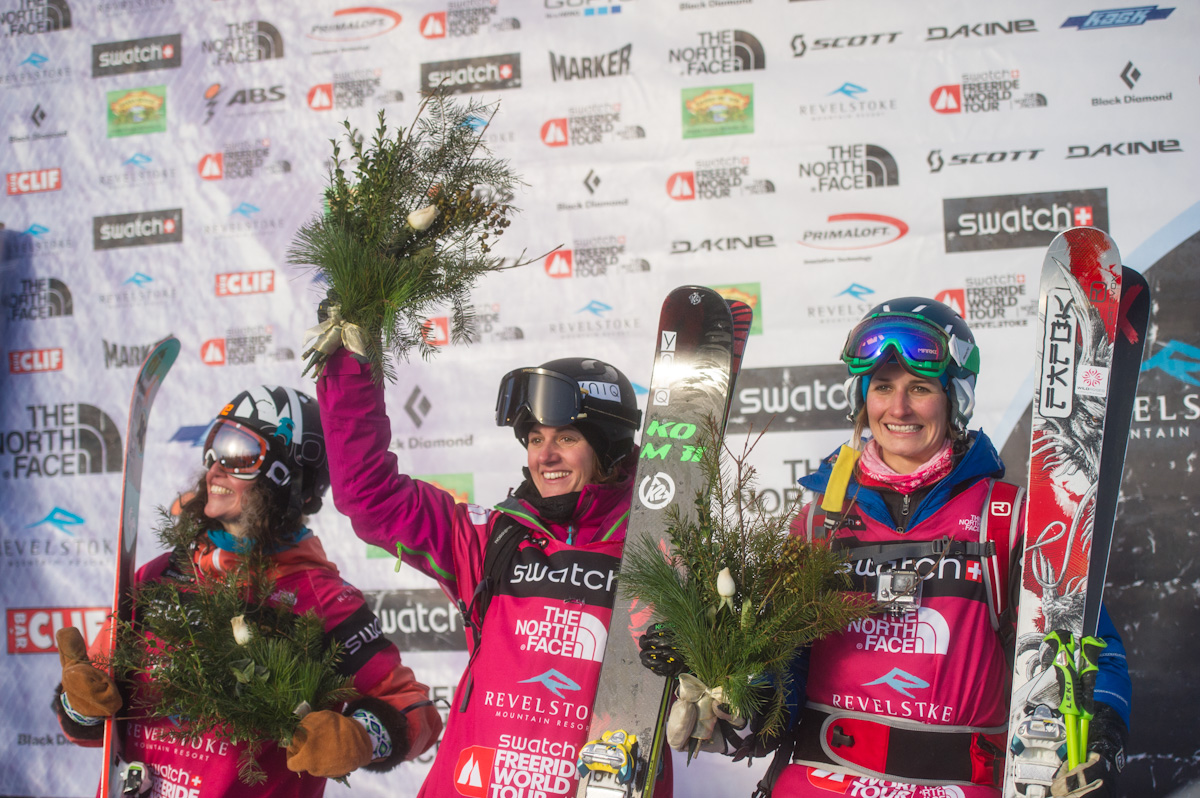 Women's ski podium. Photo by B. Long.

Women's Ski Results


1. Christine Hargin, 65.00

2. Nadine Wallner, 58.00

3. Natalie Segal, 53.33
4. Pia Nic Gundersen, 40.33

5. Ashley Maxfield, 12.00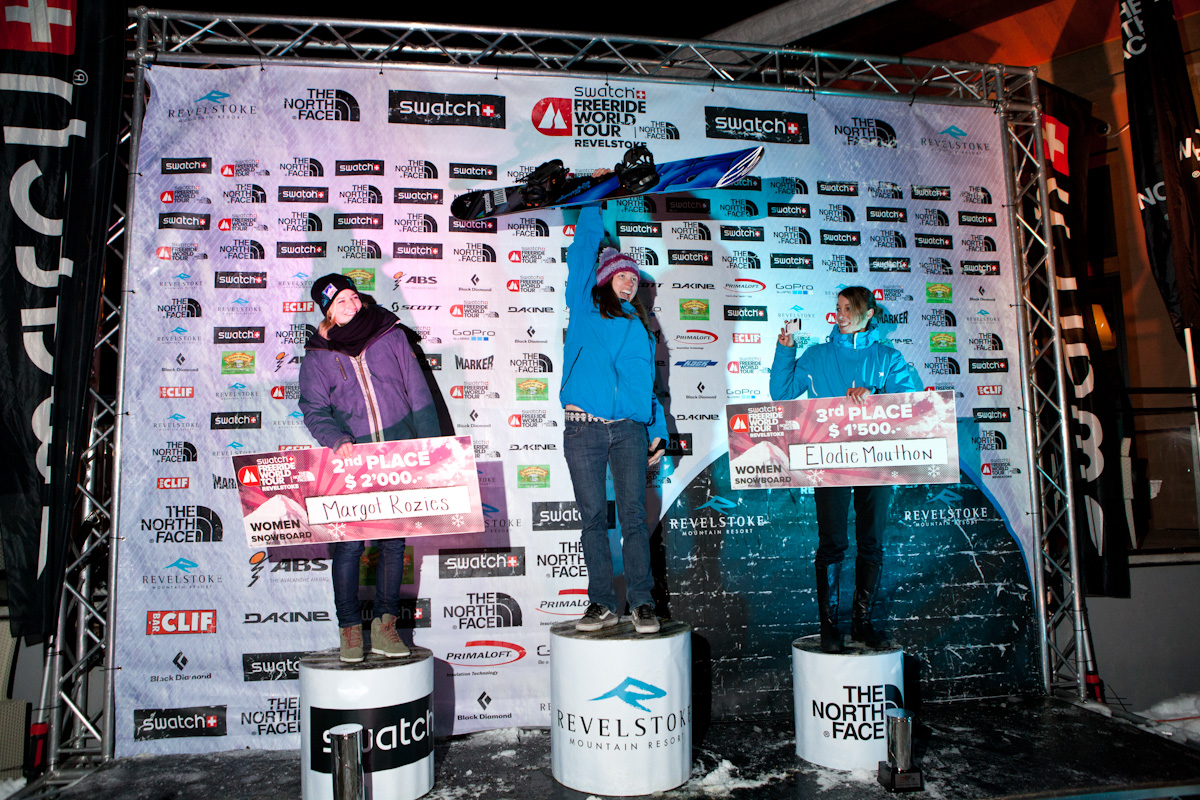 Women's snowboard podium. Photo by R. SIHLIS.

Women's Snowboard Results


1. Shannan Yates, 63.33

2. Margot Rozies, 58.00

3. Elodie Mouthon, 54.67

4. Casey Lucas, 50.33

5. Iris Lazzereschi, 43.00

6. Aline Bock, 40.67

7. Laura Dewey, 35.67

8. Anouck Mouthon, 33.33
READ THE STORY
Arc'teryx photo This morning, Arc'teryx announced a voluntary recall on all its first-generation Procline ski boots. A defect was discovered in some boots where the rear axis pin failed, which could potentially lead to a fall hazard. The backcountry ski boots, introduced two years ago, feature an innovative walk mode mechanism that allows for lateral flex in the ankle area in addition to standard rearward flex, aiding in climbing and skinning on steep slopes. The recall affects all boots
READ THE STORY
This past spring I road tripped out to California to take advantage of their fat snowpack after an above average season for the Eastern Sierras. I started out hitting Mammoth Park and lapping top to bottom runs on the Mammoth Gondola. A few days later Colter showed up with plans to camp and do some Ski-mountaineering in the Palisades near big pine. Camp life. I was loving laid back condo life with the Saga crew but was eager to go camp in the Buttermilks. Everything came together for
READ THE STORY
The 2017 TGR Hall of Fame At the 2017 TGR Family Dinner, co-founders Todd and Steve Jones announced the first round of inductees into the TGR Hall of Fame, bringing back many stoked memories of the incredible work these athletes have done throughout their lives. The inductees and their families were in attendance, receiving a three-night stay at the Teton Mountain Lodge during the world premiere weekend. All three athletes led storied careers, pioneering the world of freeskiing and