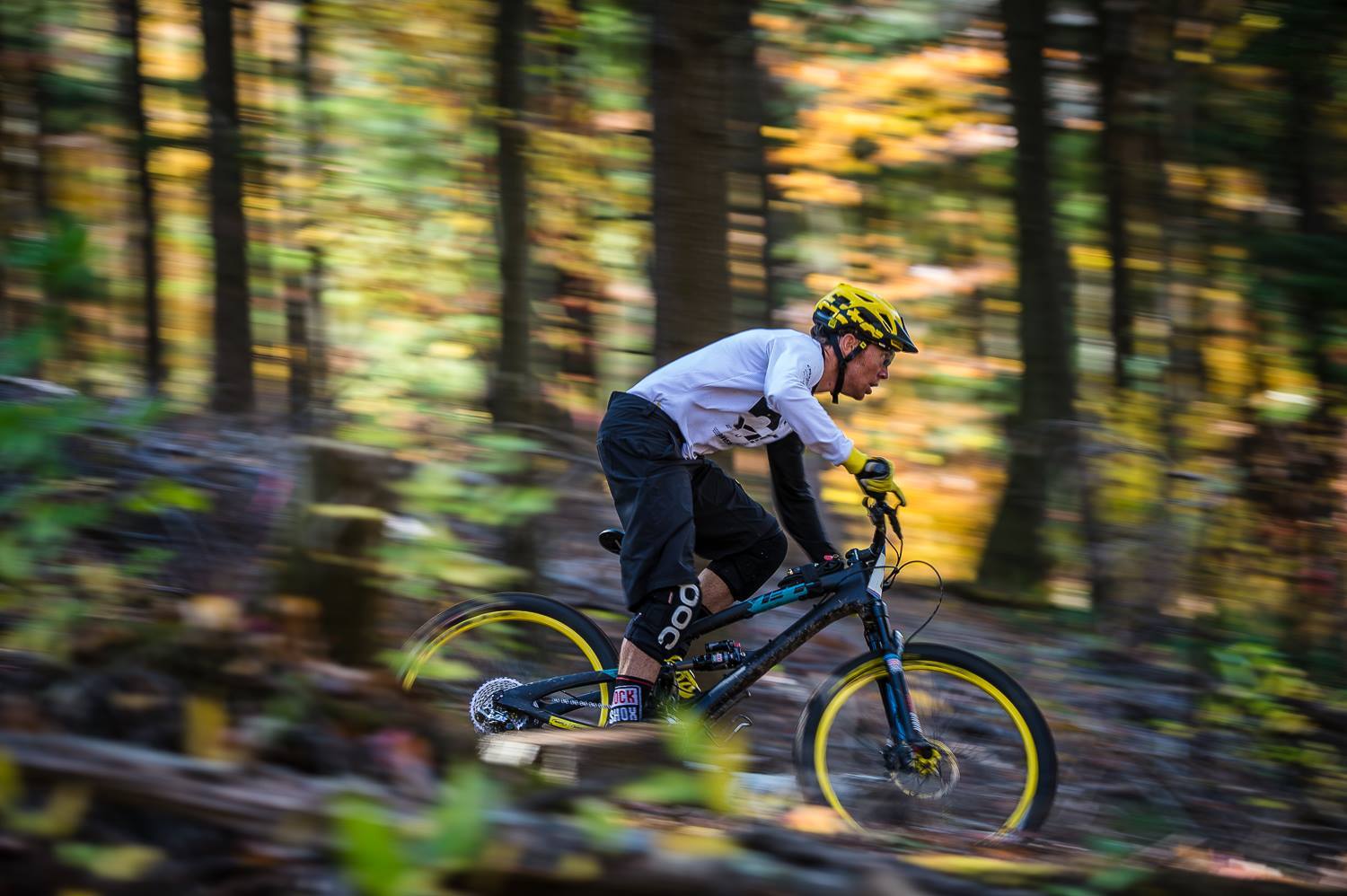 Lessons from a first-rate hack's attempt at biking's hyped new race format. Triple Crown Enduro Series photo.
While enduro racing has coaxed former pro downhillers and cross-country racers back into the race circuit with its novel hybrid format, it's most exciting for the wide swath of amateurs for whom cross-country races involve too many lung-busting climbs and little emphasis on technical riding yet don't have the balls (or as a more willing excuse, the bike) for full-on downhill racing, although courses are supposed to be nearly as technical and demanding. Yes, with its time-limited but untimed climbs and emphasis on the down, and its requirement of staying on the exact same bike-frame, fork, rims and all-from start to finish makes it the calling card for the huge group of riders who spend most of their time on the trails suffering uphill in the granny gear so they can bomb the downhill on the way home, don't like riding with a full face helmet, and usually rip on one bike from spring through fall. You know, "trail riders," otherwise known as mountain bikers.
Counting myself among that lot, I made my way up to Kingdom Trails and the Burke Bike Park in East Burke, Vermont, for the first stop of what is now the Triple Crown Eastern Enduro Series, the most prominent enduro series in the East since the race format migrated from Oregon and Colorado, where the Oregon Enduro Series and the Big Mountain Enduro race series have been making a bigger and bigger splash every summer.
The Oregon Enduro Series was the first serious enduro race to hit the New World a few summers ago.
The majority of the amateurs I met over the course of the day, half of whom seemed to have picked up a Specialized Enduro in the past six months, were doing their first enduro race. I was particularly enticed by Burke Bike Park's reputation for butter-smooth trails, which seemed like a safer place for a race involving lots of pedaling and attempts at going fast downhill, especially since I wouldn't have the chance to pre-ride any of the trails.
As it turns out, Burke would run the first "special" (timed section) down one of its beginner downhill trails, Roly Grail, followed by a hearty 30-minute climb (the first time-limited but untimed section, called a "prime") to the second special, which was a brutally twisty, technical slate of singletrack that barely descended and was instead littered with roots and critical rock gardens, along with a truly obnoxious climb at the beginning. I credit the climb for my piss-poor result (91st out of 110, 21st out of 27 in Amateur Men 19-29) since the sight of a steep climb riddled with rock slabs (in what I was anticipating would be a downhill) deflated my spirit so much I practically inched up it in my granny gear. Which led to lesson number one....
Lesson #1: You Have To Pedal Way More Than You Think You Should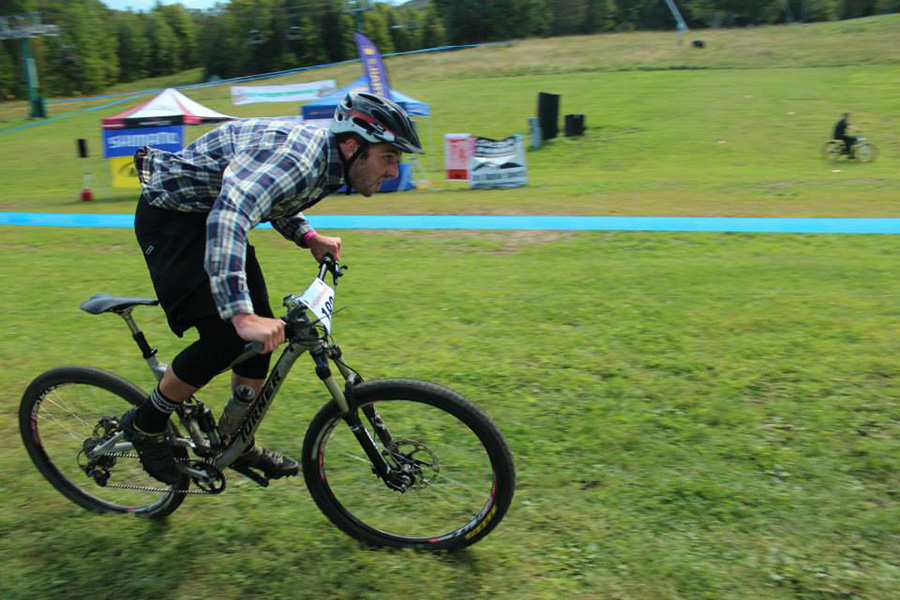 This guy gives you a pretty good idea of what kind of reality you need to train for in enduro: eyes on the finish line, exhausted, sprint-pedaling non-stop. Also, wearing baggy shorts and flannels instead of skin-tight spandex, which are for roadie nerds. Burke Bike Park photo.
The flow-less nine minutes of switchbacks and roots that followed further sapped my enthusiasm, and it was easy to see that the race was won or lost on this track, which was a pure pain in the ass, and thus harder to push through. The reality of enduro is that while the attraction is for the chance to race on manageable downhills, the reality is that to win, you have to have the stamina and mental game to charge through at least one brutal pedal-heavy section, pushing your VO2 max the whole time and gasping for air at every pedal stroke.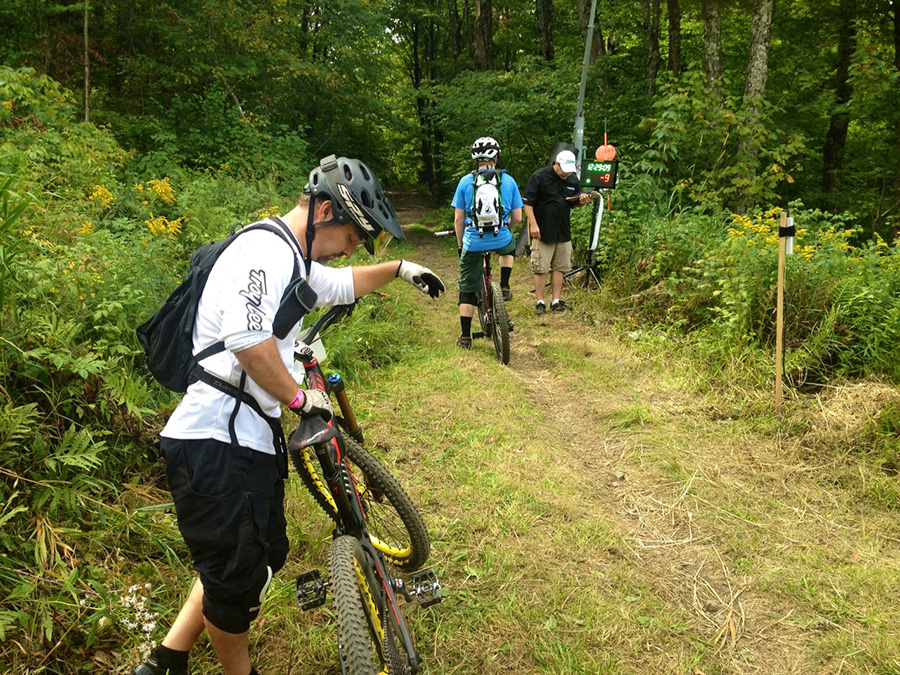 Plan your energy use wisely, as the fast, technical final stage didn't require a ton of pedaling, and that energy could have been thrown at the second, flatter stage. Ryan Dunfee photo.
By this point, it had hit me how poorly casual trail riding had prepared me for the enduro format. Many of the pro ranks split their training time between road rides and pure downhill, since enduro requires a simply obnoxious amount of full-bore pedaling. While hammering on the flats and the smoother sections of downhill was manageable, standing out of the saddle and slamming the pedals on short uphills was something I typically loathe and avoid at all costs, so it was a rude awakening to realize how critical it was to cutting seconds off your final time.
For your run-of-the-mill trail riders, stamina in particular is where you'll need to improve the most to stand a chance, along with the mental focus to keep your eyes glued far out down the trail instead of looking at your feet. Also based on experience, not hitting trees helps, as the time soaked up while you lay in the trail contemplating even getting back on your bike will shoot you even farther back into the results list.
Lesson #2: Get A Few Pieces Of Gear Right
The Overmountain Enduro at the infamous Highland Bike Park in New Hampshire is the first stop in this year's Triple Crown.
On this course at least, I was relieved to find that my 130 mm-travel trail bike had enough suspension and was sturdy enough, although most people will have a better time with a rig that has between 4-6" of travel and some relatively slack angles. Fortunately this bike category, usually considered All Mountain or straight-up Enduro, is the fastest-growing bike category and there are now lots of options, especially if you want to spend lots of money and be on the trendy new 27.5" wheel size. But even though you can get away racing enduro on a pretty broad selections of bikes, a few pieces of gear are critical in turning your trail rig into an enduro-ready ripper:
Tires in the 2.3" range will give you more confidence to stay off the brakes in corners while still allowing for manageable climbs. I rode front and back Kenda Nevagals, which I have mostly because they're cheap, but they work great as a front tire with tons of traction. In the rear you'll want something that'll roll faster than a full-on DH tire; after all, there's so much damn pedaling! Running tires in the 800-1000 gram range is a good way to ensure you're not suffering flats due to lightweight cross-country casing and not "humping around a backpack full of bricks" on DH tires, in the words of local enduro racer Jeff Brines.
A chain tensioner or chain guide, or a clutch rear derailleur is a good addition for eliminating the chance of dropped chains and making sure you can immediately slam the pedals with confidence in the short intervals that only allow for three or four pedal strokes.
A 34-36 tooth chainring is the best range if you're running a 1X setup, with a 32 tooth chainring the floor as far as sizing goes. You want something that will be comfortable all day without spinning out on the faster sections.
A dropper post, although the priciest upgrade, will make a huge difference in an enduro race. With the back-to-back mix of climbs, flats, jumps and downhills, being able to save energy by pedaling in the saddle and then dropping the post for the other side of the hill is a huge advantage, and having that thing all the way down makes a serious difference when it comes to laying the bike over in corners or sucking up bumps. Riding without one meant playing a seat height guessing game before each stage, trying to balance the need for a solid pedaling position with that of a catch-free downhill platform. KS and RockShox are making the best offering right now, and 120-150 mm of travel is ideal.
Goggles or sturdy glasses aren't a bad idea either, as keeping your speed up will require distraction-free focus far down the trail, especially if you're riding sections blind for the first time as many races force you to do (or you can't get out of work early enough to do the Friday pre-ride).
Kneepads will come into play as a highly-recommended safety upgrade, and full face helmets seem excessive on all but the gnarliest tracks.
A hydration pack with room for tools and extra tubes, layers, energy bars, etc. will be critical, as the multi-stage format means you've have multiple chances to layer up or down over the course of the day, and the varying stages mean you'll be starting from a couple different places over the course of the day and will want to have all the necessities on hand.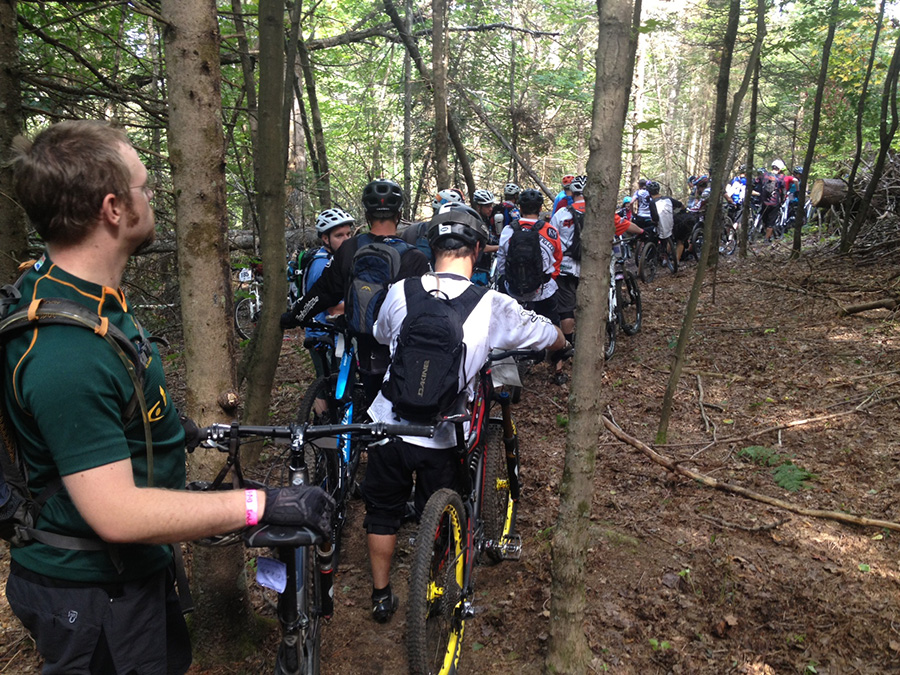 Inevitably, there will be some choke point with a lot of waiting. Find ways to stay loose and keep the lactic acid from building up in your legs. We had to wait over an hour between the second downhill stage and the final transfer climb. Ryan Dunfee photo.
As long as the courses don't start trending closer and closer to regular downhill runs (which at the pro level they already do), the exploding enduro race scene should offer a fun race outlet for trail riders who would otherwise never bother doing anything timed. The training and racing will make you a fitter, better rider, especially if you have to race without having ridden the course before. The multi-stage format means you get much more bang for your buck (and more chances for redemption) than a one-and-done cross country or downhill race, and if it's at a bike park, you get to spend the rest of the day lapping the lift. If this entices you to give one a go before the snow falls, you should probably spend a few miserable days riding your regular trails with the seat all the way down so you're forced to stand for every bit of it. I'm only sort of joking.
Ready to race? Here's a few of the enduro races going down in the US of A this summer and fall:
West Coast: California Enduro Series; Oregon Enduro Series
Mountain West: Scott Enduro Cup; Big Mountain Enduro Series
Mid West: Copper Harbor Trails Festival Enduro; Marquette Trails Festival Enduro
East Coast: West Virginia Enduro Series; Eastern States Cup Enduro; Triple Crown Enduro
READ THE STORY
Let's be real, 2020 has been a doozy. However, thankfully there's been no shortage of awesome-ness from you all - so we've put together a little round-up of our most liked Instagram posts this year. Check out the photos you liked the most from 2020 below! 1. This year, you guys loved the finer things in life: Like art: View this post on Instagram A post shared by Teton Gravity Research (@tetongravity) 2. Huuuuge road gaps: View this post on
READ THE STORY
Max Fierek tested positive for Lyme disease when he was nine years old, since then he has fought fatigue, lung capacity, muscle fatigue, short term memory loss and mood swings. For Max, living with Lyme disease for half his life has taught him empathy for others and to cherish his time outside in nature which helps him stay positive and fight for his love of mountain biking. Lyme disease is a tick-borne illness caused by the bacterium Borrelia Burgdorferi. If Lyme disease isn't treated
READ THE STORY
This year, director and excellent human Jeremy Grant worked with TGR to bring you The film chronicles how some of your favorite riders made their way onto a bike. Old film flashbacks show athletes like Hannah Bergemann and the McCaul brothers in their early days figuring out what was possible on two wheels. A story of connection, innovation, freedom, and at some points loss, has viewers on the edge of their seats, hugging their own trail dogs, and even in tears. Follow these athletes from