By Tess Weaver
Wander around the base area of any major ski area in the early morning hours and you'll notice a new breed of skiers. Dressed like winter runners and equipped with feather-light equipment, these skiers ascend the mountain for exercise. Many are in it for the fitness, but a growing number are participating in the competitive version of skiing uphill—ski mountaineering racing.
While the sport has developed in the last decade here in the U.S., it's nothing new in Europe, where ski mountaineering races are as prevalent as 5K running races in the States. Credit military teams based in the Alps, who in the early 1900's began competing in point-to-point ski races as training. Ski mountaineering combined with shooting was included in the first Winter Olympic Games in 1924 in Chamonix, France. After three more Olympics as a demonstration event, the sport evolved to become the modern day winter biathlon, but ski mountaineering races continued in the Alps.
Local races in the United States are multiplying. When Breckenridge local Pete Swenson, the director of the United States Ski Mountaineering Association (USSMA), launched the Colorado Ski Mountaineering Cup in 2006, it included five races and drew around 40 racers per event. Last year, it featured 16 races that drew close to 100 competitors each. The USSMA will offer 20 races this upcoming season.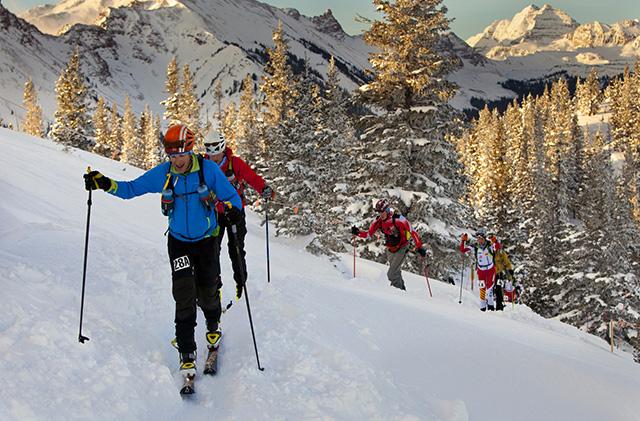 Swenson, who is credited with establishing the sport of competitive ski mountaineering in the United States, says it's easy to see why skinning up resorts is such a rising trend: 1. It's an incredibly efficient and affordable workout with a fun ride down. 2. While proficient Nordic skiing takes years of practice, you don't need to be a good skier to master the art of skinning. 3. Participants don't have to worry about avalanches or navigating backcountry terrain.
Uphill skiing is so popular at Crested Butte Mountain Resort in Colorado (where an average of 120 people per day skin up the mountain during non-operational hours) that the resort announced a new uphill policy on February 13th, 2013. All uphill users must purchase an Uphill Use Pass ($10 for the day; $100 for the season) and are required to watch an educational safety video. One route is open to uphill skiers any time of day, while others are closed during operational hours. Dogs are even allowed via designated dog routes. The resort partnered with manufacturers Scarpa and SkiTrab to open a demo center that rents uphill specific skis, bindings and boots and offers uphill ski lessons to teach proper skinning technique.
"It's the evolution of the sport," says Erica Reiter, Public Relations and Communications Manager for Crested Butte Mountain Resort and an avid backcountry skier. "We see it as an amenity to our guests, the community and the industry and we wanted to be proactive."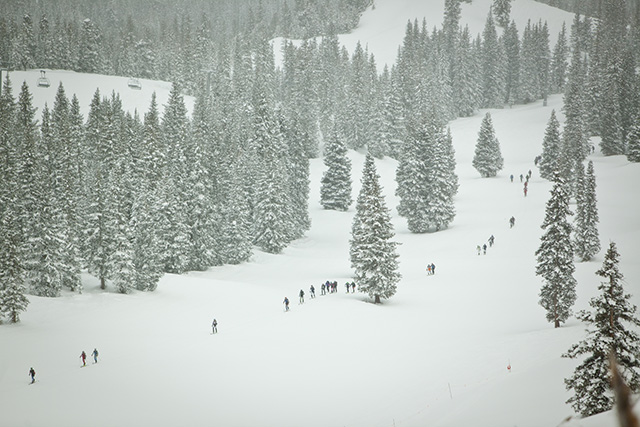 Swenson says the more resorts charging for uphill use the better. "It validates the activity and means the resort is putting in resources to enhance the uphill experience," he says. "We'll see resorts putting in more and more interesting uphill tracks and people will favor ski areas that have good uphill access during the day."
It's one of the only winter sports categories that has enjoyed increased sales year after year. Last season, at specialty shops, alpine touring sales were up 49 percent, while sales of alpine ski equipment increased just 3 percent. Both Dynafit and Scarpa, the sport's leading manufacturers of lightweight ski touring gear, have doubled their sales of boots, tech bindings and skis annually in the last few years. And in the race specific category, Dynafit has seen 60-75 percent growth of its lightest skis. Last season, race specific boots were up 50-70 percent from the previous year.
In Europe, a continent with a huge population living close to the mountains, the racing segment of the sport has been popular for decades. The International Ski Mountaineering Federation (ISMF) World Cup travels through Switzerland, Italy, Norway and Andorra and the ISMF World Championship is held at rotating locations in Europe every two years.
Last season, 26-year-old John Gaston of Aspen, CO won the U.S. Ski Mountaineering National Championship at Jackson Hole, the Grand Targhee Classic at Grand Targhee Resort and the Heathen Challenge at Sunlight Ski Area to qualify for the ISMF World Championship in Pelvoux, France. He placed 31st in the individual race, the top American male finisher, and, along with his partner Max Taam, placed 10th in the team race, the best the American men have placed since 2002.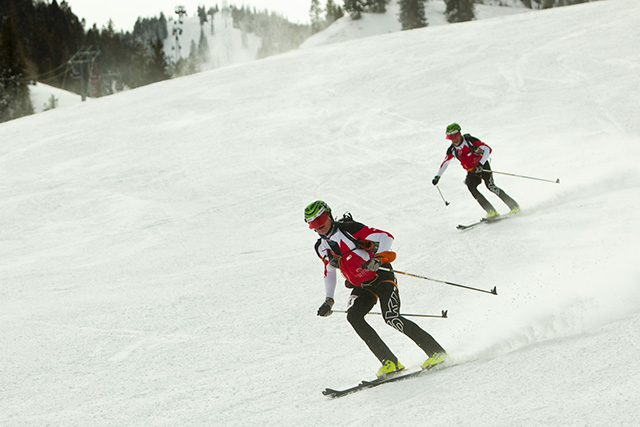 Gaston says that while many domestic races route competitors up and down groomed slopes, the European race courses involve hiking up steep chutes with crampons, running down ridge tops, skiing off big peaks and sprinting through crowded town squares.
"The Europeans embrace the sport so much more," says Gaston, 26, owner of Strafe Outerwear, a ski apparel company. "It's not some really small niche sport over there. Skiing is such a fundamental part of the culture; they don't take a second glance at people in randonee race gear. Here in America, they look at you like you're an alien."
Even at a local level, small competitions throughout Europe attract an average of 400 athletes, with many attracting more than 1,000 and triple that number of spectators. Some European races have existed for more than 30 years. But the ISMF is working to increase the sport's international appeal. The ISMF Series has evolved to include non-World Cup races in the calendar. Last winter, the ISMF hosted races in Greece, Turkey, Russia, Korea and Japan.
"There is a lot of development in the Asia Pacific region," says Rebecca Vernon, vice president of the ISMF, which is based in Switzerland. "I'm hoping next year there will actually be an ISMF Asia Pacific Series Cup."
For the first time, there are two ISMF Series races in Crested Butte, Colorado (the Irwin LaSportiva ISMF Race on December 7th and the US National Championships March 14-16th) in addition to the ISMF North American Championships at Brighton Ski Resort March 7-9th.
Rumors are circulating about the sport's Olympic inclusion in 2022. After the ISMF submitted a request to be recognized as an Olympic Federation last March, the IOC requested further documentation. The ISMF is now waiting on a final decision from the IOC, due between December 2013 and February 2014. If recognized, the IOC will be conducting a period of observation for several years before announcing whether ski mountaineering racing will join the Olympic program for 2022. This provides many with reasons to be optimistic. Vernon offers, "It's a fully matured, international competitive sport that warrants a place in the Olympics."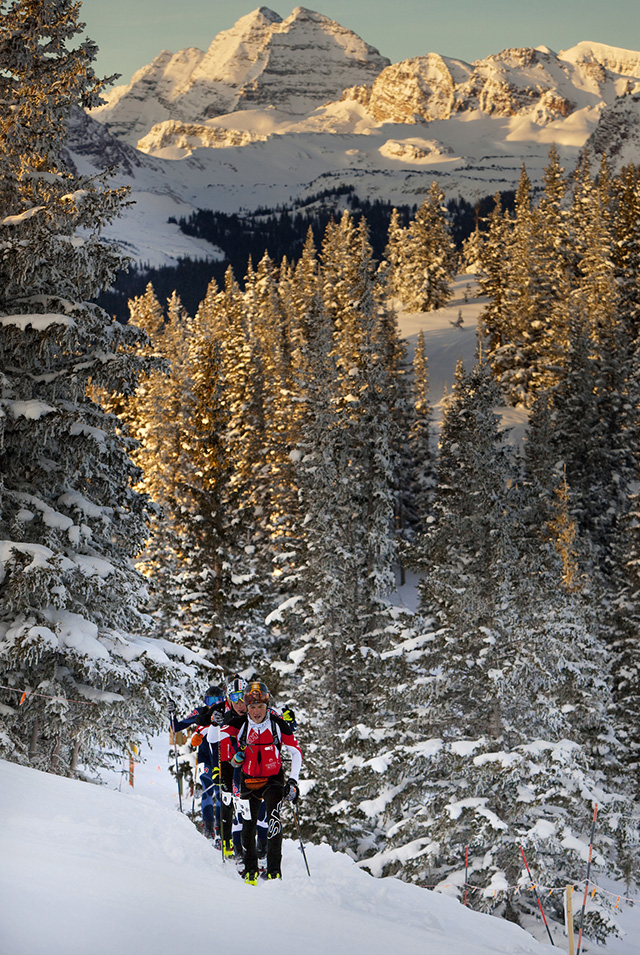 READ THE STORY
It's been a bit since we've seen anyone channel their inner Erik Roner and point it straight off one of the biggest and proudest cliffs in Jackson – the massive air looker's left of Cody Peak's Central Couloir. With all-time snow coverage and a healthy dose of blue sky, @tmeador_ski hucked it off Cody this weekend, pulling his chute above a small crowd of gaping onlookers. RELATED: Julian Carr Explains his Cliff Hucking Process That wasn't the only hairball
READ THE STORY
Big Bear Mountain Resort Morning Arrive at Los Angeles International Airport and head straight for San Bernardino National Forest, home of Big Bear Mountain Resort. Consisting of twin properties—Bear Mountain and Snow Summit—Big Bear is the place where Southern California goes to ski and ride. Head to the top of Bear Peak and start your day on Geronimo, the highest lift served run in Southern California at 8,805 feet. To really get your legs burning, test your skills at the canyons:
READ THE STORY
While great snow can happen anywhere, some destinations and regions are powder town legends, due to their higher elevations, vast snowpack, lake-effect snowfall, or other location-based conditions. Whichever your regional snow preference, the multi-mountain Ikon Pass has you covered with access to the planet's best destinations—giving you the flexibility to chase the best powder and make the most of your winter adventures. RELATED: Hitting Winter Park's Bike Jumps on SkisCMH Get