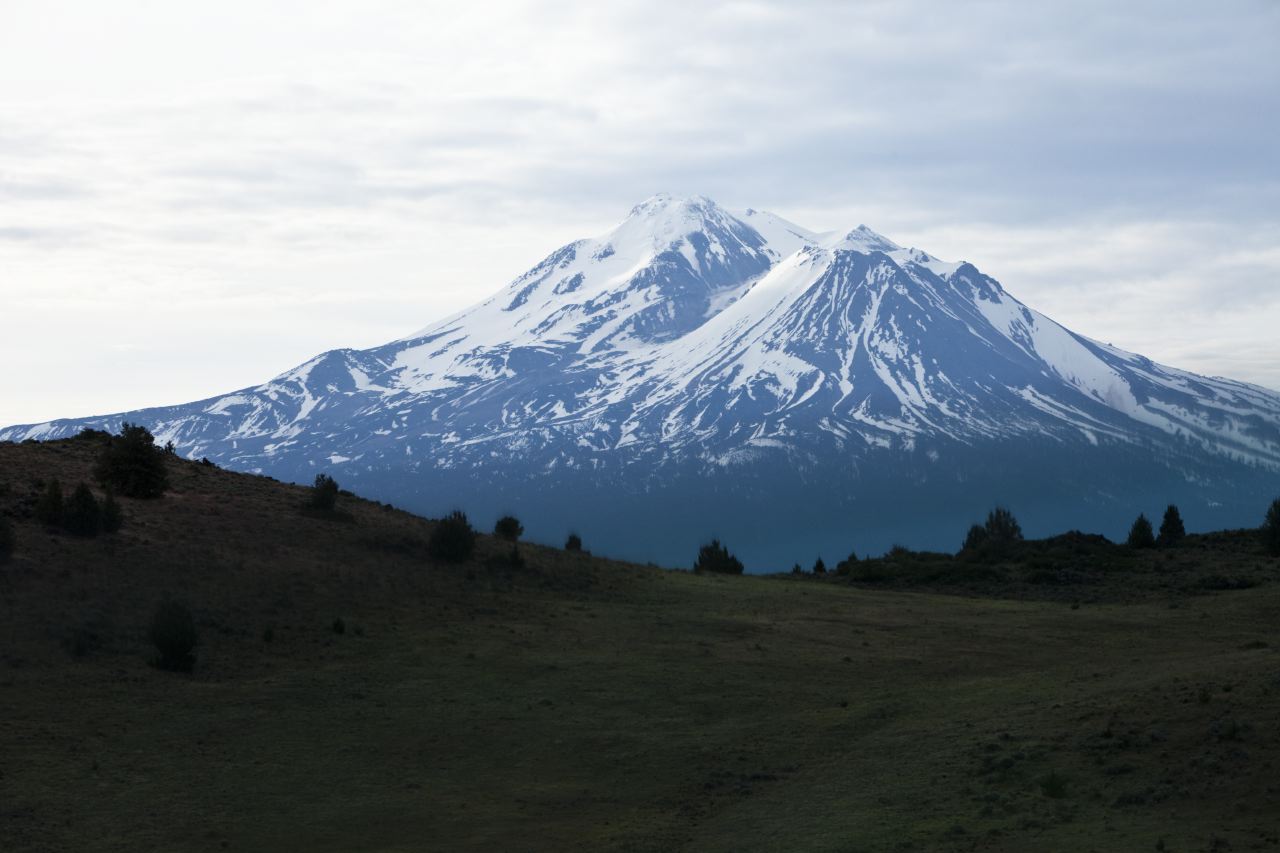 - Words by Lynsey Dyer
- Photos by Patrick Orton
It happens once every 26,000 years, an eclipse with significant astrological and spiritual relevance said to be directly viewed from Mount Shasta in prime corn snow season. My inner hippie and outward ski addict perked up in unison and a last minute plan was hashed to join a group of friends to summit and ski the classic 14,179-foot mountain beneath this highly anticipated event.

An unlikely group of friends of friends from all over the country gathered in Shasta the evening before our alpine start. We were a loose group tied together by SheJumps.org. Over the mystical weekend Domi Fellers, Megan Kelly, Ashley Magnison, and Lizet Christiansen along with Greg Marchon, Worth Ellison, Emily Polar, and Sierra Quitquit all skied around the mountain together soaking up the supernatural energy.

We came for the skiing, but stayed for the scene. Over 20,000 people showed up in the small California town for everything from astrological retreats to Mayan scull ceremonies, all surrounding the eclipse. All hotels were full and every restaurant was sold out of food by weekend's end, so it was a good thing we commandeered a friend of a friend's place and had stocked up on coolers full of Trader Joes. Sleeping bags and touring gear lined every floor space for our short night sleep before cramming 12 people into four cars to make the ascent up to the trailhead.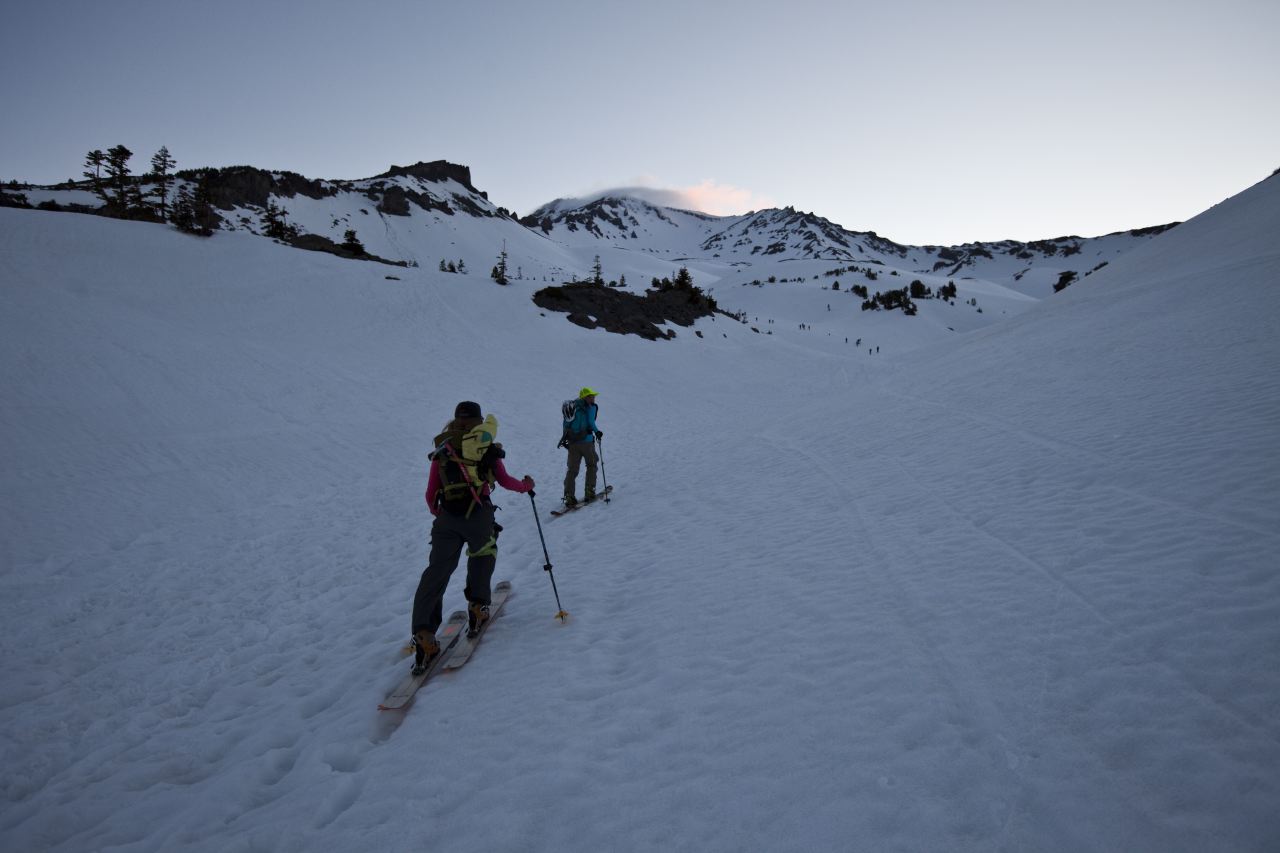 As we toured up into the dark, our guide friends Dave Marchi and Jeff Hoke pointed us in the right direction among the highway of what looked like a thousand others making the seven hour pilgrimage up the mountain on this beautiful weekend in May. Fourteen thousand one hundred eighty feet and a small summit dance party later, we made a great corn snow decent through the famed Trinity Chutes and celebrated with beers at the bottom.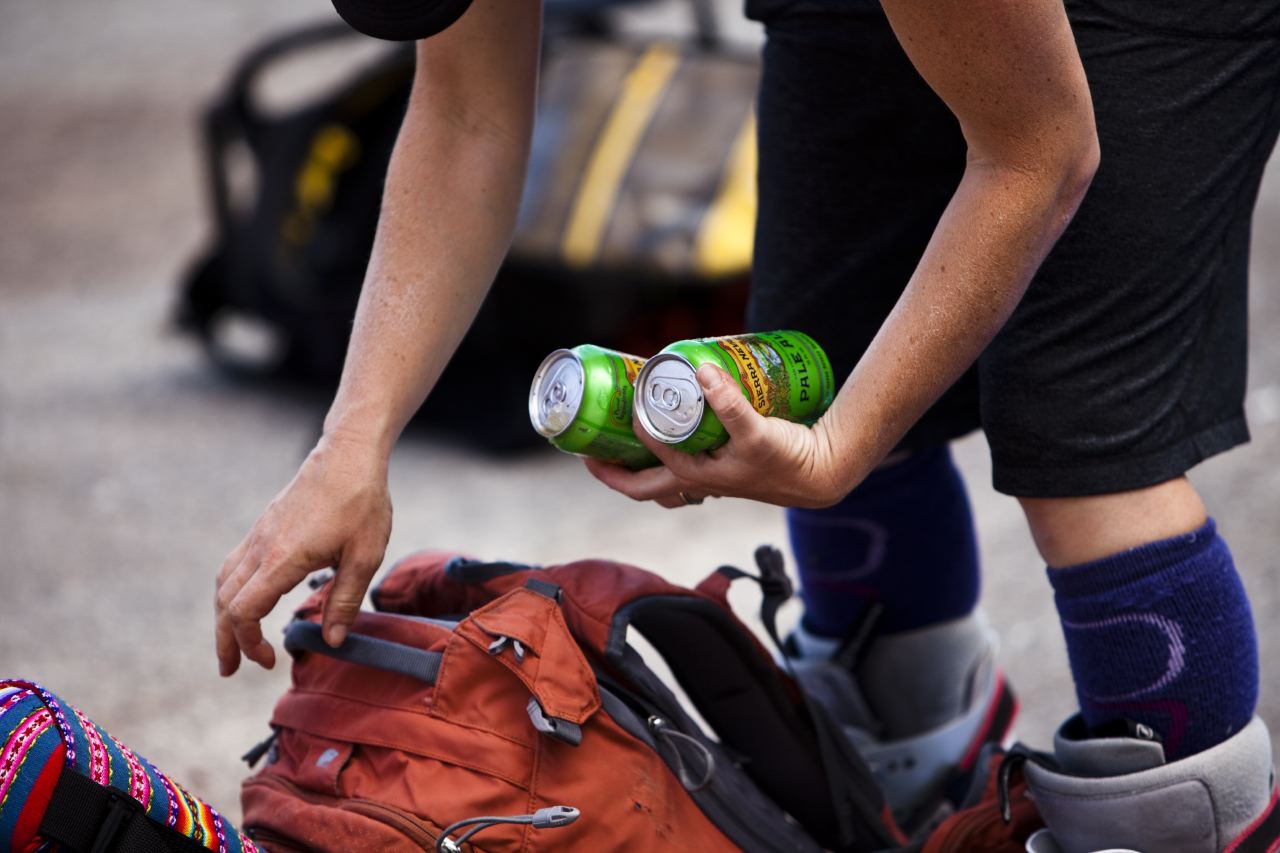 The next day we scoured the town for information or experiences that could explain what all the hippie hype was about. It wasn't hard. Flyers for every kind of ceremony from energy workshops to sacred crystal scull explanations were posted on every store window. A kind-hearted pot-bellied mullet-wearing sitar player offered us a back door "in" on a channeling of the star elders later that day and we took it, along with some bad directions to where the Rainbow people go to meditate on rocks in the river (we never found them).



We did find a great bridge to jump off, however, and after our first backflips of the summer season, we sat and listened to the strangest talk I've heard in all my years of soul searching. Cowering in my seat, I felt like I had talked my friends into coming to some cult gathering and thought for sure I'd be hearing about it later, but they were polite and sat through it with only a few eye rolls. AlunaJoy, the woman channeling the star elders talked of how Shasta held above it a crystal city and that the eclipse would allow a gateway between dimensions for our star families to once again become united with us on Earth in the form of ancient truths to be reintroduced into modern day knowledge. She said that our entire Earth system was being "rebooted," that our DNA was shifting and we would now begin living from our hearts instead of our heads.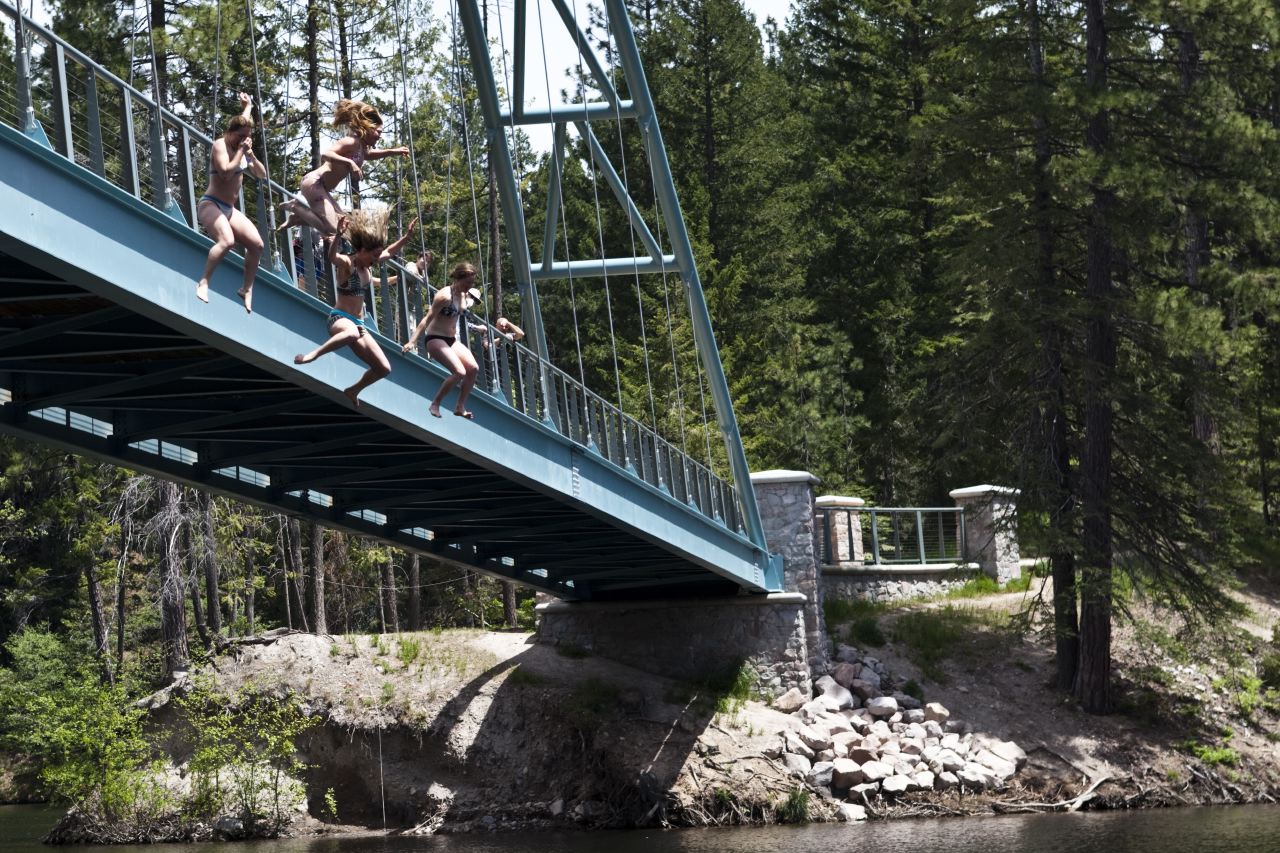 Though the presentation was super kooky, there was a lot about it that also felt like truth but as we walked out into the sunshine we found the rest of the participants oogling, even crying at the site of Mount Shasta with an auspicious ring of clouds above it. We decided it was time to leave.

We busted out of town and back up into the high alpine where things made more sense. Back to the trailhead and back into our touring gear to witness the eclipse from as high up the mountain as possible before the show was scheduled to begin at 6:30 p.m. that night.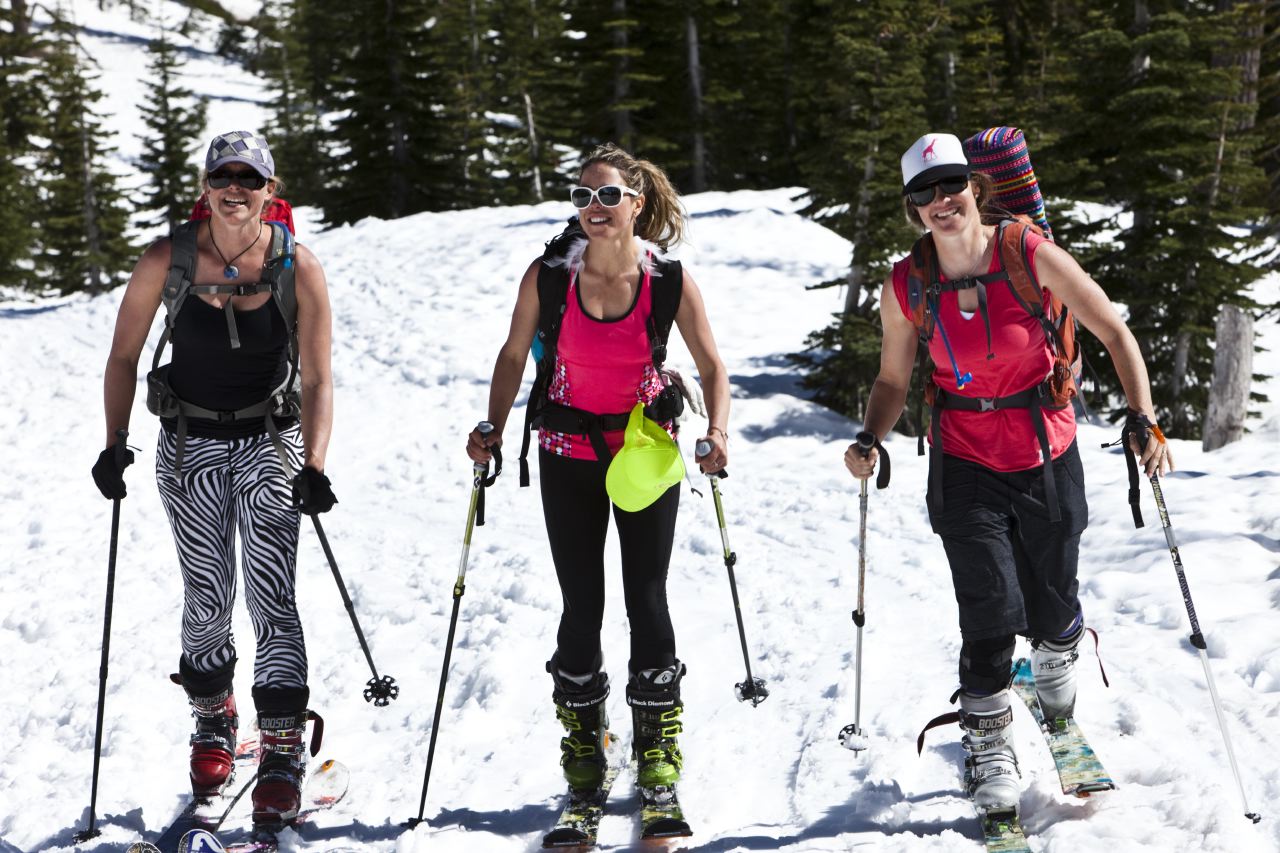 And a great show it was as we took to the mountain alongside all kinds of different groups from Jeremy Jones' Further film posse to Peruvian medicine people to doily clad UFO hunters and singing hippies. Cheers erupted from all aspects of the mountain as the sun went black and the sky went dim. Drums and laughter, digery–dos and chanting was followed by an eerie silence that lasted several minutes as the sky stayed dark and light at the same time. My senses were confused and a bit of confusion set in while we snapped ski pics, attempting to "get the shot" but otherwise not quite knowing just what to do. Should we meditate? Celebrate? Listen for our star ancestors?

We did all the above finishing out the evening mountainside appreciating new friendships and a great adventure. Though none of us consciously felt a "reboot" or met any star people per say, we all went home happy with a great, extended goggle tan to extrapolate our own meaning of the weekend.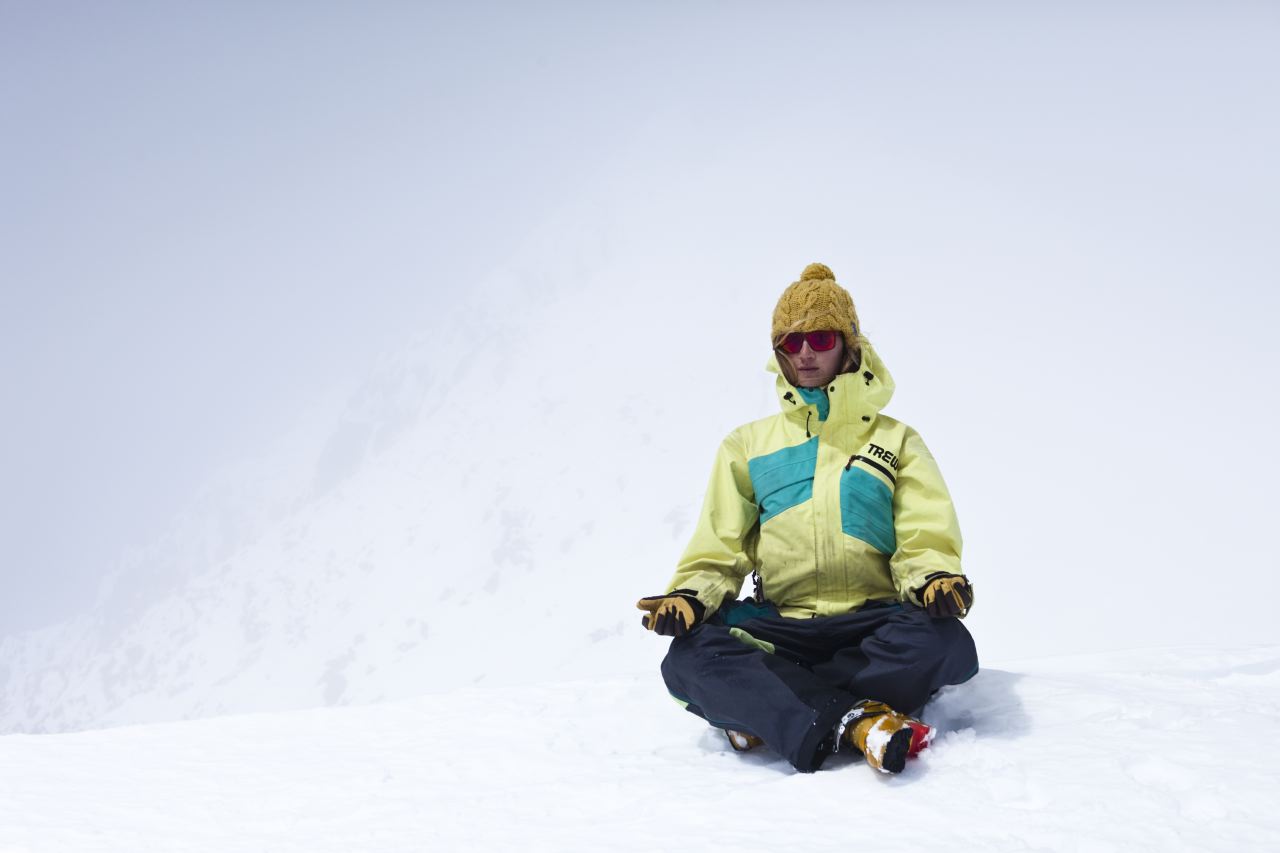 Perhaps to us mountain people, this cosmic moment in time is a small nod to validate our continuation down the road less traveled. It provides a small sense of relief for those of us struggling, against the grain, to make a life in some of the harshest environments in the world both economically and geographically. We instinctively have a close connection to our environment as well as a drive to push limitations. We as a tribe are always looking to challenge obstacles that the masses have accepted as impossible. Be it on our skis or in society, we're changing beliefs even those laid out by gravity. We do it by landing big airs, stomping new tricks and surviving insane crashes or avalanches with humility. At one time or another, we've all tapped into a certain power that has allowed us moments in the mountains where we accomplished or survived experiences we technically shouldn't have. And for that we are at the forefront of our species recognizing its fullest potential. When the outside world says no, we say, "hold my beer, watch this." If that doesn't sound like "God Consciousness" then I don't know what is.
READ THE STORY
Atomic's Bent 110 will have you seeking out every pow stash you can find. | Andrey Shprengel photo. Atomic's Bent Chetler has got to be one of the most recognizable powder skis around. It's dual-rocker design, colorful graphics, and freestyle-inspired shape have put smiles on the faces of skiers for the last 14 years. Designed and developed with legendary freeskier and artist Chris Benchetler, and skied by all manner of Atomic athletes like Amie Engerbretson, Nick McNutt, and Kai
READ THE STORY
"Concerningly stairlike" sastrugi makes for great climbing. The skiing? That's for you to decide. | Max Ritter photo. "I think this bootpack might be the best part of our whole day," I half-joked to my ski partner Max, who was working hard not to roll his eyes as we booted up a narrow couloir in the Tetons that from afar we had deemed "chalky." Wind howled up the leg vents in my ski pants as I kicked steps up concerningly stairlike sastrugi, which was proving to be an excellent surface
READ THE STORY
Avalanche airbags might be one of the most divisive pieces of snow safety technology we have today. Folks tend to either swear by them, considering them a piece of equipment as essential as an avalanche beacon, or swear they'll never wear one because "the bags are too heavy" or they'll "lead to a false sense of security and thus bad decision making." Whatever your thoughts may be, there's really no doubt to the notion that they work well to save lives. While an airbag won't prevent you from