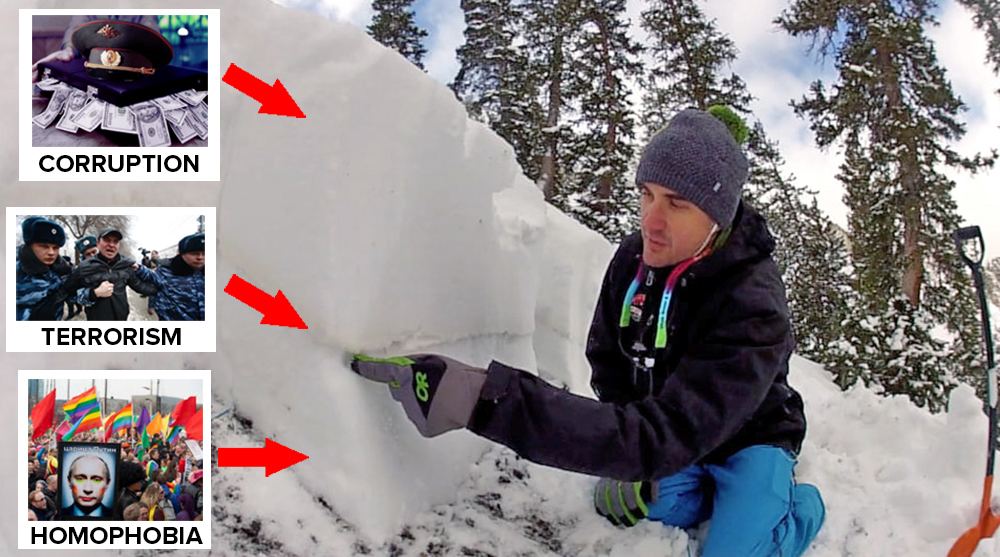 Sochi Area Avalanche Advisory for Monday, February 10th 7:04 AM Sochi local time
Today's Avalanche Problem:
PERSISTENT CORRUPTION
Aspect/Elevation: All aspects and elevations, with heightened danger at the ski jumping venue and hockey rink
Likelihood: Certain
Size: Historic
Trend:Steady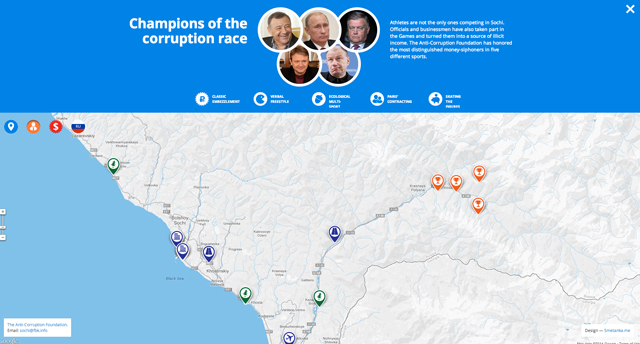 Description: Persistent corruption, a result of ongoing cronyism and autocracy overlying a thin early-season weak layer of democracy and free speech, is currently affecting all aspects and elevations of the Sochi Olympic venues.
The budget for Sochi picked up currency content and ballooned after an early high-pressure system, with KGB cronyism fueling a budget growth from $12 billion to over $51 billion. This system originated in the greater Moscow area, sucked up vast amounts of taxpayer money, and redistributed the compounded cash to the pockets of various government officials and construction contractors.
This persistent layer has the potential to render billions of public money wasted while rendering tap water in the Sochi area undrinkable and accommodations unfinished or double-booked. The likelihood of triggering this weak layer is increased by being a nosy journalist, with the potential for victims to be carried away in an avalanche of security forces and ending up six feet under.
Please refer to the map above to understand individual pockets of persistent corruption. An area particularly sensitive to triggers is the road from downtown Sochi to the ski areas, which cost almost as much as the entire Vancouver Olympics.
Today's Secondary Avalanche Problem:
TERRORISM
Aspect/Elevation: Concentrated at the low elevations below the rain line in the metropolitan Sochi area—because who the hell would bother bombing a ski area?
Likelihood: Possible
Size: Large
Trend:Increasing
Description: Terrorism was a pre-season concern for these Olympics, given the persistent terrorist cells who want Putin dead and whose population base sits on the shaded aspects of the Sochi venues. Two human-triggered events earlier this season in Vologograd confirmed the shear strength of the layer, and officials have begun extensive control work—even by Russian standards. 40,000 security officials are performing control work on all aspects and elevations. This represents a far more extensive staff than the measly 13,000 that America sent to guard the Salt Lake Olympics immediately after 9/11. Concerns about this persistent weak layer spiked Friday morning after a Ukrainian plane was hijacked on its way to Turkey and an attempt was made to steer the plane towards Sochi. Turkish F-16s performed control work and brought the plane to the ground.
Today's Tertiary Avalanche Problem:
HOMOPHOBIA
Aspect/Elevations: All aspects and elevations, with a particular hot spot in the figure skating venue
Likelihood: Possible
Size: Large
Trend:Decreasing
Description: Extensive control work on free speech and progressive thought in Russia has led to rampant homophobia in the general snowpack. Victims of this weak layer can expect domestic control work to ignore basic rights for homosexuals and encourage hate crimes. However, control work by the international community has resulted in a decreased likelihood of triggering this weak layer, although persistent homophobia still exists deep in the snowpack.
Broad-based ignorance is also persistent in the International Olympic Committee layer of the snowpack, which has recently banned stickers on Olympic athletes memorializing the impact of legendary pipe skier and half the reason ski pipe is in the Olympics in the first place, Sarah Burke.
Looking for more Sochi Olympic coverage?
-Jamie Anderson wins Women's Snowboard Slopestyle
-Sage Kotsenburg wins Men's Snowboard Slopestyle
-The Shaun White Guide to Milking the Olympic Spotlight
-Why Shaun pulled out of slopestyle
-VICE's behind the scenes documentary-about park skiing's first Olympics.
READ THE STORY
"Concerningly stairlike" sastrugi makes for great climbing. The skiing? That's for you to decide. | Max Ritter photo. "I think this bootpack might be the best part of our whole day," I half-joked to my ski partner Max, who was working hard not to roll his eyes as we booted up a narrow couloir in the Tetons that from afar we had deemed "chalky." Wind howled up the leg vents in my ski pants as I kicked steps up concerningly stairlike sastrugi, which was proving to be an excellent surface
READ THE STORY
Expand your quiver, expand your mind. No really, it's true. Snow, much like life, is variable. It's helpful to have a tool for the deep days, the park days, groomer days, and the all around days. If you want a ski that can handle just about anything, has an uncanny ability to be a charger through crud, slice through ice and is a stallion on steep groomers, Atomic's 2023 Maven 93c is what you need. Let's break it down, from tip to tail and everything in between. Ski: Atomic Maven 93c When I
READ THE STORY
Rachel Karker, X Games 2023. Photographer Joshua Duplechian. The energy at the Winter X Games is electric. Year after year, history is made at every event that progresses the sport even further than the pioneers of freeskiing could ever have imagined. The women at the Winter X Games this year pushed the sport into a new era, with tricks like triple cork 14's and double cork 16's. This current wave of progression is one to be proud of, but where would we be if we did not honor the