You've probably seen ski and snowboard films where the athletes get dropped off at the top of a mountain via helicopter and start their descents into a world of white fluffy powder engulfing them. But have you experienced it yourself? Felt your heartbeat race as the heli drops you off in swirling snow and leaves you at the top of a slope in the remote backcountry? It's a dream for many of us to have life changing powder turns but you don't have to be pro to make your dreams come true.

Just outside of Revelstoke, British Columbia, lies the Monashee Mountain range that collects an abundance of deep dry mountain snowfall perfect for any devoted skier or snowboarder. With over 270,000 acres of playground in the BC wilderness, Eagle Pass Heliskiing delivers a choice of runs that include open bowls, perfect trees and plenty of natural features from pillows to cliffs to the easiest rollers.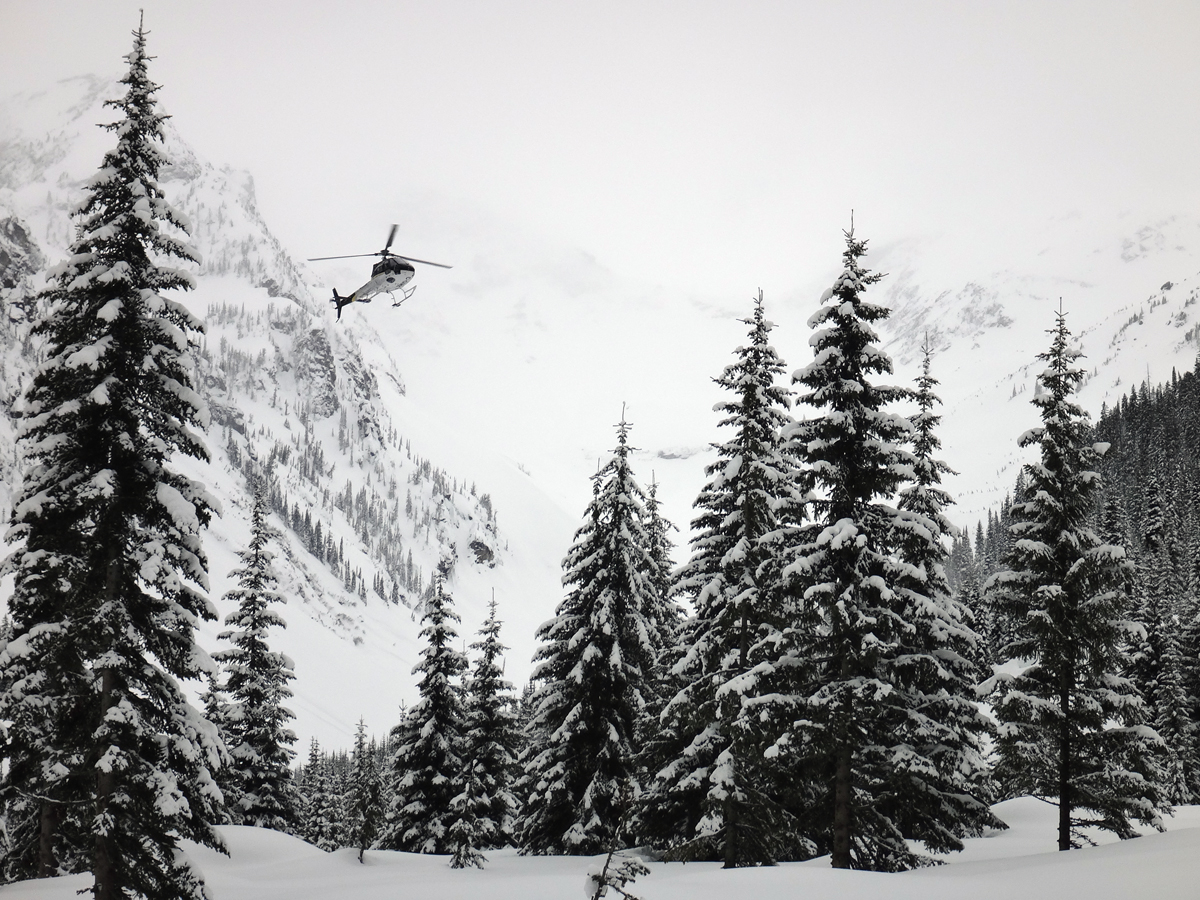 It's not a bad view to be in the middle of the BC wilderness with the Eagle Pass A-Star Helicopter coming in for a landing to take you to the next powder run. Photo by Shay Johnson.

Whether it's a half-day of four runs or a full-day with eight runs, the backcountry calls your name and a guide prepares you for the terrain you'll conquer. For safety and consistency, Eagle Pass Heliskiing supplies each guest with backcountry gear (beacon, shovel, probe) in a BCA Airbag Float 18 pack. A quick safety and equipment discussion starts the day before you even load the heli.

On the day we went out, Mother Nature teased us with stormy weather in the morning. Rather than calling it a day, the guides and pilots at Eagle Pass Heliskiing watched the weather and moved locations for the afternoon so we could make it on to the snow.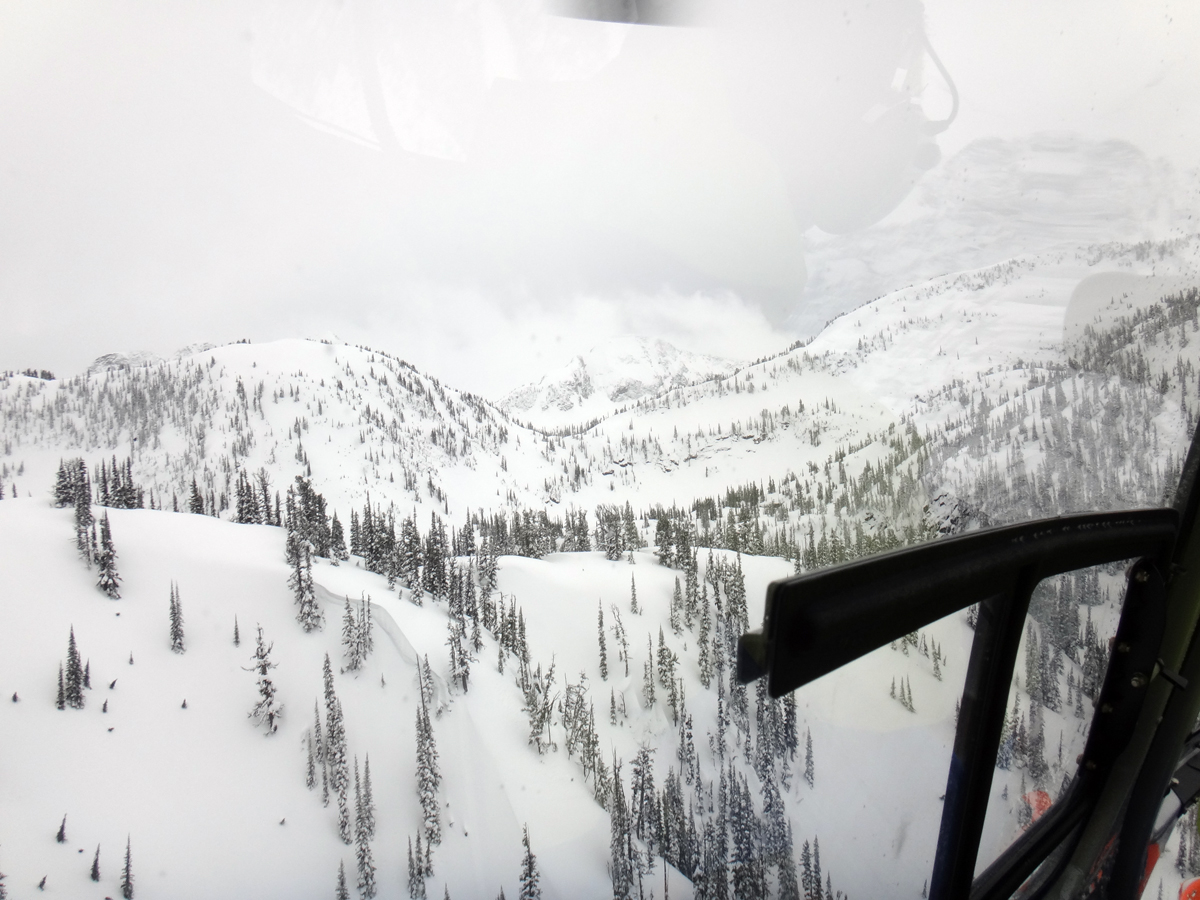 Nothing beats sitting in a helicopter wondering which line you'll be taking down the mountain. It's like being a kid in a candy shop, except we're adults with a field of powder and trees. Photo by Shay Johnson.

Each time the heli landed in the snow at the top of the run, there was a sigh of relief and the onslaught of excitement. The first runs were easy so you could get your powder feet back under you and the guide could see the skills of the guests. Gradually they built up to steeper and harder terrain. Since an avalanche warning was in effect, we stayed in the trees to get our powder turns. The guide Greg Franson, made sure to set the rules for staying safe, stay to the left, stay to the right, follow his line. A great guide is a communicator and a safe guest is someone who listens.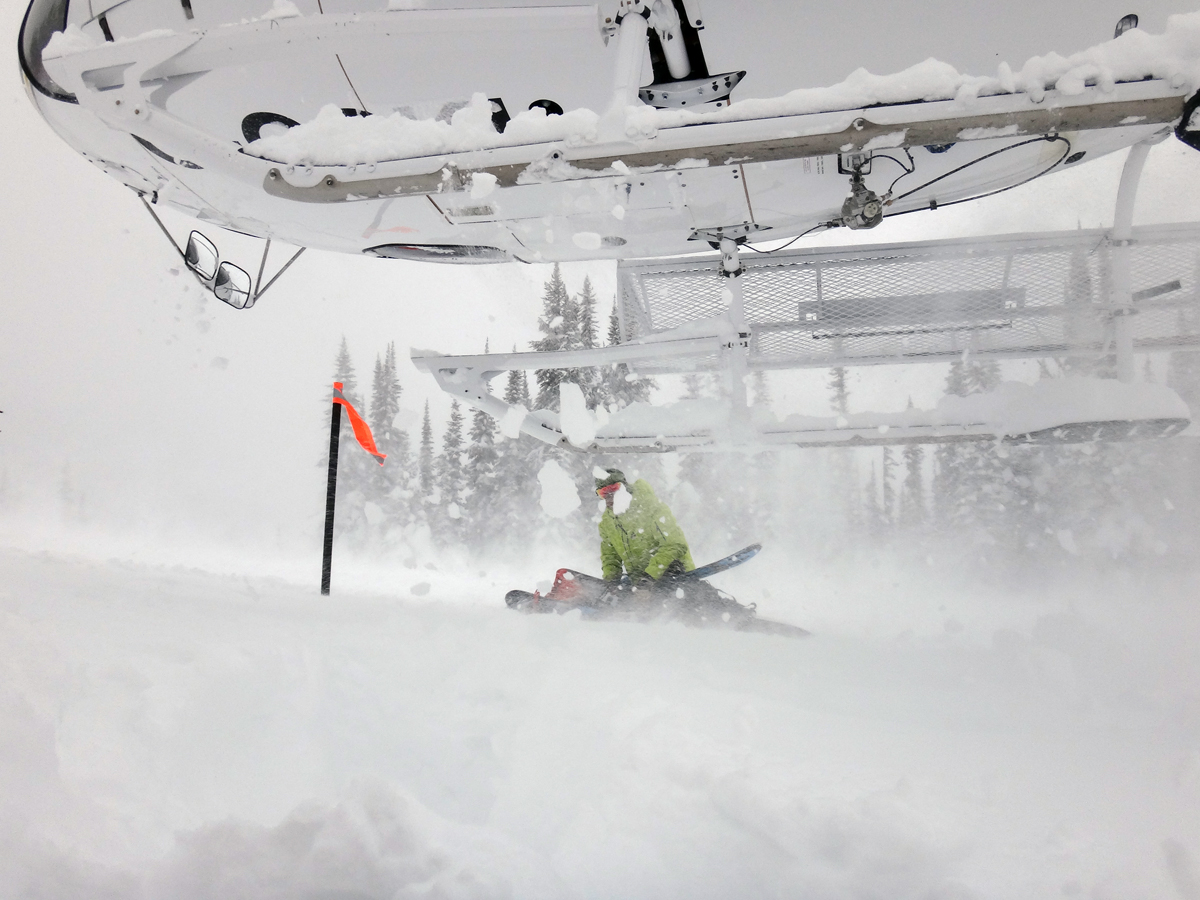 Lift off in the backcountry! Keep your hands close, your head tucked in and get ready for the wind rush! Photo by Shay Johnson.

"Having never been heli-skiing, I wasn't sure what to expect going out in the middle of a huge storm with a special avalanche warning issued for the weekend. Despite the conditions they were finally able to get us up into the mountains and get us down some fantastic burnouts, cutblocks and steep pillow lines," Calgary skier Josh Miller said. "Landing high up on a ridge we were able to scope out a fraction of the huge amount of terrain that awaits during times of higher stability — and after checking out the full size of their tenure it's safe to say I'll be back."


Luck was on the horizon for Josh Miller from Calgary. He was the winner of an Eagle Pass Heli-skiing trip for his first heli experience. Photo by Shay Johnson.

For many of us, it was the first time in a heli and a chance to really feed the addiction. The deep dry snow was no joke and the door to the white room was open the whole run down. It was difficult to keep your mouth closed when you couldn't stop laughing and smiling at the powder beneath each turn.

Beneath me was the Jones Hovercraft, a board designed by Jeremy Jones to ride the powder and deliver powder sprays with the slightest turn. It was effortless, it carved and it kept me afloat in some deep powder spots.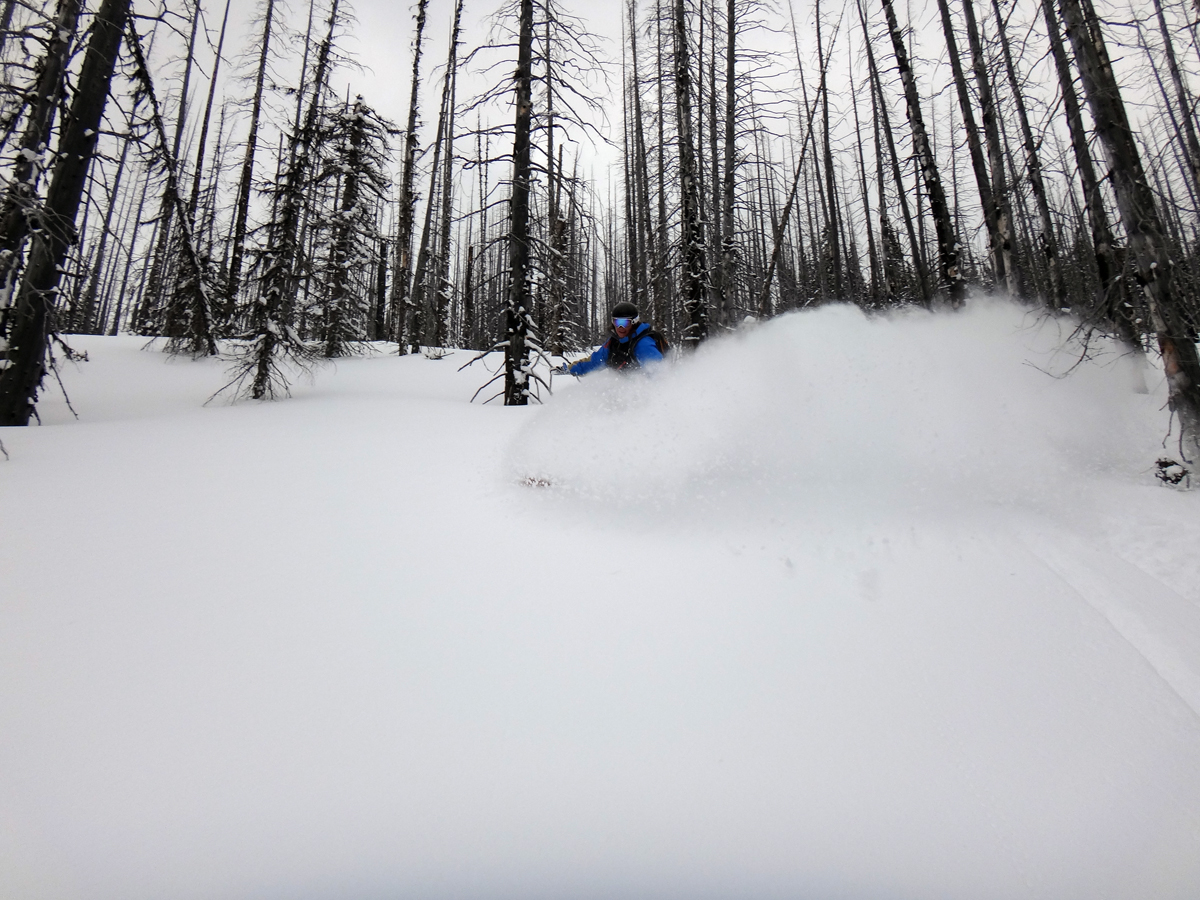 It's not very often the camera gets handed off on a powder day but Josh Miller sacrificed a couple turns to get a shot of Shay Johnson getting a powder slash in the backdrop of the burnt trees. Photo by Josh Miller.

There are those moments of skiing and snowboarding that change your life, some can be for the better and some can be for the worse. Hopefully we'll continue to seek out powder days that end with the better, continue to laugh and smile at those powder moments and play like little kids in a field of powder.
READ THE STORY
Caroline Gleich has been a fixture in the backcountry skiing and ski mountaineering world for the last five years (at least). She started out shooting epic powder shots with legendary photographers Lee Cohen and Jay Beyer at Alta and eventually found that she was interested in bigger mountains and bigger lines. Gleich is notoriously goal-oriented and she managed to show the outdoor community, through her actions alone, that a Utah pow skier could become an accomplished ski mountaineer. She
READ THE STORY
What happens when a guidebook gains such notoriety that it becomes a life's mission to complete every descent within its covers? Ski mountaineer Caroline Gleich recently checked off descent #90 of Andrew McLean's the Chuting Gallery, marking her completion of a list of some of the gnarliest skiing in North America. For most, a list of potential climbs or descents opens up a world of possibilities, giving much-needed beta on faraway, unfamiliar areas. For others, guidebooks represent
READ THE STORY
During Sego Ski Co.'s relatively short history, Ron Murray has become sort of a local legend. His 20-plus years of ski repair experience, combined with his time working in manufacturing and his wholesome philosophy on skiing (and snowboarding) has made Ron an integral part of the Sego team and brand. Ron is pretty much everything you look for in a ski tech. His gentle demeanor breathes wisdom and humility, and it shows in his craft. After all, aren't our skis just an extension of our feet?