When Ben Leoni left his ski bum career at Alta and decided to head back East to study and eventually practice law, he knew his ski days would take a hit. It's part of the package for anyone moving on to a serious career from salad days in the mountains. Especially as a backcountry skier, being locked up in litigation in Portland, Maine, hours from the mountains, wasn't going to do him any additional favors, as he wouldn't be up in the snow and staying fit nearly as much as he would need or like to be.
But he's been making it work. He manages his time in the office, doesn't let the job consume him, and makes sure to plan trips ahead, keep an eye on conditions daily, and stay fit playing soccer and being the only one at Planet Fitness doing any sort of leg exercises during the week. The Ski The East webisode series, Working For The Weekend, has followed Leoni as he's worked to find a balance between his career as a litigator and his passion for backcountry skiing–a plot that's actually led to more skiing notoriety than anything he did during his time out West.
"With the web series, I probably get more exposure than I ever have before–almost definitely," Leoni said. "It's been way easier to get sponsors now than when I was doing freeride competitions out West, or shooting with photographers out West. Everyone's doing that, and you end up being lost in the mix. When I came back East, there weren't a lot of people doing what I was doing and trying to get exposure.
"Now it's easier to get sponsorships because the whole point of the web series is to make it relatable. I'm not Erik Roner, and we're not skiing Alaska spines, but I thought what we could do is find terrain that I thought was cool–some of it was kind of hairy–but the terrain and the experience is more relatable to the average viewer, especially out East. Just the experience of only being able to get out on the weekends; I get a lot of emails and comments about the series because, for them, that's what they do."
Leoni let us in how he makes the most of his weekends to go ski, and what techniques you can take into your own life as a working stiff to make sure your weekends pack in as much adventure as possible.
#1: Go To New Places–Your Season Will Feel Longer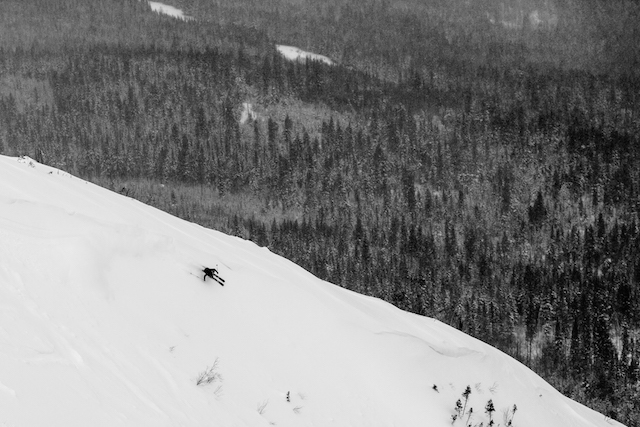 Instead of heading out to Utah where he knows the terrain and has friends to crash with, he took a gamble on Quebec's Chic Chocs for his winter vacation. Dana Allen photo.
Working For the Weekend really forced me to discover some new places, instead of going to the local resort and knowing what you're going to get. It made me go out and explore, and those days are so much more memorable and refreshing than going to the same resort every weekend.
I think I skied 40 days the first season of Working For The Weekend, but it felt like more because it was always a new experience. All these new zones in the White Mountains are a ton of fun because we're discovering new areas, even if it's just new to us.
#2: Plan Your Vacations Far In Advance
My workload changes a lot, but it's not a seasonal thing. It's all depending on when a client is suing or taking legal action. Most businesses slow down in the summer, but we don't have control over our schedule like that. The first summer, I think I worked eight weekends. As a lawyer, you're kind of getting caught off guard all the time, so you just have to deal with it.
Check out more East Coast skiing videos and stories here.
With vacations, I try to let people, especially my clients, know really early on. One good thing about working in Maine is that other attorneys, even on the other side of the table, are pretty good about respecting that kind of thing and aren't going to send you a huge filing the day before break and screw you over. It's a small bar association, you're going to see most people again, so by and large, people work pretty well together.
#3: Check Conditions Daily Online So You Know What the Weekend Will Look Like
Leoni keeps an eye on the Mt. Washington Avalanche Center report daily so that even if he's not up there everyday, he know what to expect when the weekend comes. Ben Leoni photo.
When I was trying to plan a trip for four people for the webisodes, the logistics and planning were tough. But every morning, I'd check the weather, and I'd check the avalanche forecast. Every morning. So when you know what's been going on with the weather and the avalanche conditions, you get a much better sense early on for what's going to be happening during the weekend. You can get a sense by Tuesday of that week whether it's a definite yes or a definite no. It makes it easier if you're checking conditions consistently.
#4: Pack Up Early, And Don't Let Busted Gear Ruin Your Day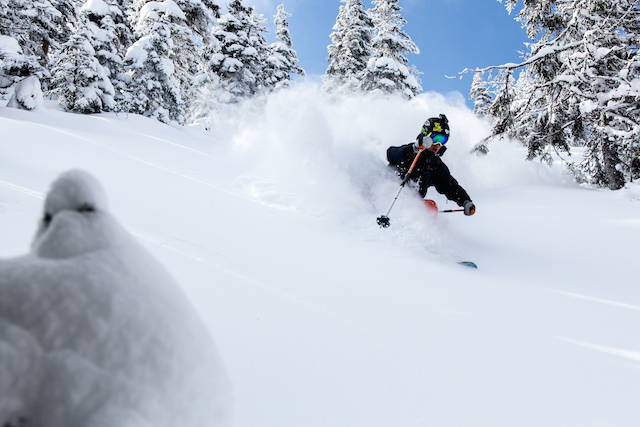 Sometimes it's a scramble to fix broken gear for the next weekend–even in the trailhead parking lot–but stay calm, get resourceful, and it doesn't have to come between you and your weekend mission. Dana Allen photo.
On Fridays, I'll come home, get everything packed and ready to go in a different room than the bedroom, since I don't want to wake up my girlfriend when I leave super early. I never leave things for organizing in the morning. Sometimes I'll put the skins on my skis the night before and leave them in the hallway where it's colder, and put all my clothes on the couch.
When it comes to broken gear, you gotta kind of scramble. Sometimes I'll take it into a shop, sometimes I'll try to fix it on my own. Last season, one of our photographer Dana Allen's Dynafit heel pieces exploded like I'd never seen happen before. But we didn't panic, and we spent half and hour trying to figure it out, and we got it back together still had our day. You just gotta roll with the punches, and bring duct tape and screwdrivers.
#5: Stay In Shape During The Week
Leoni plays soccer and does box jumps during the week to stay in shape for weekend ski tours. Dana Allen photo.
Year-round, I play in a soccer league once a week, which helps with cardio. And I usually go to the gym twice a week. I never feel like I'm totally in shape for what I'm doing, but at least I don't feel like people are waiting for me. I'm the only person at Planet Fitness who regularly does leg and jumping exercises.
#6: Stretch Out The Calendar To Make Your Season Longer
I've been skiing a lot later; I think I got two or three days in May last year, and my last day was Mother's Day. But I don't go up to skin Stowe and ski down on mostly rocks and grass after the first four inches of the season, because if I got hurt that way, I'd be really upset. But I have been going up into Tuckerman Ravine much earlier in the season than I used to, and skied there later into the spring.
I skied Huntington and Central Gully in December this year, and it was friggin' phenomenal. All those four-foot bushes that are normally buried, though, were all exposed and sucked to climb through. Absolutely sucked. But it was falling snow, almost whiteout, while we were up there, but no wind, and conditions were just perfect. But when you go up that early in the season, your expectations are so low, so when you get it good, you're really blown away.
#7: Get To Know What's Closer
Being on one side of New England, it's a little bit difficult. If it's going off in Vermont, I can't make that happen as a day trip. Now I'll take a couple trips to VT now every season, but not many. It takes me four and a half hours, one way, to get to Stowe. Whereas it might take me two hours on the dot to get to Pinkham Notch and get to Tuckerman Ravine. And I've been able to find more and more people in the Portland area to carpool with.
Getting up into the White Mountains more has been really sweet, because it's one of the few places you can really open it up on big alpine terrain. Living closer to them gets me up there a lot more, and it's more fun and I'm looking at the mountains a little bit differently. Being able to do big GS turns down big runs and couloirs has been a really unique experience.
I love skiing in Vermont, but you can't get that kind of ski experience there. Even though the snow in the Whites, and the weather, aren't as good as in the Greens, you can get into terrain that really reminds you of not being in New England.
#8: Manage Your Time So You Can Get Outside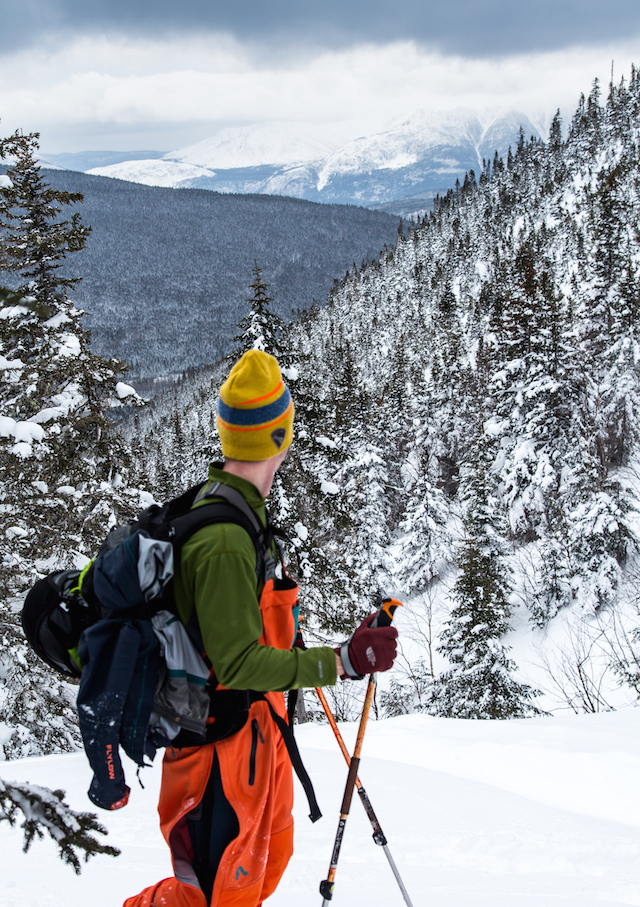 Manage your time well, and you can spend more of your time with views like these. Dana Allen photo.
I've always been pretty good at managing my time and making time to get outside as much as I can, because it totally recharges me and makes me more efficient when I'm at work. The first year as a lawyer was tougher, as I hadn't figured things out yet and how to deal with the fact that I could only ski on weekends.
You can make it work, definitely. Some people just get into the job too much and feel like there needs to be more of a tradeoff than there is. That being said, I don't have kids yet.
READ THE STORY
Big waves are nothing new to surfers these days, but how about to skiers? California skier Chuck Patterson decided to combine two of his favorite things-- big wave surfing and skiing on some of Half Moon Bay's biggest swells. Using custom skis designed specifically for this feat, and taking inspiration from Patterson's late friend, Shane McConkey, they allow him to carve the waves as he would snow. Fitted with classic ski bindings, and worn with regular ski boots, the carnage if Patterson
READ THE STORY
Caite chilling on the patio for a little aprés at Jackson Hole. Nic Alegre photo. Caite Zeliff is blowing up! We're not just talking the bomb-holes at the bottom of a huge, double-stager cliff either. She is truly on her way to being one of the next superstars in skiing. The self-professed goofball has had a dream of becoming a pro skier for a long time but her journey has taken a few big setbacks. Her plan was to become a member of the US Ski Team. Ultimately, after many attempts and
READ THE STORY
Based out of both the Wasatch and Tahoe, it's no secret that Todd Ligare's a charger. But he's a human just like the rest of us too. Out of Bounds Podcast got to catch up with Ligare on all things skiing and how his season has changed in light of the pandemic. Between kind of a low-tide year and uncertainty from Ligare on how filming will work this year, Out of Bounds taps most of the bases. Ligare gets into how his skiing has changed since he started filming with TGR in 2008. He's showed