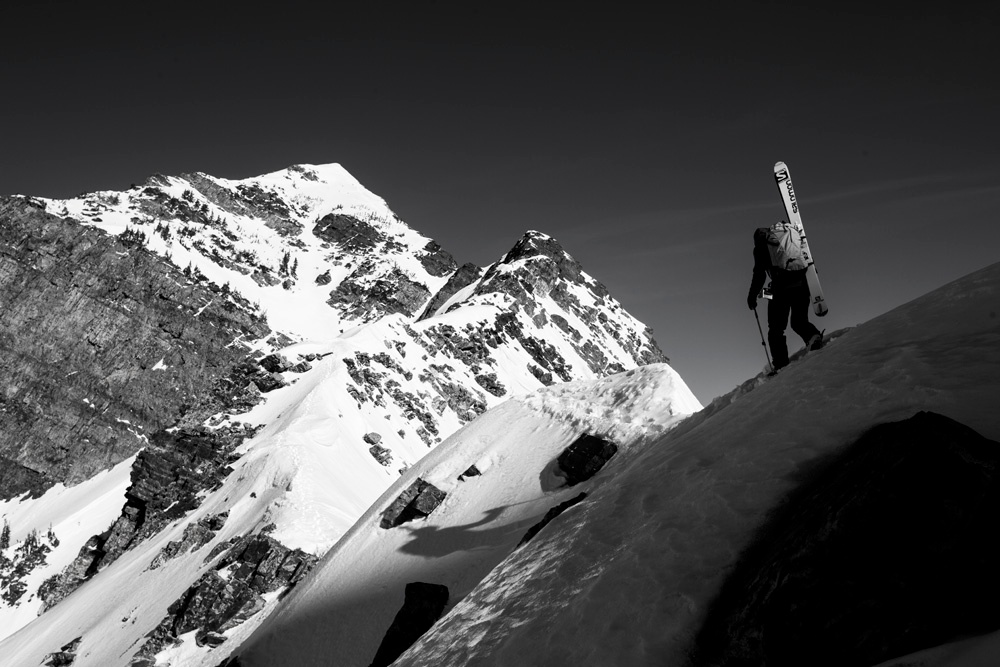 Brody Leven, former Ohio-bred aspiring ski mountaineer. Current pro ski mountaineer. Adam Clark photo.
Ski mountaineering isn't something you safely jump into without preparation. It's a slow transition; a fusion of trad climbing, ice climbing, and backcountry skiing. Such a dynamic activity demands a solid grasp of skills, specialized equipment, and sound partners.
Spring is the second safest time to start ski mountaineering. The safest time is never. But with deep slab instabilities frequently locking up, long days, storm snowfall rare, and extended windows of high pressure, avalanche dangers tend to diminish and daylight is on your side. Fitness and comfort on skis is peaking after a season of backcountry skiing.
Kalispell, Montana-based ski mountaineer David Steele prefers climbing his technical lines instead of riding a chairlift or helicopter to the top. "I like the sense of completeness," he says. "From the long approach to belaying up cruxes, it gives me more appreciation for clicking in on top." I relate with that, and it's the same reason I ride my bike instead of drive my car. "Plus, it's rare to have gapers blocking a sixty-degree couloir choke."
You may be much like my friend Steve, a competent rock climber and proficient skier who wants to begin combining his skillsets in the mountains. Go about it the way he has: seek experienced partners, take a specialized course, and spend more time in the mountains, promoting increased fitness and experience.
Here are five tips to get you on the safe up-track to the steep lines: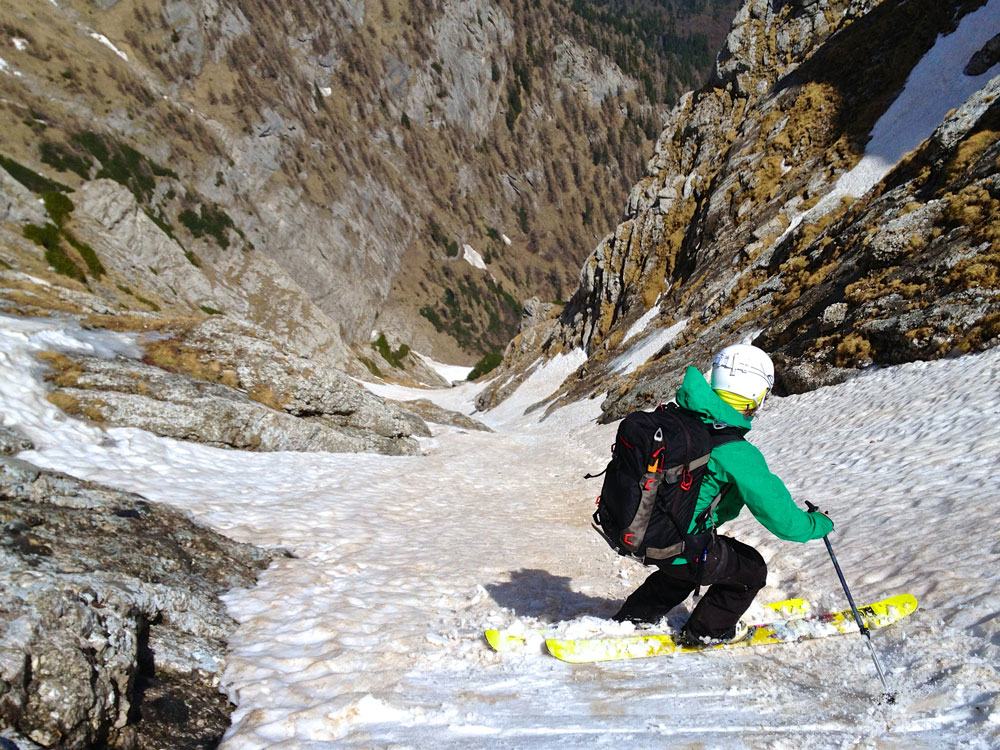 Ski mountaineering conditions are often safest when snow conditions are slim. But warm doesn't mean safe. Thawing temperatures increase rockfall and moves moisture through the snow. It also has a tendency to elucidate the only route to the bottom. Brody Leven photo of KT Miller in Romania.
#1 - Avalanche awareness is fundamental to backcountry skiing, regardless of the season or objective. In ski mountaineering, it's all about avalanche avoidance. If the avalanche doesn't kill you, the fall probably will. Being taken off your feet by moving snow on steep terrain usually has one outcome: a tumble to the bottom.
Most avalanche courses happen early and mid-winter, when the snowpack is more layered, variable, and interesting. Find local classes through a provider such as the American Avalanche Institute (AAI) or the American Institute for Avalanche Research and Education (AIARE) on avalanche.org. 
Every year, I attend at least a handful of avalanche courses. Avalanche safety isn't a list of facts that you memorize and walk away from, but an ongoing process. As the Utah Avalanche Center's Craig Gordon says, "Be avy savvy."
To give you a brief idea of what's out there, check out the early-season avalanche course roundup I did for TGR back in the fall.
#2 - Ski mountaineering equipment is gear with which you trust your life. You don't need the most expensive products; rather, purchase items that you've researched and can afford. Then get out and use them. Your comfort level with the equipment should be maximized for when it matters most. You don't want to be stuck without crampons, halfway up your north-facing couloir that has suddenly turned firm, just because you were saving up for the more expensive pair. You know, "in case I get into difficult ice climbing."
A typical spring ski mountaineering kit includes:
Whippet pole(s)
Softshell pants
Shorter, narrower, lightweight skis that excel in variable snow
Simple, lightweight harness
Thin rope
Belay device that can safely be used with included rope
Anchor-building materials: webbing, pitons, nuts, cord, stuff sack
Aluminum crampons and ice axe
Climbing helmet
Short sleeve or very light longsleeve synthetic base layer shirt
…in addition to typical backcountry ski items and route-specific gear.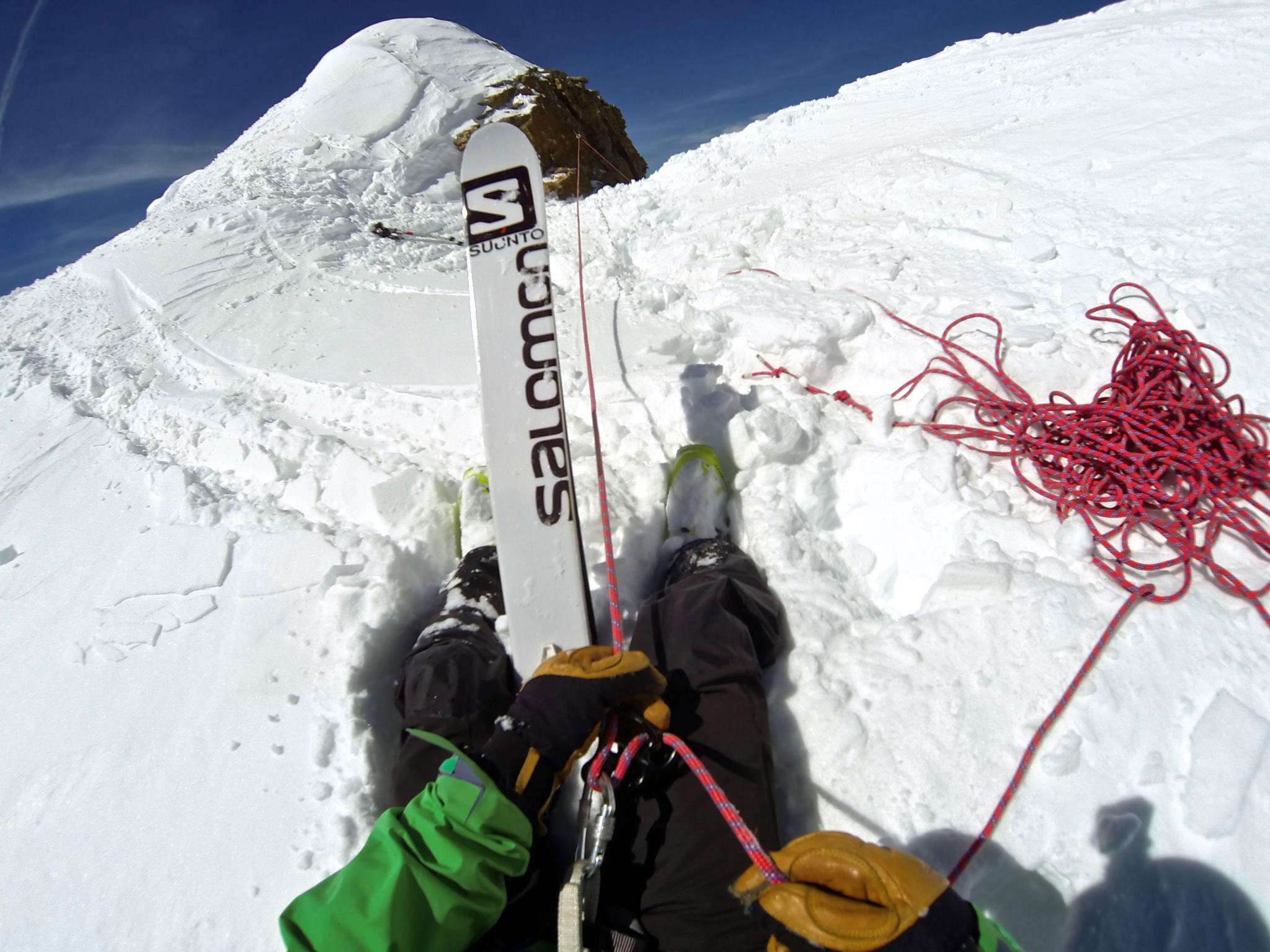 I didn't have full trust in the distant rock anchor. A rudimentary seated anchor, requiring no additional equipment, allowed me to safely back up a sketchy downclimb for a partner. An intimate familiarity with your own skillset will aid in risk assessment and situational hazard management. Brody Leven selfie from a belay in Telluride.
#3 - Your skiing and climbing techniques should be honed before putting them to the real test. These skills include, but are not limited to: self-arresting, crampon usage, ropework, ice/snow climbing, anchor building, rappelling, steep skiing, glacier travel, and the use of a POV camera without asking "is it on?" Because if you ask your partner to look at it, he might lose his balance and end up in a crevasse faster than you can say "chest mount."
Learn these skills through a combination of mentorship, courses like those offered by Sawtooth Mountain Guides or Exum Mountain Guides, and reading The Mountaineers' Freedom of the Hills.

Ski mountaineering routes come in and out, changing conditions sometimes on an hourly basis. Not only is it important to gather all available and necessary information on your selected objective, but familiarity with snow conditions and weather patterns is crucial to a safe and successful ascent and descent. Most important is your judgment and ability to turn around and go home before things turn bad.

I threw myself down a safe snow gulley with an ice axe to learn to self-arrest. I rock climbed for two years before transferring any of its technical skills to snow and its added complications of skis and snowpants and avalanches. I used crampons and an ice axe to climb lines where, today, I find them unnecessary. But by using them where I wasn't faced with a life-or-death fall, I was comfortable with them when that time came.

It's hard to choose what, exactly, was my first day of ski mountaineering, because I crept into it so slowly. Initially, I focused on becoming comfortable on my skis in any situation. Steep skiing had to be second nature. Then I would incorporate a single technical element: a rappel in the couloir, or a rock step on the ridge climb. Eventually, I started to increase the number of technical components in a single run. Now, I spend 99% of my day terrified with skis on my back, and 1% of my day terrified with skis on my feet.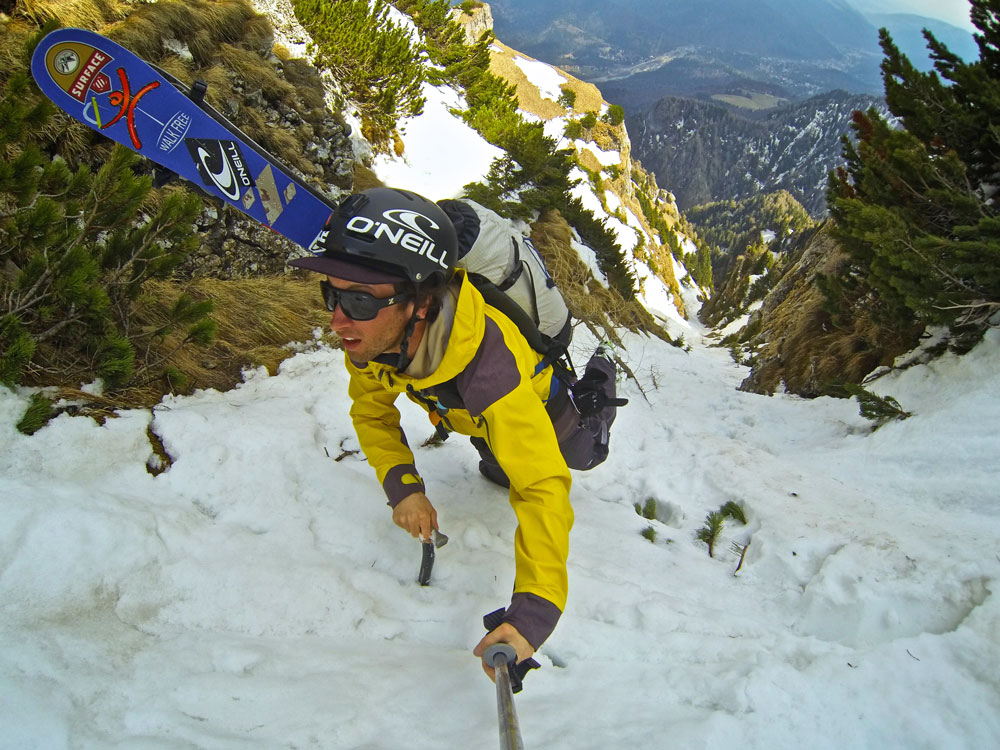 Climbing that which you intend to ski is commonly viewed as a smart approach. Dropping into this line in Romania from above, I knew that it might not go through and finish somewhere that I wanted to go. With this in mind, I considered all of the elements before skiing, such as: if I had to bootpack back to the in-run, would I be able to do it with the equipment that I had? With a drop-in so steep, would I be able to surmount it? What would the temperature and weather be doing to my safety and snow conditions during the inevitably long boot-pack exit?
#4 - Ski mountaineering is a more demanding version of the already-exhausting hobby of backcountry skiing. It adds exposure, do-not-fall zones, sharp equipment, and dangerous, unpredictable ski conditions. Your fitness level (and suffering tolerance) should be quite high in order to execute long series of jump turns, extended time post-holing, and prolonged periods of intense concentration—whether it's building rappel anchors in a couloir wall with seracs above you, or determining the safest way to cross a bergschrund. Luckily, you've had all season to improve your fitness.
As soon as I'm able to run at lower elevations, I mix that into my ski schedule regularly. By the time there is dirt visible on the running trails, I'm almost alternating between run-day and ski-day. The running is simply a way to make my ski days more efficient and prepare for spring, when ski mountaineering can get really good.
Especially when it comes to spring missions, "expect" to spend a lot of time bushwhacking through the woods with all your ski equipment on your back. Brody Leven photo from Romania.
#5 - Expect the unexpected. Nothing about ski mountaineering is normal. It's virtually impossible to have a straightforward day of climbing and skiing. But you can be prepared for anything. The rappel is supposed to be 20 meters? Take enough rope for 30 meters. The anchors are evidently bomber? They probably were—8 years ago, when that blog post you read was written. Pack extra materials. The rando racers summited in three hours? It'll probably take seven, plus you'll get lost for an hour. And you have to eat lunch. Three times.

A bivy sack, down jacket, first aid kit, and headlamp never leave my backpack. Regardless of the temperature of planned outing, ski mountaineering's inherent risk and uncertainty, paired with the number of times I've found myself still in the mountains far after my estimated return time, makes this decision worth it. Be prepared.
Many popular ski mountaineering routes will have anchors at common rappels. But just because they have been previously established does not mean that they are trustworthy, secure, or built to your standards. Be sure to double-check any anchor, being wary of old equipment that has been rotting in the sun or slowly shifting as each freeze-thaw cycle changes the rock and snow conditions. Brody Leven photo of KT Miller rappelling in the Tetons.

Factors you may not consider suddenly become critical. You're skinning up a steep couloir and realize that you can't skin any more, and need to start booting. Then you realize you're standing in the middle of a 45-degree slope, looking down a 1000' slide through rocks below you, and an icy chute above. You need to get your skis off, onto your backpack, and replaced with crampons. But you haven't practiced this transition, and suddenly the steep ice makes it hard to even take your ski off, let alone to balance on one foot while putting your other into a crampon.
The ski mountaineering learning curve is steep and never seems to come level. You'll likely experiment, make mistakes, and experiment more. Occasionally you will succeed, standing on the summit of a terrifying peak before making the steepest turns of your life on stable, chalky snow. The educational resources available today eliminate the need for any unnecessary danger. Get out there, get scared, and as the late Steve Romeo of Jackson, Wyoming was known to say, "Live to Ski."
Want more ski mountaineering stoke? Check out Associate Editor Ryan Dunfee's interview with Exum Mountain Guides' poetic Zahan "Z" Billimoria, who relates the art of ski mountaineering like no one else.
READ THE STORY
The Summit Daily News is reporting the death of a man on Quandary Peak, a popular 14er just south of Breckenridge, Colorado on Sunday. The man was skiing with a partner when he sustained critical injuries at 13,400 feet. His injuries remain unknown. RELATED: Lucas Merli Talks About the Scariest Rescue of His Life A search and rescue team led by the Summit County Rescue Group responded to the call around noon and dispatched a Flight For Life Helicopter to provide advanced life support. He was
READ THE STORY
It's been a historically white December in Whistler, so white in fact that the 151 inches of snow that fell last month have beaten out the previous record of 149 inches that fell in 1994. Whistler Blackcomb spokesman Marc Riddell had this to say about Snowcember: "It was a phenomenal holiday period and we've got a great base to start the season, particularly given the snow we've had in the first days of January." He added, "It took some time to arrive this season, but it's not letting
READ THE STORY
The wait is finally over. After almost a year of waiting, we finally get to watch some of the best freeride skiers and snowboarders on the planet huck their carcasses on the world stage again. The Freeride World Tour, freeriding's preeminent competition circuit, returns to Hakuba, Japan this week to kick off the 2019 season. RELATED: Here Are the Top 5 Cliff Drops From Last Year's FWT With an already stacked athlete roster, FWT also just announced two additional wild cards. Local