As Told to MacKenzie Ryan
Dirtbagging is different for women. Traveling solo, bouncing couch to couch, or pursuing any unorthodox accommodation warrants careful consideration.
There's the ever-present, quiet fear that someone could try to catch you off-guard and hurt you. There's the fundamental female concern about not being too gross. And, perhaps more than any self-preservation concern, there's an obsessive willingness to cut out the day-to-day bullshit in order to make turns.
To guide you in your dirtbagging endeavors, we collected some golden nuggets from ladies living on the road. For the second part of this three part series, we caught up with Molly Baker for her tips on living in a tiny home.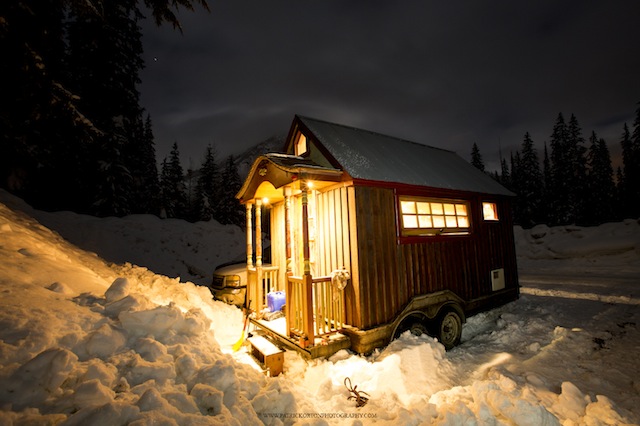 I live in a tiny house with my boyfriend, Zack. Our main object is to live in relative comfort. Last year we lived on Roger's Pass. The whole reason we have gone an extra step with the tiny house is to cut out the commute.
It's a cabin built on a car trailer. We tow it all around. It's traveled 10,000 miles with us. If we know where it's going to snow, we travel there to live for a month or a month and a half usually.
With the sustainability aspect, it seems like a lot because we are towing an abode. But once we get to the place, we're stagnant and we inherently have less shit. When you're at the store and picking up things you need, all of sudden you have this consciousness about things we can maintain.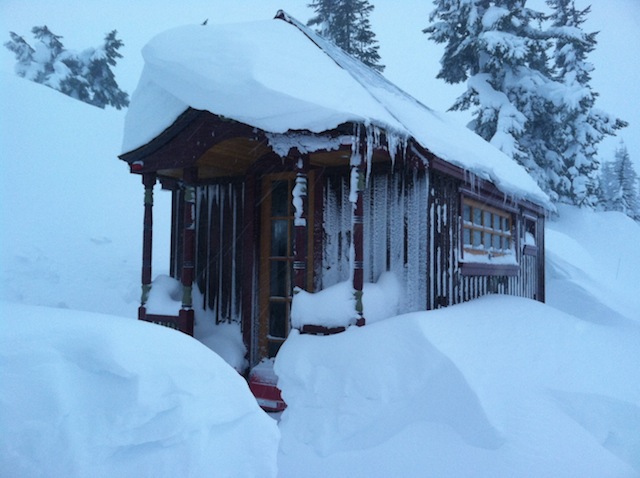 We have more culture cultivating time: play an instrument, read a book, write in a journal. In normal society's values, we don't get time.
When you exchange a shower every day versus writing in a journal every day, a paradigm shift happens. You don't have the same expectations. For me that's the big bonus. Most girls, I think, would make the same exchange.
Our central core mantra is downsizing our possessions in order to upscale our experiences. Anyway that I can downsize the things I own is going to help me upscale the interaction I have with other people because I have more time to do it.
The tiny house doesn't have a bathroom and a shower. In most people's eyes, that's one of the drawbacks. We go to a rec center, work out, shower, and use the hot tub. This provides reasons to socialize and get out and be a part of a community more than you would if you had a bathroom and shower in your house.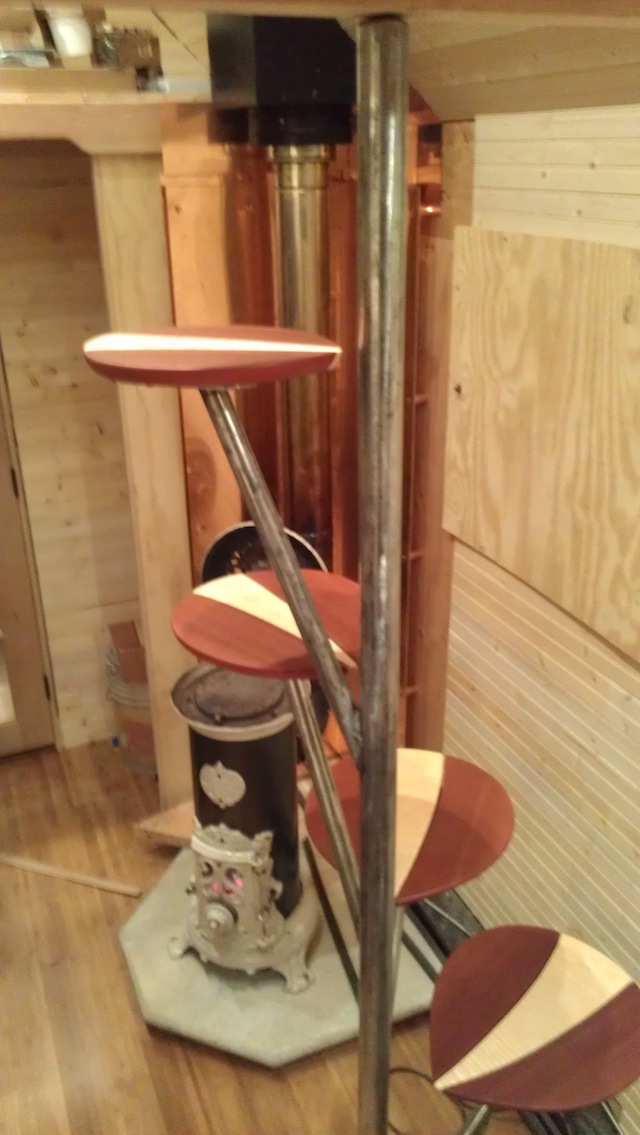 We have a two-burner stove. Our mainstay meal is quesadillas on the wood stove. We're kind of perfecting how we live in the tiny house. We picked 40 pounds of blueberries and froze them. We looked at that sustainable life as more achievable.
We don't have internet in the tiny house. We have our town days or one day that we'll drive in and a lot of stuff gets taken care of.
One nice thing that's happened is you can get a lot of things electronically. An iPhone is an essential tool because you can cut back on going back to one place to get business done.
Our house has a generator for power and we're installing Goal Zero solar panels. The battery also charges up when you are driving. Every once in a while, when we're in a ski area parking lot, they'll let us plug in.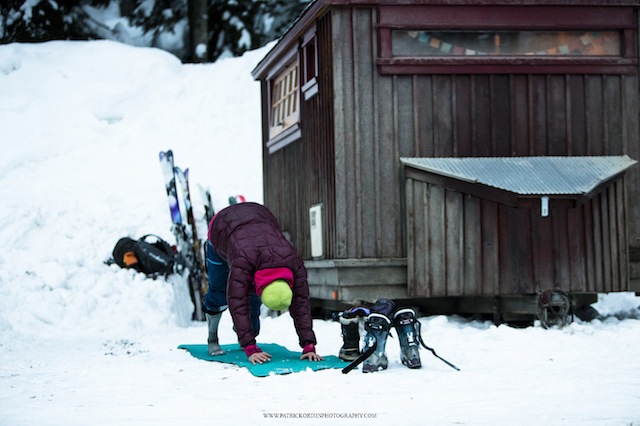 We have a five-gallon water bucket, which feeds the sink that's by the stovetop. It has a heater, so we have hot and cold water. When you only get five gallons of water at a time, you're aware of waste and hyper-connected to your resources.
We have had a few trucks. We're trying to find the best option. We're using a Dodge diesel truck, hoping to improve towing capabilities and mileage. The house is pretty heavy, just over 7,000 lbs. We would love to be doing it in a smaller truck but it just works out to have a towing vehicle. It's probably similar to people's experiences living on sailboats.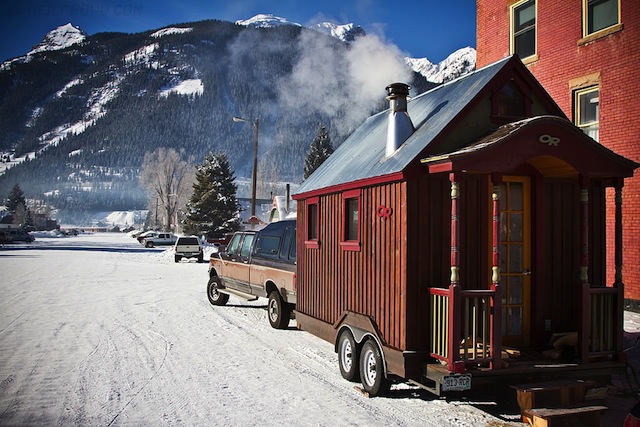 Another hard part has been the letting go of personal space. Our generation grew up with our own bedroom: you believe a certain amount of space is yours. When you are forced to share a small space or you invite skiers into your home, you end up going outside to find that space. Redefining where you can find that personal space and peace has been a huge benefit.
Check out the trailer for the Tiny House Tour 2014. And for a great overview of how to chase storms and thrive in a tiny home, check out Livin' Tiny: A Quest for Powder.
READ THE STORY
Yosemite's Half Dome is not a ski line. Of course, it's better known as a rock-climbing destination high above the floor of Yosemite Valley. That didn't stop two locals (Jason Torlano and Zack Milligan) from chasing their dream of becoming the first to link turns from the summit all the way to the valley floor. Torlano and Milligan did just that earlier this week when they took advantage of ephemeral conditions to ski off the summit of Half Dome. Conditions consisted of half an inch of névé
READ THE STORY
Last Thursday was a day for the history books, with yet another edition of Kings and Queens of Corbet's going down at Jackson Hole Mountain Resort. The venue? None other than Corbet's Couloir right under the top of Big Red. The athletes? 26 heavy-hitting skiers and snowboarders hungry for the title and ready to absolutely throw down. Lucky for them, the Tetons have been going through one of the most epic storm cycles in history, transforming Corbet's into the ultimate playground for
READ THE STORY
The X Games Real Ski videos are out and boy, are there some heavy hitters in the mix. In case you're not familiar, ESPN runs an all-video freeski contest every year and invites the best of the best to showcase their talent. This year, the competition was stacked between stylish and smooth riders like Taylor Lundquist and freeski legends like Tanner Hall. Each skier brought their all with the tricks thrown and the masterful editing of each filmmaker featured. Unlike the X Games itself, Real