F.I.G.J.A.M. (Fuck I'm Good, Just Ask Me!) is a new column from TGR Contributor Greg Fitzsimmons inspired by a tradition at a certain Colorado ski shop where the obnoxious bragging of chest-puffing visitors is captured in a jar of fig jam on the shop counter. We'll be highlighting a handful of ski locales and experiences where you're sure to see some F.I.G.J.A.M. being spread liberally. If you have a place that has to be included in our list, let us know - tweet to @TetonGravity and include the hashtag #FIGJAM!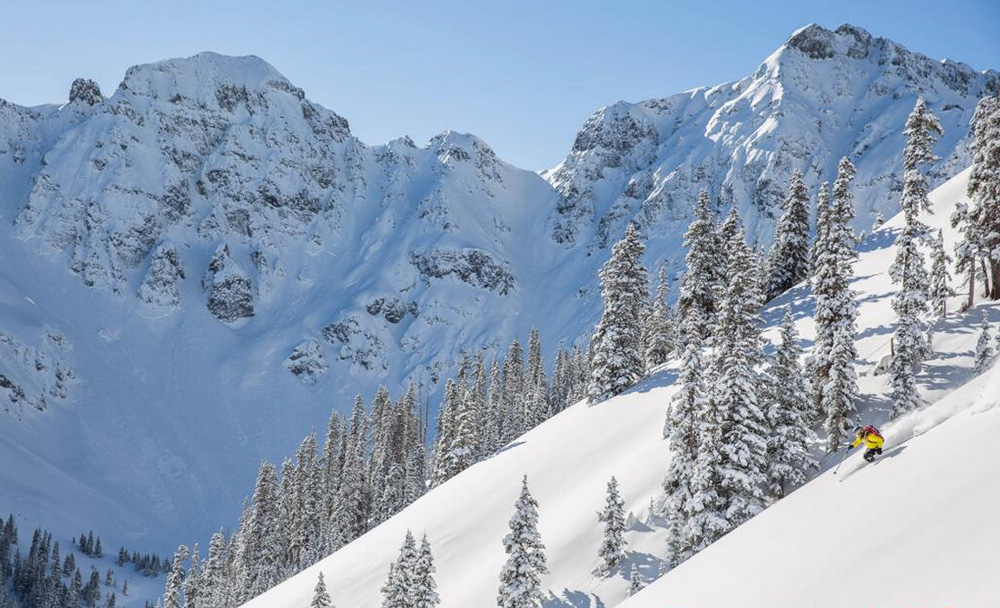 With terrain like this and a self-selecting group format, the impetus to roar the FIGJAM cry is high. Silverton Mountain photo.
It was an idea born in a ski shop in Aspen. If you look closely behind the ptex, wax and Pozidrivs you'll see a jar of fig jam sitting on the tuning deck next to the binding jigs. At first glance it seems to be out of place in a ski shop, but the jam was placed there a few years before us by an alumnus of the shop and it's part of everyday life. Even though the seal on the jar has never been broken, "jam" is constantly being spread in Aspen—and throughout the ski world.
Customers strut through the door fresh off the plane to rent a setup for their winter holiday. What type of skier are you? Type I, Type II or Type III; skis cautious, skis moderate or skis aggressive, respectively. "Is there a Type IV?" the standard vacation skier will ask. Or, "Yeah, I like to get air and I need my DIN set for an expert skier. Will you crank my binding to 7 for me?" Or, "I like a really stiff ski, that's why I love the S7." Or, "I'm a super aggressive skier, I ski black diamonds." While these skiers aren't fixing PB & J sandwiches, they are spreading the jam.
F.I.G.J.A.M. is an acronym that was hatched in this Aspen-based ski shop years ago; hence, the jar of jam sitting next to the Wintersteiger machine. FIGJAM stands for "Fuck I'm Good, Just Ask Me!" but more often than not people will start spreading the jam without any prompt.
By now, you've either been to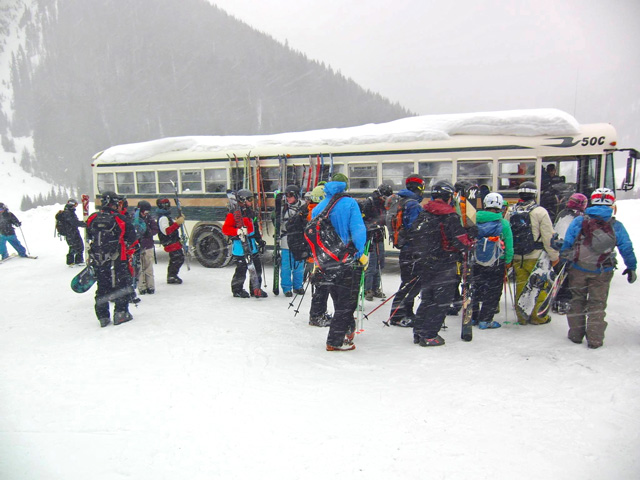 Sizing up each other's equipment is a critical aspect of the Silverton FIGJAM act. Silverton Mountain photo.
Groups of eight are the protocol at Silverton Mountain. If you show up with a buddy or two, you'll be tasked with finding a handful of others to round out your crew for the day. Everyone shows up to Silverton with different expectations. Ranging from "I'm here to see what a bootpack is" to "I'm going to bang out hot laps and crush this place," the impetus for marking the trek to the San Juan Mountains varies from person to person. And, if you've been to the place before, you know that aligning yourself with seven other people who have a similar approach to skiing is integral in nailing the Silverton experience.
Every morning in Silverton, before introductions are ever made, skiers start sussing each other out. People are checking each out as everyone's booting up next to their pickup trucks at the base of the mountain like it's a Boulder bar on a Friday night. Does this guy rip? Is he here to get after it? Those skis are sick, he must know what's up…mustn't he? That crew has a Jackson Hole sticker on their back window—that place breeds blasters; or, those two have a Vail sticker on their bumper—don't get grouped with them (JOKE).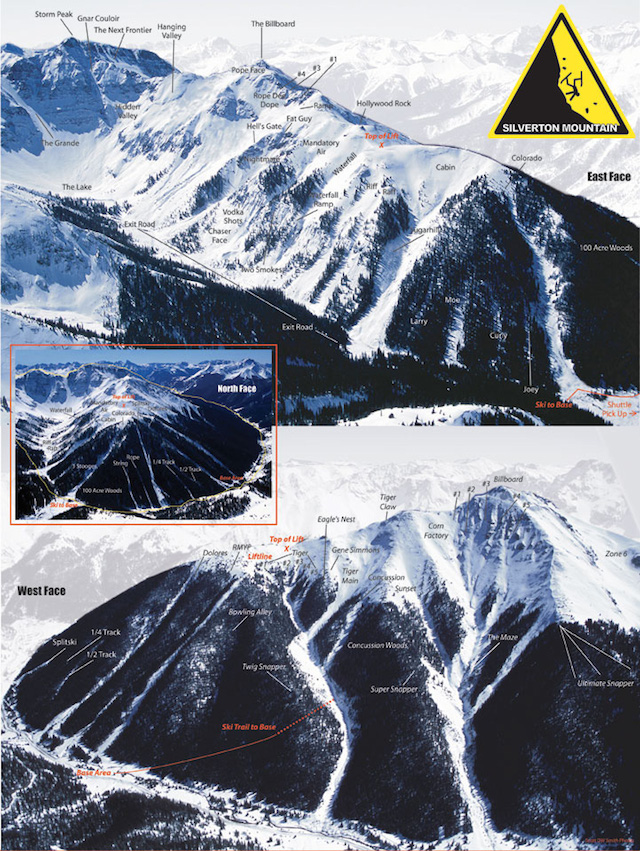 "Are those 195s, bro? Let's partner up; I don't want any beaters ruining my run down Mandatory Air!" Silverton's trail map gets the FIGJAM juices going.
Once people are booted up and their mandatory beacons are beeping, the day's clientele gathers in the parking lot at Silverton to break into groups of eight. This is where the FIGJAM-ing comes in. Every morning, without fail, a copious amount of FIGJAM is spread (or sprayed) in the Silverton parking lot. People introduce themselves to a group of seemingly like-minded skiers with a lame fist bump—because that's always the right play with guys who ski well—and a comment like, "My name is Joe, and I am the best skier I know."
The typical Silverton parking lot FIGJAM intro goes something like:
Four friends from Telluride made the two-hour drive to Silverton after a foot of snow buried the San Juans. A bro in brightly colored Orage walks up, holding his skis like Wallisch, the toe piece of a binding in each hand, tails dragging on the frozen parking lot. "Yo guys," the bro says. "You mind if I join your crew today? I saw you at your truck and it looks like you guys know how to ski. I'm no gaper, for real. I can ski switch. I'll be boosting some airs today. And, I hike fast." He spreads the FIGJAM thick and strong over the bread of the dirt lot.
Having thrown out the FIGJAM elevator pitch, the slow double chair offers ample time to further size up your bro-partner-in-crime. Greg Fitzsimmons photo.
The Silverton FIGJAM is like an elevator pitch for a tech start-up in an episode of Shark Tank. You have to sell your product succinctly and connect with your target demographic quickly. The goal is to be clear and concise without going overboard.
The group of four from Telluride then needs to find four more guys who are keen to give'r, eager to skip lunch for another lap, psyched on making quick work of the bootpacks and motivated to bag vert. But, do you really want to spend a day in avalanche terrain with a dilby who can "ski switch?"
"For the most part, the people who visit Silverton that are cool and not pumping themselves up are the ones who can ski," says Mike Barney, who spent about five years guiding at Silverton Mountain and now guides in Alaska and throughout the world. "Silverton is a good place to put people who spray in their place, and that happens quite a bit."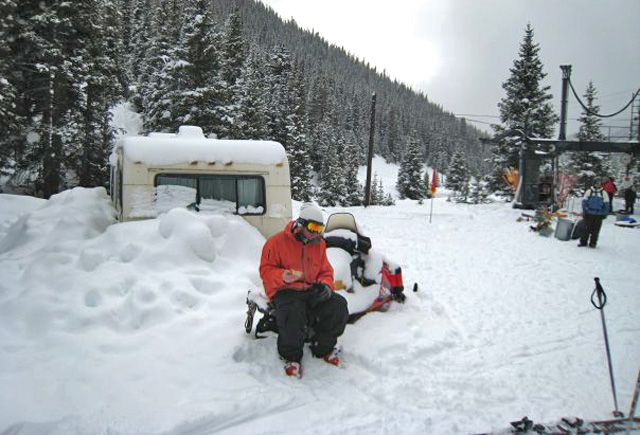 Aspen skier Greg Ernst comprehends the proper ratio of peanut butter to FIGJAM during his brown bag lunch. Greg Fitzsimmons photo.
The truth is that the spreading of FIGJAM is a necessary evil at Silverton, and the spreading of the fruit is a means to identify beaters instead of honest experts. It's the counter-intuitive means by which skiers get the experience they're looking for. And even the skiers that could or should be spreading JAM can get humbled in this San Juan big-mountain mecca. Silverton's a place that will throttle and spank you, but it's also the place in the lower 48 where you're nearly assured to have the run of your life.
READ THE STORY
If you need the perfect thing to start your winter off right, look no further than the TGR Magic Hour tour! We're stopping all around North America and beyond this Fall to show our latest ski film, so we thought we'd make a little "Where to Go and What to Do" guide for you in our top 5 favorite spots we'll be showing Magic Hour! When? Saturday, September 17th, World Premiere Where? Jackson Hole, WY Where to find some ski + snowboard gear? If you're in town before the premiere at the
READ THE STORY
Elite rock climbers are a funny bunch. Unlike most other world-class athletes out there, the path to joining the ranks of the best climbers in the world is not very straightforward. The metrics of success in the sport are so undefined that the background stories of each character could not be more different. However, when it comes time to push the limits of the sport, like when climbing's pre-eminent power couple Emily Harrington and Adrian Ballinger teamed up to tackle a massive big-wall
READ THE STORY
The feeling of being in over your head is one that many of us have felt at one point or another. To be in over your head in a whitewater kayak is an entirely different feeling. The gripping feeling of having to paddle downstream in a headspace riddled by fear is not one easily comparable to many others. To amplify that by taking away road access, food, unpredictable weather conditions, and spotty communication is unthinkable even to the best of kayakers. But that's what Nouria Newman, Ben