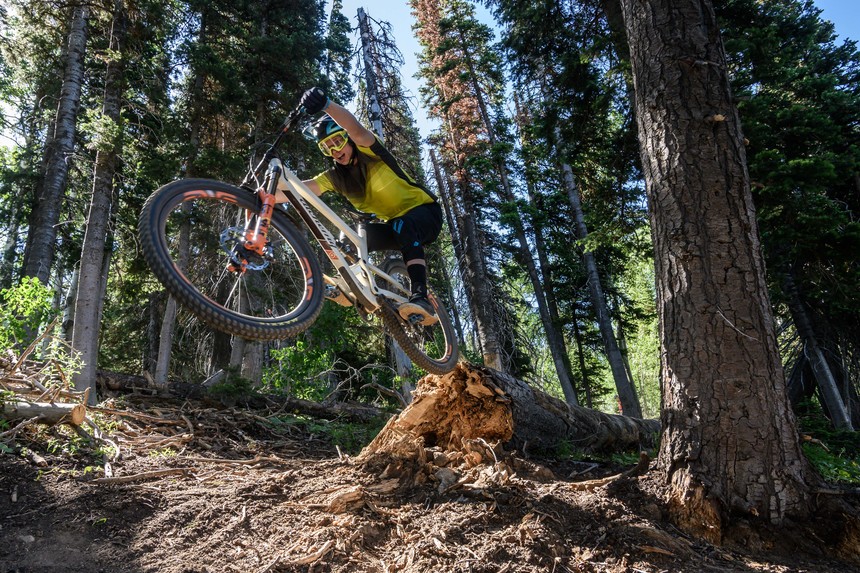 Carbon mountain bike wheel have come a long way in recent years, we went ahead and tested some of the best options. Max Ritter photo.
These days, it seems that carbon fiber mountain bike wheels are all the rage. They promise better performance, lighter weight, and certainly a higher price tag. So, are they actually worth the heavy investment, and how will they actually benefit your ride? Many pro riders swear by them, citing the reduced weight and increased stiffness, while many others would never be caught dead riding a pair, afraid of reliability. Generally throughout our test, it became clear that any high-quality wheelset will make it much easier to ride your bike fast, and carbon's properties make for the perfect material. Less weight means faster acceleration on climbs, and stiffer wheels with high-quality bearings will spin faster and hold speed on downhills. We noticed it was easier to pop, clear doubles, and go fast through really rough sections of trail.
RELATED: Check Out TGR's Favorite Skis and Boards of 2019
We went ahead and tested five different carbon wheel options on the market that span the range from (relatively) affordable to super-high end. We bashed these over the course of the summer, under different riders, on different bikes, and on all kinds of trails to find out what the deal really is.
Hunt's All Mountain carbon wheels have shockingly good performance, given the fact they are half the price of the competition. Katie Lozancich photo.
HUNT All-Mountain H_Impact $800
The most eye-catching aspect of Hunt's wheels is their price point. They're a mere $800—still a steep investment, but that's less than half the cost of the competition. Their All-Mountain Carbon H Impact wheelset was designed for the rider who's constantly riding something new and challenging and is doing so on a budget.
HUNT is a UK-based cycling brand that's better known for its serious chops in road and gravel biking. But the brand is growing and has steadily expanded its reach into mountain biking. HUNT's Luisa Grappone and Peter Marchment handled the design for its newest line of carbon hoops. Grappone, an aerospace engineer, is a specialist in composites and aerodynamics and is HUNT's full-time in-house wheel engineer. Before coming to HUNT, she worked at two of Italy's most prestigious wheel brands. On top of co-founding and owning HUNT, Marchment also works as the brand's material scientist and specializes in composites and metallurgy.
Their approach to this wheelset meant creating a front wheel that was more compliant with the rear being stiffer and stronger. There are slight differences between the two wheels namely that the front has a lower spoke count and is 70g lighter than the back. The subtle change in weight was designed to improve the front wheel's grip on the trail, whereas the rear wheel was built to handle bigger impacts, have better stability and track better at higher speeds. For the rims, their focus was centered on durability. To achieve this, they reinforced the spoke holes, created thicker sidewalls for impact protection, and used a special resin to cut down on vibration. For hubs, Hunt laces the rims to RapidEngage hubs, which have six multi-tooth pawls and 120 points of engagement that respond immediately to accelerations. Not bad for a "cheap" wheel.
What is it with 4-letter names for wheel brands? Katie Lozancich photo.
It's easy to assume that the lower dollar amount means fewer bells and whistles, but that's not the case. Hunt didn't skimp out on the design. Thanks to the insight from local racers, the Impacts have been put through some serious gnar on Hunt's local trails in North Wales. They faired just as well on our trails in Jackson, Wyoming. From enduro style trails to the gnar of Teton Pass, the Hunt felt stable and extremely responsive. Should an issue arise with them, we feel comforted by the fact that they're backed by lifetime crash replacement.
The bottom line on the Hunt All-Mountain Carbon H Impact wheelset:
These wheels are meant to be ridden all over the mountain. They're durable, versatile, and you don't need to take out a loan to buy them since the pricepoint is so approachable. For the riders with a budget in mind, the H Impact is the no-brainer choice.
- Katie Lozancich
---
NOBL's TR36 are a stiff and extremely durable option for enduro racing. Max Ritter photo.
NOBL TR36 $1500
When NOBL started making mountain bike wheelsets in BC seven years ago, they set out to produce modern wheels that could stand up to the requirements of modern riding. That meant taking into account everything from weight, ride feel, and durability, so NOBL's creators used their expertise from composites technology in aircraft design and brought it into the mountain bike world. Beyond the design of their wheels, NOBL offers lifelong service including wheel truing and bearing service for direct customers of their wheels.
The wheels in question, NOBL's TR36 all-mountain/enduro rim paired with a set of Industry 9 Hydra hubs, certainly own up to their design philosophy. They are a hassle-free, no-nonsense, high performance carbon fiber mountain bike wheelset. Starting from initial setup, through two enduro races, countless laps off Teton Pass, and a brief XC jaunt in the high desert of Oregon, these wheels stood up to an immense amount of riding, much of which was purposely quite sloppy. Let's put it this way, we tried very hard to break these, and after nearly two months of riding, they feel brand new.
So how do they ride? Compared to similar wheels, like the NEXT Huck 29r, the NOBLs offer similar performance. They are very stiff, meaning a more responsive bike that seems to "float" over the trail and precisely tracks through trail gnar, but not too stiff as to rattle your fillings out. The I9 Hydra hubs have a somewhat ludicrous 690 points of engagement, offering near-instantaneous energy transfer through the pedals when it comes time to lay down the power. A nice buzz emanates from the rear wheel while you coast - if that's your thing.
The 30mm internal rim width pairs beautifully with stiff 2.3" tires like Schwalbe's Magic Mary Super Gravity, giving a tire shape that provides plenty of cornering traction. We never had an issue with the tires burping or flatting, even in sharp rock gardens and g-out corners that could peel tires straight off lesser rims. NOBL claims the low-profile hookless bead is supposed to prevent pinch flats - and we can certainly attest to that. We were able to run pressures down to a nearly-unrideable 10psi before running into issues of the rim hitting the ground - but still no flats.
The bottom line on the NOBL TR36:
These heavy-duty wheels are not only an extremely good value, but provide excellent ride characteristics for the rider who likes to bash their bike on the trail. Whether it's hitting big jumps, smashing DH or bike park laps, or racing enduro stages, the TR36 is an excellent upgrade for the aggressive rider looking to eke some extra performance out of their enduro rig.
- Max Ritter
---
ENVE's all-new M730 wheels are the perfect enduro wheel: light, laterally stiff, and vertically compliant for a smooth and extremely fast ride. Max Ritter photo.
ENVE M730 $3000
When the Ogden, Utah-based ENVE Composites entered the carbon component game, they quickly gained a strong following based on the simple fact that they manufactured everything in their in-house facility. Made in the USA was a stamp they felt was important enough to warrant the hefty price tags, and many consumers certainly agreed. Of course, in-house manufacturing allows them to experiment and fine-tune everything to perfection to create some of the best mountain bike components (wheels, stems, rigid forks and handlebars are on offer) that money can buy.
We tested ENVE's brand-new M730 wheelset, designed specifically with enduro racing in mind. That means they must be light enough for big climbs, but stiff and durable enough to hold up to mistakes during hard-hitting riding. Admittedly, some of ENVE's older carbon mountain bike wheels lacked in the durability department, but throughout our summer testing season, we failed to do any significant damage to the wheels, and will continue to ride them. As a backup, ENVE does offer a lifetime incident protection - they will replace you wheels if you break them, at no cost. That's an incredible deal.
The M730s come with ENVE rims laced to Chris King ISO hubs with aero bladed spokes - a testament to the attention to detail ENVE strives for. On paper, the rims are not the lightest, but on the bike, they actually felt noticeably lighter than anything else. They accelerate quickly, hold speed, and provide a comfortable, damp ride feel. On the trail, the hub's 72 points of engagement are a good compromise between quick energy transfer and low drag. In other words, these wheels are FAST and want to roll forever. Compared to wheels like the NEXTs and the NOBLs, we found that the ENVE rims were more compliant, offering a smoother ride through really blown up trails. Laterally, they were stiff and able to hold precise lines and keep speed, but the vertical compliance made them very comfortable to ride, making the bike feel like it actually had an extra few mms of suspension. Our hands thanked us.
Check out ENVE's proprietary rim strip that sits over the bead, protecting the rim and tire from sharp impacts. Max Ritter photo.
The M730 also come with a unique tire insert/rim strip combo. With everyone adding protective foam inserts like CushCore or tube-in-tire systems like Schwalbe's ProCore, ENVE wanted part of the action, and created a rubber rim strip that actually extends over the outside of the rim to give pinch-flat protection. It's a clever and lightweight solution to the insert dilemma. Our only gripe was installing tires took a little extra care, as the insert likes to fold inside the tire during installation. Keep this in mind if you have to do a trailside repair. Like most of the other wheels in the test, the M730 has a 30mm internal rim width, which supports 2.3"-2.5" tires perfectly. Since the protective insert actually completely covers the bead, it adds a nice buffer on the outside of an otherwise vulnerable part of the tire.
The bottom line on the ENVE M730:
While extremely expensive, ENVE's made-in-the-USA carbon rims are a testament to high-end design that will definitely improve your bike's performance on the trail. If you are in search of a light, durable, and fast-rolling carbon wheelset for your enduro race bike, look no further - these will not disappoint.
- Max Ritter
---
Crankbrothers went ahead and completely re-invented the carbon wheel, no pun intended. Katie Lozancich photo.
Crankbrothers Synthesis E11 $2400
Crankbrothers decided to do things a bit differently with their set of carbon wheels. When it came to designing the Synthesis, they simply scrapped all pre-existing blueprints and started fresh. No 4-letter names, no copies, just a new take on how to re-invent the wheel, literally. Masterminded by two carbon wheel aficionados, Jason Schiers and Mello Bouwmeester, the two brought a wealth of experience and knowledge to the drawing boards. Schiers has worked with both Reynolds and ENVE and is hallmarked for conceiving the first carbon mountain bike wheel. Still, he wanted to think outside the box. For help, he reached out to Bouwmeester, who was the first person to design a single-wall carbon rim.
Initially, Schiers built a set of stiff wheels, whereas Bouwmeester's were more compliant. Their test riders weren't happy with either set, so the designers decided to mix and match between the two. The end result is front and rear-specific carbon rims. Crankbrothers' philosophy is that a stiffer front wheel has less traction, leading to a more inconsistent ride. So, putting this idea to practice, they made the front to be more compliant. That change feels similar to riding with less PSI in your tire. The rear, on the other hand, was made to be stiffer. Additionally, the extra stiffness helps with riding out of burly drops and big jumps. The structural differences between the two wheels comes down to spoke count, weight, and width.
With completely different designs for a front and rear wheel, the Synthesis wheelset is a testament to good design. Katie Lozancich photo.
But do all these subtle differences between the front and back translate to riding? Yes. We found our bikes to feel more stable charging downhill at high speeds. Additionally, there's a noticeable improvement with the bike's traction and control. And thanks to the Synthesis' Industry Nine Hydra Hub, the wheels respond to the slightest movement. With 690 points of engagement, the Hydra hub is one of the quickest-engaging hubs out there, and you can certainly feel it on technical uphill sections that require deft pedal strokes.
We put these wheels to the test on Teton Pass in Jackson, Wyoming, the high alpine rocky trails in Crested Butte, Colorado, and the volcanic rock chunder in Bend, Oregon. If, for whatever reason, the carbon developed a crack, Crankbrothers has equipped the rims with what they call a "controlled failure mode". This means the wheels will slowly and safely deteriorate, versus experiencing a catastrophic failure that plagues many carbon wheelsets. The hope is that the rider will notice the slowly spreading damage before the wheel completely fails, and should that indeed happen, Crankbrother's lifetime warranty will take good care of you.
The bottom line on the Crankbrothers Synthesis E11:
If you're looking to treat yourself with a set of high-end wheels, then the Crankbrothers Synthesis is a great option. The wheels are durable, responsive, improve the riding experience, and are designed with safety in mind.
- Katie Lozancich
---
NEXT wheels is a tiny outfit out of Vermont, but their enduro wheels are ready to win races anywhere. Max Ritter photo.
NEXT Huck 29r Trail $1800
NEXT Wheels is the brainchild of wheelbuilding's evil genius Jerry Chabot, run out of his attic studio in the Green Mountains of Vermont. Chabot's one-man show is one of perfection - he strives to build the truest, roundest, most reliable bike wheels on the planet, whether they are found on XC bikes, DH rigs, or road bikes in pro-level races. Pop any pair of Chabot-built wheels on your bike, and you'll immediately feel a difference - they just want to roll forever. Speaking of forever, NEXT offers free, no-questions-asked lifetime rim replacement for original owners of their wheels.
We tested NEXT's Huck 29r Trail wheelset, an all-mountain/enduro rim built with a trail riding layup, 32-hole drilling, and lightweight 3D-wound carbon construction. They are quite light, but with smart geometry and features like extra-width sidewalls and beads as well as molded (not drilled) spoke holes, they are designed to handle some serious downhill abuse. Like the NOBL TR 36, the hookless low-profile bead is designed to help eliminate pinch flats, even at super low tire pressures. NEXT's rim profile seems extra round, where the widest part of the rim is actually inboard of the bead.
On the trail, we found the stiffness and build quality to be immediately noticeable. Don't think you'll notice a wheel that's near-perfectly round and true? Try a set of NEXTs. We immediately felt way more confident in the air and on trail, loving the lateral stiffness of the wheels. They accelerate crazy fast and feel super sturdy in tight corners and high-speed berms. Our test rims were laced to a set of colorful Hope Tech Pro 4 hubs with matching purple nipples. The hub's four-pawl ratchet system with 44-tooth engagement (8.2 degree) doesn't seem like much on paper, but it provided plenty of get-up-and-go on the trail.
These are some massive rims that are just waiting to be abused on the trail. Max Ritter photo.
The 31mm internal rim width played nice with 2.3" tires, providing plenty of sidewall support on the trail and in hard corners where traction was important. The rims are designed to be laterally stiff - which they certainly were - and slightly vertically compliant, making for a forgiving yet precise ride through rough sections of trail. We spent two months abusing these through brake bumps in the bike park, hitting jump lines on Teton Pass, and smashing through rock gardens in the desert - and couldn't break them.
The bottom line on the NEXT Huck 29r:
The NEXT Huck wheelset is a fantastic upgrade to any 29er trail bike that likes to get rowdy. When it comes to wheelbuilding perfection, look no further than Jerry Chabot's creations. Light enough for long XC days, but durable enough to smash laps at the bike park, these will be wheels you'll want transfer from one bike to the next.
- Max Ritter
---
So, which wheel is for you?
With so many good carbon mountain bike wheel options on the market, and many more we didn't get a chance to review this time around, it can be tough to decide which way to go. We'll forgive you for not being able to make up your mind, but here are some things to think about. While options like the HUNT wheels are certainly an awesome choice (especially given their very friendly price tag), we did notice that as price goes up, you get a ton more value and performance out of your wheelset. Other choices like the ENVEs might be more expensive, but with their increased performance and the offer of lifetime warranty and replacement programs, think of the steeper price tag as insurance for your future mistakes.
In the end, wheels make a massive difference in how your bike will perform, so instead of shelling out on minute drivetrain or suspension upgrades, pop a pair of carbon hoops on your bike and feel the difference on the trail.