Is hardbooting a sign snowboarding is finally moving out of its mom's basement? With Phantom's newest Slipper HD boot system, it just might be. The number of snowboarders in the backcountry has been on the rise. Only seven years ago I remember frequently receiving remarks from other recreationalists like it was something novel: "oh a splitboarder." Even at busy trailheads like Colorado's Berthoud Pass, it was rare to see other human-powered snowboarders. In the last two or so years I'd be surprised if I didn't see another splitboarder at most trailheads. What is bringing so many more snowboarders into the backcountry is an interesting question. From my viewpoint, snowboarding has always had a counter culture, middle-finger to the system kind of attitude. The kind of attitude where many participants would rather smash a PBR into their heads until it opens rather than exercise. So how are we seeing those same individuals suddenly adopt the patience, planning, and follow through required to succeed in human powered powder farming? Perhaps the bodies of those who stuck with the sport past their angsty teenage years can't afford to be beaten around the way they used to. With a waning metabolism and a host of joint issues the low impact exercise offered by touring becomes an oddly welcomed addition and reprieve from what snowboarding used to be. Additionally, the hope of finding powder long after a storm, provides the possibility of finding a forgiving place to huck their arthritic meat. Besides, it's just plain fun.
As more snowboarders walk uphill to ride down, technology has changed. These days, there's an increasing cohort who are using ski boots but still stand sideways on the way down. For a while, that meant taking the softest touring boots you could find and modifying them, but for the past few years, Phantom Snow Industries has been making the first dedicated splitboard hardboot - the Phantom Slipper. The confused stares and questions snowboarding in ski boots attracts is similar I'm sure to what the first splitboarders received back in the day. But we're a group of mavericks in the end so if they want to say "you might as well just ski now" give that skier an extra hard spray for me. In my book, hardboots are the future. After going the route of riding self-modified ski boots for a few seasons, I finally got the chance to spend a few months with Phantom's new Slipper HD and binding system - they are a beefed up, heavier-duty version of the original Slipper. It's a specialized tool, but I put them through the wringer, and here's what I found.
With all the listed benefits of splitboarding, what are some of the drawbacks? Outside of the financial costs, snowboarding just isn't the most efficient way to move through the mountains. Hit a flat section while in ride mode and watch all the grace of movement you've developed instantly evaporate. Then there's the constant struggle of gear, like fiddling with putting your board together and getting all the right things in and out of your pack or putting it on and taking it off several times before you remember you left something in or out.
Beyond the inherent difficulties of being a one-planker, skiers also have a huge advantage in gear specific for uphill travel. Boots with a much larger range of motion allowing for long effortless strides. The tech toe Dynafit developed many years ago allows you to lift nothing but your boot with every step - no heavy bindings to weigh you down. They do say that a pound on the foot is worth 10 in the pack. Plus when you inevitably try to edge through a washed out section of a skin track on some solar aspect begging for grip through a soft boot questionably attached to an awkward exoskeleton that flexes every direction you wish it wouldn't, you'll find yourself wishing you were a skier. Add in the ability for hard boots to kick steps in hard snow and crampon usage, and skiers are at a heavy advantage on the up simply based on boots alone.
Modifying existing ski boots like the Dynafit TLT6 was the way to go for many years. | Splitboard.com photo.
A select group of snowboarders realized those advantages long enough ago that there have been ways to attach a ski boot to a snowboard for quite some time. Phantom, founded by an aerospace engineer based in Colorado, has long been on the forefront of Frankensteining ski boots onto snowboards. Engineering lightweight bindings for attaching the boot to the boards and providing parts and plans for modifying existing ski boots with drills and Dremels to make them snowboard better have been their M.O. For years, Dynafit's TLT6 ski mountaineering boot was the cult favorite for hard booting, but the modifications required a real garage and some serious DIY confidence. Cutting into a $700 boot you just bought takes some serious cojones.
The two modifications most snowboarders want to make a ski boot ride better are increased forward (anterior) and side to side (lateral) flex. Ironically, those are the exact things ski boots are designed to not do. So, creativity was needed. After messing with the TLT6's for some time, Phantom decided to change platforms and began replacing the Atomic Backland's walk mode lever with their own, adding a spring to provide the forward flex snowboarders desire. They called it the link lever. The link lever allowed someone to buy the boot from atomic and one part from phantom and after simply turning a few screws they would have a splitboarding boot. On the Slipper and Slipper HD, the link lever has swappable springs to adjust the boot's stiffness based on rider weight and preference.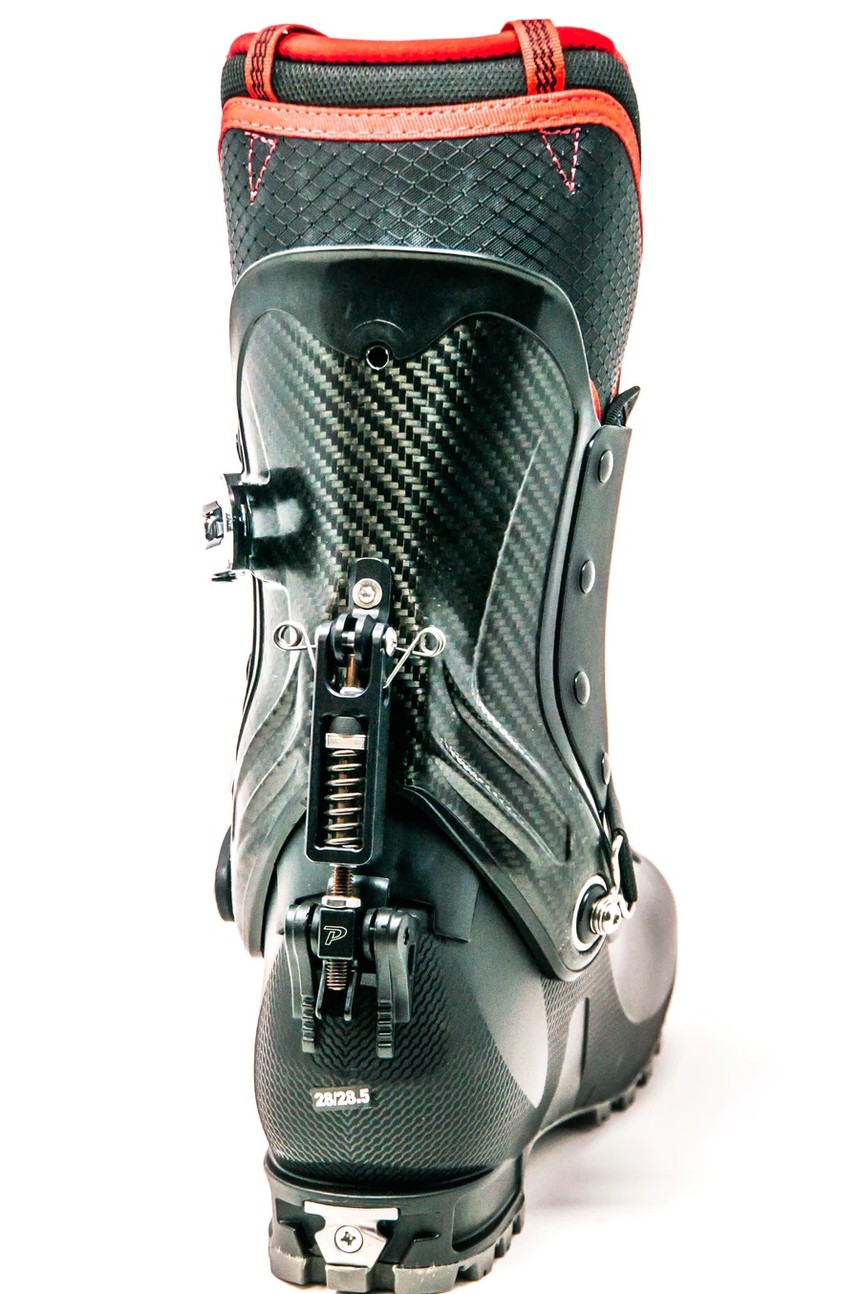 Phantom's Link Lever design on the rear of the Slipper HD. | Phantom Snow Industries photo.
With the release of their first boot, the Slipper, Phantom acquired the tooling for the Backland itself allowing them to make several more modifications to the boot to make it snowboard-specific. They made a much lower profile upper cuff that would allow for the lateral or side to side flex and moved the buckle from the top of the foot to around the ankle in an effort to keep the rider's heel from moving. The tongue is removable and swappable for different stiffnesses.
It's tough to compare something that really is the first of its kind. The advantages of a hardboot are clear, and Phantom's Slipper is the most direct and painless way for someone who's hardboot-curious to test the waters. It certainly performed as close to a soft boot as any hard boot I've ridden. I rode it both touring and inbounds on a solid board. Even with the stiffest link lever spring and tongue, the boot is relatively soft, and it took me a little while to get used to it after spending the last few years riding the much stiffer TLT6. Adding an Intuition Pro Tour or Tour Wrap liner would likely help stiffen it up too. Heeding my skier friends' advice, I ended up adding an aftermarket Booster Strap and that helped. Maybe I should get into skiing after all...
When I started hardbooting a few years ago, it took me three separate trips to boot fitters and a couple days of touring where I gave up after 30 minutes because my feet hurt so much to get the TLT6 boots to work. Unlike that saga, the Slipper was comfortable out of the box. And even if I had a unique foot shape, the boots shell itself can be molded using Atomic's Memory Fit heat-moldable plastic tech.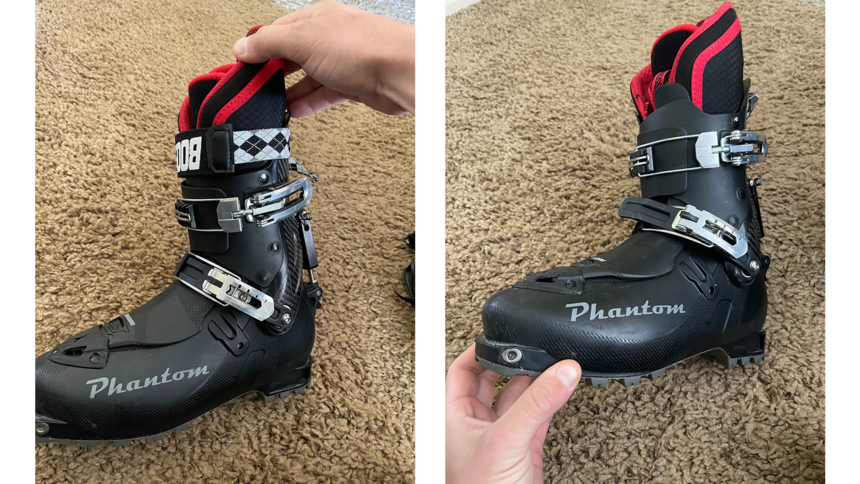 The plastic overlap in question. | Luke Worley photos.
Out of the box, I found a bit of heel lift in my rear foot, which was a surprise since heel stability was the thing I appreciated most from my switch to hard boots. I easily fixed this by adding foam to the outside of the liners. I also have found the buckle over the heel a bit frustrating. In the picture on the left you can see how the bottom buckle should look. On the right you can see a piece of plastic that should go under the buckle. With my foot in the boot I had a hard time getting the buckle closed with the plastic piece underneath. I usually rode without it underneath, which seemed to be fine, but it looks kind of weird and I was afraid it would get caught on stuff.
The boots in bindings, ready to shred. | Phantom Snow Industries photo.
You can tell when you set them up that the phantom bindings were designed by an aerospace engineer. The design is very clever and light weight. The connection to the board is very low (close to the board) and feels solid. The toe bails allow for additional lateral flex. I found this a little unnerving at first coming from the Spark Dynos. I did find the transitions to be a little finicky and a bit frustrating especially at first coming from the Spark system. Soon enough, I learned that the Phantom bindings require a thorough de-icing of both the board and the bindings while transitioning into ride mode. The phantom bindings also have a lot of moving parts which always concerns me a bit in gear. I personally enjoy the simplicity of some of the other systems on the market. In comparison to soft boot splitboard bindings, I would compare the Phantom system to the complexity of Karakorams.
Get the Phantom Slipper and Binding system here.
From The Column: TGR Tested