Level up your tailgating with these handy essentials. Katie Lozancich photo.
When I first started mountain biking, I was driving a beat-up little Ford Taurus. Every time I wanted to ride, I had to take the front wheel off and wiggle the bike onto the backseat. It was a hassle, but it got the job done. I recently made the upgrade to a truck—like the rest of Jackson Hole's residents—and to say that I'm excited is an understatement. No more sketchy trunk-mounted bike racks or trying to squeeze all my bike essentials in a four-door sedan's back seat.
RELATED: TGR Tested - Rocky Mountain Slayer C90 29
But beyond transporting my mountain bike, I've come to appreciate truck life not just for the ample space for all my toys, but for the ability to tailgate. Nothing beats rolling back to your rig after a few laps at the bike park and relaxing with a cold beverage and your buds. With that being said, here are a few things I like to keep stowed away to make my time more enjoyable on and off the trail.
Yeti LoadOut GoBox 30
$249.99 — Find Yeti's LoadOut GoBox here.
Keep your riding essentials organized with this durable storage container. Yeti photo.
I am guilty of keeping my riding things piled in the back of my cab. When I offer to run a shuttle, I often find myself sprinting back to the truck to reorganize my gear so I can fit people in the back. Not fun. Thankfully the Yeti LoadOut GoBox has brought some much-needed organization to my life. It's a gear case meant to thrown in the back of your truck. Unlike a cheap plastic bin, the Gobox is waterproof, dustproof, and almost indestructible, meaning that your gear is in safe hands.
This cargo box is great for tools, spare parts, extra clothing, and snacks.
What I love about the GoBox are all the accessories it has to help you stay organized. First, there's a removable divider that splits the box into two compartments. I prefer to use one side of the case for my shoes, knee pads, extra warm layers, and a hip pack. I love that all those items have a permanent home, thus eliminating the need to dig around my truck for a lost left knee pad. I designated the other compartment for spare bike parts, a shock pump, and a first aid kit. The GoBox also comes with a removable caddy to keep the little things just as tidy. I tend to use this little space to store extra snacks, chain lube, or my sunglasses. Lastly, the GoBox has a "pack attic," which are three zippered pockets that sit inside the top lid. These pockets are great for storing small but essential tools like an Allen wrench set or tire levers.
If you're more than just a mountain biker, you can use this nifty cargo box for camping, skiing, or fishing. It's a versatile tool that will keep you focused on what's more important: being outside.
---
ENO Lounger DL Chair
$124.95 — Find the Eno Lounger DL Chair here.
If you already love Eno's hammocks, then you're going to love this portable chair. Eno photo.
Why sit when you could be lounging? That's a question I've found myself asking after discovering ENO's lounger chair. I love to keep a camp chair in my truck bed for an impromptu hang out at a trailhead parking lot after a long day of riding. The lounger, however, let's you take the relaxation to the next level. If you already love ENO's hammocks, then you'll dig this chair. It's the perfect combination of a hammock and a camp chair. On top of its comfortable design, the chair is lightweight and easy to pack down. It also has a cupholder, storage pockets, and a built-in pillow. My only problem with the chair is that it's hard to leave when it's time to pack up and head home.
---
Dakine Party Block Bag
$91 — Find the Dakine Party Block Bag here.
Every truck needs a proper cooler. Dakine photo.
Nothing beats a cold seltzer or Sierra Nevada after a long pedal, so stay stocked up with Dakine's Party Block Cooler. This soft cooler is a great size and can comfortably fit 12 cans with ice. It takes up barely any space in your cab or truckbed, and if you want to bring it with you to the beach or campground, it's not a hassle to carry. I've even strapped this guy to a paddleboard for a chill float on the Snake River, and it was the perfect vessel to hold my lunch.
The removable koozies on the shoulder strap are a nice added touch. Katie Lozancich photo.
What stands this cooler apart from other products on the market is Dakine's attention to detail. There's a bottle opener on the back, so you'll never have to worry about accidentally forgetting one at home. The cooler also comes with four removable koozies that are attached to the shoulder strap. You can even wear the shoulder strap as a hands-free hydration belt if you desire—10/10 would recommend the look. Plus, it's got a great price point, often pricing lower than most soft coolers you can find on the market.
---
Dakine Pickup Pad DLX
$160 — Find the Dakine Pickup Pad DLX here.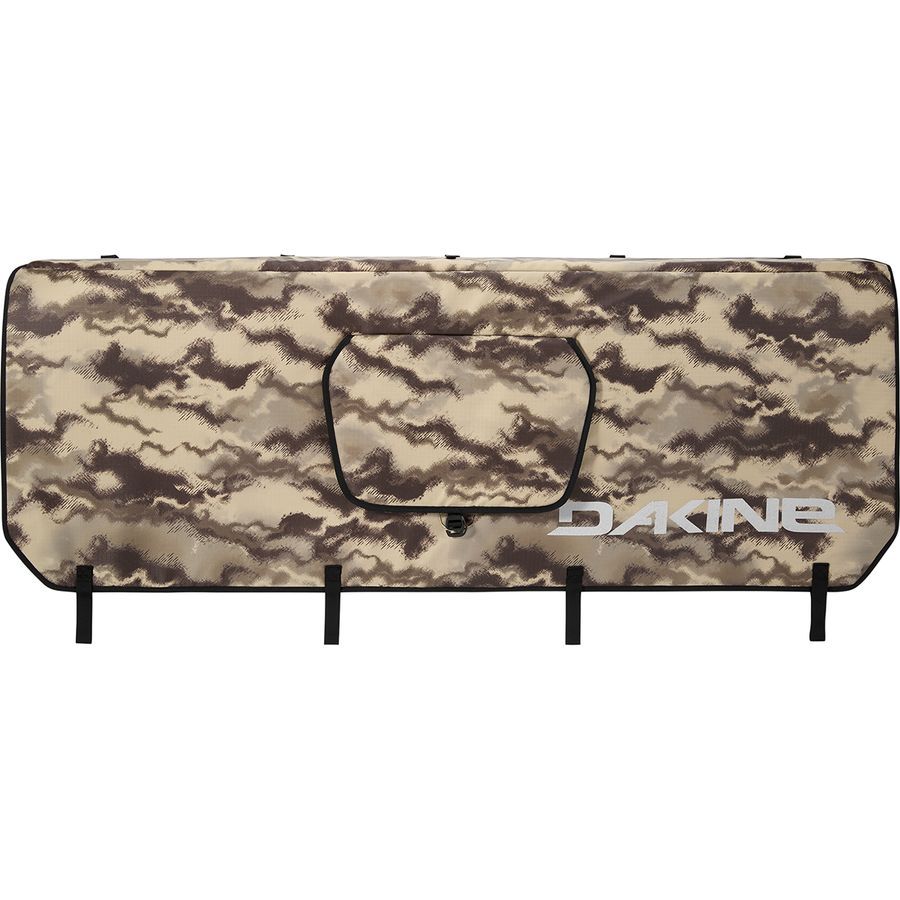 Dakine's pickup pads are some of the best in the game. Dakine photo.
When it comes to carrying your bike, I'm a huge fan of tailgate pads. They're simple, easy to install, and much cheaper than a hitch bike rack. On top of those perks, nothing looks better than a truck bed full of bikes slung over the tailgate. Dakine has been producing top-notch tailgate pads for years, and the Pickup Pad DLX is one of their finest yet. The small can carry up to five bikes, whereas the large can hold seven. No one wants a scratched bike frame, so Dakine has equipped this pad with velcro straps meant to secure the down tube to the pad. For an extra sense of security, the pad is equipped with a metal grommet so you can lock your bike up when you're away from the parking lot. If you're wary of getting a pad because you don't want to sacrifice your backup cam, then rest easy. The velcro flap in the center can be secured back, clearing your cam's field of view.
With Dakine, you're always going to find functional products that exude style, and the Pickup Pad DLX is no exception. The pad comes in a few different colorways, allowing you to express your creativity as you see fit. Additionally, the tough polyester fabric is made from recycled materials. Not only is the pad great for your bike, but for Mother Nature too.
---
Park Tool Bike Stand
$159.95 — Find the Park Tool PCS-9.2 here.
Park Tool's Bike Stands are so easy to break down and store that it's a no brainer to keep one in the truck bed for longer adventures. Park Tool photo.
If I'm heading out of town for a bike adventure, I like to throw my bike stand in my truck. Nothing is more annoying than trying to do simple repairs or adjustments on your bike without a proper stand. Given that Park Tool's bike stands are easy to break down and transport, it seems silly not to bring one with you. It doesn't take up too much space and can quickly be assembled in your campground to become a mobile workstation. The PCS-9.2 is Park Tool's simplest work stand and is perfect for a rider that wants to keep up the maintenance on their bike, clean parts, and make adjustments.
From The Column: TGR Tested
READ THE STORY
Let's be real, 2020 has been a doozy. However, thankfully there's been no shortage of awesome-ness from you all - so we've put together a little round-up of our most liked Instagram posts this year. Check out the photos you liked the most from 2020 below! 1. This year, you guys loved the finer things in life: Like art: View this post on Instagram A post shared by Teton Gravity Research (@tetongravity) 2. Huuuuge road gaps: View this post on
READ THE STORY
Max Fierek tested positive for Lyme disease when he was nine years old, since then he has fought fatigue, lung capacity, muscle fatigue, short term memory loss and mood swings. For Max, living with Lyme disease for half his life has taught him empathy for others and to cherish his time outside in nature which helps him stay positive and fight for his love of mountain biking. Lyme disease is a tick-borne illness caused by the bacterium Borrelia Burgdorferi. If Lyme disease isn't treated
READ THE STORY
In any given year, the roster of TGR films wouldn't be complete without the ones we work on with other companies. This year was no exception with our partners producing and releasing some true masterpieces. comes to us from Torin Yater-Wallace and Jossi Wells as the pair's first big backcountry film. tells the story of Amie Engerbretson making her own rodeo queen dreams come true, in an unconventional way. follows a crew as they complete the Patrouille des Glaciers ski mountaineering race