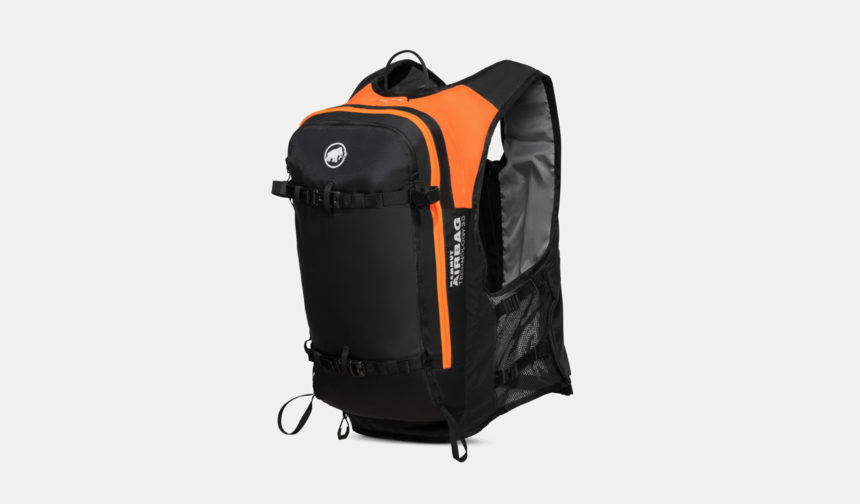 Avalanche airbags might be one of the most divisive pieces of snow safety technology we have today. Folks tend to either swear by them, considering them a piece of equipment as essential as an avalanche beacon, or swear they'll never wear one because "the bags are too heavy" or they'll "lead to a false sense of security and thus bad decision making." Whatever your thoughts may be, there's really no doubt to the notion that they work well to save lives. While an airbag won't prevent you from triggering an avalanche, it's the only tool we can carry that can actively prevent you getting buried if you do. With more riders getting out into the backcountry, especially in places like Jackson Hole where it's easy to ski gnarly, uncontrolled avalanche terrain right off a chairlift, I would argue that an avalanche pack is most at home. However, I will agree with those of you who hate skiing with a big pack inbounds. The bulk, weight, and hassle of taking it off every time you hop on a chairlift is pretty annoying – and that's where Mammut's new Free Vest 15 comes in. The low-profile, body-hugging shape makes this vest feel less like a backpack and more like an extra jacket that you easily forget you're wearing.
Backcountry vests are not new – brands like The North Face, Arva, Dakine, Volcom, WhatVest, and even Mammut have been making them for years. Many pro athletes swear by their svelte shape for mechanized riding. Some even have had airbag systems built into them, but for whatever reason, they seem to have fallen out of favor in recent seasons. I'll admit, I was skeptical at first, too. Was a 15 liter "pack" big enough to carry everything I needed in the backcountry like rescue gear, a radio, extra layers, a first aid kit, snacks and water, skins, or even a short rope or ice axe? Was there a way to externally carry skis and my helmet for hikes?
Turns out 15 liters of space is actually quite roomy if you pack it well. Sure, it's not big enough for an overnight or a full-on mountaineering mission, but it's more than big enough to fit essentials for a day of backcountry freeriding. There is a small radio sleeve inside and a fleece-lined goggle pocket on the back. The vest also features two large pockets on its front that are perfect for stashing all the little things like snacks, repair tools or sunglasses in easy-to-reach places. Really, the idea is to never have to take the vest off unless there's an emergency or you're taking a break. Skis can be carried diagonally, and snowboards vertically.
The Free Vest 15 is a part of Mammut's new line of products made with more sustainable PFC-free DWR treated fabric and is made largely from recycled materials.
I tested the size M/XL vest, which felt quite large for my 6-foot, 185-pound body, and I found myself cinching down the fit adjustment straps all the way to have it sit comfortably on my torso. Once fit, it really does not move at all. That's a feature I truly can't stress how awesome it is - the vest feels like a second skin - no bouncing or weird shifting. It's worthy to note that you are adding an extra layer to your clothing system, so I found myself overdressed and pretty sweaty on not-so-cold days a few times.
The interior airbag system is based on Mammut's tried-and-true Removable Airbag 3.0 compressed air canister system. The handle tucks away neatly into the left shoulder strap which pulls on a cable that releases the air into the bag. Pretty standard stuff. I've used electronic airbag systems in the past, and they have their advantages (namely multiple inflations per charge), but there's something reassuring about knowing you can trust a very simple mechanical system to work without having to remember to charge it. Besides, some electronic airbag systems have been shown to interfere with avalanche beacons. The trigger handle unfortunately can't be swapped between the left and right shoulder strap, but the entire system can be removed from the bag if you wish.
The Mammut Free Vest 15 is the perfect tool for sidecountry adventures on skis or a snowboard, adding an extra layer of safety in the form of an avalanche airbag. The snug fit, ample room for essentials, and sleek style will make you want to wear it every day, both inbounds or out.
Get the Mammut Free Vest 15 here.
From The Column: TGR Tested