Many outdoor brands are rethinking the way they make gear, and are finding some pretty clever planet-friendly solutions in the process. Max Ritter photo.
When it comes to outdoor gear advertisements, we're pretty accustomed to seeing all kinds of flashy buzz words to catch our attention. Sexy adjectives like lighter, stronger, or waterproof are usually written in bold next to a skier about to summit some majestic-looking ridgeline. These days, however, there's a new word being added to our gear vocabulary: greener. Ski brands are starting to go green, and it's something to celebrate. If we want to make real change with issues like climate change and pollution, then it means doing more than just driving a Prius and recycling our plastic. We need to examine how our gear is made.
Take ski wax for an example. You'll find it in any rental shop and ski bum's garage, but the majority of wax out there is made from petroleum. Whenever we ski with it on our bases, those nasty materials flake off into the snow and are eventually flushed into our ecosystems and drinking water. Yikes! Thankfully brands have been stepping it up when it comes to making planet-friendly products, and here are a few that really caught my eye. Spoiler alert, not only are these items eco-friendly, but they're all-around great pieces of gear.
Rab Microlight Alpine Down Jackets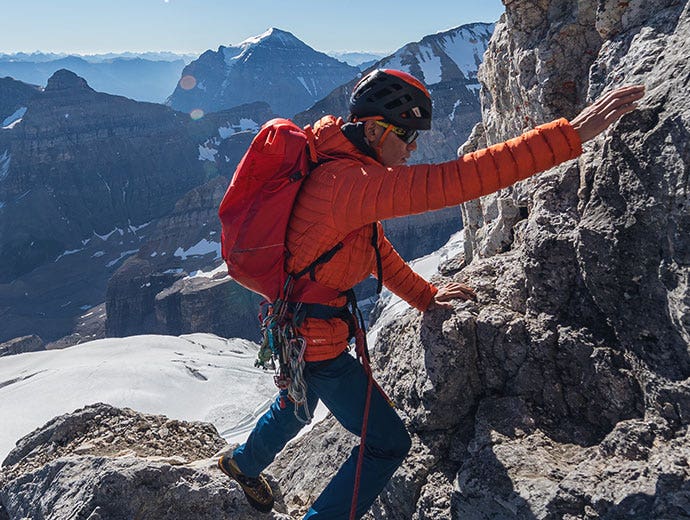 Rab's Microlight collection was designed with the enviroment at the forefront of their decision making. Rab Photo.
A down jacket is a staple piece of equipment for any winter outdoor enthusiast. If you visit any mountain town in the thick of winter you'll find a sea of them in town, and I practically live in mine 24/7 when it's frigid out. However no two down jackets are made the same, and the question we should weigh before purchasing one is "how is the down sourced?" Traditionally, the material is gathered from the chest, lower belly, and flanks of geese and ducks. Some companies choose to do this process ethically, while others aren't too concerned about the animals well being and pluck the feathers while the animals are alive. Rab, on the other hand, is choosing an alternative option in their Microlight Alpine down jacket by using P.U.R.E Recycled down. This insulation reuses down from duvets, pillows, and other down products that would normally be dumped into a landfill. Once the raw down is extracted, it's cleaned and sorted based on its quality. The quality of all down is assessed by its CUIN. I'll skip the science of how they measure it, because essentially what you need to know is that down with a CUIN of 440 - 450 is considered average, 500 - 500 is good, 550 - 750 is very good, and anything above 750 is considered premium. Rab's Microlight Alpine Jacket's CUIN measures in at 700, which is pretty impressive for recycled material. The Mircolight is the perfect layer for backcountry and out on the town adventures. Rab photo.
But Rab didn't just stop at the insulation. The shell and lining are fully recycled as well. In addition to its green properties, it's an all-around great jacket. It's not bulky and packs down to a reasonable size, which makes it a great emergency jacket to keep in your pack for backcountry adventures. On colder days I prefer to ski in it because it moves and breathes well for a down jacket, and it keeps me from freezing on cold Wyoming storm days. It's also not just a jacket for the mountains, I wear it all the time when I'm out shopping or catching up with friends during a socially distanced apres. The silhouette of the jacket is really flattering, and it doesn't make you feel like a walking marshmallow.
Mountain FLOW Ski Wax
Mountain Flow Eco Wax offers a planet-friendly option for waxing your skis. Mountain Flow photo.
As I mentioned before, ski wax can be pretty nasty for the environment and it's important to know what kind of wax you're using. There are currently three types used by the snowsports community: Fluorinated, hydrocarbon, and eco-friendly. The worst by far is fluorinated wax, which uses perfluorochemicals (PFCs). PFCs are known to wreak havoc on both human and animal bodily systems like the immune, endocrine, and liver systems. When the wax flakes off skis it settles into the snow, leaving behind doses of PFCs. Come spring, the snow melts, bringing the toxic chemicals along with it to creeks, rivers, streams. Thankfully, this type of wax is only really used by high-level alpine and cross-country ski racers and, so the impact is lessened—but it's certainly not ideal.
Hydrocarbon wax is the kind of wax the general public is more familiar with. It's in most rental shops and on shop ski tuning benches. While it's not as toxic as fluorinated wax, it still has its flaws. This kind of wax is produced from the byproducts of petroleum and presents a similar problem with bits of it being left in our snowpack. I don't know about you, but the thought of petroleum-based byproducts being deposited in our soil and water sources makes my stomach sick. Thankfully, there's a third option that's lightyears better than the previous two: Eco-friendly wax. This type of wax has steadily become more popular within the industry, however, MountainFlow Eco Wax stands above the rest. Unlike other kinds of environmentally conscious waxes, Mountain Flow was the first brand to produce a product that's completely plant-based. Even the packaging is biodegradable.
Mountain Flow began in 2016 with an eco-conscious anti-stick spray that helped reduce snow and ice build-up for backcountry skiers. However, it quickly became apparent to founder Peter Arlein that planet-friendly waxes were harder to come by. So he got tinkering in his workshop and after testing 200 different formulas he developed a line of plant-based waxes that could go toe to toe with traditional petroleum-based wax. Now the brand boasts an impressive line of wax which includes quick wax, hot wax, and race wax, and has quickly garnered support from world-class athletes like Chris Davenport and TGR's Christina Lustenberger. The brand also recently successfully pitched the product to the investors on ABC's Shark Tank and won the support of two Sharks. On top of all this, Mountain Flow isn't just a ski brand anymore. They've expanded into cycling with a whole line of bike lube, grease, and wash.
WNDR Alpine Skis
Skis made without petroleum? Now that's something to get excited about. WNDR Alpine photo.
Algae and skiing are two things that normally have nothing in common, but WNDR Alpine has changed that. In fact, Algae is the innovative ingredient to WNDR's skis that sets them apart from the plethora of petroleum-based ski gear in the market.
WNDR's story starts with a biotech start-up Checkerspot who had an ambitious goal to create viable non-petroleum-based polyurethane and coatings that were better than traditional plastic. Not only did Checkerspot founder Charles Dimmer and molecular biologist Scott Franklin find the solution in oil produced by algae grown in a lab, but they collaborated with legendary skier and product designer Matt Sterbenz to create a revolutionary backcountry ski. The end result was a formidable ski known as the Intention 110. The material is specifically used in the ski's core and wall and signals an exciting breakthrough for the industry as a whole. Industrial biotechnology can be applied to more than just skis, which creates a new sustainable ingredient for developers and designers to work with.
As far as the WNDR Alpine team, the future is looking bright. After launching in 2019, the brand completely sold out its flagship ski in its most sought-after lengths. Following their initial success, the brand released its second ski, the Vital 100, and just recently were named a B-Corporation. That honor means that the brand meets the highest standards of social and environmental performance, transparency, and accountability. The label puts them in the same class as other notable b-corp companies like Patagonia and Burton, and it makes them the first-ever ski maker to receive such a designation.
Picture Organic Clothing
When it comes to making outdoor gear, Picture Organic threw out the rule book and made their own. Picture Organic photo.
Sustainability has been part of Picture Organic's identity since its inception in 2008. The French brand started as the brainchild of three avid outdoor enthusiasts who wanted to create gear that was good for the places they loved to recreate in. What's impressive about Picture Organic is its holistic approach to sustainability. For them, addressing climate change means more than just sourcing the right material for jackets or using less plastic in their packaging. They argue that every component of operating a business needs to find ways to cut its dependence on fossil fuels. Their website explores this mindset with startling transparency, presenting each issue with their current approach and their hopes for the future. Take shipping as an example. Thanks to globalization, shipping products has become one of the biggest contributors to our current climate crisis. As a result, the brand pledges to never ship their products by plane, as a way to mitigate unnecessary air travel. One cargo ship can take the place of 1000 Airbus A380 planes, which is not perfect but a helpful step in the right direction.
Beyond big-picture ideas, Picture Organic has been implementing some pretty revolutionary concepts with their clothing. Originally, the company made their ski jackets from polyester that was sourced from discarded plastic bottles. For them, that wasn't good enough. They wanted to create a jacket that was completely free of fossil fuels and to do that they turned to bio-sourced materials. They discovered that sugar cane waste could be fermented and used to make bio-ethanol, which can take the place of petroleum for making garments. Not only does the new material work, but Picture hopes to fully expand the use of the material in all its garments. So far the company used it in 30% of its 2020/21 snow line in conjunction with recycled plastic, organic materials, reused materials, or ethically sourced animal-based materials, to fill in the gaps.
This diagram breaks down how Picture Organic uses sugar cane waste to make their jackets. Picture Organic graphic.
READ THE STORY
There's this thing about ski mountaineering: it's pretty taxing on your body. Thanks to Hyperice's recovery tools, I don't need to worry about back to back big days in the mountains taking a toll anymore. | Lily Krass photos. There's this thing about ski mountaineering: it's pretty taxing on your body. Now that it's spring (and I work a desk job most days of the week), getting up early every Saturday and Sunday morning is the only way to cram in as much mountain time as possible. Sure,
READ THE STORY
TGR is stoked to announce some seriously awesome new benefits for TGR Premium subscribers, effective immediately. In addition to unlimited access to 25 years of films, behind the scenes content and more, subscribers will now have access to pro deals on a huge list of outdoor brands through Expert Voice. These are the same level of deals we get working in the industry! Historically limited to industry insiders, these pro-form discounts typically offer savings of 30-60 percent off retail
READ THE STORY
Weston's Grizzly is big and floaty, yet nimble and quick-turning tool that's perfect for racking up vert on those days where's it's just too deep to stop. | Andrey Shprengel photo. Wait. Isn't Weston Backcountry a snowboard company? Well yeah, but they've quietly been making skis for the past few seasons, refining designs and tweaking materials to make a strong entry into the world of backcountry . Why the crossover into an entirely different segment of the snow market? Simply put, they