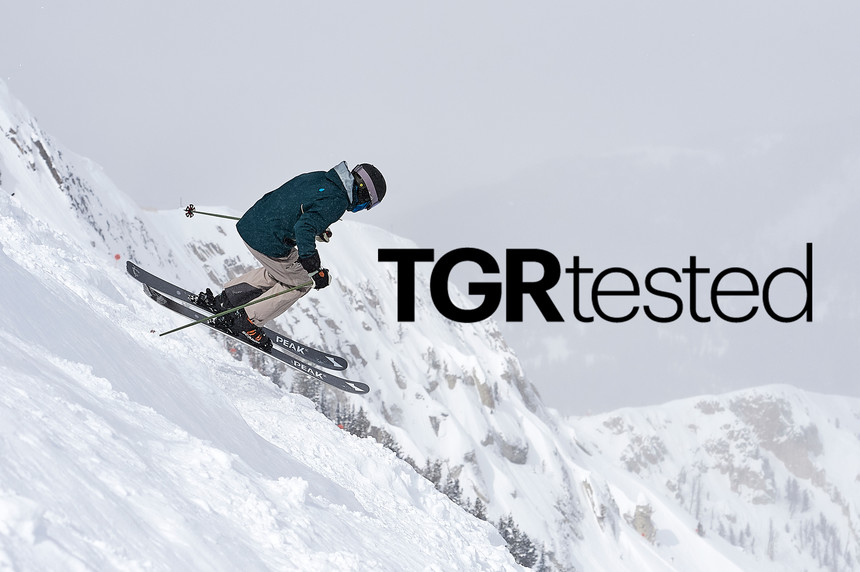 Bode Miller just launched a new ski brand, Peak Skis, focused on offering high performance all mountain and freeride skis. | Peak Skis photo.
Bode Miller has a new ski brand. While the former alpine ski racer might be best known for his six Olympic medals and four World Championships, Miller has always been a contrarian, finding his own way forward. Today marks the launch of Peak Skis, a new direct-to-consumer ski company out of Bozeman, Montana co-founded by Miller and Andy Wirth. The lineup includes six all-mountain and sidecountry skis, encompassing a quiver that should make any freeride-focused skier happy. Despite Miller's history, these are not race skis – instead, they are meant to be designs that can be harnessed by any type of skier in all kinds of terrain. The secret is what the brand is calling "Keyhole Technology," an oval cutaway in the top layer of metal that allows the ski's flex to be fine-tuned to deliver predictable and accessible power. I got a chance to join the Peak Ski Company team up in Big Sky to test out the new skis before launch, learning about the technology and feeling it for myself on-slope. Of the full lineup, I spent the most time aboard the Peak 104 model hunting for whatever dry snow that was still left on Lone Peak – and was blown away for the energetic yet buttery smooth feel of the new skis.
Peak's full 2022 lineup includes an 88, a 98, a 104, and a 110mm-waisted ski. The 98 and the 104 are also available in a lighter, slighter softer Peak SC construction designed with ski touring and backcountry riding in mind. The 2022/23 Peak by Bode Miller skis and Peak SC by Bode Miller skis will all be priced at $890 and exclusively available through peakskis.com. Based on the limited initial production run, Peak Ski Company has developed a special reservation program including a fully refundable $50 deposit, allowing customers to lock in an order ahead of next season.
Check out the full lineup for 2022/23. | Peak Skis photo.
Throughout his ski career Miller has always been a tinkerer, messing around with ski designs to suit his style of skiing. "I was deeply engaged in the design of skis throughout my racing career where I learned that every single element, design feature and measurement – no matter how miniscule – that makes up a ski, influences performance," he says. "Just one small example is that if you change the rise or the rocker by a millimeter or two, you change how the ski engages at the initiation of a turn. If you change that, then you need to compensate by adjusting the torsional rigidity of the ski underfoot. It was with that experience, I learned years ago that a cutaway in front of the binding, unlocks the torsional performance of a ski," he says. That lesson brought about the Keyhole Technology in the new Peak skis.
Without going too much into a technical ski design discussion, the benefit of the Keyhole is that it allows there to be enough metal in the ski to provide a damp and stable ride feel without making it feel like a 2x4. In ski design, torsional stiffness (the ability of the ski to resist twisting under load) is different from longitudinal stiffness (the ability to resist bowing or flexing from tip to tail) in that it determines how a ski performs while edging or carving a turn. Being able to control the feel of these two variables somewhat independently unlocks a host of possibilities for designing how the ski performs in all kinds of snow. That results in the Peak 104 having a friendly and snappy feel while just cruising around on groomers or in soft snow, but also the ability to ramp up speed and energy if a skier desires. As an added benefit, Keyhole allows for less side cut in the wider models while still retaining easy turn initiation, meaning more stability on uneven snow surfaces or in deeper powder.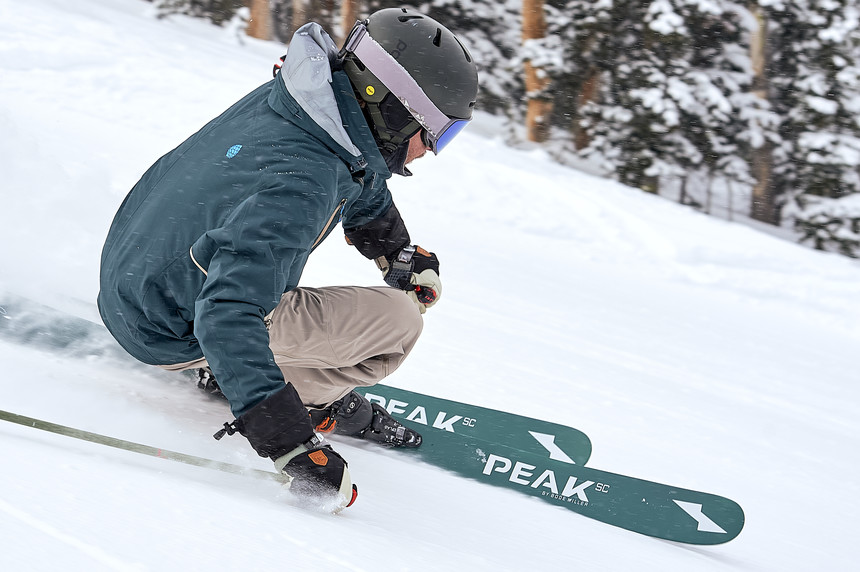 Despite the brand's obvious racing pedigree, the new skis are incredibly approachable for skiers looking for a more playful, freeride-focused tool. | Peak Skis photo.
The ski's shape very much follows the trend of modern directional freeride skis. With a squared off, low profile tip mixed with a healthy amount of tip rocker and taper, a small amount of camber underfoot, and a kicked up and tapered tail, the shape promises versatility. The recommended mounting point sits a few centimeters behind center, allowing you to ski with a slightly more centered stance and not have to constantly drive through the tongue of your boot to get the ski to respond.
In Big Sky, I managed to get very lost while exploring the mountain on the Peak 104, giving me a chance to really put the ski through its paces on all manner of snow surfaces from icy groomers to pow stashes in the trees, to soft bumps. The ability for the ski to really ramp up power is quite astonishing. At low speeds while just noodling around, the ski feels loose and playful and can butter and smear around like a more freestyle-oriented ski. I guess Bode has been known to throw 360s in race runs, so there's that. However, at speed, the skis take on an entirely different character, one that feels much more composed, predictable, and stable. They lose some of the playfulness and pop, but gain a very damp and secure feel, akin to riding a long-travel mountain bike through a rock garden. On hard snow, the edge grip is truly remarkable – I kept waiting for the skis to release unexpectedly out of turns, but they simply would not. In softer or cut up snow, the skis maintain high speeds without transferring much feedback to your legs, while remaining responsive to subtle directional inputs. While the firm conditions weren't ideal for hitting airs all day long, the confidence I gained by the ski's damp character nearly led to some bad ideas. Compared to a few competitors in the market, these skis very much hold their own against sticks like the Nordica Enforcer 104 Free, Salomon QST 106 or K2 Mindbenders 108Ti.
In the end, the Peak 104 would be an excellent choice for an advanced to expert skier looking for a one-ski quiver for riding places like Big Sky, Jackson Hole or mountains where it's possible to ski fast in challenging terrain, rip groomers, and hammer out steeps all in a single run. They certainly prefer high-speed aggressive skiing but aren't going to tire you out if that's not in the cards for the day. For a new ski brand, I'm truly impressed by what Bode and co. have achieved with Peak Skis and am excited to spend more time on them next season.
From The Column: TGR Tested