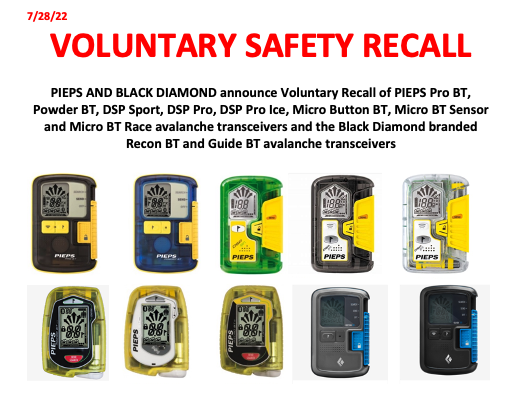 Black Diamond Equipment is issuing a voluntary safety recall on some of its avalanche safety products, including the PIEPS Pro BT, Powder BTW, DSP Sport, DSP Pro, DSP Pro Ice, Micro Button BT, Micro BTW Sensor, Micro BTW, and Black Diamond Recon BT and Guide BT avalanche transceivers. This follows a safety check notice issued in April 2022. The issue is related to a material manufacturing problem that causes the beacons to not switch from SEND to SEARCH modes, rendering the units unable to function in an avalanche rescue scenario. It affects a small number of units. Black Diamond will replace or repair all affected transceivers that do not pass the safety check free of charge.
Please stop using the recalled transceivers and perform a safety check to verify if the device can switch into Search Mode by following instructions and video tutorials on the Black Diamond Equipment website. Immediately stop using transceivers not working properly and register the affected transceivers on BD's website to receive a prepaid shipping label to return the recalled transceivers for a free repair or a replacement. You may also contact Black Diamond at 2022beaconrecall@bdel.com or call us 866-306-0865 from 9 a.m. to 4 p.m. MT Monday – Friday.
As a reminder, TGR urges you follow best practices and always check both SEND and SEARCH functions on any avalanche safety device prior to each use.