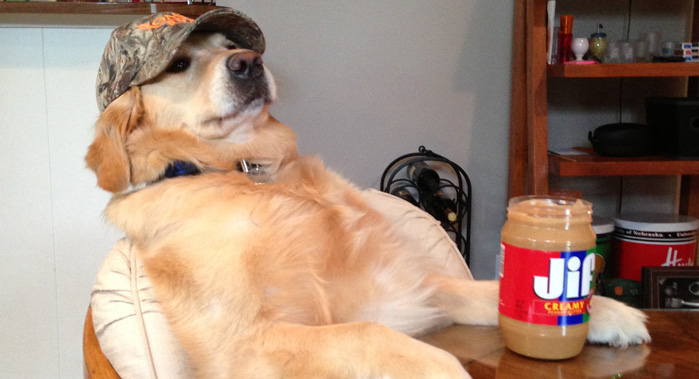 Wally the Dog contemplates retirement while nursing a pint of extra-chunky. @goldenretrieverbailey Instagram photo.
MOUNTAIN TOWN, USA — Wally the dog called it quits Monday after a storied ski patrol career that lasted upwards of 50 dog years, over the course of which the heroic beast recovered over a dozen avalanche victims and ate roughly 5,000 servings of leftover lodge fries.
Citing terrible hip pain and a host of other health issues related to his breed, 65-dog-year-old Wally the "Good Boi" Retriever told TGR in an exclusive interview he'll miss patrolling, but that he's also excited to finally get a chance to do normal dog stuff, like chasing cars and licking his own nuts.
RELATED: New Patroller Unsure What Boss Means By 'Safety Meeting'
"I started sniffin' for patrol early," Wally said while sprawling out to receive a tummy rub from a TGR correspondent. "But these days, all these young pups are comin' up so quick; an old beast like me's barely got a chance. For most of my life, I was too busy saving people to do anything normal — I didn't even have time to eat my own poo."
But despite putting a positive spin on his retirement, Wally also indicated that it's gotten tougher being a dog in a ski town, identifying the high cost of housing, the bad beast-to-bitch ratio and the competition with younger trust-fund huskies as particular sources of frustration.
The price to rent a dog house has gone through the roof, and I can't even find another golden to breed with.
"My bad hip's got me hooked on doggy meds," the jaded, yet plucky golden said while licking up a pint of extra-chunky peanut butter. "The price to rent a dog house has gone through the roof, and I can't even find another golden to breed with. Plus, you got all these young, privileged pups coming in from Boston and San Francisco looking to take my job and housing — it's enough to make me want to run away from home."

Quickly losing interest after smelling something stinky, Wally concluded the interview by rolling around in a pile of his owner's fresh laundry, soiling it with dog hair and mud before falling into a catatonic nap.
From The Column: The Bumion